If, before paying, a handling fee is added to the amount of your shopping cart, don't worry, it's very easy not to pay it. This trick also works if you have just placed your order, but you have to be quick.
Most of Shein's doubts can be solved by reading their FAQ which can be accessed here. However, there's not much information about this fee. So below we explain what this fee consists of when it's added, and what to do to remove it.
What is the handling fee?
This is a fee that Shein applies on orders of more than €180 or £160 with several items. According to the platform, this fee is justified by the "increased costs of warehouse processing".
Shein may have started charging this fee because larger orders generate more work for them. The platform divides big orders into different packages to avoid customs since in most countries larger packages are more at risk of being stopped.
This fee is an administrative cost of the platform, and you won't be able to recover that amount once the order is shipped, nor if you return part of your purchase. However, if you haven't purchased anything yet, we explain how to avoid paying for it.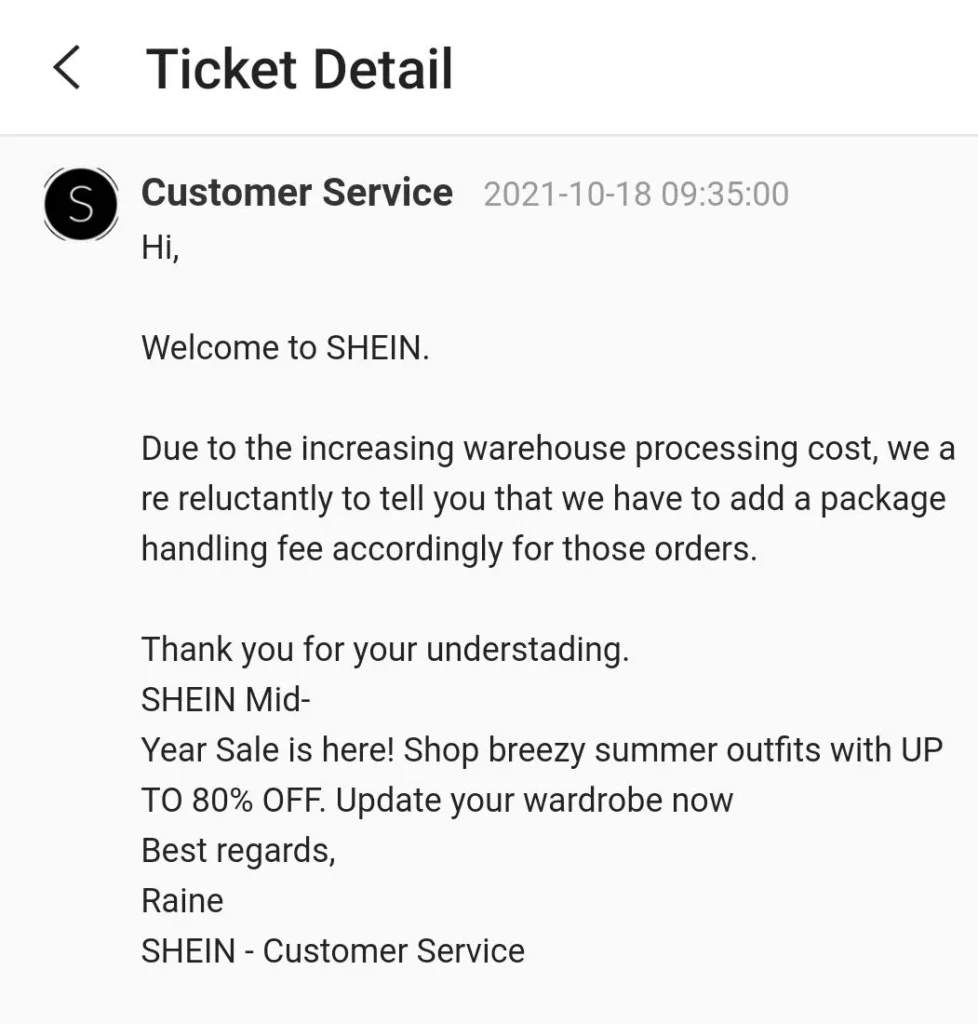 Is this fee related to customs?
Main article: Customs in Shein
Even though the description of the handling fee doesn't indicate it, many people think that it's now being charged to avoid paying customs.
But this isn't the case, as European regulations indicate that customs can be paid in advance through the website itself on orders up to €150.
On orders over €150, customs fees will have to be paid when the package arrives in the destination country. So to put it simply, no, the handling fee isn't for paying customs.
How to remove the handling fee
If you don't want to pay this extra cost, it's very easy to avoid it. Just place smaller orders and since you're sure to exceed the minimum amount for free shipping, it won't be a problem.
The handling fee is applied when you exceed €180 (or £160) and the amount is approximately 12% of the cost of your purchase. To avoid paying it, just split it into two orders or as many as you need to avoid the €180 or £160 mark.
Can I cancel the order and recover the fee?
Main article: How to cancel an order from Shein​​
You can only get your money back if you cancel your order before it's processed. Once your Shein order is processed, you will no longer be able to cancel it. Therefore, you will no longer be able to recover the processing fee. You will also not be able to recover the fee if you return your order.
So the best thing to do is to take a good look at the breakdown of your shopping cart before paying and split it into several if you exceed the rates mentioned above.
Tips to save more money
Main article: 12 tricks to save money on Shein
Another alternative you can use to eliminate the handling fee is to apply the maximum discount available and thus, lower the amount of your basket. Besides, we all like to save money, don't we?
We have an article specializing in the best tips for saving money on your Shein purchases. However, if you don't feel like reading too much, there are several tricks in addition to adding coupons.
You can use points to get an extra discount and use a gift card, which you'll have to buy before placing the order to get the discount. Apply these discounts to stay under €180 and avoid paying the handling fee.
Bottom line: Is it worth paying the handling fee?
Some people wonder if it's simply not better to pay the handling fee, place the whole order together and forget about other problems.
However, we really do recommend splitting it into smaller orders. In addition to avoiding paying the handling fee, which may be higher than what you can save after applying a coupon, there are other drawbacks.
For example, when placing very large orders, you may be stopped at customs and if your order is held up, it will take longer to receive it.