After quite some time working on it, we bring you a great surprise: we have created a Chrome extension that automatically finds the best coupon of the moment for your purchase at Shein.
With it you can save a lot of money, believe me.
Download it for free by clicking here, and then come back to this article because we are going to explain how it works.
What is Shein Coupon Finder?
Shein Coupon Finder is a Google Chrome extension. For those who don't know, extensions are small applications that you install on your computer's browser (yes, unfortunately they don't work on mobile, only on your computer).
It's free, just install it from the Chrome Store. And, of course, it is completely safe, it has passed all the security controls of the Chrome Store. It's also backed by us (in case you don't know us yet, we've helped tens of millions of people shop in China since 2014).
Aren't there other extensions that do this?
Yes, there are some extensions that search coupons for thousands of stores, but after using them for quite some time we've found that with Shein they fail quite a bit.
Their whole process is automated: they massively scan the internet looking for codes, and dump them in their database without checking them. This means that they end up storing a lot of fake codes and, even worse, they miss several real codes.
With Shein Coupon Finder we have opted for the opposite strategy: we focus on a single store, but we have the most complete and up-to-date list of coupons. We update it every few hours, and check each coupon manually before adding it.
How does it work?
It is very simple.
First of all, you must have the extension installed. If you haven't already, you can download it here by clicking "Add to Chrome".


It will open a welcome page that will tell you more or less the same thing as this article.
And that's it! Now all you have to do is make your purchase on Shein normally. When you get to the last step of the checkout process, a window like this will appear at the top right of the screen: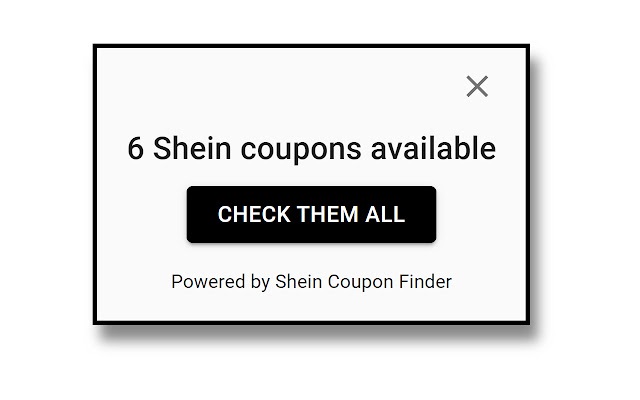 If you click on "Check them all", the extension will test all available codes. It will take just a few seconds and, when it's done, it will leave the one that gives you the biggest discount applied.
You will see a warning like this: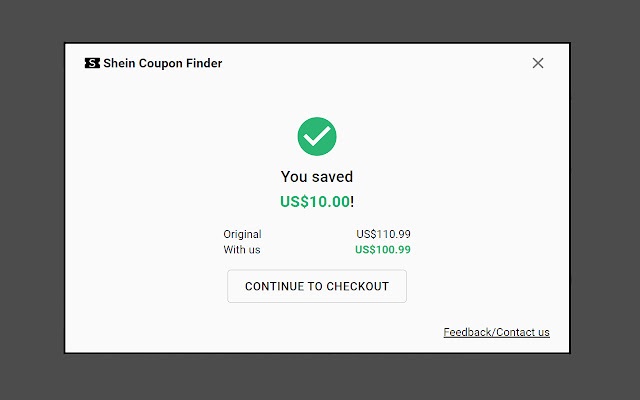 And that's it, you can finalize your purchase and toast to our health for having saved a little money.
How much can I save?
With Shein we are lucky that coupons are almost always available.
Just don't expect to save 90%: don't trust those sites you find on Google that promise incredible discounts, they're a scam.
Shein's real coupons are usually 10% or 20% of the total amount.
Do you always find discounts?
We can't guarantee that there are always coupons working because that depends on Shein. There are times when Shein doesn't have a single active discount code.
However, we can assure you that we have the most complete and up-to-date coupon database: if there is a working Shein coupon, it is in the extension.
That's why we recommend that you always click on "Check them all". You'll only waste a few seconds and you'll be sure you're getting the best price.