1
Mi Router AX9000
Wi-Fi 6, triple band 1x2.4GHz and 2x5GHz, with maximum combined speed of up to 9000Mbps, OFDMA MU-MIMO 4x4, 1GB memory, simultaneous connection of up to 248 devices.
Premium
2
Mi AIoT Router AX3600
Wi-Fi 6, dual band 2.4 and 5GHz with maximum combined speed of 2976Mbps, OFDMA MU-MIMO, 512MB memory, simultaneous connection of up to 248 devices.
3
Xiaomi Mesh AX3000
Wi-Fi 6, dual band 2.4 and 5GHz with maximum combined speed of 2976Mbps, OFDMA MU-MIMO 2x2, 256MB memory, simultaneous connection of up to 128 devices.
4
Xiaomi Router AX3200
Wi-Fi 6, dual band 2.4 and 5GHz with maximum combined speed of 3202 Mbps, compatible with mesh network, OFDMA MU-MIMO 4x4, 256MB memory, simultaneous connection of up to 128 devices.
5
Mi Router AX1800
Wi-Fi 6, dual band 2.4 and 5GHz with maximum combined speed of up to 1800Mbps, OFDMA MU-MIMO 2x2, 256MB memory, simultaneous connection of up to 128 devices.
6
Mi Router 4A Gigabit Edition
Wi-Fi 5, dual band 2.4 and 5GHz with maximum combined speed of 1167Mbps, 128MB memory, simultaneous connection of up to 128 devices.
7
Mi Router 4A
Wi-Fi 5, dual band 2.4 and 5GHz with maximum combined speed of 1167Mbps, 64MB memory, simultaneous connection of up to 64 devices.
8
Mi router 4C
Wi-Fi 4, 2.4GHz band with a maximum speed of 300Mbps, 64MB memory, simultaneous connection of up to 64 devices.
Super Sales
9
Mi WiFi Range Extender AC1200
Dual band 2.4 GHz 300 Mbps (802.11n, 2*2 at 40 MHz), 5 GHz 867 Mbps (802.11ac, 2*2 at 80 MHz), 64MB RAM, WPA-PSK / WPA2-PSK encryption, 1 port ethernet. Configurable from the Mi Home App.
10
Mi WiFi Range Extender Pro (Xiaomi N300)
MT7628K 580 MHz processor, 2.4 GHz band up to 300Mbps, WPA-PSK/WPA2-PSK encryption. Configurable from the Mi Home App.
Considering the fast and constant development of the Internet, the increase in digital activity, and smart home appliances on the market, wired or wireless networks are increasingly necessary to take full advantage of technological advances.
Although most telecom and broadband operators distribute IP routers, their models and specifications are now too old and there is no way to configure them optimally.
Besides, if the location has a large surface area, with many walls, corners, or several floors, it can be difficult for the connection to reach every spot. That's why it's necessary to buy a wireless router to ensure that there are no dead spots in the network's reach.
Faced with this reality, in 2014 Xiaomi bet to offer its first router, which proved to be a total success in sales. From that moment on, Xiaomi hasn't ceased to push forward and offer us technological improvements in terms of connectivity. We can't ignore that their offer is much more varied in the Chinese market since the global market doesn't have such a variety of models, but what is certain is that the most outstanding ones arrive.
Xiaomi's are a great option, and additionally to the ranking of their best models, today we bring you this guide to help you learn how to interpret their specifications.
Considerations for purchasing a wireless network router
The most important prerequisite for purchasing a wireless network router is to first understand the specifications of the router.
1. Select a suitable router according to your Internet connection speed
Before choosing a wireless router, confirm the connection speed of the home network that you signed with the provider. Regardless of whether the telecommunications operators are fixed-line (such as Internet access) fiber optic or Internet access solutions from third-party operators in various regions, there will be limitations on upload and download speeds.
Confirm the Internet connection speed currently used at home before purchasing a wireless router, so that it is the one that best suits your home environment.
2. Plan the router location in advance
After confirming the network speed at home, the next step is to plan the location of the router and Wi-Fi sharer. Since the wireless router transmits data through radio waves, it's easily affected by obstacles and causes signal attenuation. Therefore, it's necessary to properly plan and confirm the installation method of the router so as not to affect the transmission quality of the network.
Since the router needs space to dissipate heat, the wireless router should ideally be placed unobstructed around it. It's recommended to plan the location before purchasing and then determine the size and functions required.
3. Determine the number and power of the router's antennas
The most common wireless routers on the market are generally designed with 3 antennas (Tx: 3, Rx: 3) or dual antennas (Tx: 2, Rx: 2). The basic wireless router is a single antenna design.
Since wireless routers are easily blocked and cause signal attenuation, the number, and power of antennas are also key factors affecting signal stability.
If the area where the wireless network is to be used in the place is small or the number of floors in the space is not large and doesn't cross floors (or is simply a wooden partition wall), a router with 2 antennas should be sufficient. If the walls are concrete or brick, it's better to buy a Wi-Fi sharer with 3 or 4 antennas. Of course, if you have enough budget, you can place a router or repeater on each floor, so the network transmission effect is the best.
4. Routers with exposed antennas can improve network stability
Because wireless routers transmit data via radio waves, generally speaking, the signal strength of routers with exposed antennas is stronger than that of routers with hidden antennas.
Routers with exposed antennas usually have higher power, so they can provide more stable wireless network services within a certain range in comparison to routers with hidden antennas. These routers can even adjust the signal transmission direction. For devices that must be used at a fixed point, such as desktop computers, TV boxes, and other products, it can provide relatively better network quality.
5. Understand the difference between the 2.4GHz and 5GHz Wi-Fi frequency
Currently, the main frequency bands of routers are divided into two types: 2.4 GHz and 5 GHz. We'll explain the advantages and disadvantages of these two frequency bands below. It's suggested to choose a suitable router or Wi-Fi 6 router, depending on the home environment and usage habits.
Common router specifications include AC3200, AC2600, etc. But what do these codes mean?
It's often misunderstood as the model number, but in fact, most routers on the market are 802.11ac standard (Wi-Fi 5) and AC refers to a wireless specification. The number behind AC refers to the bandwidth or, rather, the sum of all the bandwidth that can theoretically be delivered by each band/frequency that the router uses. If a router has two bands (2.4 GHz and GHz, which are the standard bands used by Wi-Fi, as noted), one of the bands can claim a maximum of 450 Mbps and the others 1300 Mbps (1750 in total).
In short, the higher the AC value, the higher the transmission speed.
2.4 GHz frequency band
The 2.4 GHz band has high penetration and wide coverage and isn't easily affected by obstacles, so it's relatively stable during long-distance transmission. There are many devices on the market today, such as induction stoves and Bluetooth, that use this frequency band.
Currently, there are still many devices that only support 2.4GHz and most places still use the 2.4 GHz frequency band wireless network, so they're vulnerable to various radio waves emitted by different devices interfering with wireless signals, resulting in unstable connection conditions in the home. However, it's recommended to determine the frequency band of the wireless network sharer according to individual needs and places of use.
5 GHz band
Although the 5 GHz frequency band is easily affected by obstacles and has a small coverage area, there are currently not many devices using the same frequency band, and it's relatively immune to interference. Additionally, the transmission speed within the range is much faster than 2.4 GHz, so if the house is an apartment or a bungalow with a small area, it is quite suitable to choose a router in the 5 GHz frequency band as the wireless home network at home.
If you feel that your wireless signal is unstable, you can also use a Wi-Fi signal extender. This way you can receive fast and stable wireless network signals anywhere in your multi-story place.
6. Select the router according to the connection specification of the device
When buying wireless routers and Wi-Fi routers, you should also pay attention to whether the devices support the relevant specifications. For example, if you buy an 11ac wireless router, but your laptop or cellphone doesn't support 11ac and MIMO, you can only use b, g, n, and other specifications to connect to the Internet, and the usage will be different. Therefore, when choosing a wireless router, be sure to check what specifications support existing devices and which router will be more secure.
The transmission speed of a Wi-Fi sharer will also be related to its specifications and the number of devices connected at the same time. When choosing a network router, you should also pay attention to these small details to find the most suitable network sharer.
802.11ac and 802.11ax
Currently, most wireless routers on the market have the "IEEE 802.11ac" or Wi-Fi 5 specification since 2018. This means that multiple bandwidths can be connected at the same time to achieve the same speed as a wired network. However, since some devices don't support this specification, most wireless routers still support earlier specifications such as a, b, g, and n. The working frequency band of models that support this specification is only 2.4 GHz, so it's best to pay attention when choosing a router.
Recently, the latest technical specifications of 802.11ax, also known as Wi-Fi 6, have been released. You can use 2.4 GHz and 5 GHz at the same time to achieve ultra-high-speed transmission. Compared with 802.11ac, 802.11ax can increase the actual throughput by up to 4 times in dense user environments, the nominal transmission rate increases by 37%, and the delay decreases by 75%. With the popularization of 5G base stations, wireless routers will allow everyone to enjoy the fun of browsing the Internet in the future.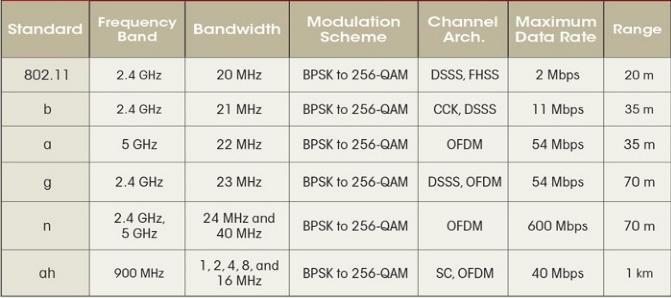 7. The number of devices that can be connected to the router simultaneously
It's recommended that when selecting routers and sharers, firstly confirm the number of connections that the wireless router can accommodate at the same time. This should be done to avoid frequent disconnections or slow connection speeds. Since Wi-Fi 4 has started to introduce MIMO (Multi Input Multi Output) technology, if there are multiple device connection needs, it's recommended to choose MU-MIMO.
What is MU-MIMO? It's short for Multi-User Multiple-Input Multiple-Output, which stands for Multi-User Multiple-Input Multiple-Output technology. As the name suggests, MU-MIMO is a technology that enables wireless routers to communicate with multiple devices at the same time and is one of the most important features of the 802.11ac Wave 2 Wi-Fi technology standard. Therefore, choosing a wireless router with MU-MIMO technical specifications can meet the needs of connecting multiple devices and maintaining a stable and high-quality wireless signal.
On this point, the routers offered by Xiaomi stand out by far, as they are conceived and designed taking into account the current reality of many homes. They're designed to allow various connected devices, whether lights, vacuum cleaners, surveillance cameras, etc…
8. What is a WAN/LAN port?
When purchasing a wireless router, you should not ignore knowing what a WAN/LAN port is.
Local area network (WAN):

It's an external network composed of connected computers. A LAN can be thought of as the Internet. That is, a data machine sends and receives data to and from the Internet through its LAN ports.

Local area network (LAN):

It's a group of devices in a home or office that are connected to a wired and Wi-Fi network. A LAN is your network, consisting of computers, phones, tablets, routers, and more.
Most Wi-Fi routers have ways to connect to other devices, including WAN and LAN ports. In general, entry-level routers only support Fast Ethernet on WAN and LAN, and their maximum is only 100 Mbps. If you use broadband services above 100 Mbps, the speed will decrease. Therefore, if you use broadband above 100 Mbps, it's recommended to choose a wireless router with a Gigabit network port, so you can enjoy the thrill of extremely fast transmission.
9. Does the router have a USB expansion connection function?
To improve its performance, many router brands provide the USB expansion connection function. This allows users to connect a flash drive or external hard drive via this USB and use the local area network to allow all devices in the home to read files and share data.
This model of a wireless router can also download files directly without a computer, but it may affect the Internet speed when downloading or reading data. Therefore, users who need to share and download data should pay attention to whether the router has a USB expansion connection function, which would be more suitable.
What is Wi-Fi 6?
As of 2019, WFA (Wi-Fi Alliance) changed the name to numbers to designate the new standard to simplify the naming. Thus, the name Wi-Fi 6 appeared (the previous name was 802.11ax). Wi-Fi 6 is the latest wireless LAN standard released by WFA. When Wi-Fi 6 is bandwidth-intensive, it can improve speed, increase throughput, and reduce congestion. Previous 802.11b, 802.11a, 802.11g, 802.11n, and 802.11ac were also renamed Wi-Fi 1, Wi-Fi 2, Wi-Fi 3, Wi-Fi 4, and Wi-Fi 5.

Five benefits of Wi-Fi 6 wireless networks
What's so special about Wi-Fi 6? From a technical standpoint, it can solve many problems of the old standard. Qiao An has compiled the top five features of Wi-Fi 6 for your reference, especially for heavy Internet users. Enhancement, device cooling, etc. They have made significant progress.
1. Low latency
Through the revolutionary combination of OFDMA, MU-MIMO, and BSS Coloring technologies, Wi-Fi 6 technology can provide up to 4 times more network capacity to reduce latency in traffic-intensive environments. When browsing the Internet at the same time, Wi-Fi 5 will require more power than Wi-Fi 6 to handle multitasking requirements and will cause more delays due to different device response speeds.
2. Faster transmission
Wi-Fi 6 has an innovative 1024-QAM modulation technology, breaking the existing speed limit. It can hold 25% more information, significantly increase throughput by 1.25 times, and the increased speed can reach up to 9.6 Gbps.
3. Can handle multi-person and multitask requirements
Wi-Fi 5 supports less than 30 devices, and Wi-Fi 6 supports up to 200 devices.
4. Low power consumption, more energy saving
The Wi-Fi function is inactive when there is no signal transmission and only a small amount of data transmission is required to maintain the connected state of the software and smart devices. This increases the battery life of Wi-Fi devices (such as IoT devices) and saves approximately 50% of power (the modem + the device itself).
The Target Wake Time (TWT) feature allows the device to go to sleep when it doesn't need to communicate with the router, reducing power consumption by up to 7 times and greatly improving battery life. This way, you can greatly extend the battery life of your smartphone or laptop.
5. Signal coverage is wider
Today, most users' smartphones, tablets, computers, and modems are Wi-Fi 5. Wi-Fi 6 and Wi-Fi 5 also use the 2.4G and 5G protocol standards.
Through OFDMA technology, the short-distance defect of the 5G signal is improved. It can be used with an AP router or MESH router (equivalent to adding an extension and additional purchase required) to expand the signal and extend the broadband coverage (horizontal + vertical). Each channel can be distinguished and smaller subchannels have a smaller bandwidth, allowing the signal range to be increased by up to 80%. The result is fewer Wi-Fi dead spots, enabling a ubiquitous network environment.
Wi-Fi 6 is like a larger highway with several branches at the same time, allowing you to reach your destination faster and smoother.
Where to buy a Xiaomi router?
AliExpress
In this great platform, you'll have access to most of the models offered by the brand, whether they are global models or exclusively for the Chinese market. You must consider that on many occasions (especially in the case of Chinese models) you may find yourself with limited language choices or only Chinese.
Amazon
You can also find various Xiaomi models in the global version on the world's largest e-commerce platform.