1
Mi 50W Power Bank 20000
50W fast wired charging, supports simultaneous charging (up to 3 devices at a time), 147.9 x 70.6 x 16.6 mm. Suitable for air travel. Laptop friendly.
2
20000mAh Mi Power Bank 3 Pro
Bi-directional USB-C port gives and receives charging with up to 45W, simultaneous charging, 153.5×73.5×27.5mm.
3
20000 mAh Redmi Fast Charge Power Bank
18 W bidirectional fast charging, dual USB-A output, suitable for flights, 9 types of protection, 154 x 73.6 x 27.3 mm.
4
Xiaomi 33W Power Bank 10000 Pocket Edition Pro
33W max fast charging, 22.5W max input, Type-C two-way fast charging, can charge 2 devices at the same time, 9 types of protection, 105 × 55.8 × 25.5mm.
5
10000mAh Mi Power Bank 3 Ultra Compact
USB-A/USB-C for up to 22.5 W output, simultaneous charging (up to 3 devices), bi-directional charging, full charge in 3.5 hours, suitable for air travel, 90 × 63.9 × 24.4 mm.
6
Xiaomi 10W Wireless Power Bank 10000
10W wireless fast charging, 22.5W wired fast charging, supports simultaneous charging (up to 3 devices at once), 147.9 x 70.6 x 16.6mm, suitable for air travel.
7
10000mAh Redmi Power Bank
Micro-USB USB-C input and dual USB-A output ports, simultaneous charging (up to 2 devices at once), suitable for air travel, 150.5 x 73.6 x 15.1 mm.
Power banks or external batteries have gradually become a very popular and even necessary accessory for many people. Even though today's mobile devices have batteries with higher capacities, it's also true that their energy consumption has increased due to the type of screens they use and their larger size, which generates higher energy consumption. Besides, the increasing number of applications running in the background causes batteries to run down.
This is why external batteries play an important role in ensuring enough autonomy, whether for phones, laptops, tablets, headphones or other common electronic devices.
We're not saying anything new when we mention that the market is saturated with different brands and models of power banks. This makes it really difficult to decide what to buy to meet our needs.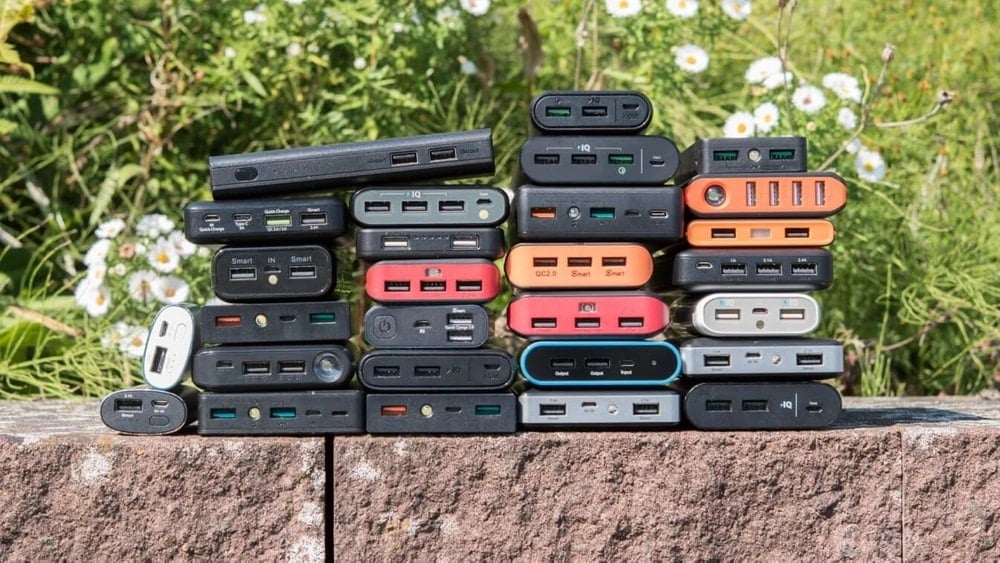 Therefore, in this article, we'll discuss the most important features to consider when picking a power bank.
General characteristics of power banks
Most external batteries incorporate lithium-ion (Li-ion) or lithium polymer (Li-pol) cells because of their ability to deliver high current without the problems associated with the "memory effect", which leads to a decrease in battery capacity with incomplete charges.

Additionally, constant progress has been observed in the capacity of these batteries, as well as in the improvement of voltage controllers. It's not uncommon to find external batteries with 5, 9, 12, 15, and even 20 V conversion controllers.
Is the advertised capacity real?
The short answer is no, but let's dig deeper. It should come as no surprise that, in general, manufacturers tend to round up their specifications to reach a wider audience, get better promotions, and ultimately increase their sales. In the context of power banks, we can notice how manufacturers often mention specific capacities, such as 10000 mAh, 20000 mAh, or even more, presenting them as accurate figures. 
However, this raises a question: can a 10000 mAh power bank charge a flashlight with a 1000 mAh battery ten times? Actually, it's not that simple. Why? The reason is that some of that energy is converted to heat, and this occurs in the voltage conversion process.
Over time and with use, the actual capacity values can vary considerably. This is due to factors such as the quality of the cells that store the energy and the quality of the electronic circuits responsible for converting that energy. These aspects must be taken into account.
What does Xiaomi offer?
In its early stages, Xiaomi relied on collaborations with companies that specialized in various sectors to design and develop its products. This was reflected in Xiaomi's first power banks, where there was close cooperation with another company called ZMI or ZIMI, which specialized in manufacturing batteries, chargers, and cables.
The resulting success was so significant that Xiaomi gradually gained relevance in the charging and battery field. In 2021, the integration of Xiaomi and ZMI was consummated, as Xiaomi fully acquired ZMI.
Over time, Xiaomi has demonstrated the excellent quality of its power banks, standing out for their careful design, reliability, and durability.
The brand's catalog covers a wide range of models, that go from simple and affordable options to models designed to meet the needs of the most demanding users.
Besides that, all Xiaomi power bank models incorporate a variety of safety mechanisms, such as thermal protection, short circuit safeguards, and overvoltage protection.
How to choose a power bank
This is perhaps the most interesting and, at the same time, complex point. Especially because the variety of these accessories is constantly growing, with different brands, designs, and models.
However, we'll try to simplify it by mentioning some key points.
Firstly, avoid getting carried away with the newest models. Sometimes, we tend to believe that newer is always better, which isn't necessarily true. While it's true that power conversion and capacity technologies are updated and improved over time, newer models often focus on increasing capacity, including faster charging or even wireless charging, rather than improving other aspects.
This point is important when choosing what power bank to buy because purchasing a power bank with 120W fast charging isn't too useful if your smartphone or device isn't compatible. The same applies to wireless charging. Charging power is important, but it should be in tune with the capabilities of your device.
Consider your needs and how you'll use the power bank to logically determine how much capacity you need. If your budget allows and size isn't a problem, opt for one with a higher capacity, such as 20000 mAh instead of 10000 mAh. Of course, keep in mind that the higher the capacity, the longer it'll take to fully charge the power bank.
Another important aspect is the connections, both the type and the number of outlets. In general, the more outlets you have, the more flexibility you'll have when charging multiple devices.
It's essential to also check the condition of the cables you'll be using. Make sure they're not damaged to avoid energy losses, excessive charging times, and, most importantly, possible electrical accidents.
Safety shouldn't be underestimated. Power banks are exposed to constant electrical risk, both during charging and when supplying power. Therefore, it's crucial to consider the safety certifications of the external battery of your choice to protect both your devices and yourself.
As previously mentioned, Xiaomi power banks offer up to 9 levels of safety, which include over-temperature protection, output and input short circuits, detection of metal debris or presence of foreign objects, over-current and over-voltage protection, rapid over-charging and over-discharging, and hardware-level over-current short circuits.
Where to buy Xiaomi power banks
AliExpress
This platform undoubtedly provides ample opportunities to buy Xiaomi power banks. On their site, you can find models that may not be available on other marketplaces. Besides, you'll benefit from faster and more secure shipping options, as well as a wide variety of payment methods.
Amazon
This is one of the largest platforms that offers exclusive services for its customers. These services include ultra-fast deliveries, no-cost return guarantees, and a wide selection of Xiaomi power banks.