We shoppers often overlook opportunities to save at Shein, so today we bring you an article with different ways to save that exist at Shein.
Warning: with this trick you can get unlimited Shein coupons. Click here to find out more.
Saving tips
Sale section
Shein has a sale section on the site which you can access here.
These sales are separated by category so you can search more easily: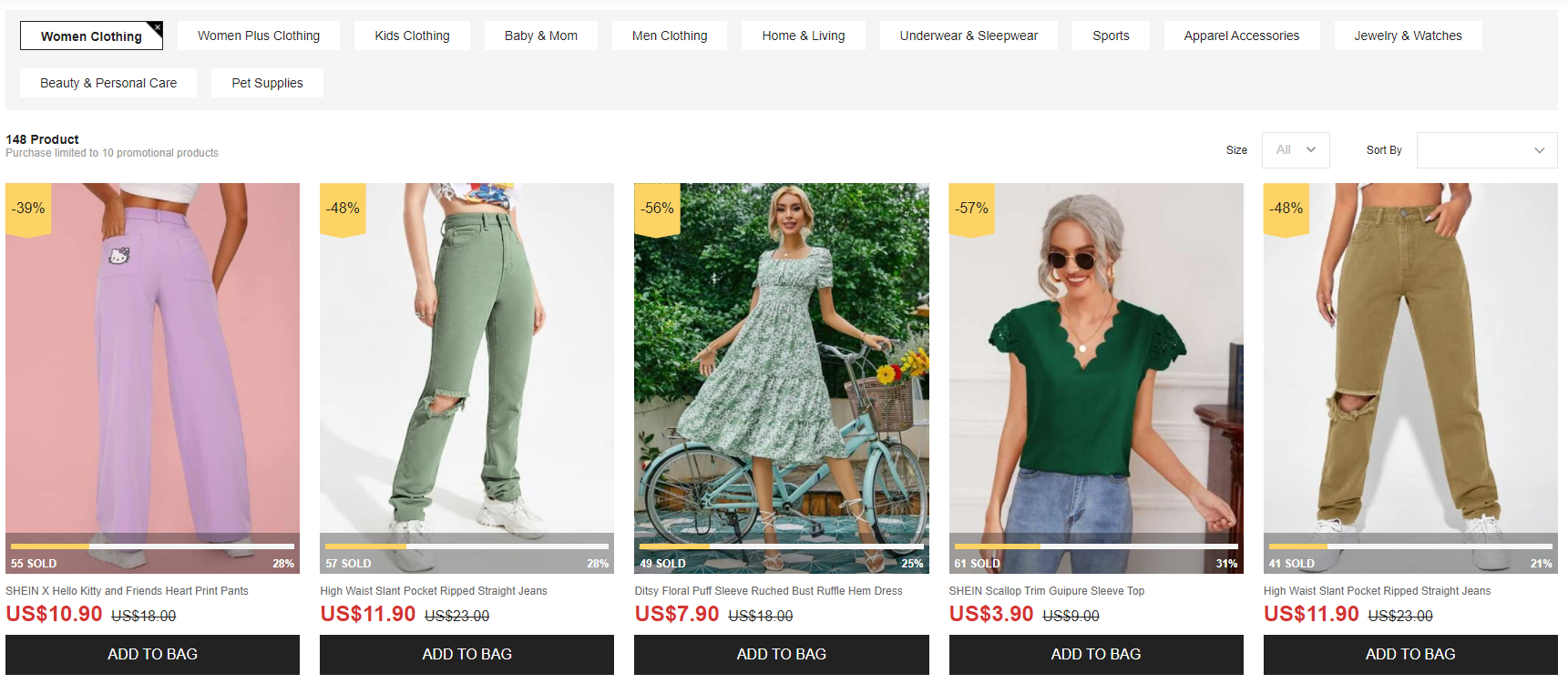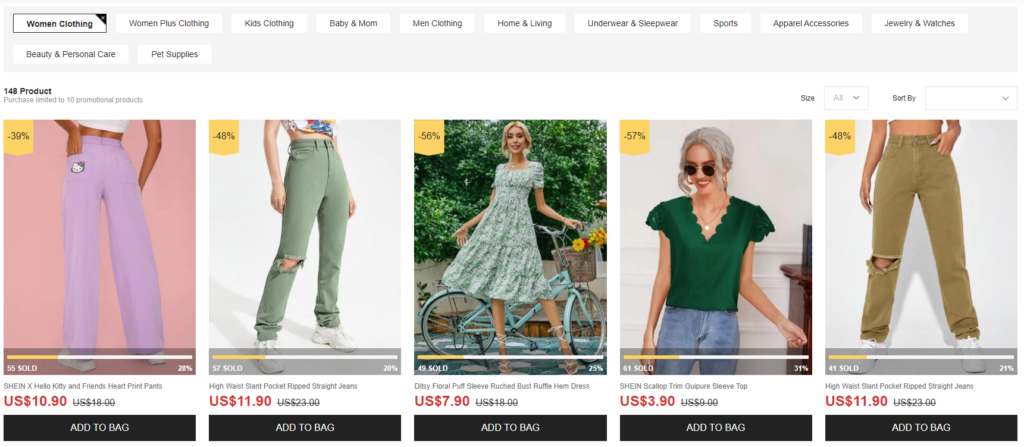 As you can see in the image, discounts reach up to nearly 60%. You will also find Flash Offers for a limited time.
It's an easy way to save at Shein: just take the time to explore the category to get more and better deals. Remember that this section is renewed daily so don't get complacent, as soon as you see good prices you should take advantage of them right away.
Points Program
Main article: How to earn points at Shein
Shein has a program that allows you to accumulate points every time you perform actions in the store.
Every 100 points you get you get 1 USD for your purchases, that you can then use to pay for up to 70% of your order.
In the Shein app you will find more ways to earn points, and you can do it during those moments of the day when you have a few minutes to spare.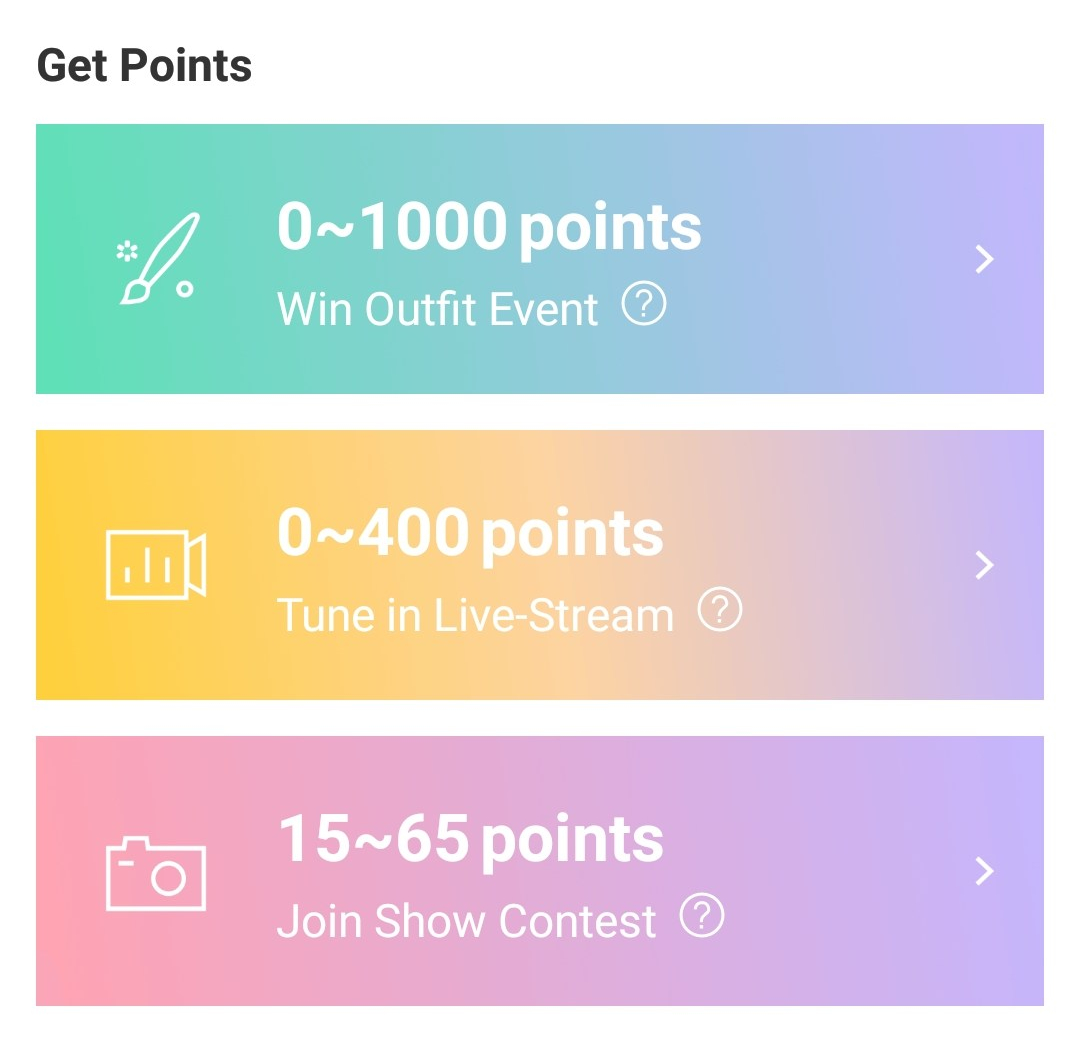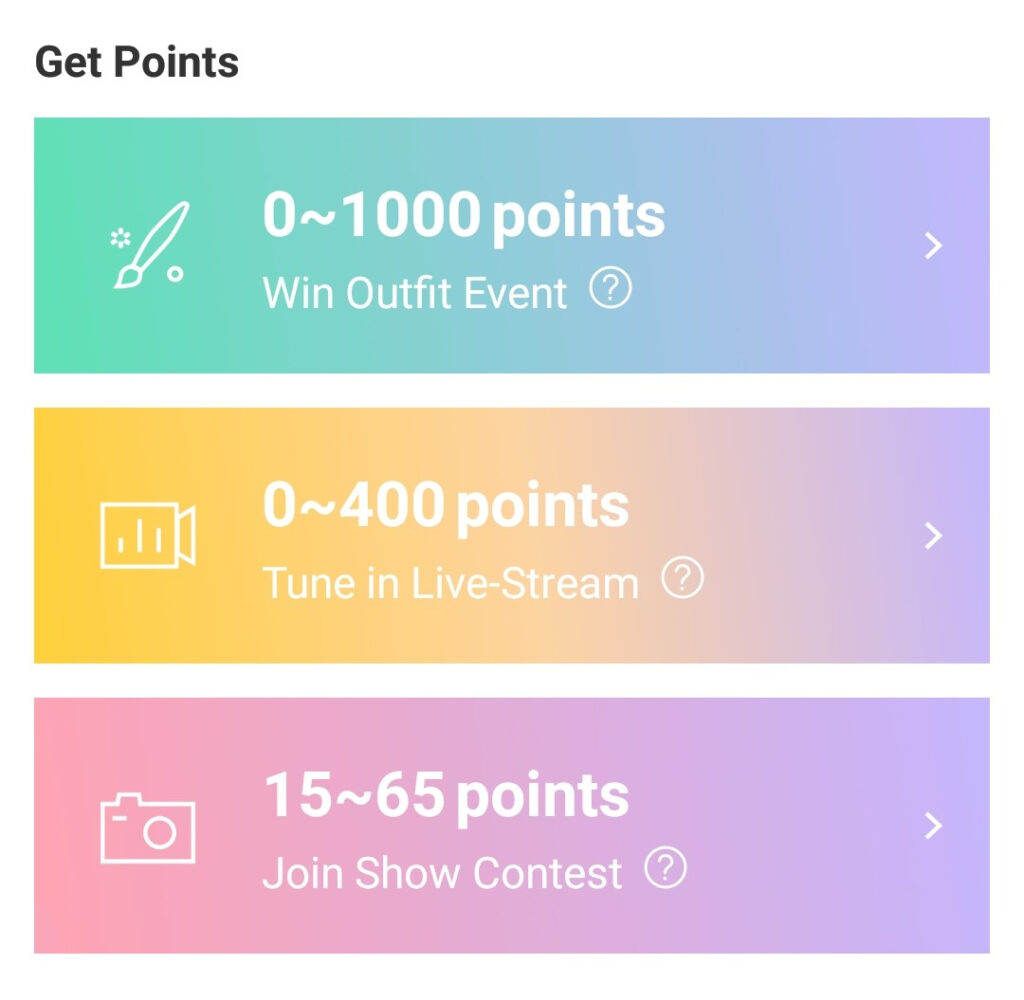 Some ways to earn points are:
Completing your data.
Verifying your email address.
Checking in at the store.
Watching and sharing the live videos.
Commenting on the clothes you bought.
Shopping.
Creating and sharing your outfits.
Participating in contests.
As you can see, these are simple areas that will take you only a few minutes per day and will allow you to save a lot.
Keep in mind that these points generally expire every three months, so don't get distracted and use them as soon as you have a few.
Influencers, bloggers and youtubers
Fashion influencers, bloggers and youtubers often do collaborations with big stores like Shein.
Many times they wear or review products from the sites. You may come across their own promotional codes underneath their posts. You don't need to follow them, just find these people on social media.
A tip: try searching YouTube for "Shein discount code" and click on a recent video. Chances are it will be noted in the description so you won't even have to finish watching the video.
Free trial center
With the Trial Center you don't save money, you just don't spend any money at all: as amazing as it sounds, you can get Shein to send you free samples of their products.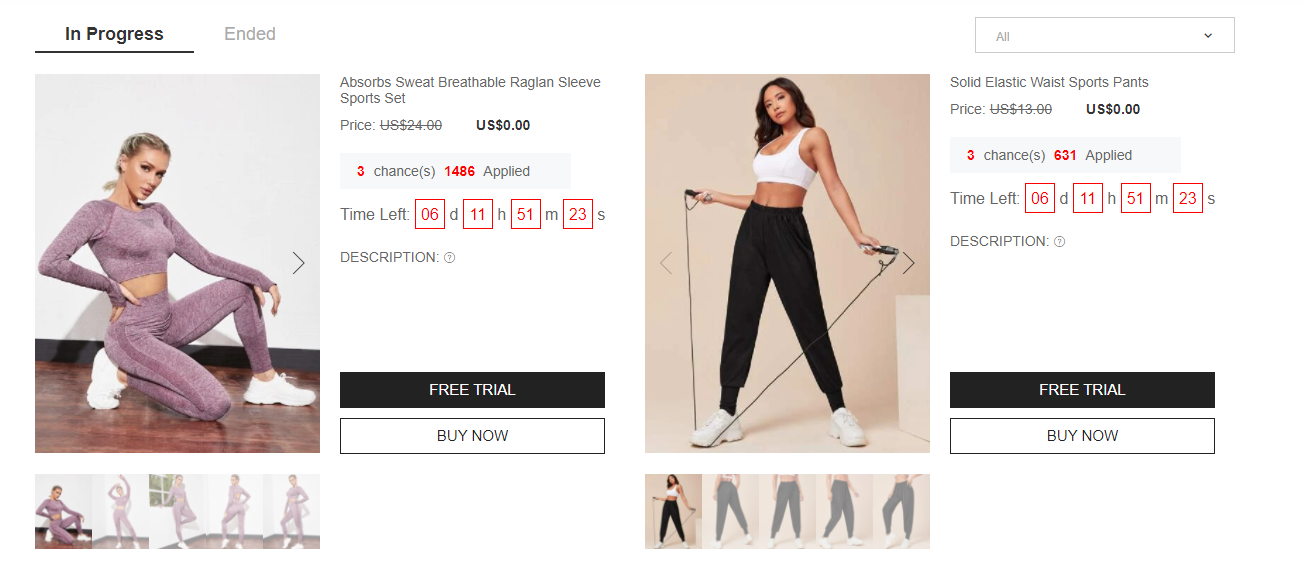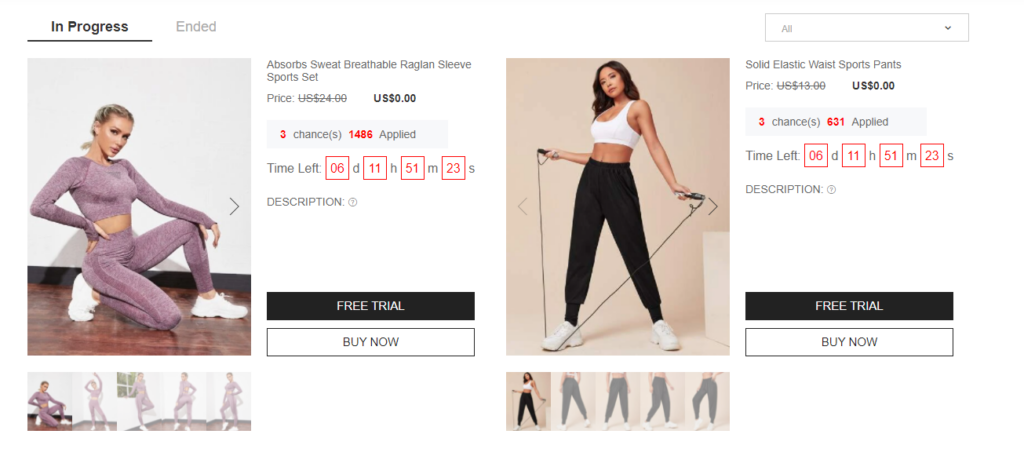 Participating is easy but you must keep in mind that the competition is high. Here what we can recommend is patience and persistence: try to take advantage of your three weekly registrations and visit this section often to see what new options appear.
To go to the Shein Free Trial Center click here.
Surveys
If you are subscribed to the newsletter you may receive surveys (some shorter than others) to share your experience as a shopper in the store.
Most of these surveys will award you with points upon completion or some other form of savings.
Promotional coupons
The store has its own selection of coupons on both the desktop version and the mobile app. You can find them on the home page of both. They appear unannounced so it's a matter of luck and keeping an eye on the page.
You must log in to your account so that every time you claim a coupon it is saved in the "My coupons" tab of your profile. You can then apply them to your purchases, but don't forget the expiration dates.
There are also promotional codes that you enter at the last stage of the purchase. You can Google "Shein coupons", but be aware that most of the coupons you will find will not work.
Free shipping
Main article: How to get free shipping at Shein?
Here are several ways to get free shipping:
For new customers: Usually new users don't pay for shipping. You just need to create a Shein account and make your first purchase in the store.
Live Wednesday: Free shipping coupons are usually given out at Shein partner live events.
Free Shipping Sunday: Triggered at some random time on Sunday.
Games like roulette: Not always available but we recommend you use them as you could be eligible for free shipping and other in-store benefits.
Exceeding the minimum purchase amount.
Third party coupons: Try googling "shein free shipping coupons" and you might find some options.
Signing up for the newsletter: Shein will sporadically send you free shipping coupons.
Using the app: many times completing simple missions will get you coupons and other discounts.
Warning: with this trick you can get unlimited Shein coupons. Click here to find out more.
Gift cards
Buying gift cards is another good way to save at Shein, as the price of these cards is usually less than their value.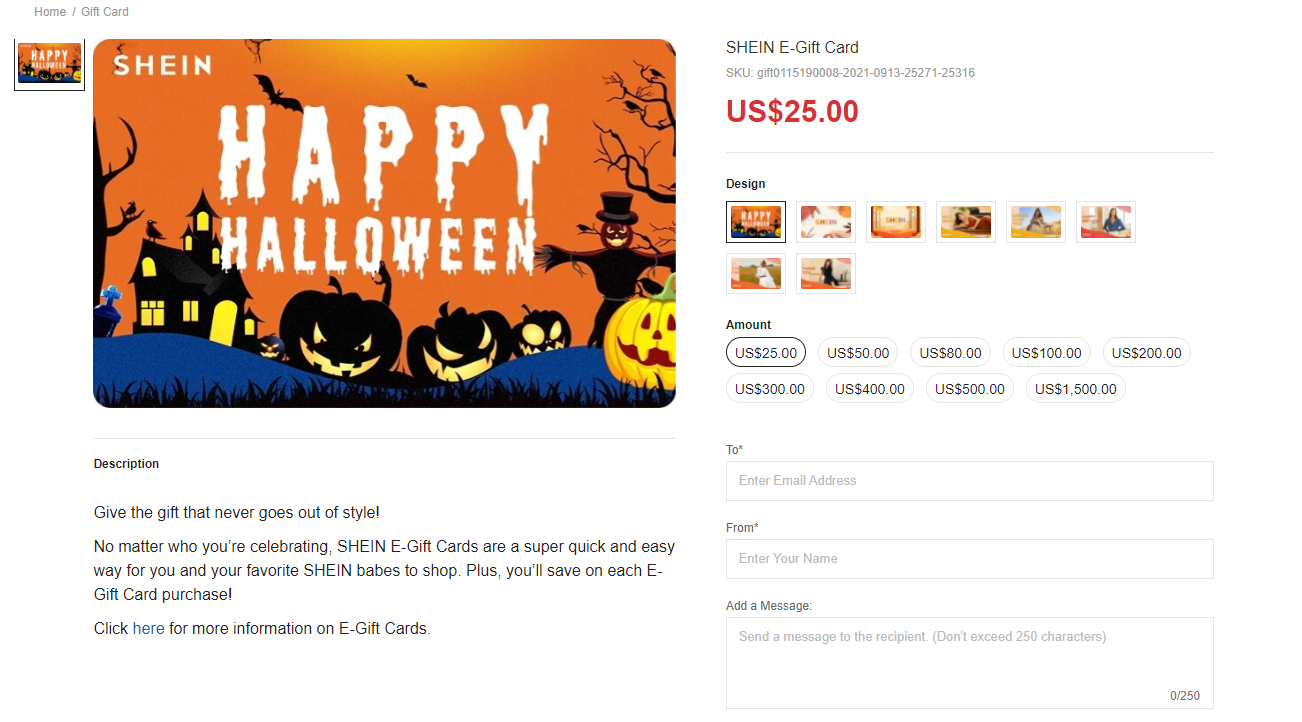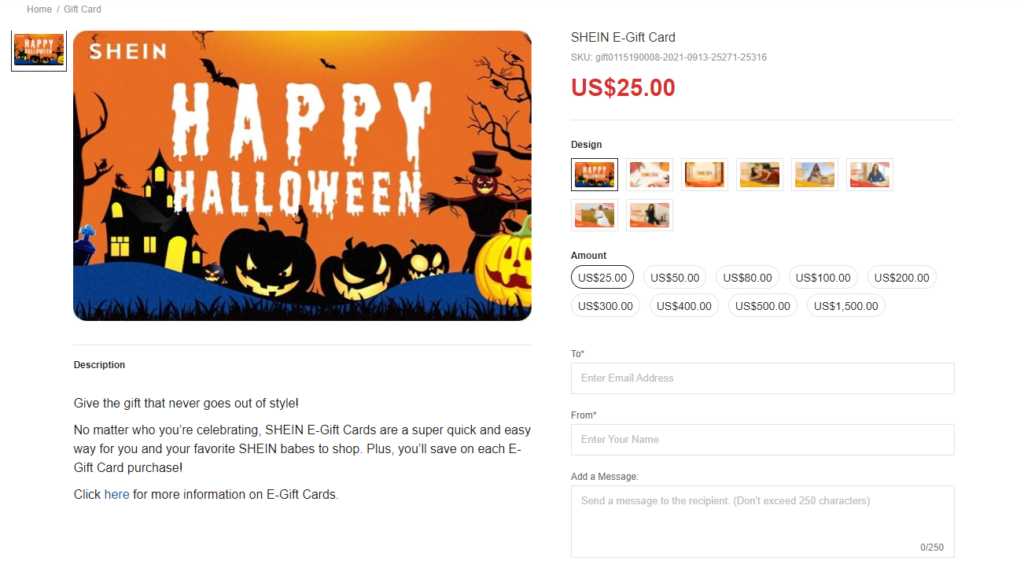 These cards expire 120 months after you buy them, so you don't have to worry about expiration. You can use them on different purchases you make at Shein.
To explore the gift cards available at Shein click here.
Subscribe to the newsletter
Through the newsletter you will receive all the news from the store in your email. Within the content of each weekly newsletter you will find information about trends, discounts, upcoming promotions, and sometimes you will also receive gift certificates.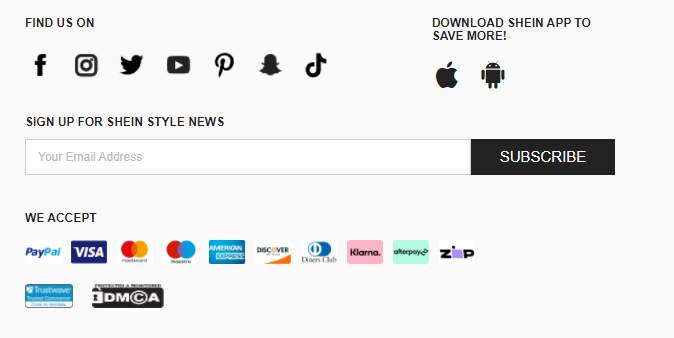 The good thing about this option is that it allows you to find out about some offers earlier and therefore you will have more time to take advantage of them or get them in case there is limited stock.
You can subscribe to the newsletter at the bottom of the Shein homepage.
Shein contests
Shein often holds contests that consist of creating outfits with products from the store or collages on a specific fashion trend.
You upload it and that's it, you're participating. And just by uploading your image Shein gives you some points for free. And you can upload up to two images per day.
In general, in these contests several winners are chosen. In some of them, the winners are the ones who get the most likes from other users and in others the ones selected by the Shein team.
An example of a collage contest was the "Summer Vibes" contest: in this case, the contestants had to recreate the essence of summer through a selection of photos. This example can help you see that it's not complicated, you just need a little time and creativity.
Many shoppers enter these contests so it can be very difficult to win but don't lose hope. Plus, as we've already said, you get points for participating and that's always good.
Games at Shein
Shein has games like Roulette or Stacking boxes. Through them you can score points, get free shipping or percentages off to apply in your cart.
These games are not available all the time, they are usually launched in seasonal changes or special dates such as: Mother's Day, Valentine's Day, Christmas, Shein anniversaries…
You will know when they are active because they will appear on the Shein homepage.
Cashback applications
By paying with Shein from these platforms you will receive a cashback percentage (between 2 and 20% in general) of the value of your purchase.
The process is very simple. Just go to the page of the cashback app of your choice, select the online store you want to shop at and make your purchase as you normally would.
Can these forms of savings be combined?
Yes, and in fact that's the key to getting the most out of the store and all the benefits.
By combining the available savings methods, you can make a product cost up to 80% less than its original value.
But keep in mind that you can only apply one coupon for each order you place. So, if you have one for free shipping and another for a percentage discount, you will have to calculate which one is more convenient.
This is the biggest limitation you can find when combining saving modes. Other than that, you have many possibilities to combine the tricks we have told you and save as much as you possibly can.
Warning: with this trick you can get unlimited Shein coupons. Click here to find out more.