In today's article we explain what to do if after buying something on AliExpress you realize that the shipping address was not correct.
And in the second part, we will tell you how to add or change your AliExpress addresses in a simple way to avoid this kind of mistakes.
I placed an order to the wrong address, what do I do?
First of all, you have to know that AliExpress does not let you modify a shipping address once you have confirmed the purchase. But don't worry, you can do these four things (ordered from best to worst solution):
Contact the seller immediately
The best solution is to click here and explain to the seller that you have made a mistake with the shipping address and that you want to change it. If they're a serious seller and answer immediately that there is no problem in changing it, then you can be calm.
If you see that it takes a long time to answer, especially if it is a seller who does not have many sales, we recommend that you cancel the purchase.
Remember that you can only cancel before you get the status "Order sent", so you have to hurry up. But first read the next section.
Cancel the order
In the article on how to cancel an AliExpress order we already told you that it is possible that the seller does not accept the cancellation and claims that he has already sent the product. Here it is useless to open a dispute because AliExpress will not accept it, so you have to hurry all the possibilities that the seller accepts the cancellation request.
To do this we recommend this: even if they did not answer you the previous time (when you asked them to change the address), write again.
This time explain that you are going to cancel the order because you put an incorrect address and that you are going to buy it again with the correct address. Now click here and cancel the order.
If the seller knows that you intend to cancel in order to buy again, they are more likely to accept the cancellation. If they do not accept the cancellation or if you have arrived late and you are out of time, we move on to the next box.
Try contacting the courier
If it's ordinary shipping, one of those that the letter carrier puts in the mailbox without asking for your signature, then there is nothing to do: the order will be received by the person who lives at the address you gave.
Depending on how much the order is worth to you, you may be able to go to their house and ask them to give it to you. But if it is a registered order (you have to sign for it), you can keep an eye on the tracking and try to contact the courier company when the order arrives at your location.
Since it is in your name, they may allow you to pick it up at the office. And if they don't listen to you, there is one last option.
Negotiate a partial refund
If the shipment is registered and no one signs for the pickup at the address you gave ("no one by that name lives here"), the order will probably be returned to China. You will know this because the status of the order will say "returned to sender" or "in the process of return".
At this point you can negotiate with the seller: tell them again what happened, ask for a partial refund and tell them that you are buying it back. They're under no obligation to refund your money but, who knows, maybe theywill sympathize with you.
How to add a new address, modify or delete it
Let's see how you can add an address and modify it from the AliExpress application and website. You can access directly to "My Shipping Address" if you click here, but if the link doesn't work, we explain you how to get there.
From the AliExpress app
First log in, go to "My account" (bottom right), scroll down and you will see "Shipping address". Click on it and you will see the option "Add new address". Make sure that everything is correct and don't forget to add your cell phone number, this is very important because the courier company can contact you quickly if you are there.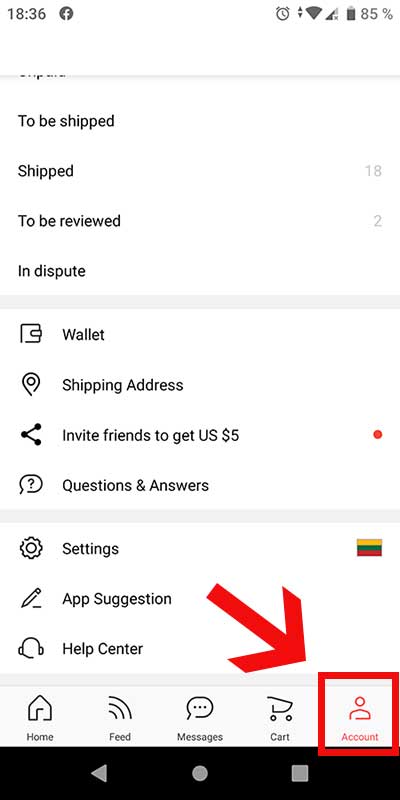 Save multiple addresses in the app
You can add as many addresses as you want (for example, your home address, your work address, a family member's address) but only the first one that appears in the list is the one you have saved by default. This means that when you make your purchase, that will be the address to which it will be sent to you.
To change the default address to another that you have saved, click on 'set as default'.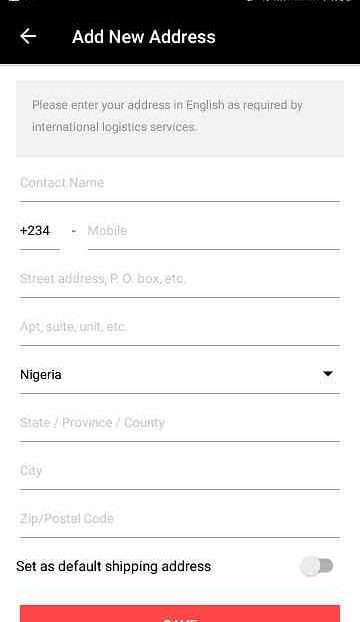 Modifying the address is very easy: just click on "edit" on the one you want to correct and save changes.
From the AliExpress website
Access by clicking here directly. If not, you can do it in a very similar way to the app: click here or go to "My account" (top right) and click on "My Orders". Inside my orders you will see a list on the left with several options:
Choose "My delivery address".
Select "Add my shipping address".
Fill in all the boxes.
Save multiple addresses on the web
If you have saved several addresses and you want to change it to another one, go to "Modify" (in the box of the address you want to change to) and check the box "save as default".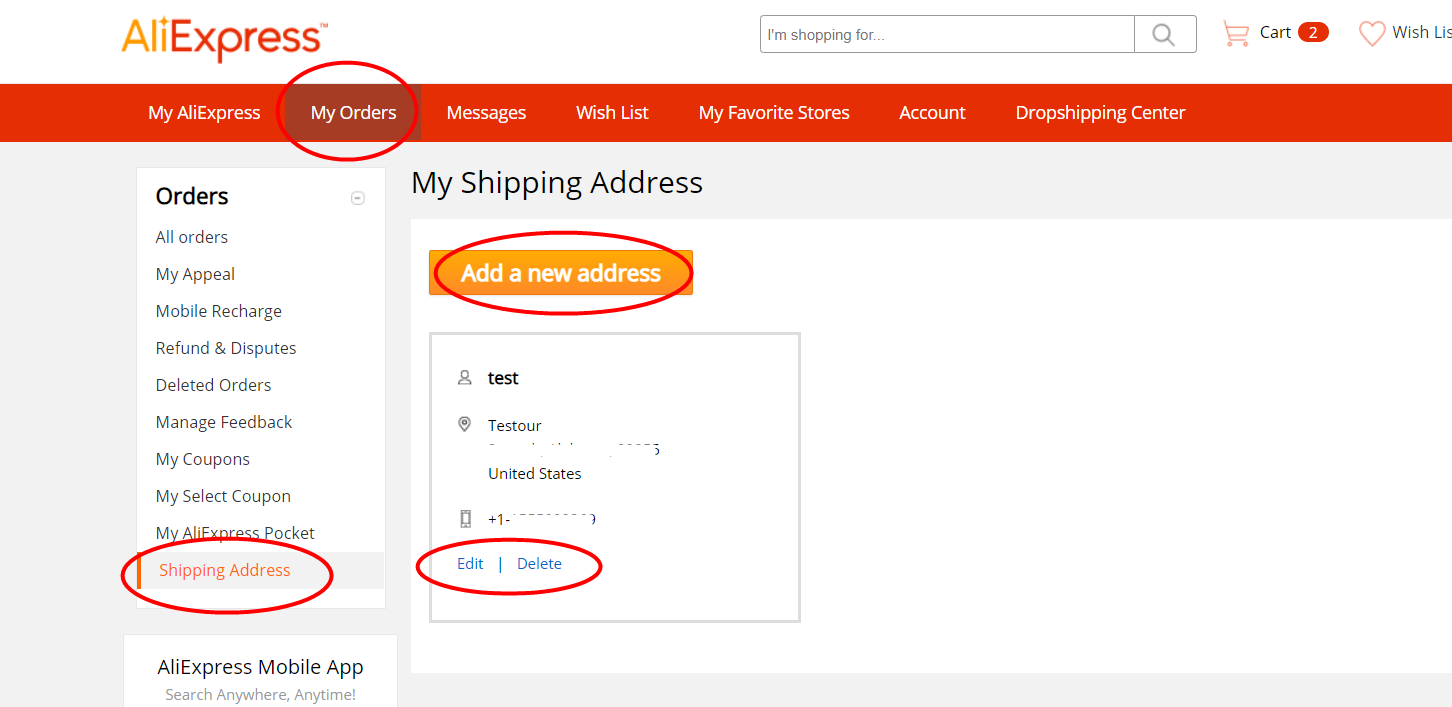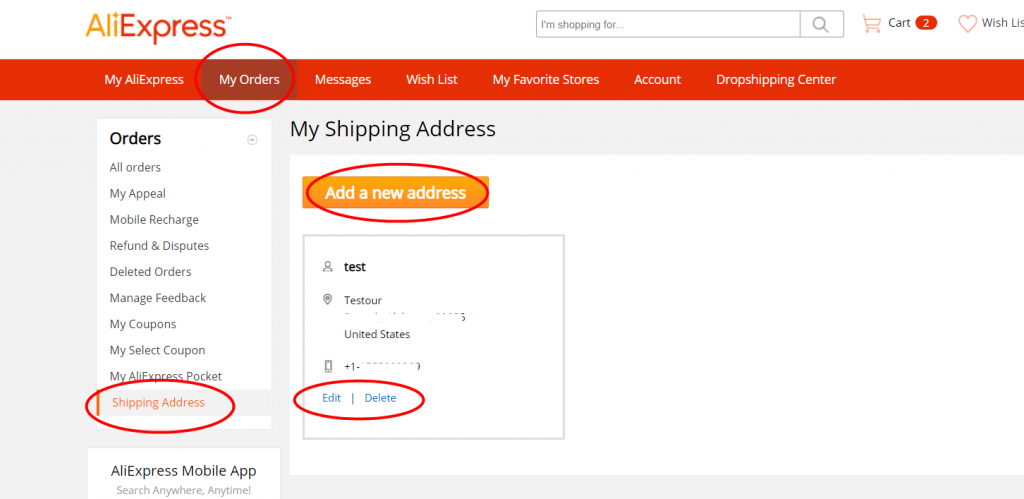 If you want to edit any of the addresses you have saved, click on "modify" and save the changes. Remember that all the addresses that you are not going to use anymore, it is better to delete them to avoid confusion.
It is not the same if you make a mistake sending an order to your old address, than to a friend's or relative's house (where you could locate the package in case you make a mistake).
If you have doubts about which address you have saved as default, it is better to check it before placing your order. This will save you a lot of headaches.