Most AliExpress packages arrive on schedule with no problems. But if it is delayed more than expected or the tracking number shows no movement, we begin to fear that there is a problem and it is not going to arrive.
AliExpress explains well what to do in these cases on their customer service page (here).
Either way, here we will explain the most common reasons why your order does not move and does not arrive, and some tricks to solve it.
What to do if your AliExpress order does not arrive
When you buy on AliExpress you will see an estimated delivery date. If the estimated date has passed and you have not received your order, do not waste more time and follow these steps, because waiting can make you lose your money.
Keep in mind that orders may take a little longer depending on the workload of the shipping company (usually the state postal service) on key dates such as Christmas, when there is a large volume of work.
Check the tracking number
When the seller sends your package, they indicate the tracking number with which you can know where your order is going. There are different shipping methods, some are not trackable, but in general sellers use AliExpress Standard Shipping, a trackable shipping method.
Log in to your AliExpress account and look in the order list for the tracking number. By hovering over it with your mouse you will be able to see the latest status of the order although we recommend you to click on it to see it in more detail or use other sites such as 17track.net.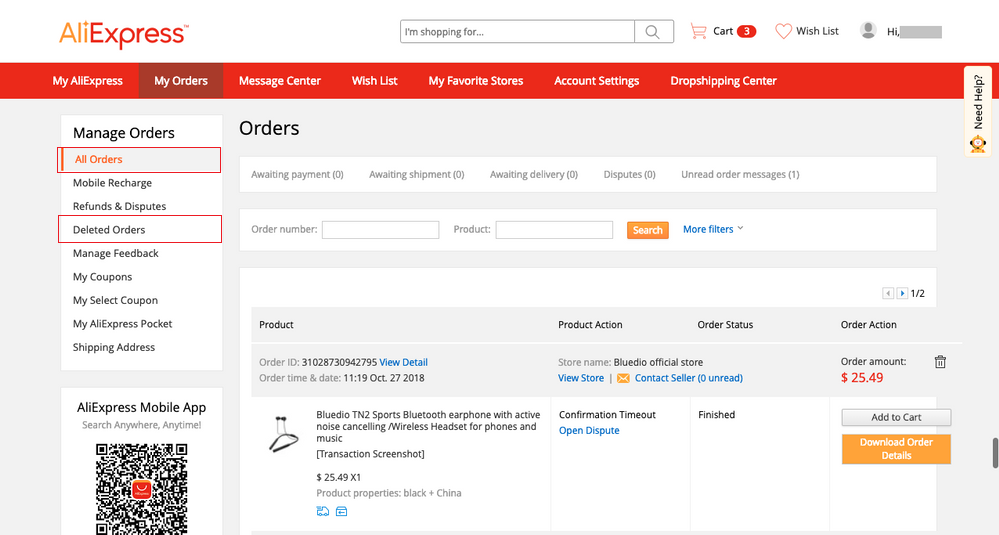 In the order status list you can see where your package is going: from the moment it leaves the seller's warehouse until it is delivered to your door, the tracking records all the movements of the package. If it hasn't arrived yet, you can check where it has stopped, below we will tell you what the causes are and what you can do.
It is also possible that the order appears as delivered but you have not received anything and it has not been delivered to any neighbor. In this case, you can enter a page like trackitonline.ru, where by entering the tracking number it will tell you in which city your package has been delivered (this serves as proof when opening a dispute).
Contact the AliExpress seller
The seller is the only one who can officially complain to the carrier, so if your AliExpress package has not arrived we recommend that you also contact the seller. They can offer us a good solution or check with the shipping agency what happened with the order.
Remember that in the dispute we will first negotiate with the seller, and if there is no agreement, AliExpress will intervene in the dispute, so if the seller understands the problem, they will accept your dispute proposal and you will get your money sooner.


Open a dispute to recover your money
Main article: Open dispute on AliExpress
If the seller does not answer or does not give us a solution, we recommend you to open a dispute on AliExpress before the protection time runs out. To do this you have to click here and click on "Open dispute" in the corresponding order: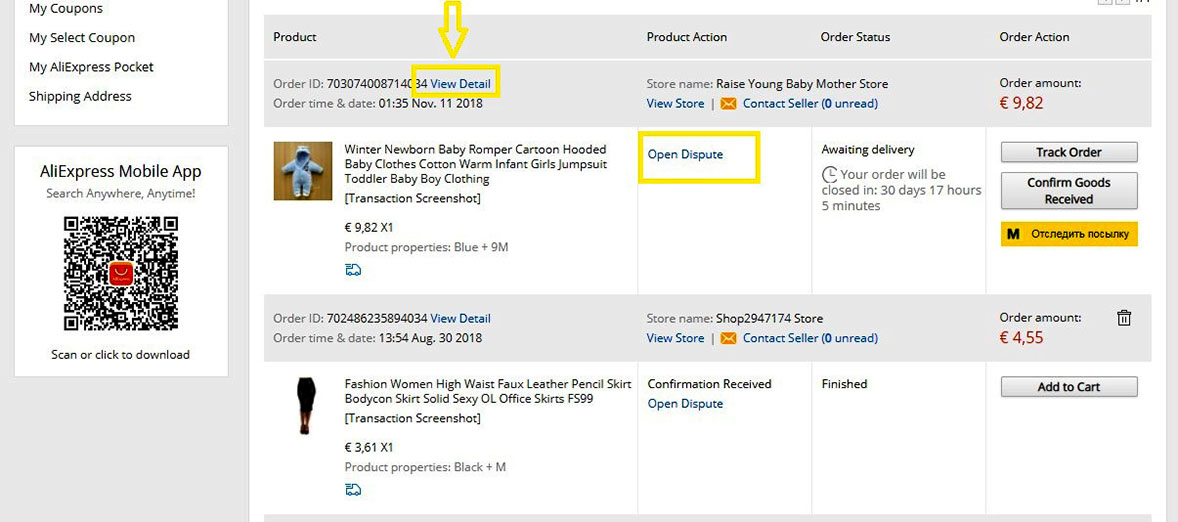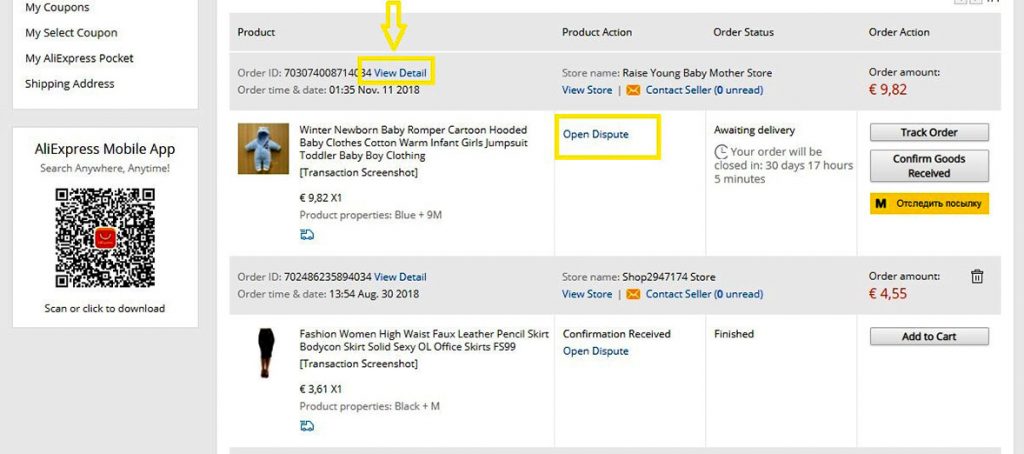 In case the order appears as delivered you must attach a small screenshot confirming that you did not receive the package. A good option is to go to trackitonline.ru and enter the tracking number, it will show in which city the package has been delivered.
Why the AliExpress order is not moving
The tracking number allows us to see the status of the order, if there is a problem with the order, or if it is about to arrive. But many times tracking numbers suddenly stop moving.
The most common is that when tracking it, it shows different states until it suddenly stops in one for a longer time, and if we let a few days pass it is likely that the package will continue on its way, but we explain to you in which cases you should start to worry.
Shipment with "cancelled" message in tracking not progressing
An exceptional case that requires more attention is when "cancelled" appears in the tracking number. If this happens, the order will probably not arrive since this message usually appears when the package has been stopped in the country of origin, either at customs or at the sorting center, and most of the time it is returned to the seller.
In this case, the seller would have to resend the order to us providing us with a new tracking number or refund us the money of the order through a dispute.
Ordinary shipping without tracking that does not move
There are different tracking numbers, if we buy a very cheap product it will usually be shipped with "AliExpress Saver Shipping" or "China Post Economy" shipping, which means it is ordinary shipping. So although these tracking numbers may show some movement when they are still in China, they will stop moving when they leave China.
Still, just because it is untraceable tracking does not mean we cannot claim, and if the expected delivery date has passed or the protection time is coming to an end, it is time to open dispute.
Shipment with tracking that does not move
Another common case is that the seller gives us a tracking number that can be tracked but we see no movement. You should keep in mind that tracking can take up to 10 business days to work, but after that time, it would have to show some tracking status, either "accepted" or "pre-registered".
We can start to worry if after the tenth day the tracking does not work and there is no message. In particular, if we see that the store has closed or the seller is not answering, we have probably been given a false tracking number.
If the tracking number is working but suddenly does not move from a particular state, there are some cases where it could be more worrisome than others:
Order "accepted" that does not move: it may be that the seller has registered the package but they have not yet picked it up from their warehouse.
Order with "customs entry" that is not updated: in this case, it is important to check the message carefully because it is possible that the package is in customs and you need to manage documentation so that it can be released and arrive at your home.
Order "leaving airline" or "leaving the country" that does not progress: many times the order stops after leaving the country of origin or after arriving at the destination country. Patience, this can happen if there is a large volume of packages in your country, sometimes orders take longer within our country than to arrive from China. Contacting the shipping company may be a good option.