In our blog, besides analyzing the best products and brands, we also like to answer your questions and doubts. If you prefer, you can go directly to the help section of AliExpress by clicking here.
Lately, we have been receiving many questions about the cancellation of an order without having requested it, so in the next article, we will explain when it occurs and what consequences it has. If you want to cancel an order we recommend our guide to change or cancel an order on AliExpress.
An order cancelled automatically by AliExpress
You have already bought your favorite product, but the seller is taking longer than usual to send the order. As you can see in the order detail, you are shown the time remaining for the seller to send the product, and you are warned that if it is not sent, the order will be automatically cancelled. If the order is automatically cancelled, the money will be returned to your account without you having to do anything else. But we can prevent the cancellation of the shipment and you may be interested if you have applied a coupon or discount.
First, you should think about what you want to do with the order: you might be interested in having the seller send the order, or on the contrary, you might prefer to get your money back. If you prefer that they send it, the best thing to do is to contact the seller and ask them if he is having any problem with the shipment: it could be a lack of stock, or that you are buying at a complicated time like Christmas, sales time or the Chinese New Year when most sellers close their store temporarily and even though you can buy, they do not send their orders. In this case, you can extend the preparation time so that the seller has more time to send it and it is not cancelled.


If, on the other hand, you prefer to get your money back or you don't trust the seller, the best thing to do is to request the cancellation of the order or wait until the preparation time is over. At that time, AliExpress will cancel the purchase and begin a refund process that can take between 7 and 15 working days. If you ask for the cancellation of the product, the seller will have to validate this request so sometimes it is better to let the time run out and cancel it on your own.
An order cancelled by the seller
As you can see, if the seller does not send the AliExpress order, it is automatically cancelled and you get your money back. But what happens if the seller has informed you that they do not have stock or cannot send your order? In that case, you will have to request a cancellation. If this is your case, we recommend that you read our Guide to Cancelling an Order on AliExpress. Most sellers ask for cancellation for "other reasons" because any other reason penalizes them, so we recommend you to choose it since it does not affect you in any way and the cancellation will be faster.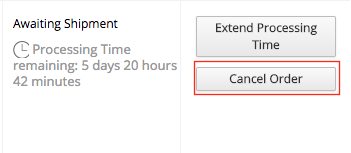 The seller cannot cancel an order in any other way, they can only wait for the time to pass and cancel it automatically or if the buyer requests cancellation.
Order cancelled for security reasons
Another option is that the order has been closed for payment security reasons. AliExpress verifies every payment and every order, so some of them can be closed if the platform detects any strange data or movement. The first security reason is that you have entered a discount coupon that has been used previously with your user. AliExpress will ask you to place the order again without adding the coupon.
The second reason is that an error message has appeared in the payment and AliExpress is asking us to verify our identity and card. This happens when the platform has doubts about whether we are the owners of the card and account, although it does not happen on a regular basis it can happen and it is important that you know what steps you need to take. We will have to make a claim at Alipay and send the documentation.
In either case, the order will have been automatically cancelled by AliExpress and if you want to continue shopping you will have to follow the instructions already mentioned and place the order again. Entering the order detail you will be able to see the reason for the cancellation and more useful information. You will receive your money in the time and method established according to which system you paid.
Order with "cancelled" message on AliExpress
And finally, more and more of you are asking us about a "cancelled shipment" message that can sometimes appear once the shipment has already left the seller's warehouse and is on its way to your home. This happens for several reasons: either the courier (in China) has not come to pick up the order, or the shipment has been returned to Chinese customs.
This is a shipping error on the part of the seller, so don't worry because you will get your money back. The best thing is to contact the seller and ask them what happened. To contact the seller, just go to your order list and click on "Contact Seller". Usually, the seller apologizes and suggests resubmitting the order. It is important that you get the new tracking number so you can track your order.

Another option is to get your money back, either because you ask for it or because the seller has run out of stock. Whether you prefer to get your money back or the seller doesn't respond, you will have to open a dispute to get your money back. With your money back, you can look for another seller who is a little more serious. Keep reading our article Disputes, Claims, and Money on AliExpress to learn how to manage these and other problems.
Other reasons for cancellation
Finally, there are two other reasons why an order can be cancelled. The first is that AliExpress can freeze an order if it detects that the seller is unreliable. As more and more vendors' stores are checked, it is becoming increasingly difficult for AliExpress to close a store and freeze orders. In our AliExpress' Best Sellers Guide you can find tips and recommendations on how to tell if a seller is trustworthy.
It is also possible for an order to be cancelled on AliExpress if it was left pending. In this case, the platform will leave us a few days to make the payment but if we do not pay, the order will be canceled without you having to do anything else. Just let the payment time continue to run. The seller can see if you have orders pending payment but can't send them, so they may send you a message reminding you that you haven't paid for your purchase yet.
How will I receive a refund after cancellation?
Now you know the reasons why your order may have been automatically cancelled. From that moment on, a refund process will be initiated. The money will arrive by the same payment system you used, but in our Guide to payment methods of AliExpress, we explain to you which are the best and which are the conditions of refund. If you have paid by card, it will arrive in your card balance as a return movement.
You can follow the status of your refund by entering the detail of your order, accessing the tab "payment" or "finance" where you can see 3 points. When the 3 points are already in orange, the return process will be completed and in a few days, you will have it in your account. If a few days have passed and you have not received your money, we explain what to do if you have not received your money back on AliExpress.

Tips and tricks for safer shopping on AliExpress
If you liked this article, in our blog we have a section with tutorials where you can find the best tricks and advice to buy safely and save money in AliExpress. We teach you how to find discount coupons, tricks to take better advantage of the AliExpress discounts, what are the best payment methods, what types of shipping are faster… If you don't know where to start we recommend our Essential Guide to AliExpress, where we explain everything you need to know before you buy.
What about you? Have you had any AliExpress orders canceled? Leave us a comment below with your experience or questions, we love to receive feedback!