---
If you prefer, we have linked directly to the returns and refunds section of AliExpress, simply click here.
---
In AlixBlog, in addition to analyzing the best products and news of AliExpress, we have a section with tutorials where we help you solve the most common doubts. Although we have already discussed how claims, disputes, and returns work at AliExpress, we continue to receive inquiries about what to do if you have not received a refund on your credit card. Below you can learn how refunds work on this famous online sales platform.
This is how the money refund works in AliExpress
We will explain in more detail how returns work, how long they take to arrive, how to view the status of the return, and above all, what you can do if you have not yet received your return money. We know that this is not a frequent problem but it is annoying since there is not much information. Keep in mind that as we told you in our guide about payments on AliExpress, there are different methods to pay and each one can have different refund conditions.
How to get your money back on AliExpress
There are several ways to request a refund of your money. The first is when the order has not been shipped yet. We can request cancellation of the order here, if the seller accepts AliExpress they will proceed to make a refund. It is also possible that the seller does not send the product in time and without having to do anything, a refund will be made.
When the order has already been shipped, the only way to receive a refund is if we have not received our order or if we have received it but it does not match the description. In both cases, we will have to initiate a dispute to receive the money. This dispute has to be opened within the protection time of the order (60 days since it has been sent). Once we validate the reception we still have 15 extra days to claim.
After 60 days the order is closed and it is no longer possible to claim. This happens because many times the order is received and the buyers do not confirm the reception through the platform. It can also be closed if the order appears as delivered in the tracking, so we recommend you to be attentive to your orders and not let time pass.
The last way to receive a refund is if the order has not been processed correctly or AliExpress freezes the order. Less and less happens, but if for any reason the order cannot be processed, an automatic refund is initiated.
How to check the status of a refund
But if you have doubts about whether the refund has been processed and what the status of the refund is, there is a way to find out in detail what the status of our request is. You have to go to your orders, look at the detail of your order and look for the tab "Payment" or also called "Financial".

We will be able to see if the refund process has been initiated or if it has already been completed. In the mobile application, we will have to do the same, go to the detail of the order, and click on "information about refunds". You will find the same data as through the browser.
An interesting thing is that if you have paid by card, at the end of the refund process in this same section will appear the RNA code that identifies your card transactions, it is a unique number. If you do not find your money back, check with your bank to provide them with this code.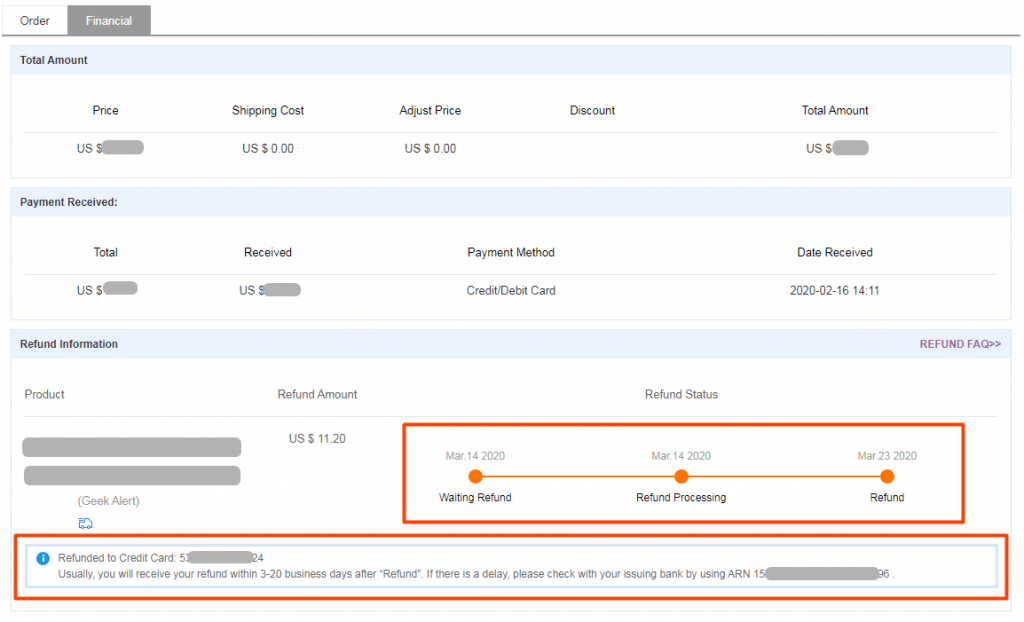 Where do I get my refund money?
You will receive the money through the same payment method you used. As the most used payment method in AliExpress is through credit or debit card, the money will show up as another movement within the card's usages, but with a positive symbol, which indicates that it is a refund.
If you have changed your card or cancelled the previous one, you should talk to your bank. Normally the money will arrive in the associated bank account or on the new card. AliExpress cannot change the destination account for the refund as it violates security regulations.
If the payment has been made through Western Union, bank transfer, money order, ticket… The refund will be made to your Alipay account and will remain as a balance for future purchases. That's why our recommendation is to use credit cards, debit cards, or prepaid cards, as they're a safe payment method and returns are easier.
How long does it take for AliExpress to give me my money back?
It is very important to understand that the return of your money is not immediate, it takes a few days. From the moment the refund is issued on AliExpress, the money will be received within 3 to 20 business days, depending on the bank. This period of 3 to 20 days begins when the platform has processed the refund, that is when in the refund status we see the 3 full orange points.
On these orange dots, we will see the date when each stage has been completed, so we can calculate if a lot of time has already passed or if the refund is still being processed. In times of sales or Christmas, the refund process may take a little longer due to the high volume of traffic on the page.
Why do I receive a lower refund amount than I ordered?
AliExpress only allows you to pay in US dollars and Euros. You can still choose other local currencies, but this is a conversion made by the page itself to make it easier for you to know what the price of the products is.
At the time of purchase, the entity with which you make the payment will make a currency exchange from dollars to your local currency. Currency exchange fees and other bank charges may apply to this transaction.
When we receive a refund, our bank will not refund the commissions applied, so the amount will be less than what we were originally charged. To verify that the AliExpress refund has been made for the amount requested, you can request the details of this transaction from your bank.
I'm not getting my money back after several weeks, what can I do?
Now you know all the details about AliExpress refund operations. You are waiting for a refund and the money still hasn't arrived, what can you do? To begin, check the status of your refund in the "Payment" tab as indicated above. If it hasn't been long enough, wait a few more days.
But after a few days, if you haven't received your money, the easiest solution is to check the RNA code we have referred to. With this number, you can check with your bank whether you have actually received the money.
Another recommendation is to look carefully at the last movements of your card since many times the refund appears on the same day the purchase was made, so it may go unnoticed, especially if we buy a lot on AliExpress.
Finally, if none of this works, you will have to contact AliExpress through their social networks or through the customer service chat that you can access by clicking here. First, you will be attended by the EVA robot but if it does not answer your questions you will be passed on to an agent.
Get to know the latest offers and the best brands of AliExpress
Now you know in detail how refunds work at AliExpress, we hope we have helped you, and remember that in our blog you have a section with tutorials where we explain our best tricks and tips to buy safely at AliExpress. Our Essential Guide to AliExpress is a must-read, it's a summary of everything you need to know.
But in Alixblog we also help you to know the best products, brands, and stores of this sales platform, not only of technology products but also of home products, accessories, beauty, clothes, children…
Have you received your refund yet? We would like to know if this guide has helped you to solve your doubts, so you can leave us a comment here below.