---
You can see the all guarantees directly on AliExpress by clicking here or on this other link.
---
Since you have asked us many times about how complaints, disputes, and returns work at AliExpress, we at AlixBlog wrote this article to answer some of the important questions: what is buyer protection, how to file a complaint, or how to contact AliExpress customer service directly.
As a general rule, at AliExpress you should not have any problem with the purchase, payment, or shipping of a product, but nobody is perfect and you may have unforeseen problems or delays that we will try to solve in this guide to claims, disputes, and returns of this great Chinese platform.
How to buy from AliExpress
Before getting into the subject, if you have never purchased AliExpress or want to refresh your memory, the first thing you need to know is that the steps to follow are very simple. Once you have searched and chosen your product we will avoid many problems if the seller is reliable. Check out the scores, ratings, and comments of other buyers in the store in question that you have chosen. Now, review the data and characteristics of the product or products, and if in doubt, contact the seller.
Next: if you are new to AliExpress, you must open an account before buying (or log in through Facebook, Instagram, Twitter, or any other "Quick Login" system available, although we encourage you to register with your email). It is very important that you write all the data correctly in the email as well as in the name and address (complete).
The most important thing is that you pay. It is very easy and fast since you can use different payment methods in AliExpress, the most extended ones, like Visa and MasterCard or Western Union. And finally, once you have completed your order, you can locate it at any time with the tracking number in the section 'Order details'.
ALIXBLOG ADVICE: If you have any problem, contact the seller immediately. Another important piece of information to keep in mind is that you should not confirm receipt of your order until you have it in your hands and are satisfied with it.
AliExpress' customer service works perfectly, so if you find any problems when making the payment or similar, contact them through the chat or the form.
Additional protections for AliExpress buyers
AliExpress sellers provide the buyer with protective measures for the user to ensure that each transaction on this platform is completely reliable and secure, and that once processed you do not have to worry about the purchase.
AliExpress' Buyer Protection is broken down into 5 parts: privacy protection, payment protection, delivery protection, Authenticity Guarantee and finally refund protection. We give them a short review 😉
Privacy Protection: Pay online safely without the risk of your banking information or personal data being exposed in any public place.
Payment Protection: Payment for the product is released to the seller only after you confirm the satisfactory receipt of your purchase. VERY IMPORTANT: If you do not click on "Confirm receipt of order" within the confirmation period, AliExpress will automatically consider the order to have been successful and will complete the purchase process. Remember that you can follow the status of your order at any time.
Delivery Protection: If you do not receive your purchase within the estimated delivery time, which is a maximum of 60 days, AliExpress will offer you a full refund. However, please note that we will not be able to deliver if the product does not arrive on time due to factors beyond the control of this Chinese website and/or under your responsibility. Nor will they be available due to exceptional circumstances beyond the control of the buyer and seller, such as the refusal of customs declarations or natural disasters. We know that AliExpress reserves the right to ask you to wait a few days for some exceptional circumstances.
Guaranteed Authenticity: For a few years now, AliExpress has eliminated replicas from its website and only sells original products. You can also find authorized stores that sell international brands such as Nike, Adidas, Puma, Reebok… If you receive a fake product, you can open a dispute and claim your money.

5. Refund Protection: AliExpress has a dispute process that protects the buyer when you are not satisfied with a transaction, giving you the opportunity to receive a refund.
How do I make a claim on AliExpress?
This is another of the most frequently asked questions. Do you want to file a complaint and don't know how? Here we explain it to you. And if you are not clear, go directly to the AliExpress complaints guide. Some frequent cases in which we will have to open a dispute:
The order is in transit but there is a problem with the shipment or it does not arrive within the established time.
What we have received does not work or does not meet the description in terms of quality, size, color…
Our order appears as delivered but nothing has arrived to us.
The first thing you need to know is that before opening a dispute the most advisable thing to do is to contact the seller and try to find out what the problem is. If the problem is not solved, you will have to start a dispute process, where the seller will first give you an answer. If after a few days you do not answer or do not agree on a solution, AliExpress will intervene in the dispute.
If you don't like the seller's or AliExpress' proposal, you can respond within the same dispute or upload more evidence to make it clear what the problem or defect is with the product. The more tests you upload, the easier it will be to win the dispute. Remember that a picture is worth a thousand words.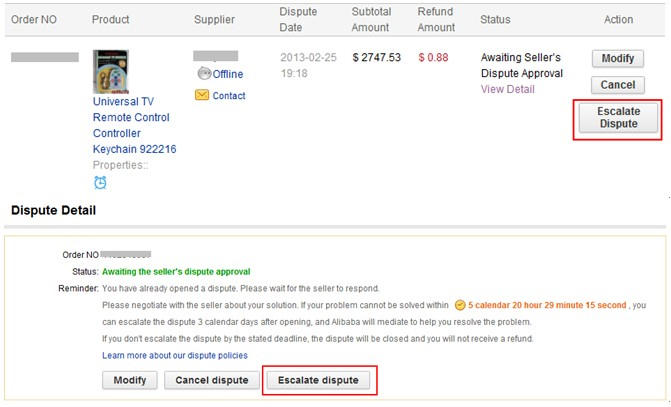 While the dispute lasts it is important to be attentive to what response the seller or the site itself gives us. If you reach an agreement outside the dispute, you can cancel the dispute (it will be as if you had not opened it). If you have reached an agreement within the dispute, accept the solution and a refund will be issued.
Recommendations for complicated disputes in AliExpress
Recommendations for complicated disputes at AliExpressAfter many years of shopping at AliExpress, we have some tips that will help you when you have a complex case and have to open a dispute. First of all, do not reach an out-of-dispute money-back agreement, as the only way the seller can safely refund your money is through a dispute,
It is very important to pay attention to the protection period of each product because if in the shipment you mark as "delivered", in a few days the order will be closed and it is possible that when we want to claim we can no longer do it. You don't have to go in every day to see the status of your orders, but checking where they are going once a week will avoid problems for you.
Finally, we recommend you to be as clear as possible in the disputes and try that the images explain well what the problem is. You can also upload videos to the dispute. The more information we provide the easier it will be for the seller or AliExpress to understand our complaint and give us the reason.
Dispute and refund of money if the product does not arrive in the estimated time
This is one of the biggest concerns of buyers. We will give a little review because we know how important this is to you. If you do not receive your order within 60 days (two months), AliExpress will provide you with a full refund. So don't worry, under no circumstances will you lose your money. AliExpress is one of the most reliable platforms in this regard. Even so, the orders usually arrive much earlier. In our article "How long does an order from AliExpress take to arrive?" we explain the approximate delivery time.
How long does delivery usually take?
Factors that do not depend exclusively on AliExpress, such as the transport logistics company in each country, come into play to resolve this issue. As a general rule, shipments usually take between 20 and 40 days. However, pay close attention to the product characteristics and order details, as sellers report this process.
The most important thing is not to exceed the protection time (you will see this in the details of the order), as otherwise the order will be automatically completed and the seller will receive your payment. When there are 10 days left in the protection period, ask for an extension and when there are 5 days left, open a dispute.
There are sellers who have warehouses in different parts of the world such as Spain, the United Kingdom, Germany, France… And it will only take 72 hours. That is, in 3 or 5 days at most you will have the purchase in your home. You will see it in the product description.


Do I have to pay taxes? Possible problems at customs?
Finally, we must take into account that this platform sends its orders from China and therefore it is important to know the customs regulations of our country. The import costs and other taxes are paid by the buyer, although in a large part of purchases this does not exist. If you need some document in particular (invoices, receipts, vouchers, etc.) you can present a copy of the charge on your credit card or ask the seller to send you the receipt or invoice.
As far as customs are concerned, we have found that smaller products will have almost no problems and will not stop your order. Products such as cell phones, batteries, even shoes or clothes, among others, if you don't buy tens or hundreds of units, neither. Another thing is that you buy a giant teddy bear or ten pieces of clothing at once… in this case, the possibilities increase, but it's not an exact science either. It's not the user's biggest concern. And if you don't listen to us, cross your fingers, although we already tell you: don't worry, your order will be delivered to you 🙂
What if the seller has not sent the purchase by the requested shipping method?
You also wrote to us because the seller did not use the shipping method you paid for. Well, this can also be a reason to open a dispute, but in this case, it is best to wait for the package to arrive because you can only open a dispute once per order. When it arrives and you check that everything is OK, you can open a dispute by a different shipping method than the one requested. If your order has a problem, you will have to open a dispute and claim for it as well.
Dispute and refund if your purchase does not work or does not match the description
If what you have purchased does not match the product description, you can open a dispute when it arrives. The best thing to do in this case is to ask for a refund of your money only because unless you have included the free return service, the shipping costs will be paid by you. Therefore, choose only to get a refund because the costs may be higher than the product itself. In this case, we recommend that you justify your dispute, providing all possible evidence: photos of the measurements of the garment, screenshot of the measurement table provided by the seller in his store, videos to see the quality or the problem of the product…
Dispute and refund if the order appears as delivered
Although it is becoming less frequent, it is possible that the seller has made a mistake (either by mistake or consciously) when placing your tracking number on the order. Suddenly, one day it appears as delivered and you haven't received it. Well, in this situation, we recommend that you first ask the seller and the post office so that they can check what has happened. If they don't give you a solution, we recommend that you go to trackitonline.ru, add the tracking number, and see where the order was delivered. If it shows a different city than yours, make a screenshot and add it to the dispute.
Free return of products on AliExpress
If the product you have received is not to your liking, is not in your size, or has arrived badly, you can request the return of the product in the dispute itself. The buyer will have to pay the cost of the return, so if the product has arrived to you defective the best thing is to ask for a full refund of your money without returning the product, claiming that we do not want to assume the cost of shipping.
But for some time now, there have been sellers who offer the possibility of making free returns of AliExpress products within 15 days provided that they are in perfect condition and unused. This service is available for some items from buyers in Spain, the United States, France, the United Kingdom, the Netherlands, Italy, Poland, Brazil, Israel, Canada, Australia, Germany, Russia, South Korea, Saudi Arabia, and the United Arab Emirates.
Not all sellers offer the possibility of returning their products for free, but when searching for a product you can filter and choose sellers that do offer this service by checking the option "Free Return". Check in the ad that offers it when looking for the icon "National Returns 15 days".
Money refund when we request a cancellation
If you have requested the cancellation of the order and the seller has approved it, or simply if the seller fails to send the order and the preparation time has expired, a return process will be initiated to your account. You don't need to open a dispute, it will simply arrive to you in a few days. In our article on how to change or cancel an order of AliExpress, you have more information.
The cancellation of an order has to be approved by the seller except in the payment verification period (this can take a few minutes or several hours, depending on the volume of orders on the platform). Even if you cancel immediately after placing the order, you will be charged first and then refunded. The refund is not automatic, it takes a few days as explained below.
How to get your refund money back
Whatever your reason for receiving a refund from this platform, they are all handled the same. The money will be sent to you by the same payment system we have used to buy. We cannot change the card number or put the money into a different account. In our Payment Methods Guide, we explain to you the conditions of reimbursement according to the payment method you have used.
You can check the status of your refund through the website itself, accessing the order detail, section "Payment". You will see 3 points, when all 3 are orange the refund process will be completed and in a few days, you should have it in your account. If you haven't received it, we have a tutorial on what to do if you haven't received your money back at AliExpress.
More tips and tricks for safe shopping at AliExpress
Now you have all the information to solve your problems with AliExpress refunds, disputes, and returns. But if you want to know how to buy on this secure online sales platform, we recommend you access our tutorial section, where you can find more interesting articles. Our definitive guide to AliExpress is a must-read, both for those who are just starting to buy and for those who have already made some purchases.
Since this is a topic that concerns us a lot, we have enabled the comments to tell us about past experiences with any complaints, disputes, or inconveniences you have had in the past.