This is one of those things we keep getting asked when it comes to AliExpress, so we've created a guide to help you out with some important issues, such as: buyer protection, how to make a claim, or how to contact the customer service on AliExpress.
Just so you know, as a general rule, you shouldn't have any problems with any purchase, payment or shipment of their products. Having said this, nobody is perfect and there is a slight chance you might have a problem with contingencies or delays, so in the rare case this should happen you will know everything there is to know about  claims, disputes and returns on AliExpress.
How to shop in AliExpress
 Just in case you've never made a purchase on AliExpress or haven't done it for a while, here is a few steps you should know to about. Once you searched and found a product you like, remember to check ratings, reviews and comments left by previous customers. Then, check the product specifications and, if you have any doubts, contact the seller directly.
Let's go ahead: if you are new to AliExpress, you have to open an account (or access through Facebook). Remember to write all your information correctly, including email, name and surname and (complete) address, to receive your product. Then comes the most important part: paying. Its super easy and quick, and you can use popular methods such as Visa or MasterCard or even Western Union. Then, once you finished your payment, you can locate your purchase at any moment with the option "order data".
 ALIXBLOG ADVICE: If you have any problems, contact the seller directly and don't confirm that you've receive your product until you check it and make sure it's in perfect conditions.
 AliExpress' customer service is really good, so if you have any problems with the payment or any other issue contact them directly.
Additional protection for buyers
 Sellers in AliExpress offer their customers some protective measures to ensure all your transactions on the platform are safe and reliable and once they are completed you don't have to worry about anything.
 AliExpress buyer protection can be summed up in 5 parts: privacy, payment and shipment protection, Guaranteed Authenticity and refund protection. Let's take a closer look 😉
 

Privacy protection: you can pay online without risking any kind of exposure of your personal or bank information on any public site.
Payment protection: payment to the seller is only made once you have confirmed you have received the product and are happy with your purchase. VERY IMPORTANT: if you don't click on "Confirm product is received" within the delivery time, AliExpress will automatically assume that you are happy with your purchase and will finalize the payment. Remember you can always check the state of your purchase while it's in process.
Shipment protection: if you don't receive your purchase within the estimated delivery time, a maximum of 60 days, AliExpress will offer you a complete refund. However, do keep in mind that this does not cover you if the reason for the delay is not cause by the platform or/and if it's your responsibility. It also won't cover you if it is the reason is beyond the seller or buyer jurisdiction, such as being rejected by the customer or natural disasters. Furthermore, AliExpress reserves the right to ask for a few more days if there are any exceptional circumstances.
Guaranteed Authenticity: Some AliExpress sellers participate in the Guaranteed Genuine program and offer an extra insurance when it comes to proving their products are original. If a buyer can prove that the product purchased is fake, the seller will have to return up to double the price originally paid (except shipping expenses). This also applies to wholesale purchases. So, if you find this icon you can be pretty sure the product you are getting is original. You can also guide yourself by descriptions: if it features the word "Original" or "100% original", it probably is.
Refund protection: if you aren't happy with the product you've receive, AliExpress offers the possibility of opening a dispute with the seller and receiving a refund for your purchase.
How do I make a claim on AliExpress?
 This is another one of those questions that we get all the time. Do you want to make a claim but aren't quite sure how? We are going to show you all the steps. And, if you still aren't quite sure how it works, take a look at our guide to making claims on AliExpress.
 The first thing you need to know when making a claim, is that before you start you will have to do two things: contact the seller and open a dispute. If during the 15 days the claim lasts you haven't reached an agreement with the seller, you can make a claim. That's when AliExpress will get involved.
 To start the process, open your AliExpress account and go to "My Orders" on the homepage. Then click on "Escale Dispute". You will receive a form that you will have to fill in as much as possible. Once you send it, your claim will be looked over by the Case Management Team in AliExpress.  Then, start your session on the Claim Center and click on "See Details" on the details page to see the status of your claim.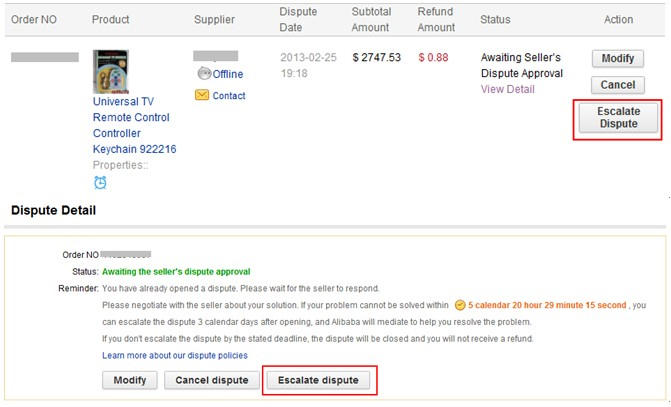 AliExpress will activate a mediation process to try and solve the problem. They might have to contact you several times during this time. If you reach an agreement with the shop, remember to cancel the claim. Finally, AliExpress will consider the case closed and the claim will be resolved according to the terms reached.
Refunds when the product doesn't arrive within the estimated delivery time
 Although we've talked about this many times, this seems to be a constant concern for our readers. To be honest, although it may be a cause of distress for many of you, it shouldn't be: if you haven't received your order within 60 days (2 months), AliExpress will give you a full refund for the product. In no case will you even be loosing money, so you can rest completely assured.
How long does delivery usually take?
 This is a hard question to answer specifically, as it doesn't only depend on AliExpress. Every country uses its own logistic company, so delivery time may vary. To be find out what delivery time you should expect, just take a look at the details of the product you purchase to see an approximate time estimate for delivery.
 The most important part is to not go over the protection time (you can see it in the product details), otherwise your order will be finalized and the seller will receive your payment. That's why, 10 days before the protection ends, you should ask for an extension, and 5 days before, open a dispute.
 Some sellers may have a warehouse or store in your country, so their deliveries will only take 72 hours. That is, you will be receiving your purchases within 3 to 5 days. We wish all shops offered this kid of delivery, but since there is no such luck yet, make sure you look at the product description… you might just be in luck.


Do I have to pay taxes? Will I have problems with customs?
 Since most products are sent from China (take a look at this article to find out more), we will also need to consider taxes and customs. Importing and other expenses that may be applied to the shipment are the buyers responsibility. You shouldn't have any problems, but if you need a specific document (invoices, receipts, slips, etc.) just show a copy of your credit card charge or ask the seller to send you an invoice or bill.
As for customs, we've come to realize that, when it comes to small products, you won't have any trouble and will get your product directly. In fact, products such as phones, batteries and even clothes or shoes aren't likely to be held either (unless you are buying an armload). On the other hand, if you purchase bulkier items, such a giant teddy bear or ten dresses, it might get held up in customs.  In our experience this doesn't happen too often, so you shouldn't worry, you'll probably receive your product without any problems whatsoever 🙂
We know these issues are important to you and may sometimes be confusing, so if you have any questions or would like to share any past experiences with claims, disputes or any problems with shipments, please leave us a comment and we'll get back to you as soon as possible.