Very occasionally, when buying on AliExpress, we receive something that is not exactly as we expected.
It may be that what we received doesn't fit what the seller described or simply that we didn't pay enough attention to what we were buying.
So, today we are going to see how you can return an item to AliExpress.
AliExpress return policy: do I have free return?
You can read AliExpress return policy here but, in short, there are two types of orders: with and without free return.
To check if you are lucky and eligible to have a free return, just click here and check if the order says "Free return".
At the time of the purchase you can also easily see if the product has a free return (and we recommend that if you can, you pick one that does):

If you have free return, everything will be smooth and easy, as we will explain later. However, if your product doesn't have free return, things will be a bit more complicated.
Let's see what to do in each case.
Return orders WITHOUT free return
There are many products (especially cheap ones) that do not have free returns. That means that if you opt for the return, you will have to pay the shipping costs, which is usually not worth it.
That does not mean that you have to give up if you have received something that does not fit the description, a garment of a size that does not correspond to the seller's measurement table, a broken product…
What you have to do, instead of asking for a return, is to ask for a refund.
You have three possibilities:
Dispute with full refund and no return: ask for it if your order has arrived broken or does not look anything like what the seller promised. It is best to ask directly for a full refund without return.
Dispute with partial refund and no return: ask for a partial refund if what you received doesn't quite match the description but you can use it and it's not worth returning it.
Dispute with full refund and return: ask for it if you didn't pay attention when buying and you got what you were promised but you don't want it anymore.
We only recommend this last option if your order is completely useless to you and you want to recover part of the money, since the return costs will be your responsibility. Shipping to China has a high cost and for low value items it's not even worth considering.
How to return a product without free return
When you need to return a product and you are responsible for the shipping costs, you will have to follow these steps:
Click here, search for the product and click "open dispute", requesting a full refund with return of the product.
Pack your order once again in the original packaging in which you received it.
Write down the address that the seller will provide you with for the return.
When sending the item, it is best to send it by registered mail, that way you can prove that your order has been received back in China.
Once shipped, you must indicate the courier company and the tracking number to the seller in the form provided by AliExpress.
Tips when shipping the product
Request a budget from different courier companies
You have 15 days to make the return and keep in mind that, as you pay the return costs, you can choose the courier company that suits you best. So before, you can ask a few of them how much it will cost you and choose the cheapest one.
Once the return has been processed, AliExpress will refund the money within 3 to 20 days, always through the same payment method.
Consider insuring your shipment in case there's valuable items
If it is a valuable item, you should consider insuring your shipment, because if it gets lost, you may lose your money.
Use the shipment as a registered letter instead of a registered package
If your package weighs less than 2 kg, you can ask for it to be sent as a registered letter instead of a registered parcel: the shipping cost will be half the price.
Return orders WITH free return
If you are lucky and you bought an order with free return, you will be able to return it without giving explanations and without cost on your part.
Here's how to do it:
How to return a product with free return
Click here, find the product you want to return and select "Return Goods".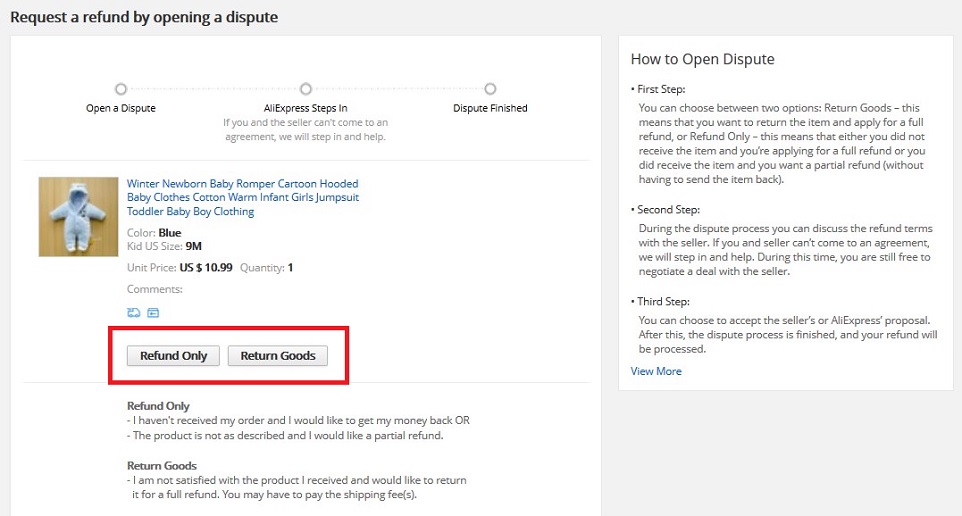 Select one of the reasons for the return (whatever it is, remember that you can return it for any reason):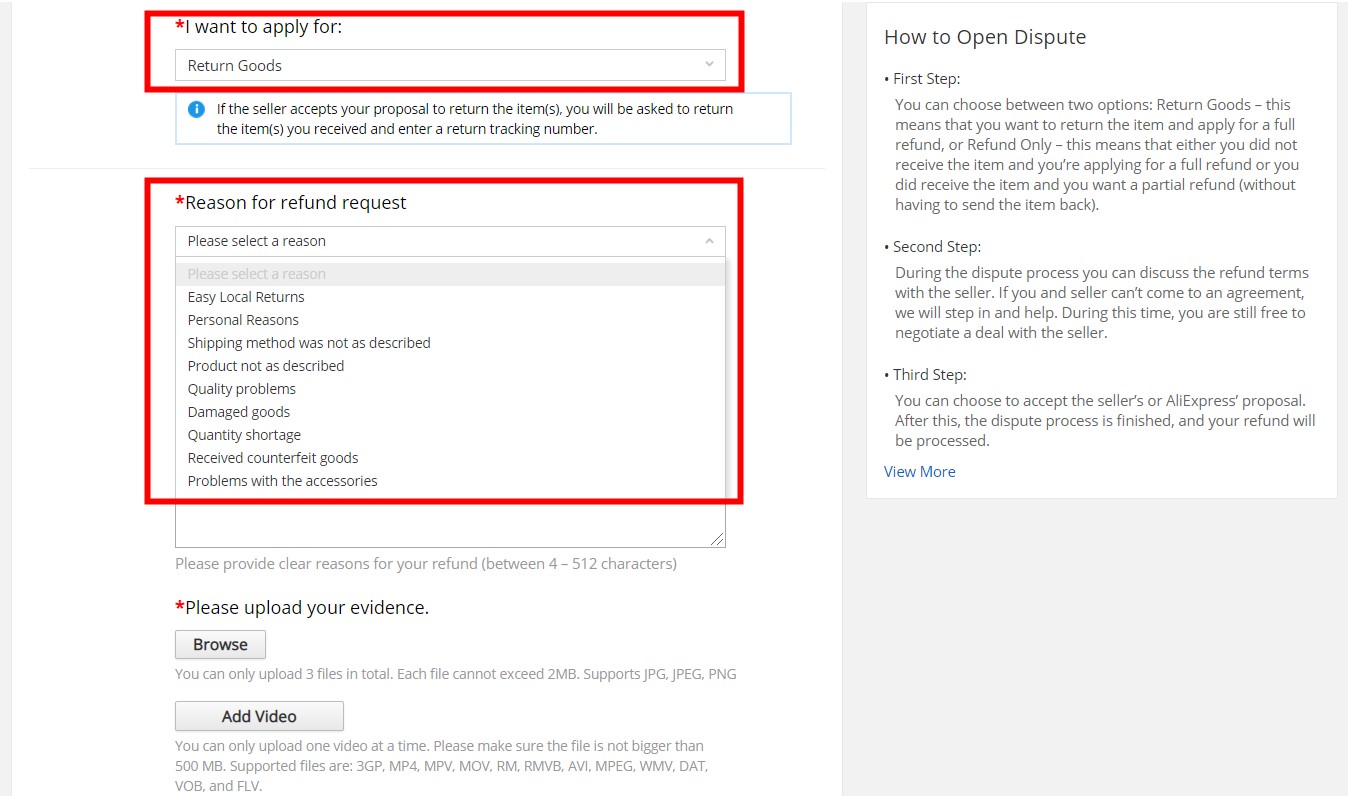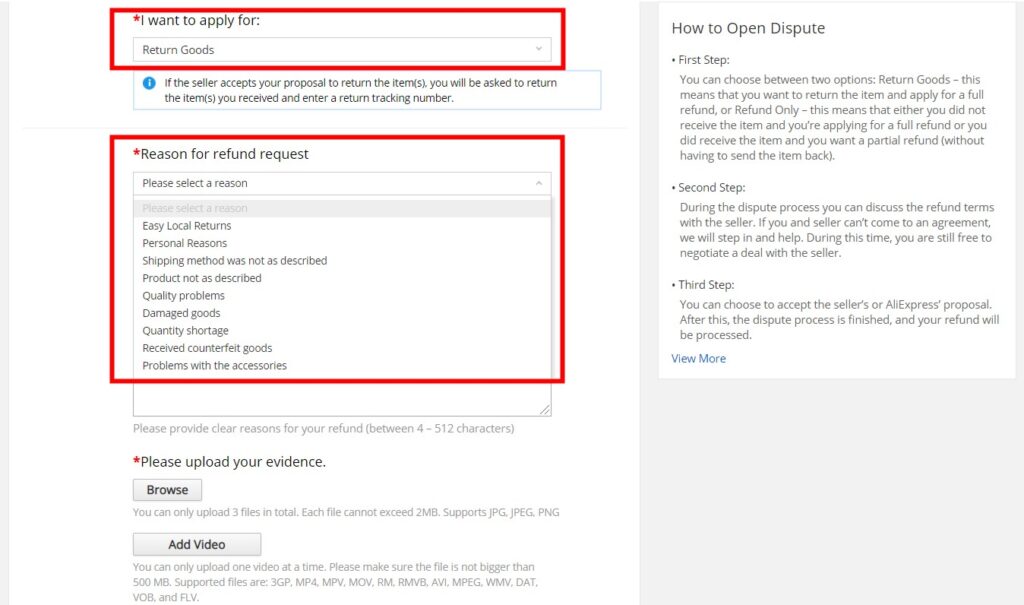 As soon as AliExpress accepts the dispute (it will take a day or two), you just need to click on "Get a Free Return tracking number" to get your label.

Download and Print the Free Return label, then pack your returned parcel securely.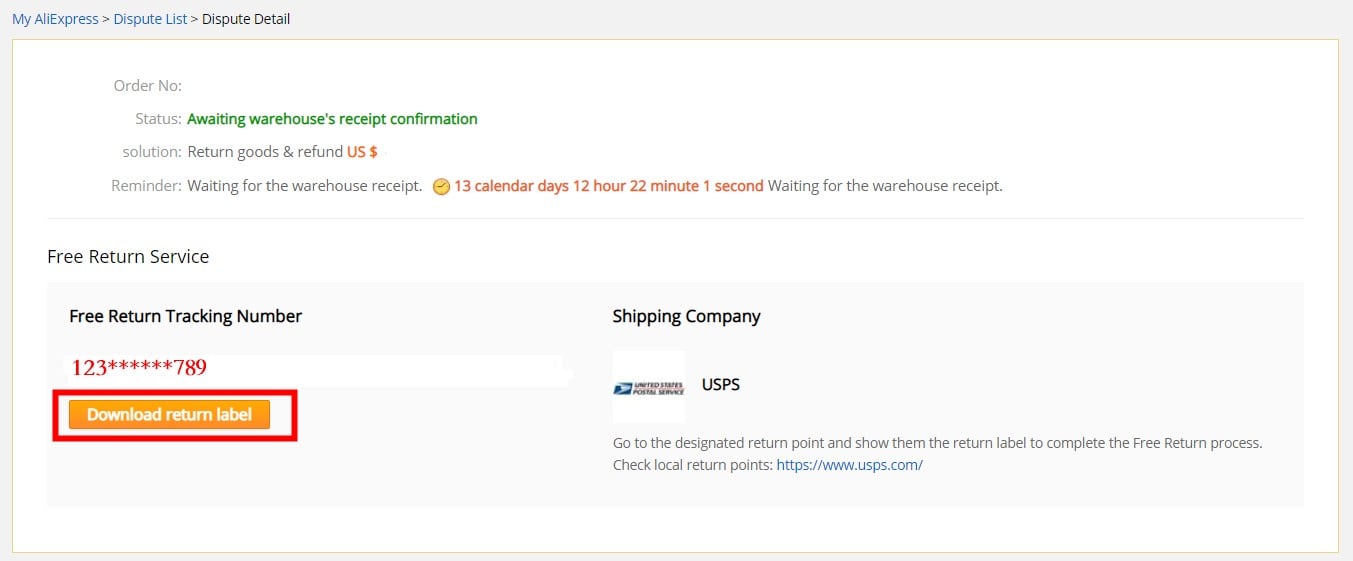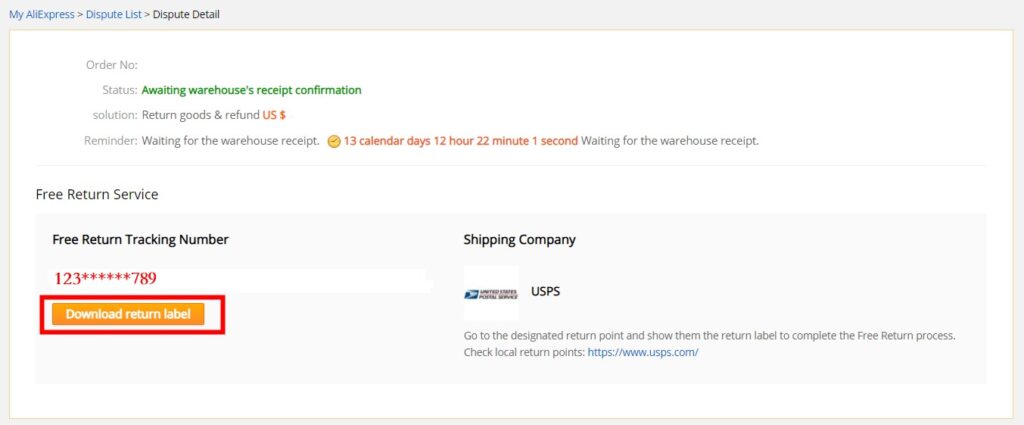 You must take the returned goods with the printed Free Return label to any designated return point within 15 days from the day you receive the return shipping label.
If the shipment is not delivered within delivery time, the Free Return label will be canceled. The sooner you complete the return, the sooner you will get the refund.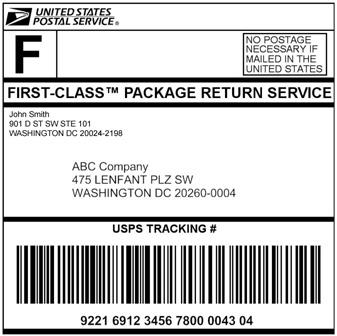 Once AliExpress has received your item, you just will have to wait for the refund. This process usually takes up to 15 days.
How to know if the product has reached the seller
You can follow the status of the return in the order's tracking (here).
Then, you will see the status "Package returned to sender" and you'll just have to wait for the refund.
Trick to have free return
If you didn't know, for a while now, AliExpress has started accepting PayPal payments again.
If you use this payment method you will have an extra guarantee, since you will be able to claim directly to Paypal the refund of your order or the money of the return, no matter where the seller is located.
The buyer protection from PayPal is very good and you will only have to make a claim through your PayPal account.
You can read more in the AliExpress PayPal article.
Frequently asked questions
Can I request an exchange of the item or size instead of a refund?
No, you cannot request to exchange one item for another in the same return. So if you are going to use a coupon or a discount code on your purchase, we advise you to use it on something that you are sure you will not return later.
To reorder it, you will have to wait for a refund or, if you are in a hurry, buy it again and don't wait any longer. If AliExpress has already accepted the return in your dispute, you won't have any problems with the refund. You just have to be patient.
What if I want to return several items from the same seller?
In case you have purchased several items with free returns from the same seller, you will only be able to make one return, as you will have received only one package.
You will have to open a dispute for each item: generate only one return label on one of the open disputes and then manually enter the tracking number provided to you by AliExpress (which comes on the label) on all the other disputes. This is not mandatory, but it is a way to make sure that you will be refunded correctly afterwards.
Therefore, you will only take one package to your courier, the same way you received it.
The free return label is not working
It may happen that when you click on "Get a Free Return tracking number" no label is generated.
Sometimes this part of the AliExpress app or website does not work properly and all you can do is wait. Exit the web or the app and try it again later or the next day, it is most likely that later it will let you do it.
Can I refuse a free return order when it arrives at my home?
If you made a mistake when ordering something or you are very clear that you no longer want it, contact the seller to explain it to them. It is most likely that they will suggest that you do not accept the package when it arrives at your home, so that it will be returned directly.
After refusing it, you will have to open a dispute asking for a refund.
Be careful, because this is only in cases where you have a free return and if you agree on this outcome beforehand with the seller.
Can I return any product?
There are certain products that cannot be returned to China: batteries and recordable storage devices (USB, external memories, hard drives…).
If you have bought them from a warehouse located in another country, everything is fine, but if you try to return them to China, you take the risk of being refused or confiscated by customs and, as a consequence, of losing your money.
What happened to AliExpress "Easy Local Returns"?
Some time ago, AliExpress promoted its new service "Easy Local Return". Nowadays this expression is discontinued because local warehouses are now very common and the returns are "easy" also for products bought in China.
"Free return" works exactly the same if you made your purchase from a warehouse located in your country (US, Canada, UAE, Turkey…). You just have to follow the steps explained above.