If you are an AliExpress veteran you may already know that the platform used to allow their clients to pay via. However, due to the high commissions imposed by Paypal (and maybe because it's a property of Ebay), AliExpress no longer offered this payment system.
Recently, however, we have seen a surprising number of sellers begin to accept PayPal again as a method of payment.
The downside: Not all sellers agree to payment via PayPal
As of today there is no way to filter sellers based on whether or not they accept PayPal but you have two ways to find them.
The first is to access the product tab and check if PayPal is among the payment methods listed: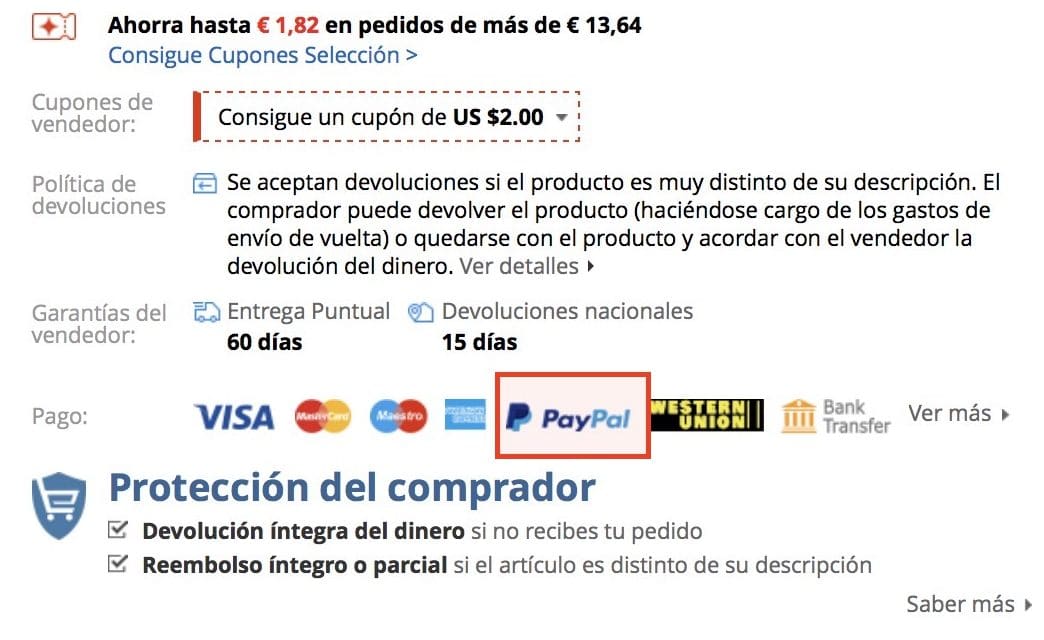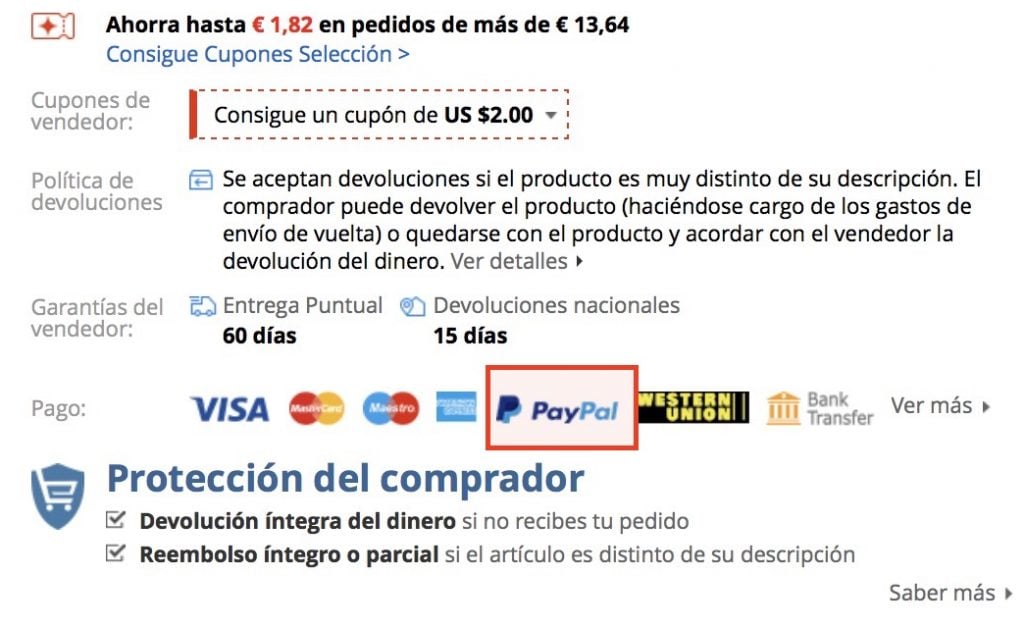 The second is to look at the list we've made of more than 200 highly reputable AliExpress sellers who do accept PayPal. Here is the table with valuation and type of products sold by each store:
The only drawback is that when you pay with PayPal, AliExpress makes you pay a certain commission that depends on the cost of your purchase:

Careful: sometimes it doesn't pay off
But beware, there is a problem: if the purchase you are going to pay is high, the commission charged by PayPal increases more than the rebate offered by AliExpress itself for using that means of payment. Take a look at this example:

If I can't pay with PayPal, is it safe to buy on this website?
The answer is yes, totally. When you make a payment in AliExpress, the page acts as an intermediary between the seller and the buyer. This system is called "Escrow" and consists of AliExpress retaining your money until you have received the product and given your approval.
Only when this requirement is met, AliExpress pays the seller. This applies to any form of payment you use in AliExpress, so you don't have to worry, you can use your card safely.

Therefore, you can pay safely with any of the payment methods offered by the site, as everyone uses the Escrow method that protects your money until you confirm that the order has arrived correctly. In addition, at the time of payment, your data is protected by the encryption system VeriSign SSL encryption (the highest level of commercial protection available so far) so it is impossible for your data to reach third parties.
What other payment methods can I use to pay on AliExpress?
In the definitive guide on how to buy from AliExpress, we explain all payment methods in detail. To summarize, the easiest way to pay for AliExpress is by card (which can be credit or debit). You can also pay by Western Union, AliPay, Webmoney, Qiwi… And if you are still afraid to buy online, there are other payment methods. For example there are banks that offer virtual cards that you can recharge every time you want to make a purchase.
AliPay was a solution to the lack of PayPal. It was a "wallet" payment method where we could deposit our money and pay for our orders. However, in early 2017 we found out that AliExpress decided to stop offering this service to its users. Now AliPay only manages web transactions and safely stores your card details (if you choose) so you can buy in a single click. We could say that AliPay has now become the "financial department" of the web.
You can find a list of other payment methods and their safety in this article.
And if I cancel an order or I don't get what I asked for, will I get my money back?
Of course. First, you need to know that if you decide to cancel your order, you can do so within the first 6 hours (approximately) after paying. From there, you can cancel before the seller sends your order, but the seller will have to accept the cancellation, so we recommend you ask him directly before you cancel.
And if your order doesn't arrive or what you get isn't what you bought (although it's unusual), you can talk to the seller to inform them, and you'll have to open a dispute to receive your money. Remember that the dispute is the only way we have to make sure AliExpress returns the money to our account.
Finally, if you don't reach an agreement by talking to the seller, after a few days of opening the dispute AliExpress will mediate immediately, and propose a solution based on the evidence (and usually favorable to you, unless you do not provide sufficient evidence). Remember that although you clearly see the error in the order, they can only see a few photographs, so try to make the problem very visible.
If something went wrong, you find useful information in our Guide on Claims and Buyers Protection.
Discount coupons when shopping with PayPal
If you choose to pay using PayPal, AliExpress also offers coupons. On your first purchase you will be given a discount of 3 dollars if the purchase exceeds $30. This offer changes over time, so it may be that when you place your order, the minimum purchase to receive the discount is less or more.
We answer your most frequently asked questions about payment methods
During this time we've been getting a lot of questions on the blog related to payment methods in AliExpress, so let's take a look at the most frequently asked questions you leave in the blog comments.
¿What currency can I pay in?
If you pay by credit card, the purchase amount will be automatically converted into Euros, US Dollars, Pounds Sterling or Russian Rouble. Remember that certain cards may charge a supplement for payment in a foreign currency, so it is best to ask our bank the conditions of the card before making a purchase.
Mercadopago and Doku also allow you to pay in Mexican or Indonesian currency, so if you are reading us from one of these two countries, you may be interested in these payment methods. Remember that to change the currency you just have to go the top of the page and select the one that suits you best. If you choose euros, dollars, pounds or rubles, when you pay by card it will be paid in the same currency you chose.

How do I know if I can pay with my card?
AliExpress supports the following cards: Visa debit and Visa credit, MasterCard credit and Maestro debit. If you don't know what type of card you have, it's best to ask your card issuer, there are thousands of different cards worldwide and we don't know them all. You will also have to ask if your card allows payments through internet.
Where do I get my money back?
In case you have to receive a refund from AliExpress, the money will be refunded by the same method used when paying. For example, if you paid by card, the money will go to the bank account linked to the card. If you need more information about returns click here.
What if my card has expired, how will I receive the money?
It's best to contact your bank, but normally it will reach your bank account as usual. You can't change the card number, seeing as the return is made automatically through their system.
I bought something and canceled it right away, why have I been charged?
The payment is made as soon as we place the order, although sometimes it may be held in our bank. So you will have to wait a few days for the return.
The seller is offering to give me my money back through PayPal, can this method be trusted?
We advise you not to accept any deal outside of AliExpress, you wont be protected by the site. In addition, the seller may cancel the PayPal transaction depending on how you do it, so it is best to get your money back through the AliExpress system, ie open a dispute.
The seller offering the option of paying for the order outside of AliExpress, do I trust them?
The answer is the same to the previous question: we don't recommend you to accept any deal off the page, because if you have a problem, you will not be protected by AliExpress.
My order hasn't been accepted for safery reasons, what can I do?
Recently there has been an increase in comments on AlixBlog about AliPay and cancelled orders when placed by credit card:
"Has anyone had problems with credit card payments? My order is being cancelled…"
Following your comments we wrote an e-mail to AliExpress asking them to explain this problem to the entire AlixBlog community. In our definitive guide article on how to buy from AliExpress you will find a section where we talk about this. We hope it will help you ;).
In short
Even if the seller you're interested in doesn't offer payment through PayPal, you don't have to worry because all of their payment methods are protected by AliExpress, so your money is safe until you confirm that everything has arrived safely. That's why we recommend you always pay through AliExpress and never directly to the seller.