Among all AliExpress payment methods, Alipay is undoubtedly the most popular.
It has been several years since AliExpress created Alipay to manage payments through the platform, but there are still many users with doubts about how it works and if it is reliable.
Therefore, in this article we are going to resolve all these doubts.
What is Alipay?
The Alibaba group (to which AliExpress belongs) created Alipay in order to manage themselves the payments that users make on their platform. When we make a purchase, Alipay holds our money and only releases it when we receive our order and confirm that we are satisfied with it.
Alipay is also known as the Chinese Paypal because of the many similarities between the two payment platforms. PayPal is also available on AliExpress but only in some countries, unlike Alipay, the only payment method you will find available in every country in the world.
Is it safe?
If you have not yet decided to pay with Alipay, you can rest assured that this online payment platform is 100% secure and reliable.
Alipay does not share your bank details with third parties and will also reimburse you in full for unauthorized transactions. So you can save your credit or debit card settings without any problem: this will allow you to speed up your purchases on AliExpress to the maximum. Besides, it is a hassle to enter your bank card details every time you make a purchase.
Alipay is already the most used payment method in China for a reason.
How does it work?
As mentioned above, Alipay keeps your money and only pays the seller when you receive and confirm your order.
This way, you can be sure that the seller won't be disappointed with your purchase once it has been shipped: if you have any problem, you can claim your money back through a dispute.
Do you know how AliExpress disputes work? You can check it in this article.
You don't need to register directly to use it
Keep in mind that you can register on Alipay directly on their website, but to pay for your purchases on AliExpress you don't need to do it: Alipay is directly linked to your AliExpress account when you pay with credit or debit card (you register directly when you pay with your bank card).
So if you have already paid with your bank card you are already registered, you don't have to do anything else.
What is Alipay Wallet?
Alipay Wallet is the virtual wallet that you have available in Alipay where you can store your money (you can see it by clicking here).
In addition, if you prefer, you can also recharge your Alipay Wallet with your bank card.
It is possible to receive money transfers from one Alipay account to another and the money received will be accumulated as balance in your Alipay Wallet, which you can then transfer to your bank account (in the same way as Paypal).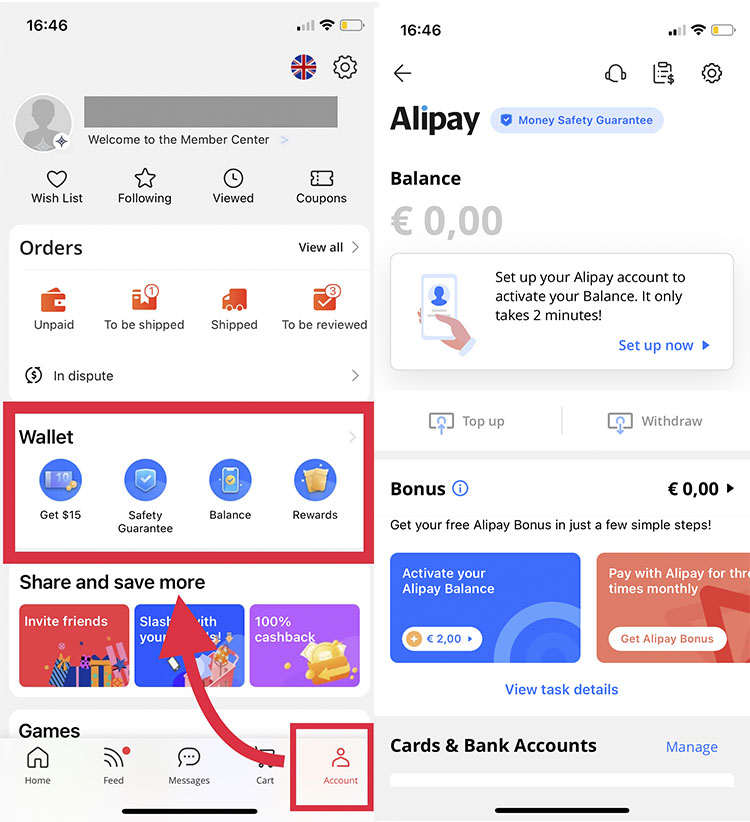 Do I need to recharge my Alipay Wallet to make my purchases?
No, you don't need to have a balance in your wallet or recharge it to pay for your purchases on AliExpress.
At the moment you finalize your purchase and when you choose your bank card as payment method (i.e. through Alipay), the payment will be made directly from your card even if you don't have any balance in your Alipay Wallet.
Bonus for using Alipay
Alipay rewards your regular use of its payment platform with a bonus that will be added to your wallet funds and that you will be able to use for your purchases.
These are the bonuses you will receive for using Alipay:
$2 for setting up your Alipay account and activating your balance.
$1 for paying with Alipay three times a month.
$1 for adding a bank card.
From time to time AliExpress also offers the possibility to earn extra bonuses by recharging your Alipay Wallet.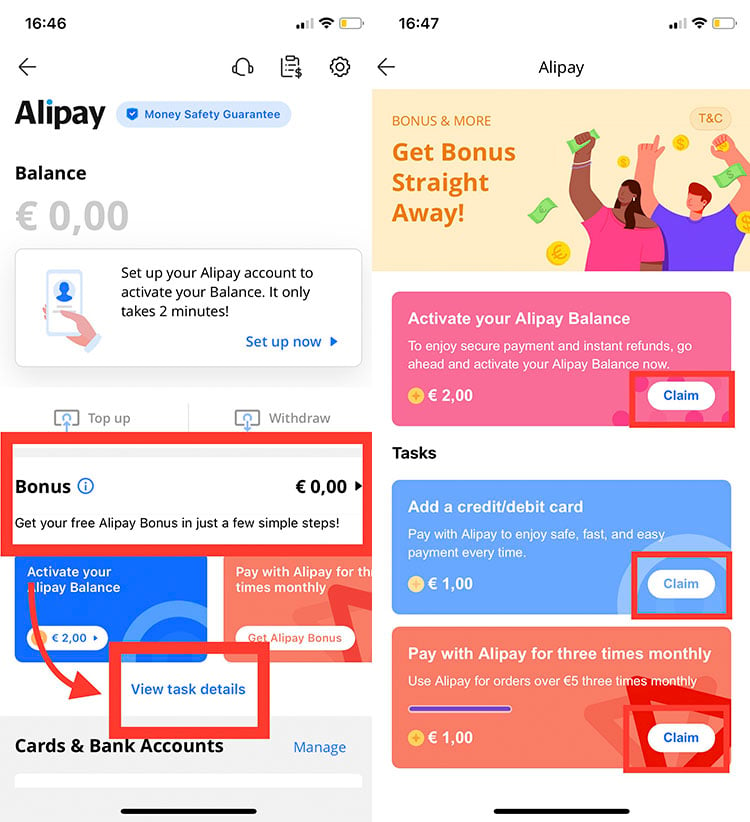 How can I view all my Alipay transactions?
From Alipay Wallet you can see all the movements of your account (purchases, refunds, recharges…) by clicking on the middle icon at the top.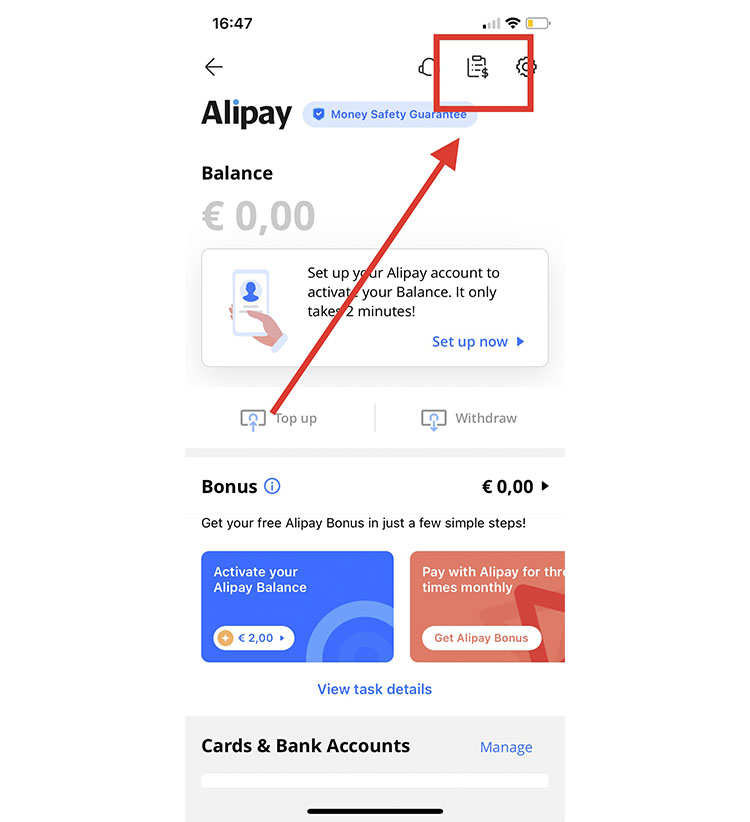 How to pay with Alipay on AliExpress
Paying with Alipay is very easy.
You already know that any payment you make through your bank card will be handled by Alipay.
To add a bank card you have two options:
The first is to do it once you have your order in the shopping cart and selecting as payment method "Add a new card".
The second is to go directly from your account to your Alipay Wallet and go to "Cards and bank accounts: organize" (click here to go directly to Alipay Wallet).
Add your credit card here and select it when making your payment afterwards.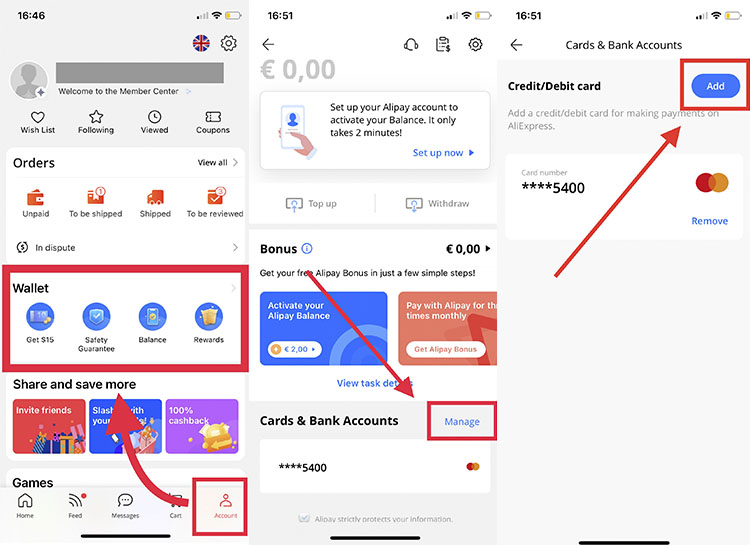 Remember that your credit or debit card will be automatically saved in AliExpress to facilitate future purchases, if you prefer to delete it in this post we tell you how to do it.
Our review
Is it worth using Alipay?
It's very clear to us: as of today, Alipay is the best payment method on AliExpress because the advantages it offers over other payment methods are very good (buyer protection, ease of payment, bonuses…).
We have already explained that the Alipay system is very similar to the one used by Paypal, but unfortunately AliExpress' relationship with Paypal is very unstable, and it's not always available as a payment method, especially not in all countries.
So if we have to stick to one, Alipay seems to be the best option.
Are all AliExpress payment methods reliable?
Main article: Comparison of AliExpress payment methods
Despite everything, each payment method offered by AliExpress is completely reliable and you may at some point be better off using one method or another (depending on the country where you live).
In addition, a serious company of the likes of AliExpress can not afford anything that tarnishes its prestige.