One of the main questions when shopping at AliExpress is how you can pay and which method is best when buying. That's why in this article we'll explain in detail the payment methods in AliExpress. Let's review them one by one and review the advantages and disadvantages of each one.
Before we start: payment methods and security paying in AliExpress
These days, it's normal to have doubts before buying from any online sites because you never know who's behind it. But AliExpress is a world-renowned shopping site, where millions of people already buy. In addition, you can be completely relaxed because AliExpress works with an Escrow system, which means that your money is protected and the seller will never receive your payment details and will only receive the money when you confirm that everything has arrived safely. In addition, AliExpress protects all your payments using the latest encryption systems from Visa, Mastercard and VerisignSSL.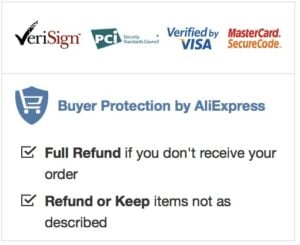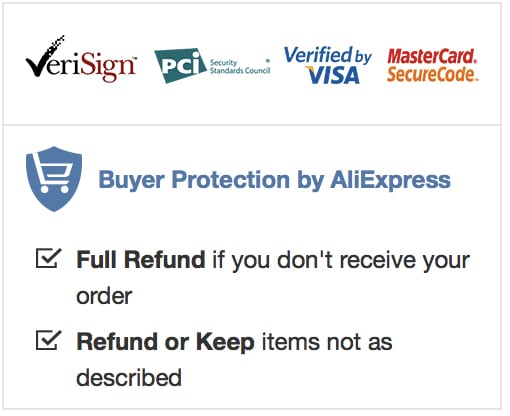 On the other hand, AliExpress uses the HTTPS protocol on its website, through which the data you exchange between your computer and the server is encrypted, and can never be stolen by third parties. In short, shopping on AliExpress is a totally safe site thanks to its multiple encryption systems.
What payment methods does AliExpress support?
Now that you know you can rest easy when you buy from AliExpress, let's focus on the payment methods you can use and their advantages and disadvantages.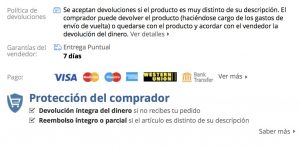 1 – Payment with a debit or credit cards
It is the most widely used payment method by buyers, given that banks increasingly make it easier to get cards at no extra cost. AliExpress supports Visa debit/credit cards, MasterCard credit cards, Maestro debit cards and American Express.
Prepaid cards / virtual cards are also accepted, and they have the advantage of being safer, as you can only spend the money you have previously deposited.
2 – PayPal
Recently AliExpress reinstated the possibility of paying with PayPal in some of its stores. This method of payment has a great advantage, because we can associate our bank account to the PayPal account so we can buy in AliExpress even if we do not have a credit card. However, not all sellers accept payment through PayPal and if they do, we will have to pay a small extra fee for choosing this payment method. In our guide to pay with PayPal in AliExpress we included a list of sellers who allow this method of payment.
AliExpress también ofrece un descuento que se aplicará directamente a la hora de hacer una compra con PayPal. Dependiendo de la cantidad de la compra, el cupón descuento será mayor o menor. Para ver cómo funcionan los cupones de AliExpress pincha sobre el enlace.
3 – Mercado Pago
This payment method is only available for Mexican buyers, and gives you a lot of advantages, as it allows you to use up to 5 different means of payment: bank transfer, credit or debit card, OXXO, bank deposit or payment with your Mercado Pago balance. If you are reading us from Mexico, this is a good option to pay for your AliExpress purchases.
4 – Western Union
Although less known, you can also pay through Western Union. However, we can only pay for purchases over $20 and the process is much slower than with other payment methods: we will have to go to an office, fill out the form and wait up to 3 days for the payment to be verified. You can find more information about this payment method here.
5 -Bank transfer
This is one of the least recommended forms of payment, as you can only pay by bank transfer for orders over $20. In addition you will have to pay in dollars and make an international transfer. Most banks charge for international transfers, and it is the buyer who must assume its cost. In short, it is better to opt for another payment method.
6 – Other payment methods
There are also other less common payment methods such as Webmoney or Yandex.money (for Russian customers). QIWI, DOKU, Ticket, TEF, Ideal… Here you will find all the payment methods accepted by AliExpress although the best and most used ones are the previous ones.
Can I pay in my local currency?
AliExpress currently accepts US Dollars, Pound Sterling, Euro and Russian Roubles. Therefore, if your local currency is one of these, you will not have any problem, you will be charged in the same currency you have chosen. Also, if you pay through Mercado Pago and Doku, you can also pay in Mexican or Indonesian currency.
If your local currency is none of these, your bank will take care of the currency exchange (from dollars to your local currency). That's why it's important that you ask your bank what exchange rate will be applied when paying and if there is any fees for paying in foreign currency.
¿Y cómo recibiré mi dinero en caso de un reembolso?
If you have cancelled your order or what you have received is not what you expected and you opened a dispute resolved in your favor, you will surely wonder how you will receive that money. The money will reach you through the same method of payment you used, for example, if you paid by credit or debit card, the money will reach the bank account linked to that card. If you paid by Mercado Pago, it will go to your Mercado Pago wallet (except if you paid by card, in which case it will reach your bank account). If you paid by Western Union, you will have to make a bank transfer to your account, with a cost of $15. Here you will find more detailed information about AliExpress returns.
How to add or change the card in AliExpress?
Adding or changing a card in AliExpress is easy. These are the steps you need to follow.
When making the payment, select "Other payment methods".
It will now let you link a new card to your AliExpress account.
In short: What is the best payment method to buy on AliExpress?
We can't tell you which is the best method of payment as each person will find one type of payment more convenient than another. In general, it is becoming easier and easier to get credit and debit cards, so we find it one of the simplest and most reliable options. And without a doubt, the least recommended is Western Union and bank transfer because of the slowness and the extra costs that can be involved.
Want more tips and tricks to shop safely on AliExpress? Check out our guides
This article is part of our how to section where you'll find many more tips and tricks to help you shop better in AliExpress. If you still don't know this Chinese sales page well, I recommend you read our definitive AliExpress Guide where we explain how to start shopping.
What payment method do you use? We'd love to hear from you, don't hesitate and leave us a comment below.