---
You can view all types of payment methods directly on AliExpress by clicking here.
---
One of the main doubts when buying on AliExpress is how to pay and what is the best method of payment when buying on this platform. That is why in this article we are going to explain in detail the payment methods in AliExpress. We will go over the different methods one by one and explain the advantages and disadvantages of each one.
⚠️ Before paying, you might want to check out if you can apply these coupons and promotional codes to your AliExpress purchase:
AliExpress Coupons
Active
List of all the coupons
List of all Seller Coupons ordered by category.
Use this code to get a 3$ discount with a minimum spend of 4$.
Latest Flash Offers. If you see something you like don't hesitate, these products sell out quick.
Payment methods and security when paying in AliExpress
In these times, it is normal to have doubts before buying from any online site since you never know who is behind it. But AliExpress is a worldwide known shopping platform where millions of people already buy. In addition, you can be totally confident because AliExpress works with an Escrow system, which means that your money is protected and the seller will never receive your payment details and will only receive the money when you confirm that everything has arrived safely. In addition, AliExpress protects all your payments using the latest encryption systems from Visa, Mastercard, and VerisignSSL.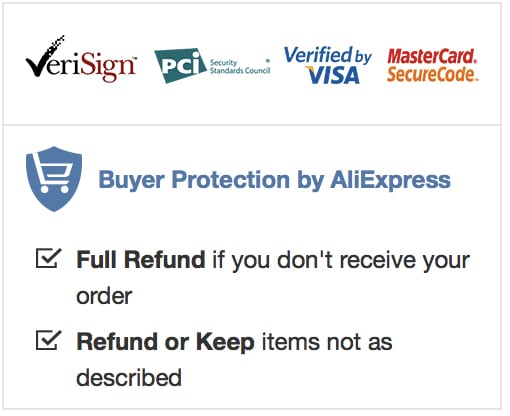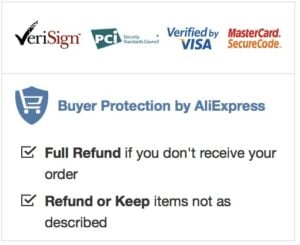 On the other hand, AliExpress uses the HTTPS protocol on its website, through which the data you exchange between your computer and the server travel encrypted, and can never be stolen by third parties. In short, buying from AliExpress is safe because its platform has multiple encryption systems for your peace of mind. If you want more information, we explain what are the measures of AliExpress to avoid scams.
What forms of payment does AliExpress support?
Now that you know that you can have peace of mind when you buy from AliExpress, let's focus on the payment methods this platform accepts, their advantages and disadvantages.
 1 – Pay by credit or debit card
It is the most used payment method by buyers since banks are increasingly providing facilities to get cards without extra costs. AliExpress accepts credit and debit cards from the famous banks Visa, Mastercard, Maestro, or American Express. It also accepts cards from local entities around the world such as Amex, JCB, Diners Club, Discover, MIR, Hiper, Elo, Troy, Carte Blue, and Local credit card.
It doesn't matter which bank you are from, nowadays all banks use cards from these entities. If you cannot pay with your card, check that you are entering the number correctly and contact your bank, as some cards may have payments blocked in a foreign currency or do not have the option to make purchases online.
You can also pay with prepaid cards / virtual cards, which have the advantage of being more secure since you can only spend the money you have previously deposited. We have an article dedicated to prepaid and virtual cards where we explain how they work.
If you have cancelled an order or won a dispute and are waiting for a refund, please note that it takes a few days and the refund will arrive on your credit card as a return transaction. If your card has been cancelled or has expired, it will most likely reach the balance of the associated bank account but it is best to contact the entity that issued the card.
2 – PayPal
Recently AliExpress is offering the possibility to pay with PayPal in some of its stores again. This method of payment has a great advantage, and that is that we can associate our bank account to the PayPal account so that we can buy from AliExpress even if we don't have a credit card.
However, not all sellers accept payment by PayPal and if they do, we'll have to pay a small extra commission charged by Paypal for their service. This is a fee of $0.8 when the order is less than $20 and 4% of the order amount when the order is over $20. In our Guide to paying with PayPal at AliExpress we have attached a list of vendors that accept PayPal.
In case of a refund or after a dispute, we will receive the money in our PayPal balance. When it reaches us, we can choose to leave it as a balance in our PayPal account or transfer it to our bank account or credit card.
3 – Western Union
Although less known, it can also be paid through Western Union. However, we can only pay for purchases over $20 and the process is much slower than with other payment methods: we will have to go to an office, fill out the form and wait up to 3 days for the payment to be verified. You can find more information about this payment method here.
The payment is made from individual to company and Western Union will charge us a commission for the transaction that can go from 5 to 18 dollars depending on the amount of the purchase. If we have a problem with the purchase and need to receive a refund, AliExpress will provide you with a code to request the money through Western Union and again, you will have to pay another commission. As you can see, there are so many commissions that we do not recommend this method of payment.
4 – Wire transfer
This is one of the least recommended forms of payment, as orders over $20 can only be paid by bank transfer. You will also have to pay in dollars and make an international transfer. Most banks charge for making international transfers, and it is the buyer who must assume the cost. In short, it is better to opt for another payment method that we have talked about.
5 – Other payment methods
There are also other less usual payment methods such as Webmoney or Yandex.money (for Russian customers). QIWI, DOKU, Ticket, TEF, Ideal… Here you will find all the payment methods accepted by AliExpress although the best and most used are the previous ones.
What is AliPay by AliExpress? Is it an effective payment method?
AliExpress is part of the AliBaba group, one of the largest companies in China. In its home country, it has other sites and also has its own payment method called AliPay. In China, AliPay is a mobile payment method, a kind of Chinese PayPal. However, in AliExpress it has a very different function.
In AliExpress, AliPay works as a payment manager for the platform. We could say that it is the department of AliExpress in charge of making payments, returns, verifications, saving your card data with total security… It seems that it will have more and more weight as we explained in our article AliExpress pushes through its payment system AliPay.
Frequently asked questions about payment methods at AliExpress
We know that you have many questions about how to pay at AliExpress, we have collected the ones you leave us in the comments section so that you can find your answer here. Many are answered in the AliExpress customer service center which you can find from this link and where you also have a search engine in which you can enter the keywords of your problem to find an answer.
Can I make cash on delivery payments at AliExpress? Can I pay in cash?
No, AliExpress does not accept cash on delivery, it is a payment method that few pages accept as it has a great risk for them. If the problem is that you prefer to pay in cash, the only payment method that comes close is MercadoPago or Western Union, on the other hand if you don't want to link up with any bank it is best to opt for prepaid cards or virtual cards.
Can I pay in installments at AliExpress?
Similarly, AliExpress does not allow payment in installments. However, there are many credit cards that can finance your purchases in installments, some with very low interest rates, so it is best to ask your bank if you can pay in installments and what the conditions are.
Can I pay in my local currency?
Currently, AliExpress accepts US dollars, British pounds, Euros, and Russian roubles. Therefore, if your local currency is one of these, you will not have any problem, you will be charged in the same currency you have chosen.
If your local currency is not one of these, your bank will take care of the exchange (from dollars to your local currency). That's why it's important that you ask your bank what exchange rate it will apply when you pay and if there is any commission charged for paying in foreign currency.
Why have I been overcharged?
If your local currency is not accepted by AliExpress, payment will be made in dollars. Therefore a dollar conversion will be made to your local currency. This may have a small commission for currency exchange. In addition, your bank may charge you certain fees per transaction or service. For more information, we recommend that you contact your bank and request a transaction detail where you can see the currency exchange rate applied and possible fees.
Does the price I paid include customs?
On most international shopping sites, customs must be paid by the buyer since each country has its own customs regulations. There are some sellers who can ship with private courier including customs costs, but this is something you will find in high-value products such as vacuum cleaners, bicycles, appliances, electronics… The seller has to put it clearly in the advertisement.
Why do I have unpaid items?
If you have made a payment and then it appears as pending payment, the first thing you should check is that the order has not been duplicated. But if you have not duplicated the order and you have already paid, we recommend you contact the entity that you have made the payment to see if they have processed the purchase or with the customer service via chat or form by clicking here.
What should I do if AliExpress has refused my payment? Why was my order cancelled?
You may place an order and after a few hours or days, it will appear as completed. The reason why AliExpress has refused payment or has cancelled the purchase is for security reasons, because you have requested the cancellation of the order or because the seller has not sent the order within the determined preparation time. For more information, you have to go to your order list and see the detail of your order.
When I pay I get a payment error, how do I fix it?
But it may also be that when you make a payment you get an error message. You can find more information at this link. Here is a summary of the most common reasons why an error code appears:
CSC_7200011 – You don't have enough money on your card or account
CSC_7200015 – Payment rejected by the bank or payment entity.
CSC_7200022 or CSC_7200051 or CSC_7200001 – Currency or card not compatible with AliExpress payments.
CSC_7200026 – It is necessary to verify the card for security reasons.
CSC_7200034 – Information is missing from the order (check the address or check Alipay account).
CSC_7200012 – Incorrect card expiration date or expired card
CSC_7200020 – Incorrect card information.
CSC_7200040 – Bank restricted card.
CSC_7200006 – Payment currency not supported. You must pay in USD.
CSC_7200009 – Card or bank account limit exceeded.
CSC_7200021 – Incorrect CVV code. Please check the payment information.
What is the CVV code requested by AliExpress?
When paying by credit card, AliExpress will ask you for the following information:
Cardholder's name: Full name that appears on the card, no matter if it is different from the shipping address.
Card expiration date: Appears on the front of the card, in month/year format.
CVV: Security code that appears on the back of the card. It has 3 numbers.
This information is available whether you are paying with a debit or credit card or paying with a virtual/prepaid card. If you are not sure, it is best to contact your bank.
I need to verify my card/account, is it safe to send the documentation to AliExpress?
Sometimes AliExpress asks us to verify our account data for security purposes. You will be asked to claim through AliPay and send information to verify your identity (ID card, passport, driver's license…) and that the credit card is yours (photo of your card). This is totally safe, but you must do it through the AliExpress platform. If you want to cover certain information for security, in the credit card you can cover certain numbers minus the last 4 digits of the card. Click here to find out what information you must provide and how to upload it to make the appeal.
Why are certain payment methods not available?
Sometimes, we are unable to pay with certain payment methods. This happens when the seller doesn't accept this payment method (which is very common with PayPal), when the country doesn't have that payment method available, or when the purchase amount doesn't reach the minimum payment amount (for example, in the case of paying by bank transfer or Western Union).
How to add or change the card in AliExpress?
Adding or changing a card in AliExpress is very easy. These are the steps you have to follow:
When making the payment, select "Other payment methods".
You will now be able to link a new card to your AliExpress account.
And how will I receive my money in case of a refund?
In the case that you cancel your order or if what you have received is not what you expected and you have opened a dispute resolved in your favor, you will surely wonder how you will receive that money. The money will arrive at you by the same payment method you used, for example, if you paid by credit or debit card, the money will arrive to the bank account linked to that card.
If you paid by Western Union, you will have to make a bank transfer to your account, at a cost of $15. Here you will find more detailed information about refunds at AliExpress.
To learn how to request your money when you have a problem, we recommend our Guide to Claims, Disputes, and Refunds at AliExpress. And if you have already requested a refund and have not received your money, we have an article on What to do if you have not received your money back at AliExpress.In summary: what is the best way to pay for a purchase at AliExpress?
We cannot say which is the best method of payment as each person will find one type of payment more convenient than another. In general, it is becoming easier and easier to get credit and debit cards, so we find it one of the simplest and most reliable options. And without a doubt, the least recommended are Western Union and bank transfer because of the slowness and the extra expenses that they can involve.
Want more tips and tricks for safe shopping on AliExpress? Check out our tutorials
As you can see, paying on AliExpress is very easy. But there are local alternatives as we explained in the Local Shopping Guides at AliExpress. We recommend that you read them for more information on how to buy and pay on this platform from your country:
This article is part of our tutorial section where you will find many more tips and tricks to help you make better purchases on AliExpress. If you still don't know well this Chinese sales page I recommend you read our Ultimate AliExpress Guide where we explain how to start shopping.