---
You can see the guarantees and delivery times directly in AliExpress by clicking here.
---
Most of the questions you leave us on the blog are usually related to shipments of orders placed on AliExpress. That's why in this article we're going to explain everything you need to know about them and answer your most frequently asked questions.
The shopping process in AliExpress
Before we start talking about shipping methods, we'd like to make a point. Many of you may not know how the AliExpress shopping process works. It is important to know that in their ad the sellers tells us what type of shipment will be used (although if we are not paying for shipping the most common thing is for the seller to use the shipping method that suits you) and the approximate time of delivery to our country.
Also, if you have added to the basket products from different sellers, they will arrive in separate packages even if you pay everything together, as each seller is at a different point of the country and sends it independently.
The protection time is 60 days, ie the shipment can take up to 60 days to arrive, although it usually takes much less (depending on the country). In busy times with a lot of shipments (such as Christmas) courier services are full of work and so it may take longer to arrive.
Is the shipping free?
In most products, shipping is completely free, although as you we've been told on comments on the blog, there are certain products that now incorporate shipping costs, and the reason is simply that many of these products before had an ordinary shipment (which can not be traced), and can't be traced, so the buyer could open a dispute by saying that he or she had not received the order (even if they had, or even if it came a little later). That is why many sellers have decided to incorporate a small surcharge for shipping costs and send it registered to avoid fraud.
On the other hand, if we want to pay by private courier surely we will have to pay the shipment. Remember that as we have said, this type of shipment usually comes with extra customs charges (which we will have to pay ourselves). In registered and ordinary shipments there is much less chance of it being stopped.
What types of shipment does AliExpress offer?
First, we have to point out that the shipment is not made from AliExpress, but by the seller who receives our order and is responsible for sending it. Therefore, there is no single type of shipment as there are thousands of transport companies that can be used by the seller, even so we are going to look at 3 kinds.
Ordinary shipments
These are shipments used for small products (packages that fit in a small padded envelope). They cannot be tracked, that is, we will not be able to see where our order is going nor will we receive a notice the day it is delivered. The usually with this type of packages, the postman leaves it in our mailbox and it does not need a signature to be picked up.
Certified shipments
These are the most common for AliExpress products. This type of shipment can be tracked over the Internet, and we can identify it because they usually start with R and end in CN… The package will reach us by the postal company of our country (the same one that gives us the letters), but in this case when they bring it to us to house they will ask us for to sign. If we are not at home they will leave a notice to go pick it up at the post office.
Shipments through private courier
They are frequent for very bulky or heavy orders. We recommend you avoid this type of shipment since although it is faster, they usually have a customs surcharge.
How to find our tracking number
In the details of your order you will find the tracking number of the package and it will will also be show you the states it passes through.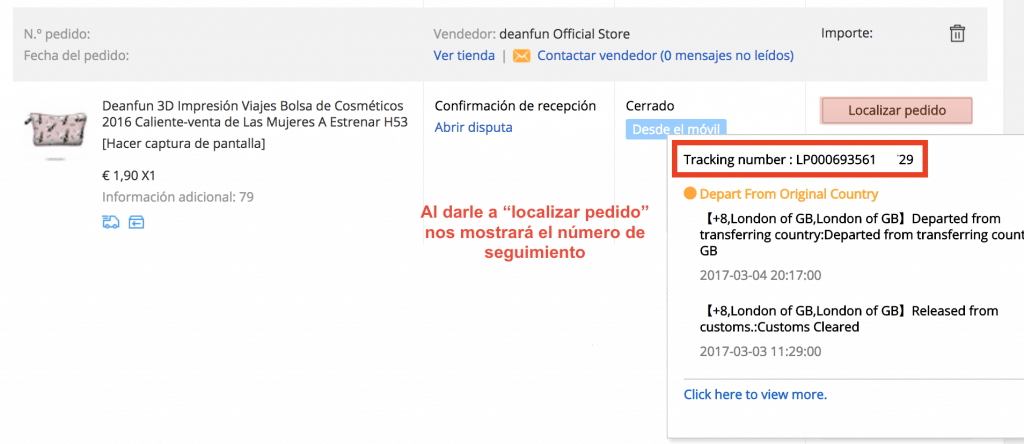 In addition, there are also multiple applications for your smartphone that allow you to type in the tracking numbers and see where your packages go, as well as the famous page 17track.net, one of the most famous ones and the one that tracks better than all the others.
Which company sent my package? Is it certified or ordinary?
Although new shipping methods are appearing every day, most sellers bet on the same transport companies and so we are going to talk about the most common ones, according to the tracking number, they are all certified and we can track them to see where they are:
Starts with R and ends in CN: Sent by Chinapost.
Ends in HK: Sent by Hong Kong Post.
Ends on SG: Sent by Singapore Post.
Ends in NL: Netherland Post.
Starts with PQ48: Sent by post, we will receive an e-mail upon arrival it will be delivered within 48 hours.
In the case of ordinary shipments (those that can't be traced) there is a much wider variety of companies, but some of the ones we have found are these:
Starts in LP: Sent by post economy (it can't be traced but we will receive an email when it reaches our country).
Starts with WD: Sent by Wedo.
Starts with PP: Sent by PayPal package.
Starts with YC: Sent by Yanwen.
Starts with WS: Sent by Ws-shipping
Starts with YD: Sent by Special line YW.
Starts with SY: Sent by SunYou.
All Numbers: Sent by China Post Ordinary.
Faster shipments and no customs
If you need the product with the utmost urgency, AliExpress introduced new formulas to improve shipments and help you receive them in the shortest possible time, without going through customs. To use this new method, all you have to do is look for stores that have a warehouse in Europe or America. Here is how you find this type of seller.
Filtering the search
When looking for something, if we use the box "Shipped from" we will be able to filter sellers who have warehouse in our country. For example, if you are from UK, you can search for sellers who have a warehouse in your country, but you can also use any seller who has a warehouse in Europe (Germany, Italy, United Kingdom …) and sends from there to your country. This will mean you will receive your purchase in the shortest possible time and without customs fees.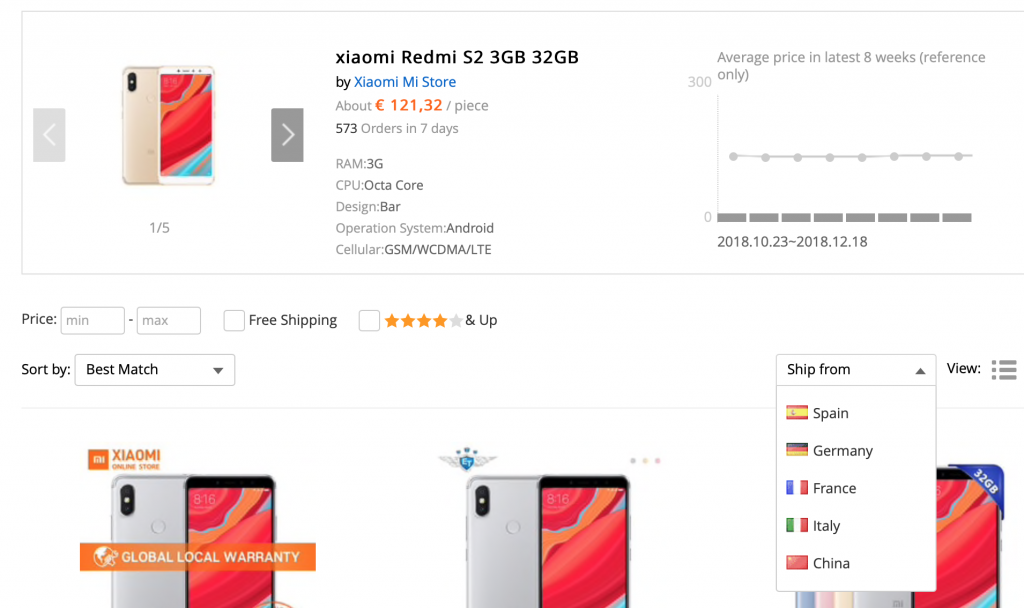 We answer your most frequently asked questions
We've already been answering many of your doubts throughout the article, but there are also recurrent doubts that we haven't covered yet. These are the most common ones.
Can I buy something and ask for it to be sent to a country other than the one I live in?
Yes, all you have to do is change the configuration of the page and put the country to which the order has to be sent, so you will only get products from sellers who ship to that country.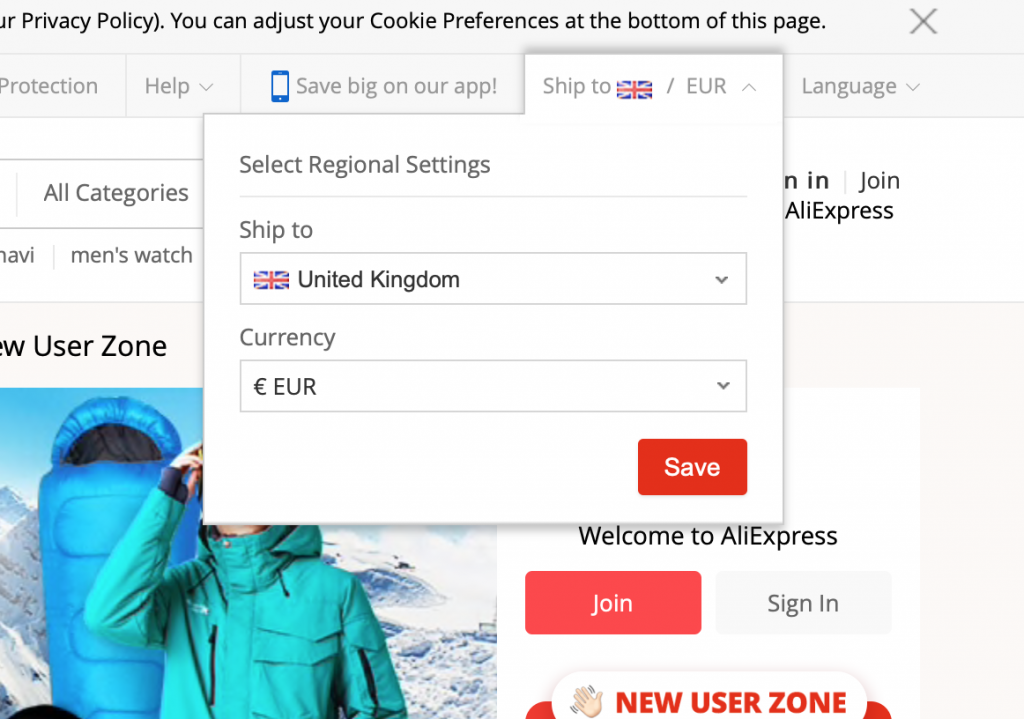 Can I change the shipping address?
If you have already paid for your order but you noticed that the shipping address is wrong, the best thing to do is to contact the seller as soon as possible and explain the situation, in addition to sending the correct address. Another option is to cancel the order and place it again. If the seller has already sent the order, you will not be able to do anything about it.
They don't ship cash on delivery?
Another of your most frequently asked questions, especially by those of you who are starting to buy from AliExpress and are scare of not receiving your order. AliExpress does not offer this type of service, but your money is completely safe, as the seller does not receive the money until you have confirmed that the order has arrived well.
Our opinion on AliExpress shipments
The truth is that since we started the blog we have seen great progress in terms of AliExpress shipments: there is a great effort behind those responsible for the page to try to improve shipping times, offering less waiting time and better conditions. Given that most shipments are free and the prices of their products, AliExpress is unrivaled, especially with the new domestic shipping services that significantly reduce waiting time.
Finally, remember that in our blog we have a section with tutorials where you can find articles as interesting as our definitive guide on AliExpress, a highly recommended read if you are starting to buy on this famous Chinese online shopping platform.