For a long time, you have asked us whether you buy from different sellers separately or in one package. Until now, each store sent a package since the sellers' ship from their warehouse, and each item was in a different part of the country. It seems that AliExpress has listened to your requests and from now on we will be able to receive products from different sellers in a single shipment.
What are the advantages of the combined delivery of AliExpress?
This platform is characterized by the sale of cheap yet quality products from China. You can find very popular brands and very low prices. But being an international shipment, one of our recommendations to avoid customs at AliExpress is to make small and low volume orders, although this recommendation is different depending on the country from which we are buying.
However, this kind of delivery has several advantages. One is that if we are buying small products and can combine our shipments, we will receive everything at once and avoid having to worry about multiple tracking numbers. Although a good option to follow several orders is to look for a mobile application that allows you to add the tracking numbers and be able to see where your orders are going at the same time.
Another advantage is for those who buy from countries that limit the number of packages received from abroad per year. In this case, being able to receive products from different sellers in a single order, allows us to save money and time when handling customs paperwork because we will only have one package. This is good news for many Latin American buyers who have this problem.
How AliExpress combined delivery works
Combined delivery of orders is not available for all products on this platform, and from a particular price, it will include shipping with AliExpress Standard Shipping. Only a few vendors will offer this possibility, and you must bear in mind that for the combined delivery to take place, you must pay for everything at once through the shopping cart. But if you are interested in finding products with combined delivery, there are several ways to find these products at AliExpress.
The easiest way is to filter the product search. AliExpress has added a new filter that we can identify under the name "combined delivery". It will show you products that can be combined, not only will we see products from the same stores, but also from different stores. You can combine products from different searches. In other words, if you first look for sports products, you add products with combined delivery to the shopping cart, and then look for T-shirts with combined delivery, you will finally be able to place an order that has combined delivery.
Another way to order with combined delivery is to look in the shopping cart. Now AliExpress will show us which products are eligible for a combined delivery. You have to pay for all products at once. You can pay for products that have combined delivery with those that do not, but those that have this "combined delivery" option will have the same order number. The problem is that in the case of wanting to avoid combined delivery, we will have to pay for the products separately.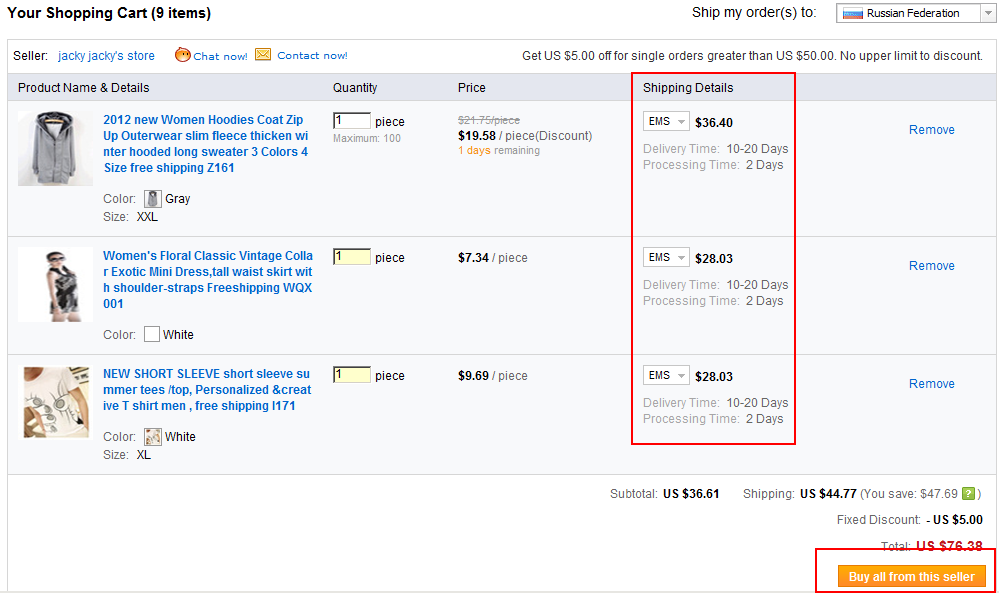 Finally, AliExpress has also created a section within its platform where some of the most popular products with combined delivery can be found. Although filtering the search is better, by clicking here you will be able to see some products that have combined delivery and thus avoid having to make several searches until you find what you need.
Shipping with combined delivery in AliExpress: AliExpress Standard Shipping or AliExpress Saver Shipping
The combined delivery only unifies in a single package your purchases of AliExpress, however, the shipment is still made by the usual methods that we explain in our final guide on shipping methods in AliExpress. When we place orders of low amounts of money with combined delivery, we will receive our purchases with the AliExpress Saver Shipping method, an untracked (regular) shipment that has a shorter delivery time.
On the other hand, when we place orders with combined delivery of higher amounts of money, we will receive our order through AliExpress Standard Shipping, a certified shipping system with a tracking number that is faster. In our blog, we have an article in which we explain the differences between these two shipping methods managed by AliExpress. You can also select combined shipping with AliExpress Standard Shipping even if you place an order of a low amount of money, but the shipping will have a higher cost.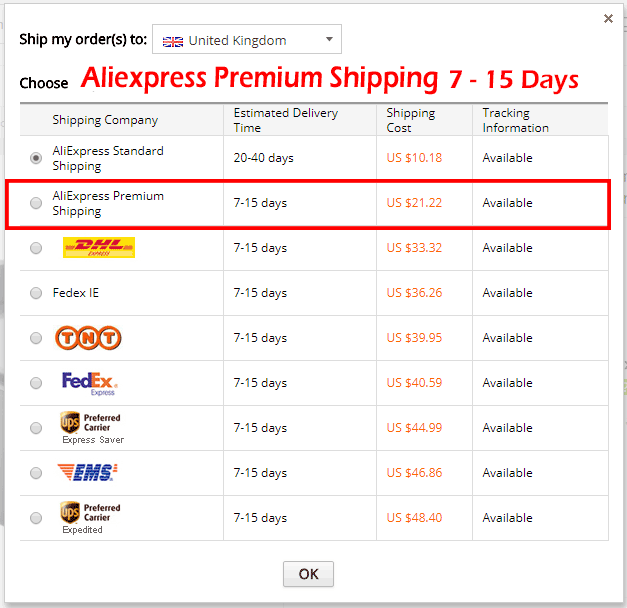 Returns and other problems with combined delivery
For some time now, some AliExpress sellers have included the option to make free returns of their products. If you have included more than one free return product in your combined delivery and would like to exercise your right to return, please note that AliExpress only allows one free return. In case you have a problem with the shipment and have to open a dispute, you will have to do it in all the products that are included in the combined delivery.
To cancel your order before it's sent to you, you will have to request it as soon as possible as the shipment will be processed very quickly and it may be that when you request the cancellation it has already been sent. It is not necessary to cancel all the products included in the promotion, only the ones we do not want to buy. But if the cancellation is requested to make the order again by changing the size or color of one of the products, perhaps the best option is to contact the seller as soon as possible to see if you can modify the order without having to cancel.
More tips and tricks for safe shopping on AliExpress
As you can see, this new combined delivery option can be very advantageous, but at the moment it is only available to buy at AliExpress with shipping from China. We will be able to purchase without having to keep track of several tracking numbers. Many times you ask us what are our tips for buying at AliExpress from your country, so we have some shopping tutorials with detailed tips for different countries:
This combined delivery can save you money. But if you want to get bigger discounts, AliExpress is one of the best platforms thanks to its Chinese brands and its low prices. But also, it has more and more promotions to make you save money. If you are interested in getting discount coupons, a good way to get them is through the AliExpress referral system, with which you can get coupons by inviting your friends to buy on this platform.
In addition, if you want more help for your AliExpress purchases, besides analyzing the latest news, best brands, and products of this platform, in AlixBlog we also have a section with tutorials where you can find the best tricks and tips to buy safely. If you don't know where to start, our Essential Guide to AliExpress is a basic reading to understand how this platform works and what are the most frequent problems with our tips to solve them.
How about this new combined delivery on AliExpress? We would love to hear your opinion, don't hesitate and leave us a comment below with your feedback or your experience shopping on this platform.