---
You can check all the guarantees and shipping times directly on AliExpress by clicking here. And see all the frequently asked questions resolved in this other link.
---
AliExpress Coupons
Active
List of all the coupons
List of all Seller Coupons ordered by category.
Use this code to get a 3$ discount with a minimum spend of 4$.
Latest Flash Offers. If you see something you like don't hesitate, these products sell out quick.
---
If you are looking for a page to buy good products safely and at a low price, AliExpress is one of the best options. It is very reliable and has been in the market for several years, offering quality Chinese products and brands. It ships anywhere in the world, often for free or at a very low price.
More and more people buy from Portugal due to the low prices. Today we will tell you everything you need to know to start shopping safely on AliExpress from Portugal. We will answer the most frequent questions and doubts so that you can start taking advantage of the benefits of this platform.
First step: register on AliExpress and get a welcome coupon, as well as a promotional coupon
Before starting to buy it is necessary to register in AliExpress, since this page does not allow making purchases without registration, although you can quickly enter through your Google or Facebook account. We recommend you to register with your e-mail since this way the purchase notification messages will be delivered directly to your e-mail. If you have not registered yet, AliExpress gives you a welcome coupon so you can spend it on any product in its store. Register and get the Welcome Coupon by clicking on this link.
If you want to know more, we recommend reading our guide on Discount Coupons on AliExpress.

Promotional code AliExpress Portugal
When finishing the buying process, enter the code below for using your promotional code and have a small discount.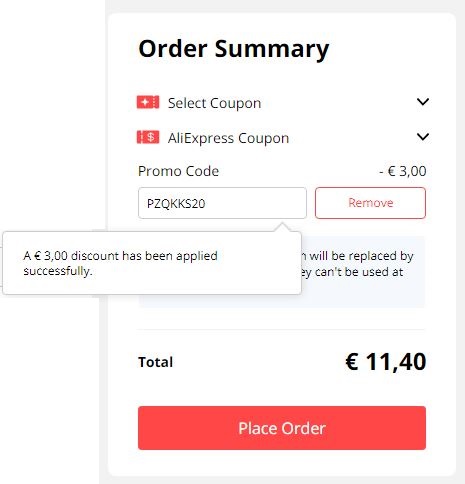 Finally, you must provide an address, it may be from your home or your work, where you desire to receive your orders (remember you cannot give the post office's address), and a telephone number. If the promo code does not work, try this link instead.
How to find products with shipping to Portugal on AliExpress
Now that you have registered, it is time to start browsing AliExpress to search for the products you want. Although AliExpress ships worldwide, make sure the page is set so that the search will only show you products with shipping to Portugal. You just have to look at the top right of the page and select your country and currency, as you can see in the image below.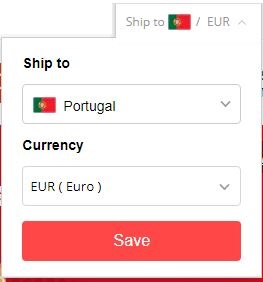 Now you can start your search, you just have to use the search engine at the top of the AliExpress home page or access through the categories. Our advice is to use keywords and avoid being too specific in our search, since after entering the keywords we can also narrow the search through the multiple filters that we have next to the search bar.
Click here to go to the page configuration as above (Portugal – EUR).
Before buying, read the description and specifications of the product
Something to keep in mind when shopping on AliExpress is that you don't just have to trust the first image, it is essential to read the description of the product and check that it is really what you are looking for. In the description, you can see more photos of the product, find the size equivalency guide to be able to choose safely, see what the purchase includes, among other useful information. If you still have doubts, it is best to contact the seller so that they can solve them before buying.
It is also essential to carefully review the comments of other buyers that you can find in the article. We recommend reading them as they are about information and real experiences (many times users upload photos themselves, which can be very useful). We do not recommend, ever, buying from a seller with a bad reputation: here are some tricks to find reliable sellers on AliExpress. A good seller is key for our purchase to be totally satisfactory, even if our money is protected on AliExpress, taking care of this can save us some inconvenience.
Payment methods accepted for AliExpress Portugal
Now that you have all the products in your basket (remember that each seller will send their products in a separate package) you only need to pay. The usual payment methods on other internet pages are accepted. .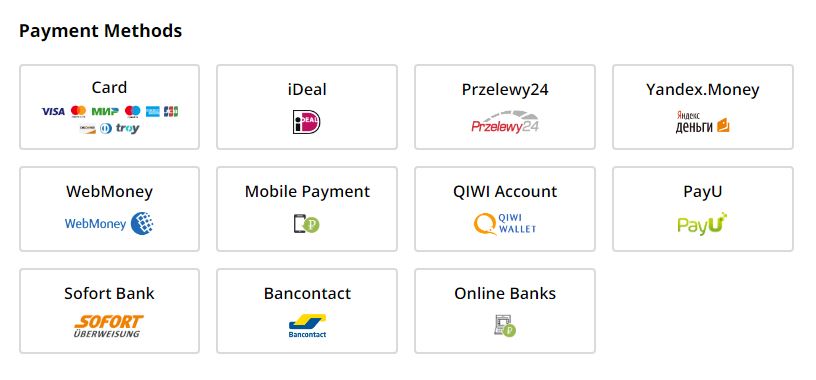 Credit or debit card
In this Chinese online sales platform, there are several payment methods, but without a doubt, the best way to pay on AliExpress is to use a credit or debit card. You can use those of Visa, Mastercard, Maestro, American Express, among others.
Virtual prepaid card
Nowadays, many banks offer virtual cards to buy online. They work the same as a debit card and can be obtained without many requirements since we can only pay if we deposit money. As in the case of previous credit or debit cards, they must have the option to pay abroad (if it is the case).
Bank transfer and electronic payment methods
You can also pay with other methods such as bank transfer (it is not recommended since payments are slower and returns can be complicated), as well as electronic payment methods such as Webmoney, iDeal, Przlewy24, Yandex. Money, Mobile Payment, Quiwi Wallet, PayU, Sofort Bank, or Bancontact.
Is the AliExpress payment system safe?
Regarding security, AliExpress is a totally safe page since it uses an escrow system whereby your money will not reach the seller until you confirm that you have received it correctly. Also, all transactions carried out on this website are protected by the Verisign SSL encryption system, and the page uses the https protocol, so the data you enter on its website cannot be intercepted by third parties.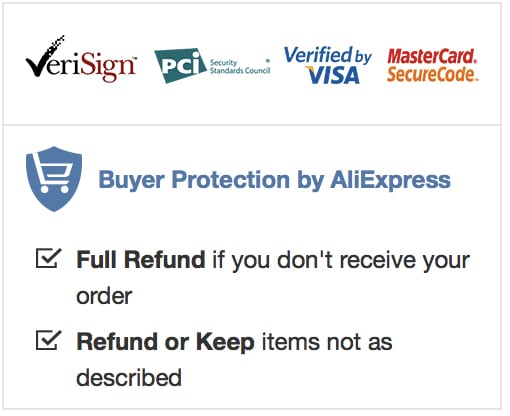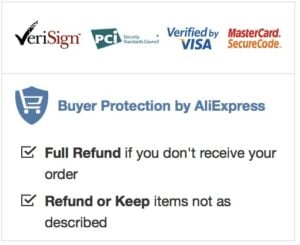 Shippings: How do they work for Portugal
Shippings on AliExpress are usually free or have a very low amount, which is another benefit of buying on this page. But many of you ask us about possible customs costs or the time it takes to order. AliExpress products arrive through the national post and without additional customs charges, as long as the price of the item is not high. We will explain all this in detail to clarify any doubts. We also recommend reading our Definitive Guide to Shipping Methods on AliExpress.
Shipping time and methods. How long does it take an AliExpress package shipment to Portugal?
The delivery time is directly related to the shipping method. Most of the free shipping (or almost free) offered by AliExpress sellers usually arrive through national mail —if we order through AliExpress Standard Shipping or China Post— in an approximate time between 20 and 38 days, although the protection time is of 60 days. Some sellers offer free shipping, either with AliExpress Standard Shipping or with their own shipping method (which usually takes a little longer).
However, there are also options through private mail. Although your order will take less time to arrive, we do not recommend choosing these companies as shipping is more expensive. Besides, it is more likely that your package can be held in customs.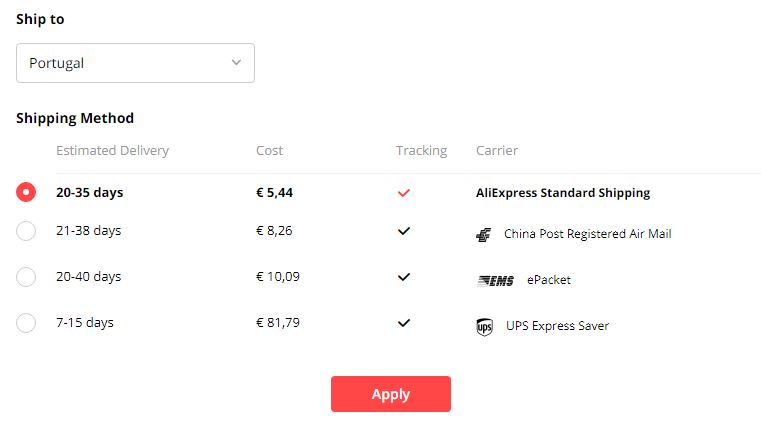 On the other hand, many sellers have local warehouses in different countries around the world. This is a greater advantage since you can order from a country that is closer to yours, and get your package in less time. For instance, as you see in the image below, if you order an article to Portugal from Poland, it will take considerably less time than if you order from China.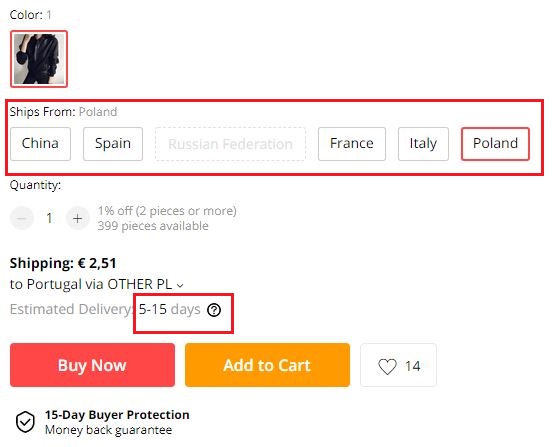 You may even have the option to order from a local warehouse, and get your package by national shipping. Nevertheless, if in your country there are not so many local warehouses, think that it is only a matter of time since AliExpress doesn't stop growing.
If you want to know more, check out our guide on shipping times on AliExpress.
How to check the tracking number
Once the seller has sent our package, we will be able to where it is at any moment (if it has been sent through registered mail) on the AliExpress page itself. We recommend checking where your package is frequently. We also recommend that you read our Guide for tracking your orders, where we explain how to decrypt the messages that appear when we follow our orders. Probably you can also check this information from the national mail page, or on websites like 17track.net.
Customs
One of the advantages of buying your product with shipping from any country in the European Union, apart from the fact that it will arrive in less time, is that your product will not pay customs duties, even if it exceeds the indicated price (for shipments from any other country, you will have to pay customs duties if your product costs more than € 150). However, if your product costs more than € 22, you will most likely have to pay VAT anyway, regardless of the country from which you ordered it (although sometimes reviews in customs are not so exhaustive, especially if the shipment is by AliExpress Standard Shipping or another that is not a private company)
In the event that your product requires payment of taxes, these will always correspond to the person who buys, that is, to you. If your package is detained in customs and you have to pay any extra amount, they will contact you and indicate the steps to follow. Also, depending on the cost of your product and sometimes the type of item, they will tell you how much you have to pay.
One recommendation: if you are buying multiple items, make sure they are shipped to you separately. If your packages are not bulky and each one has a price below € 22, you will save customs procedures. If you want to know more, we recommend our Guide about customs.
How to open a dispute on AliExpress if you have a problem with your order
AliExpress protects our purchases while the protection time is active, which is about 60 days from the payment. But this protection time can finish earlier if you mark that the order has already been delivered or if you confirm the order, but even then you will have 15 days to make claims. To do this, you just have to open a dispute by accessing the purchase list from your user account and clicking on the "open dispute" button. In our Guide on claims, disputes and returns on AliExpress we explain more details.
Frequent doubts and questions when buying on AliExpress from Portugal
Although there are many people who buy on AliExpress from Portugal, it is difficult to find information about it on the Internet. That is why we are going to answer some frequently asked questions that are repeated in our comments section.
What should I do if my order has been detained by customs?
Absolutely all packages pass customs twice: in the country of origin and upon arrival, in this case, in Portugal. This is part of the process and does not mean that you have to pay taxes. Customs do a review (sometimes not so detailed) of the contents of the packages. Just wait, they will contact you if they need more documentation and they will indicate the steps to follow.
My order appears as delivered but I have not received anything
In this case, you must contact the company that manages the package (generally "Correios de Portugal") and with the seller. If the mail company indicates that it has been delivered to another person, the seller will have to give you explanations and you will have to open a dispute to get your money back. But you need proof that they haven't delivered it to you. A good option, if the mail company can't give you some proof, is to go to pages like trackitonline.ru, where they can show you in which region or city has been delivered the package corresponding to that tracking number.
Can I buy from another country and send the order to Portugal?
AliExpress has no restrictions in this regard, you just have to add a new address with all the recipient's details and select the destination country. The receiver will be in charge of any additional customs procedures in the —very unlikely— event that the package is stopped.
I'm not at home much, can I send my orders to the post office?
No, it can only be shipped to a private address. Correios de Portugal and any other postal company only manage the packages and if you put one of their offices as the address, the package will surely be returned. You can send your packages to an address where you are regularly during delivery hours, for example to your work if you have that option.
How to change any details of my order
You can change details in your order before it is shipped, but for this, you have to contact the seller as soon as you can. Some sellers will ask you to cancel the order and do it again, but others can make changes without canceling it. If they already sent it, they will not be able to make any changes. For more details, we recommend our Guide on changing or canceling orders on AliExpress.
Can I buy wholesale from Portugal on AliExpress or Alibaba?
If you want to buy in bulk, you will have to gather information about the documentation and procedures that you must carry out to make commercial imports from Portugal, since these regulations work differently in each place. It is best to ask someone specialized in this field. However, in our guide How to buy wholesale on Alibaba, you will find important information.
Is it safe to buy on AliExpress from Portugal?
Some people still have some doubts about buying through AliExpress, but we can assure you that it is a secure platform with millions of sales worldwide. The largest number of buyers are from Europe, Russia, and America. Its payment platform uses the escrow system, so you must not be afraid to buy on this website. It also works as an intermediary between buyer and seller, helping to mediate problems and disputes.
Your money is fully protected on AliExpress, if you want to know more about the security of this page, we recommend reading our Guide on preventing any possible fraud or scam on AliExpress. If you want to have more information or do not find an answer to your questions, we recommend you go through the tutorials section of our blog. You can also take a look at our Essential Buyers Guide for AliExpress.
What about you? Have you already bought on AliExpress from Portugal? We would love to hear your opinion, do not hesitate to leave us a comment below.