Tip: to easily track your AliExpress order click on this link.
Today we will explain how to track your AliExpress orders, help you decipher the messages that appear in the tracking information and answer the most common questions about AliExpress order shipping and tracking.
How to get your order's tracking number
When the seller has shipped our order, it will go to the list of shipped orders, and the seller will attach a tracking number that we will be able to see in the order detail. If we are on the computer, we will go to the list of orders and when we pass the mouse over the button "Locate Order" or "Track Order", as we show you below.
We will see the tracking number and the last states through which the package has passed. If we click on the button, it will take us to a page with more information.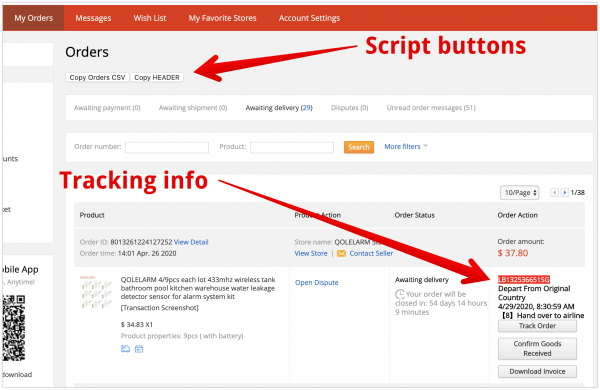 If we are browsing AliExpress from its mobile app, we will go to the list of orders, enter "To Be Shipped", and click on the "Tracking" button. It will take us to another page where we will see the tracking number and the list of movements of the package.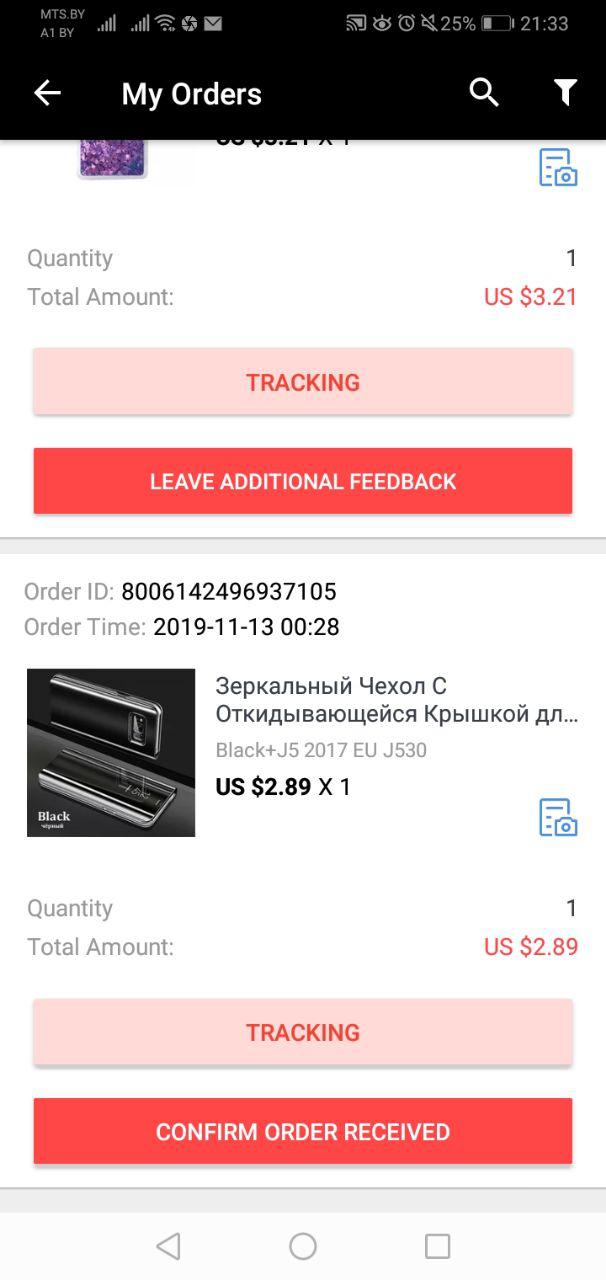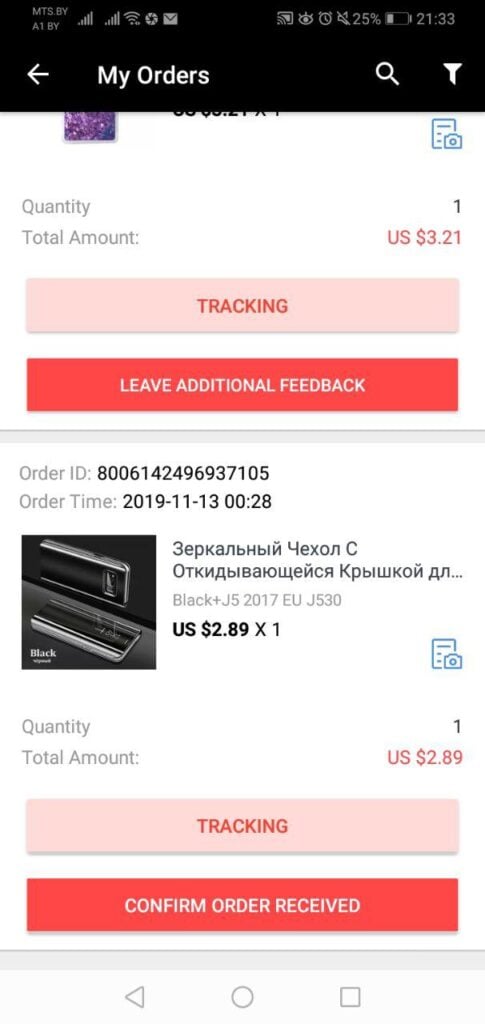 Tracking your order
Now that you have the tracking number of your AliExpress order, you can see where the package is going and if you are close to receiving it. Remember that we can only track certified orders, as explained in the AliExpress Shipping Methods Guide.
Most packages sent by registered mail have a tracking number starting with R and ending in CN, although there are many different tracking numbers.
In general, we can say that orders of small value (less than $5) are usually sent by regular mail (no tracking), and even if they have a tracking number of their own, if they show any movement when tracking it will be only while they are in China. Once it leaves the country of origin, it can no longer be tracked.
In any case, to see the tracking number information, we can do it from the AliExpress website (as we have shown you in the previous step), use the website of the postal service of your country or other sites such as 17track.net, which is one of the ones that shows more information than any of the previous ones.
If you have several packages and want to keep track of them, it is best to look for a mobile application that can track the numbers and inform us of status changes. Search in your app center, there are many: aftership, 17track, parcelsapp…. You simply have to add the tracking number and set up the alerts.
Order Statuses
Let's put them in order of appearance (roughly) of the AliExpress shipping stages. These are all the steps of an AliExpress shipment:
Departure from the country of origin
Item pre-advised, preregistered o collection
The seller has prepared the package and is awaiting pickup by the courier company.
Waiting for pickup
The tracking number has been created but the carrier has not yet received the order.
Accepted, acceptance, posting, received by carrier or admitted
Main article: Delivering received by carrier
The carrier has already picked up the package in the country of origin.
Inbound in sorting center or shipment at country of origin warehouse
The package has arrived at the processing center of the shipping company in China.
Outbound in sorting center or shipment left country of origin warehouse
Your package has already left the carrier's sorting center.
Export clearance success
This message appears when the package passes through Chinese customs. It is not very important since most of the packages pass the customs of the country of origin without any problem.
Hand over to airline or shipment accepted by airline
Main article: Hand over to airline
The package is already on its way to your home, in a few days it will arrive at your country's customs.
Shipment arrived at country of origin and post office
Arrive at destination country
The package has already arrived in your country, but has not yet entered customs. The customs process may take a few days depending on the volume of packages you have.
Arrived at destination country, held by customs
Normal, as in the previous case.
Accepted by carrier 
Main article: Accepted by last mile carrier
The package is already in the hands of the carrier.
Shipment at local distribution center
Main article: Arrival at the distribution center on AliExpress
Your package has arrived at a distribution center and is awaiting processing.
Received by line-haul
Package has already arrived in the country of destination.
US customs, CA customs, NL customs…
Depending on your country, the acronym will signify the country of arrival.
Clearing customs
A fairly common status that can appear when our AliExpress package enters customs, either in the country of origin or in our own country. If everything is in order, the package will pass to the next status.
Clearing customs: started customs clearance process
Main article: Started customs clearance process
Same as before: your package has arrived at customs, which does not mean it has been detained. Wait for the status to be updated.
Arrived at sorting center in destination country
The package has already entered the customs of the destination country.
Import clearance success
If your order has already arrived in the destination country, you may see this message when it clears customs. Your order is almost ready to be shipped.
Held by customs
Main article: AliExpress order held by customs
Here there is bad news: they will probably contact you soon to inform you how much you have to pay. If the order is through your local post office, maybe they will handle it for you and the letter carrier will charge you something when they deliver the package.
Cleared customs
Main article: Customs clearance completed
Nothing to worry about, your package has cleared customs and is on its way to your home.
Cleared customs completed, accepted by last mile carrier
The package has already cleared customs and is on its way to your home.
Customs at destination: unusual messages
Import customs clearance failure
Although the word "failure" appears, you should not panic, it is usually a tracking error, most packages usually appear in the delivery process within a few days.
Fee for post office
It appears on many orders from certain countries but do not worry until you receive a notification to pay.
Destination delivery process
Arrival at the delivery office
Main article: Arrival at the delivery office
If this appears, your order will be delivered shortly, in a few days you will have it in your hands.
Delivering
Your letter carrier will drop off your package during the day.
Delivery failed
Main article: Delivery failed
The letter carrier tried to deliver your order but was unsuccessful. The best thing to do is to contact the post office.
Delivered
The package has been delivered.
Accepted by a local carrier for return
Main article: Received by carrier for return
If the order has not been picked up, it will be returned to the seller.
Other tracking statuses
As we have already said, each carrier lists their own statuses but we are going to list some "strange statuses" that may appear on your AliExpress order.
If it does not appear in the list, we recommend you to check if any of the above tracking statuses appears in our list.
Rfid arrival
It means that the package is in transit to the destination city.
Parcel is still in transit, no worries, we will delivery it to you as soon as possible
Main article: Parcel is still in transit…
It means that the order is still in transit, it is a generic message.
Mailman starts to deliver
This status usually shows up when the mailman is bound to deliver your package throughout the day.
Gmtc
It is usually related to arrival at the destination office.
Frequently Asked Questions
We read your comments and we also try to solve all the doubts you may have. During these years, we have received a lot of questions about AliExpress shipments, so we are going to answer the most frequent ones.
The tracking number says that the package has been delivered but I have not received it
Main article: AliExpress says delivered but not received
This is one of the doubts that you leave us most frequently down in the blog comments. In this case, we recommend you to talk to the seller, it is possible that they have made a mistake when putting the tracking number and has given you another customer's. If they tell you it is fine or simply does not answer, you will have to open a dispute.
To prove that the package has not arrived, even though it says that it has been delivered, it is best to ask for a receipt from the shipping company (post office), but they often refuse to provide this type of proof. An alternative is to use a site called trackitonline.ru.
Although it is in Russian, by using the Google Chrome browser you can easily translate it. By entering the tracking number, it will show you where it has been delivered. By attaching this information to the dispute, you will ensure that AliExpress will close the dispute in your favor.
I think the seller has given me a fake tracking number
Main article: AliExpress tracking number not working
Many times we may have doubts about the tracking number, for example, because the tracking has started to work before we have placed the order.
You can ask the seller, many times it is a mistake on their part. If the seller says that everything is fine, we can give them the benefit of the doubt, and in case the order does not arrive, we can open a dispute as in the previous case.
The tracking number shows no movement, should I be concerned?
Main article: AliExpress package is not arriving
From the time the seller ships the package, the tracking number can take up to 10 business days to become functional. Also, if it is an ordinary shipment, it may never show movement. In any case, if you are concerned, the best thing to do is to send a message to the seller.
Why are there two tracking numbers?
Many times we see two tracking numbers appear in the order detail. Most of the time, this is a mistake by the seller or the carrier when giving the tracking number. When correcting the tracking number, two different tracking numbers appear. If you're worried about this, and as in the previous case, it is best to ask the seller.
Where does my package arrive and will it be delivered to my home?
The package will arrive at the address that you have typed at the time of placing the order, although in some countries it may vary. You have to add an address where you can be reached, never the address of your post office because in that case the package will be returned to the country of origin.
Who will deliver my order? What is the shipping company?
If you have placed the order with the basic or economy shipping service, the delivery will be made by the postal company that normally delivers letters and other packages (state postal service). If you have paid for a private courier service, it will be delivered by their couriers.
Can I send my package to a mailbox?
At the moment AliExpress does not accept deliveries to PO boxes, so it is best to put an address where you can be reached to pick up the package and sign for it if necessary. Many people send their packages to work, where we spend most of our time and where we can be reached during post office delivery hours.
I have moved, can I change my shipping address?
If you plan to change your address in a short time, it is best not to place orders on AliExpress because neither the seller nor the post office can change the delivery address if the order has already been shipped, so keep this in mind before making your purchases.
My tracking shows as "cancelled", do I have to open a dispute?
If you get a "cancelled" message on your order tracking, the first thing to do is to contact the seller to check with your carrier to find out what has happened. Usually this message appears when the order has been returned to the seller and will not reach you.
They will probably send you the order again or refund your money by opening a dispute. In our article order cancelled on AliExpress we give you more information.
Tracking indicates that my shipment has been stopped by customs
All orders go through customs twice: in the country of origin (to detect that the content is not illegal) and in the country of destination (to check if it complies with the customs regulations of your country). You don't need to worry as most packages from China pass through customs if they are small, light and not bulky. But we recommend you to read our AliExpress Customs Guide for more information.
I have other questions about my shipments that I can't resolve, what can I do?
If you have other doubts or questions about your shipments, the best thing to do is to contact the AliExpress seller and ask your questions. AliExpress also has a FAQ section on its platform, which you can access by clicking here. At the bottom of this page you can contact AliExpress through a chat or a form.
My AliExpress order is not moving or not arriving, what should I do?
Another common question you ask is, what happens if the AliExpress order does not move. You should keep in mind that there are different types of shipments, cheap shipments do not have tracking and that is why the status may only be updated while it is in China and when it has been delivered.
Sometimes tracking numbers may take a while to update and all tracking messages may appear all at once after a few days. But if there has been no movement for several days, the best thing to do is to contact the AliExpress seller or consider opening a dispute or complaint on AliExpress.
Customs cleared, how long does it take to arrive home?
When it has finally passed through customs, then there's less time left until we receive our order. However, many times you ask us why it has been several days and there seems to be no movement. But we still recommend a little patience. Packages are arriving faster and faster from China but delivery in your country may take longer depending on the workload of the company delivering the orders.
In addition, it is common that they skip states and suddenly appear in delivery after several days stopped. If it has been a long time, we recommend you to contact the seller and the shipping company for more information.
I have received a customs notification, what do I do?
If your package has been stopped, you will receive a letter asking you to go to customs or for a verification of the payment of the product in order to calculate the customs costs according to what the product has cost.
Even if the seller has put a lower amount, we recommend you to play it safe and say the real price of the product, otherwise customs could make a valuation and it will probably be above what you paid, raising the costs.
Read more on how to pay AliExpress customs.
Tracking number does not work
There can be many reasons, but don't stress because most of them are not that worrisome. You have the full explanation in the article AliExpress tracking number not working.
How can I avoid customs on AliExpress?
There are several tricks you can use to reduce the chances of having your order stopped:
Place small, low-cost orders. If you are going to order more than one thing from the same seller, you can separate the orders.
Choose "tax free" sellers: there are sellers that already include customs charges.
Buy from national warehouses. For example, if you order to an EU country from an EU warehouse you will not pay customs.
You can read more in our article on avoiding customs on AliExpress.