In order to make a good wholesale guide, this article will be more detailed and therefore longer than usual so feel free to navigate the article with the help of our index. If you don't think you can stick with us for all of it, make sure you take a look at the last two sections, they are definitely worth it. In them, we are going to show you how to contact and negotiate with Chinese wholesalers. We even included a template that you can copy and use while negotiating with the suppliers.
Every day we receive emails from readers asking us how to buy wholesale in AliExpress. As many of you already know, AliExpress originated as a branch of Alibaba, the global leader in wholesale sales and purchases. Just to give you an idea of how big Alibaba is, last year they had a turnover of 170 thousand million ($170,000,000) more than Amazon and eBay put together.
Both AliExpress and Alibaba have a wholesale service that connects sellers and buyers around the world. Alibaba has thousands of sellers / suppliers offering all kinds of products. The platforms are so efficient that even prestigious business and economy magazines such as Forbes have written articles on the advantages of using them. They also tell us about the advantages of importing from China, the growth of Chinese online wholesales and, in more general terms, Chinese wholesale.
1 – Advantages of buying wholesale products in AliExpress and Alibaba:
One of the most common reasons why entrepreneurs turn to Asia (and more specifically China) when looking for wholesale suppliers, is to profit from their low production cost. Production costs in Asia tend to be a lot lower than in other parts of the world. If it weren't for this, a lot of companies around the world would have trouble making a profit. The low production cost is a great advantage when it comes to wholesale in Alibaba and AliExpress, but it's no the only one. Here are some other benefits:
Advantages
Low production cost
Suppliers tend to be more open to working with small companies (offering smaller quantities)
An endless amount of suppliers and products to choose from
A lot of products that are only made in Asia
Networking: Alibaba has the biggest online platform in the world (by far) of buyers and suppliers.
Both platforms, AliExpress and Alibaba, make the task of finding products, contacting Chinese wholesalers and placing orders, extremely easy.
Along with these advantages, we also feel the need to mention a few small disadvantages of placing wholesale orders in foreign countries. But not to worry, we are also going to show you how to avoid some of them.
Language and communication can be challenging.
Longer delivery times
Product importation and customs
2 – Making an inquiry is completely free and it's an essential tool to compare prices and products
If any of you have looked up Alibaba, you might already know a big part of how it works is by negotiating with suppliers. An inquiry is when you ask a seller information on the price of their products. It's free and extremely helpful: it will help you resolve any doubts, allow you to compare products, and create a networking net in between Alibaba and AliExpress Chinese wholesalers. Even if you're not going to place an order, contacting suppliers is good for benchmarking (learning about the state of the market) and comparing your business with possible competitors. The contact button is this one, right next to the product:

3 – How do I find good products and suppliers to make inquiries?
Using the search directory and shopping in Alibaba / AliExpress is very easy and intuitive, it's very similar to eBay. All you have to do is navigate the categories or look for something on the search tab.
There are two kinds of search methods we can use when looking for wholesale. The first one is to type in a generic product (women necklaces for example), you'll get thousands of results no matter what you are looking for. The second way is to look for the supplier instead of the product. To activate this search method, click on the drop-down menu at the side of the search bar and select the option suppliers. By using this search method, you'll be able to find suppliers / manufacturers specialized in the product you are looking for.

Product Pages: what should I look for?
Once you start your search for Chinese wholesalers in Alibaba or AliExpress there are some things you are going to have to look out for in the results page. This will ensure you find the best suppliers. Here is an example of the things you need to look out for:


Price of the product – One of the first things you want to look at, is the price of the product. In this case it's 16-21 FOB dollars. FOB stands for "Free On Board" meaning the supplier will also pay for the transportation of the products to the port (the cheapest way to export wholesale products from Asia). Once it's at the port, the buyer will have to assume the cost of transport to its final destination.
Minimum order quantity (MOQ) – This is also an important thing to take into account. The Minimum Order Quantity is the lowest order the supplier will accept. Having said this, in most of the cases the MOQ is negotiable (you can negotiate it by contacting the AliExpress or Alibaba supplier through an inquiry). In the example we're assuming the minimum order is 4 units. If you multiply the products high price (21 USD) and the minimum order quantity (4), we are looking at a MOQ of 84 dollars plus transport. This might seem like a simplistic example, but it's always good to know your MOQ beforehand, to help you negotiate with the supplier.
Conditions and payment methods used by AliExpress and Alibaba – Once you understand how the FOB and the MOQ works you should move on to figuring out what kind of payments the supplier accepts. Each one has its advantages and disadvantages. These are the most common methods of payment.
1 – Bank transfer – Risk for the buyer: Risky
Paying through bank transfer, the supplier will receive the money before production starts. That's why we don't recommend this method when dealing with unknown Chinese wholesalers. If something goes wrong during the process, there is very little chance of you getting a full refund.
2 – Letter of credit – Risk for the buyer: Very safe
This payment method is pretty safe for both the buyer and the supplier. The disadvantage being that its hard to do. This method is best used in purchases over 18,0000 dollars.
3 – Western Union – Risk for the buyer: Very risky
This is an extremely risky method we only recommend you use when you know the supplier very well. The reason it is risky, is that it doesn't have any kind of insurance or liability if something goes wrong.
4 – Paypal – Risk for the buyer: Very Safe
This is a pretty good payment method, much safer for the buyer. It's easy to use and provides good customer protection. Although a popular payment method among buyers, suppliers might avoid it because Paypal commissions are high and it's hard to withdraw the money.
5 – Escrow – Risk for the buyer: Very Safe
Escrow works a lot like Paypal and is equally safe. When you use Escrow, money is retained by a third party that only releases the payment when the buyer confirms they're happy with the products received. Escrow is a very popular method for online transactions because it protects both the buyer and the supplier.
ATTENTION – If you are just getting started and don't know the supplier you are using, we recommend using Paypal or Escrow.
4 – How to protect your wholesale purchases in Alibaba
How can we protect ourselves from intermediaries, scams and low quality products? It might not be a perfect system, but the best option you have is to follow our advice:
Verify the supplier – Alibaba has its own verification systems including a series of levels. Below, you will be able to see a table describing these levels. These certificates will appear in the product page of the supplier's profile.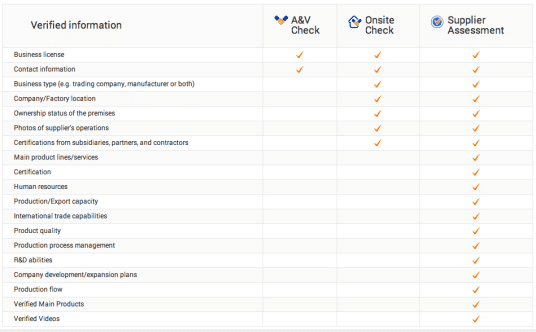 Contact different suppliers (IMPORTANT) – Make sure you start by contacting a lot of suppliers and then stat narrowing down by asking them a lot of questions about their business and products. Ask them for their business license, their telephone number to call them, fix up a meeting via Skype, ask for pictures of their warehouse and of their products… The most important thing is too keep asking questions until you find the Alibaba supplier you are most comfortable working with.
Ask for samples of the product – One of the most important things to do when investing a considerable amount of money on a product is to test its quality. That's why it's so important to contact the supplier and ask for a sample. Some people ask for a sample and then ask for another with a fake name and address to make sure the quality is the same.
5 – How do I contact a supplier in AliExpress or Alibaba?
Now that you know how to protect yourself when completing a wholesale transaction with a supplier on the other side of the world, let's talk about how to contact them. When contacting a supplier from another country, the most common method is to use emails. In some cases, suppliers will use Google translator to reply to our Emails. It's important to understand this as it can be a source of misunderstandings. To avoid misunderstandings, try to keep your Emails short, concise and well formatted. This will not only help the supplier understand you better, it will also get you better answers.

To contact a supplier click on this icon. You can find it at the side of the product.
How to ask for a quotation (RFQ)
Asking for a quotation in AliExpress or Alibaba is fairly easy, but you might want to pay attention to how you structure your Email. Here are some things you might consider including in the Email:
Minimum order quantity (MOQ) – If the minimum quantity is larger than want we want or can afford, you are going to have to ask the supplier if he is willing to renegotiate the minimum quantity. It's also a good idea to inform them of your budget. You should know that, as a general rule, MOQ is negotiable!
Sample prices – Like we mentioned before, samples are important to determine the quality of the product. Suppliers receive a lot of petitions and tend to have a wide range of prices for their samples. Some, offer discounts or will even give you samples for free if you are asking on behalf of a well known company.
Product price – Knowing the price of each unit is one of the most important questions you should make when buying wholesale. In most cases (as shown in the example) we will be given a price range (16 – 21 USD). Knowing the exact price will help you negotiate better.
Production time – Especially if time is an issue for you, make sure to ask how long they will take to make your order ready.
6 – Templates to contact Suppliers
Here you have a template you can copy and paste to contact the different sellers. All you have to do is edit the sections marked in bold and then copy it onto the contact page of supplier you are interested in. Here it is:
Hello,
My name is NAME and I work for NAME OF THE COMPANY. I am interested in placing an order for your NAME OF THE PRODUCT product. Before, I have a few questions:
What is your minimum order quantity?
What is your cost per unit and at what order volume do you offer quantity discounts?
What are the payment terms for a new customer?
I would also like to order a sample of NAME OF THE PRODUCT before placing a full order. Can you please send me the cost for the sample including shipping to.
MAILING ADRESS
NAME and COMPANY WEBSITE
Thank you.
7 – Conclusions:
If there is one thing we want you to understand about this guide, it would be the importance of contacting various suppliers before making any purchases. It's the only way of ensuring you are making the best purchase possible. That's why if you have never contacted suppliers through Alibaba, we recommend you start doing it, even if it's just to get a feel of how it works. You'll soon realize that most suppliers on AliExpress are friendly and, in most cases, extremely helpful.
We know the first time you shop wholesale in China can be scary, but if you follow our advice and use common sense, it can be a very good experience. Again, remember to contact and talk to the supplier, it's the most important step!