Since it is such a long and detailed subject, we have made an index so you can navigate through the article much faster. If you are not going to read the whole article we recommend the last two sections, they are very worthwhile. Here we show you how to contact and negotiate with Chinese wholesalers. We have even written a template in English and Spanish that you can copy and paste when you are in contact with the different suppliers.
Every day we receive many emails from our readers asking about how to buy from wholesale in AliExpress. As many of you already know AliExpress was born out of Alibaba, a company that has become a giant and undisputed leader in global commerce and wholesale buying and selling. No wonder that last year Alibaba had a turnover of +170 billion more than Amazon and eBay combined.
Well, both AliExpress and Alibaba have a wholesale service that connects buyers and sellers around the world. Alibaba has hundreds of thousands of sellers/suppliers offering literally millions of products.  These platforms are so effective that prestigious business and economic magazines such as Forbes have devoted countless articles to the advantages of the Alibaba and AliExpress platform. They have covered topics such as the advantages of importing from China, the growth of Chinese online wholesalers, and of course about Chinese wholesale buying.
1 – Buy in bulk at AliExpress
Surely you already know the AliExpress platform. It is one of the largest online sales platforms of Asian origin and is designed for retail purchases by individuals. You can buy several products by adding them to the basket but it does not have the same functions as Alibaba. Still, it is a good option for small or medium businesses that want to buy cheap stock for their stores. If you want all the tricks for safe shopping on this page we recommend you read our Ultimate Guide to AliExpress. But if you want to buy in bulk, without a doubt the best option is Alibaba.
2 – What is Alibaba? What are the advantages of buying in bulk?
The most common reason why many entrepreneurs look to Asia (and in particular China) when looking for wholesale suppliers is to take advantage of the low cost of production. Production costs in Asia are usually much lower than in other parts of the world. If it weren't for this many companies around the world would find it extremely difficult to be profitable and make a profit. Although low prices are a big plus, this is not the only advantage offered by Alibaba and AliExpress wholesale services. Here are some other benefits:
Benefits
Low production costs.
Suppliers tend to be more open to working with smaller companies (offering smaller quantities).
A host of suppliers and products from which we can choose.
There are many products that are only manufactured in Asia.
Networking: Through various internet portals, Alibaba has the world's largest network (by far) of buyers and suppliers.
The Alibaba and AliExpress platform makes the task of finding products, contacting Chinese wholesalers, and placing wholesale orders extremely easy.
Along with the advantages, we have to say that there are also small disadvantages when placing wholesale orders in foreign countries. Even so, we will now show you how to combat some of these.
Language and communication can be a difficult barrier to overcome.
The delivery time is greater.
Import of the product and customs.
3 – An inquiry is totally free and is an indispensable tool to compare prices and products
Anyone who has entered Alibaba will know that it is a platform where there is a lot of negotiation with suppliers. Basically, an inquiry is to ask a seller for information and prices of their products. This is free and very beneficial since it will remove doubts, allow us to make product comparisons, and finally generate a network of networking among Chinese wholesalers of Alibaba and AliExpress. Even if we are not going to place an order, contacting a supplier is very useful for benchmarking (see market situation) and comparing us with our competition. The button to contact is this one, it appears next to each product.

4 – How do we find good products and suppliers to make inquiries?
Both making purchases and using the search directory in Alibaba / AliExpress is quite easy and intuitive, it looks a lot like eBay. All you have to do is browse through the categories they offer or make a query in the search bar.
There are two types of searches that we can use when looking for wholesale products. The first way is to type in some generic product (e.g.: women's necklaces), doing this will give us an infinite number of results for products related to our request. The second way is to search by supplier instead of the product. To activate this search style, click on the drop-down menu next to the search box and click on suppliers. By doing a search like this we will get manufacturers/suppliers specialized in what we are looking for.

Product pages: what should we pay attention to?
Once we have started our search for Chinese wholesalers in Alibaba or AliExpress we will have to pay attention to several elements on the results page. This will help us find the best suppliers. Let's take an example and the things we will have to take into account:


Product Price – One of the first things we will want to do is look at the price of the product. In this case, we have 16-21 dollars FOB. FOB stands for "Free On Board" which means that the supplier will also pay costs associated with transporting the products to the port (the cheapest way to export wholesale products from Asia). Once in the port, it will be the buyer who assumes the cost of transporting the goods by sea to their final destination.
Minimum Order Quantity (MOQ) – This is also important to keep in mind. The Minimum Order Quantity is the lowest order that the supplier is willing to accept. However, in most cases the MOQ is negotiable (you negotiate this by contacting the Alibaba or AliExpress supplier with an inquiry). In our example, the minimum order quantity is 4 units. If we multiply the high price of the product (21 USD) and the minimum order quantity (4) we can quickly see that we will be looking at an MOQ of about 84 USD plus the transport of the product. Although this is a simple example, it is very good to know it in advance as it will give us a good starting point to negotiate with the supplier.
Alibaba and AliExpress payment conditions and methods – Once we have understood how FOB and MOQ work, we will be interested in knowing what type of payment the supplier supports, each one has its advantages and disadvantages. Below we will discuss the most common payment methods.
1 – Bank Transfer – Buyer Risk: Risky.
With a bank transfer, the supplier will receive payment before production starts. For this reason, it is not a very recommendable method if we are dealing with Chinese wholesalers that we do not know. If something goes wrong during the process there is very little guarantee that you will get your money back 100%.
2 – Letter of credit – Buyer risk: Quite safe.
This method of payment is quite secure for both the buyer and the supplier. The disadvantage is that it is complex to make one. Therefore it is usually recommended for purchases over $18,000.
3 – Western Union – Buyer Risk: Very Risky.
An extremely risky method that is only recommended when you know the provider very well. As it is a method that has no protection if something goes wrong there is no turning back.
4 – Paypal – Risk for the buyer: Quite safe.
A pretty good payment method, with a much lower risk for the buyer. It is easy to use and generally has good customer protection. Although it's a popular payment method for buyers, the same can't be said for suppliers since Paypal taxes are quite high and it's complicated to withdraw the money.
5 – Escrow – Risk for the buyer: Quite safe.
Finally, we have the Escrow method that like Paypal is quite safe. When using the Escrow service the money is retained by a third party who only releases the money when the buyer confirms his satisfaction once he has received the products. Escrow is a very popular method of making online transactions as it protects both the buyer and the supplier.
ATTENTION – If you are starting in this world or do not know the supplier we recommend using Paypal or Escrow.
5 – How to protect your wholesale purchases at Alibaba?
How can we protect ourselves from intermediaries, scams, and low-quality products? Although there is no perfect system, our best option is to implement several of the following tips:
Verify the supplier – Alibaba has its own verification program that includes several levels. Below is a table that will show you in a schematic way what these levels consist of. These certificates will appear on the product page we are looking at in the vendor profile.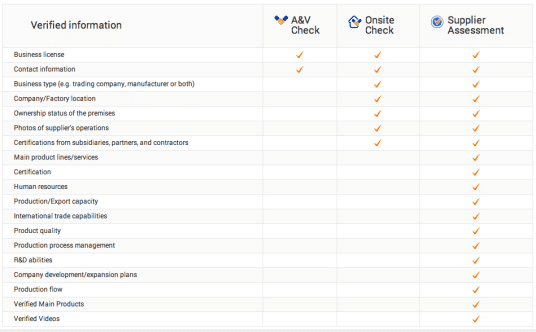 Contacting Different Suppliers (IMPORTANT) – First of all, we will contact many suppliers, once we start narrowing down our options we will make sure to ask a lot of questions to the suppliers about their business and their products. For example, we may ask for copies of their business license, ask for their phone number and call them, set up a meeting via Skype, ask for photos of the factory and their products… The important thing is that we ask questions until we are more comfortable doing business with the Alibaba supplier.
Ask for product samples – It is obvious that if we are going to invest a significant amount of money buying in bulk that we want to check the quality of the products. For this reason, it is a good idea to contact the supplier and ask for a sample. There are people who ask for a sample and then another one with a made-up name and another address to compare if the quality is the same.
6 – How to buy from Alibaba or AliExpress and contact a supplier?
Now that we understand how to protect ourselves when we do a wholesale transaction on the other side of the world, it's time to talk about how to contact suppliers. When contacting suppliers in other countries, email is often the most common method of communication. In some cases, suppliers will use Google's translator to reply to our emails. It is important that we keep this in mind as it can be a great source of misunderstanding. To reduce misunderstandings it is advisable to keep emails short, concise, and well-formatted. This will not only help the provider understand the content but also help us get better responses.

To contact a supplier click on this icon. You can find it on the side of the product.
How to Request a Quote (RFQ) – Requesting a quote for wholesale purchase on AliExpress or Alibaba is relatively easy although it requires a couple of minutes more structuring of the email. Here are several things we can consider entering into the Email.
Minimum Order Quantity (MOQ) – If the minimum quantity is much higher than what we have in mind or what we can afford, we will have to ask the supplier if they are willing to renegotiate the minimum quantity. It is also a good idea to give them an indication of what we can afford. It is important to know that the MOQ is normally always negotiable!
Sample Pricing – As we have mentioned, samples are important in determining the quality of the product and we will be interested in asking what price the samples are going for. Suppliers who receive many requests usually have a completely different price list for samples. There are others who offer you discounts and finally there are some suppliers who will give you the sample if they see you are a serious company.
Product Price – Knowing the exact price of each unit is one of the most important questions when buying in bulk. In most cases (as we have seen in the example) they will give us a price range (from 16 – 21 USD). Knowing the exact price will allow us to negotiate better.
Production time – Knowing how long it will take to produce our order. As many of us will already know, in business time can be critical.
7 – Email Templates to Contact Providers
Here we leave you with a template that you can copy and paste to contact the different vendors. We will only have to modify the sections that are marked in bold and then copy and paste it into the contact sheet of all the suppliers that we are interested in.
Hello,
My name is NAME and I work for NAME OF THE COMPANY. I am interested in placing an order for your NAME OF THE PRODUCT product. Before, I have a few questions:
What is your minimum order quantity?
What is your cost per unit and at what order volume do you offer quantity discounts?
What are the payment terms for a new customer?
I would also like to order a sample of NAME OF THE PRODUCT before placing a full order. Can you please send me the cost for the sample including shipping to.
MAILING ADRESS
NAME and COMPANY WEBSITE
Thank you.
8 – Frequently asked questions about Alibaba and AliExpress
Below we will answer some of your most common questions. You have sent them to us through the comments section, but we don't want you to waste your time looking for the answer, so we leave you all the answers below.
What documentation do I need to buy at Alibaba?
Many times you ask us how the paperwork works when buying in bulk from your country. When buying in China we recommend you to know well the customs regulations of your country. When buying in large quantities, we will probably have to pay taxes and present a lot of documentation so we recommend you to contact a manager specialized in imports. And without a doubt, we do not recommend buying in bulk without having a clear idea of how it is managed in your country and what you need.
What is the difference between AliExpress and Alibaba?
Alibaba is a platform designed for wholesale purchases where we can contact, negotiate, and specify all the details of our order. It is one of the largest suppliers of merchandise for stores that want to buy in Asia in bulk. However, AliExpress only sells retail and is more expensive. We will not be able to negotiate like in Alibaba.
What is the delivery time for Alibaba products?
Alibaba products have two different delivery times: delivery and shipping. The delivery time is the time the seller needs to prepare your order, this is usually a few days although it can be longer if they have to manufacture the products. Shipping time is how long it takes for your order to arrive. It is usually between 10 and 30 days, although it depends on the country. On the product page, you can select the destination country and the approximate delivery time will appear.
How do I know if an Alibaba seller is reliable?
As with AliExpress, sellers have a score and it's very important to look carefully to see if the seller is reliable. We are buying in bulk and will be investing a large amount of money so it is important to be reassured. In the advertisement itself, you will find the seller's information. Alibaba has a seller rating system called "SOPI" that evaluates the volume of transactions, the popularity of the product, quality of service, or quality of presentation. If you want to know how it works click on this link.
How does Alibaba protect my money?
Alibaba has an option to protect your purchases. It's called Trade Assurance and it guarantees that the product is of the quality and is sent within the time frame you have agreed with the seller. It even allows you to get your money back up to 30 days after delivery if you are not satisfied with the quality of the product. To do this, just look for the "Trade assurance" stamp in the seller's store and pay through the Alibaba platform. It is totally free.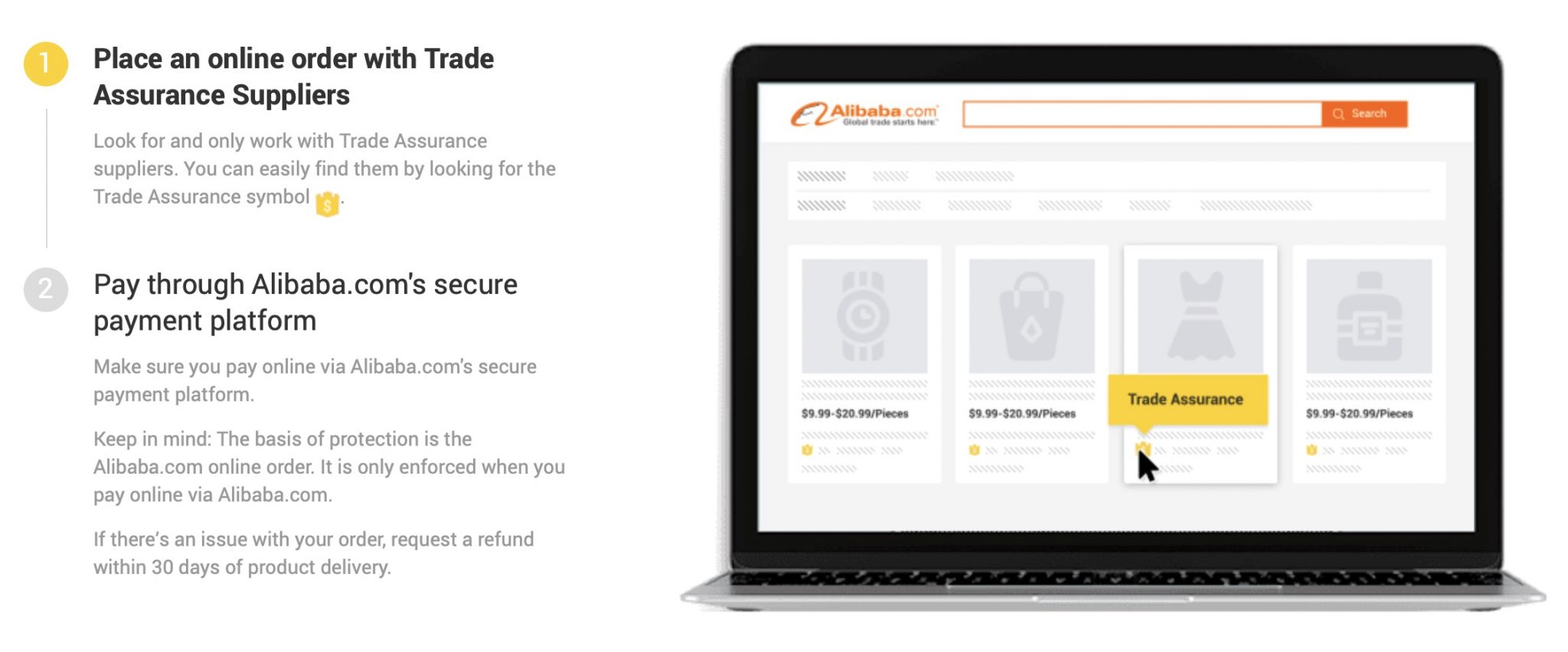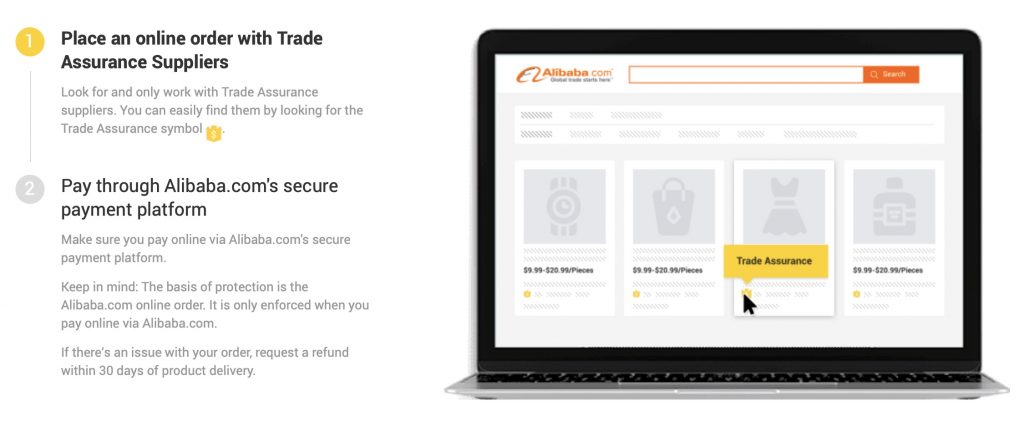 9 – Dropshipping with AliExpress, another good business idea
If you are starting a business and you think about Alibaba or AliExpress as a possibility to get cheap products, you might be interested in knowing another very profitable business model with which thousands of people have managed to launch profitable stores without much investment. It's about opening a dropshipping store by buying products on AliExpress. You will avoid having to buy stock since the seller will send his products directly to your customers. You will act as an intermediary in the purchases and you will manage the website or sales platform.
10 – How to sell on AliExpress or in China
More and more stores are deciding to launch their businesses on the Internet to increase sales. A good way to do this is through international platforms because although they have some commissions, they allow you to sell to a wide market and gain customers. Alibaba has opened its doors to sellers around the world, we explain how to sell on this and other Asian platforms in our article How to sell in China. You can also sell on AliExpress if your store is based in Europe.
11 – Conclusions
If there is something we want to make clear to you from this guide, it is how important it is to contact the various suppliers before we start buying. This is the only way we will make the best possible purchase. For this reason, if you have never contacted suppliers through Alibaba we strongly recommend that you do so, even if it is only to familiarize yourself at first. You will see that all AliExpress providers are very friendly and in most cases extremely helpful.
If this is your first time buying in bulk in China, it can be a little scary, but with the advice, we have given and a little common sense it is a very rewarding experience. We repeat; remembering the most important thing of all, always contact and interact with the supplier!

If you are thinking of buying in China, in AlixBlog we have an interesting section with tutorials where we give you our best tricks and tips for buying in China. And remember that if you have more questions, Alibaba has a customer service center where they answer all the questions you can access by clicking here. You can also contact the platform through its customer service chat or form from this link.