The wonderful thing about AliExpress is that you can find anything you can think of, at very competitive prices.
So, if you are thinking of embarking on a business, or simply giving a new impulse to yours, surely you have asked yourself: "is it viable to buy wholesale on AliExpress to then sell it in my country?"
In today's guide we are going to explain step by step everything you need to know to buy wholesale and import these items in a simple and profitable way.
How to get wholesale discounts
Many of the sellers on AliExpress have direct discounts for buying in bulk their products (usually varies between 1-5% depending on the units you buy).
This discount appears on the product cover, but as you will see, not all sellers offer it upfront.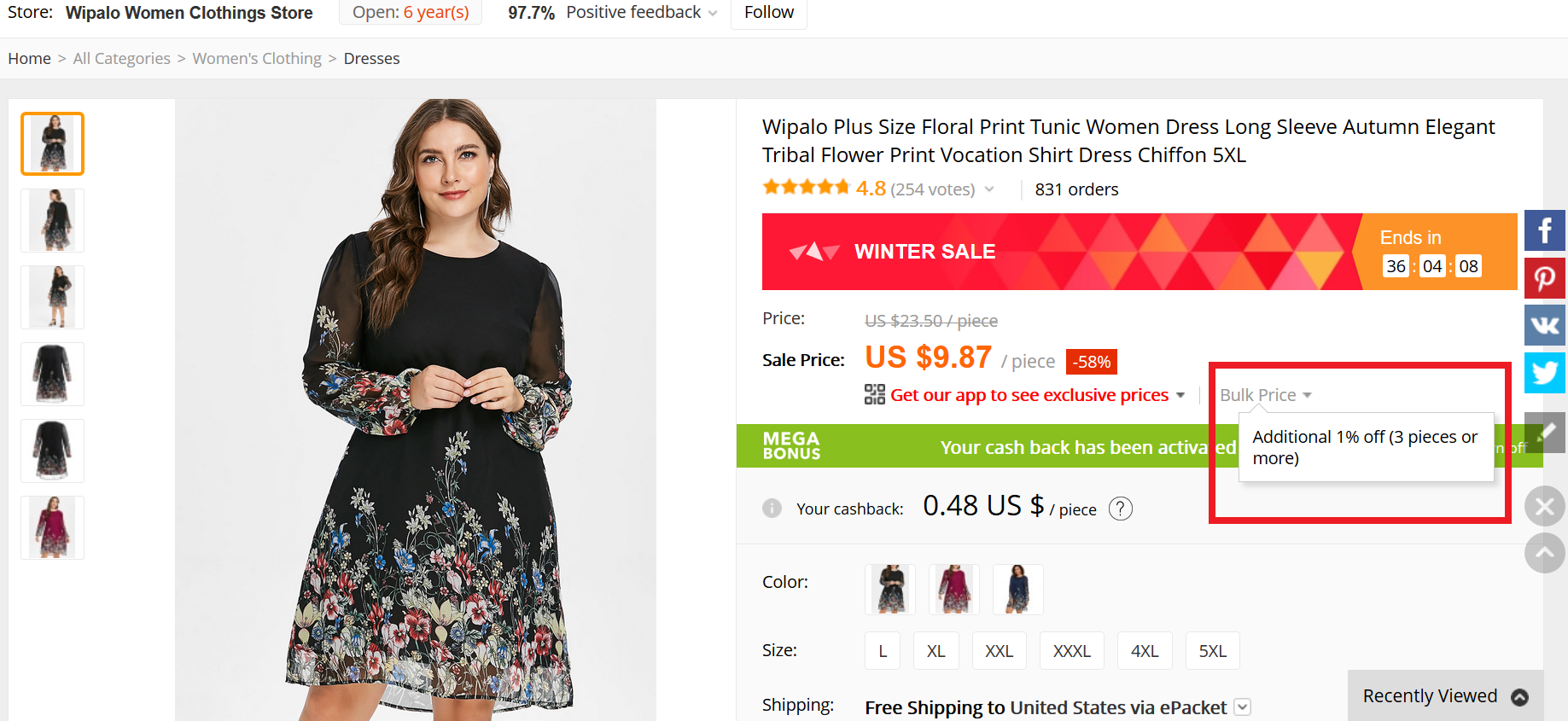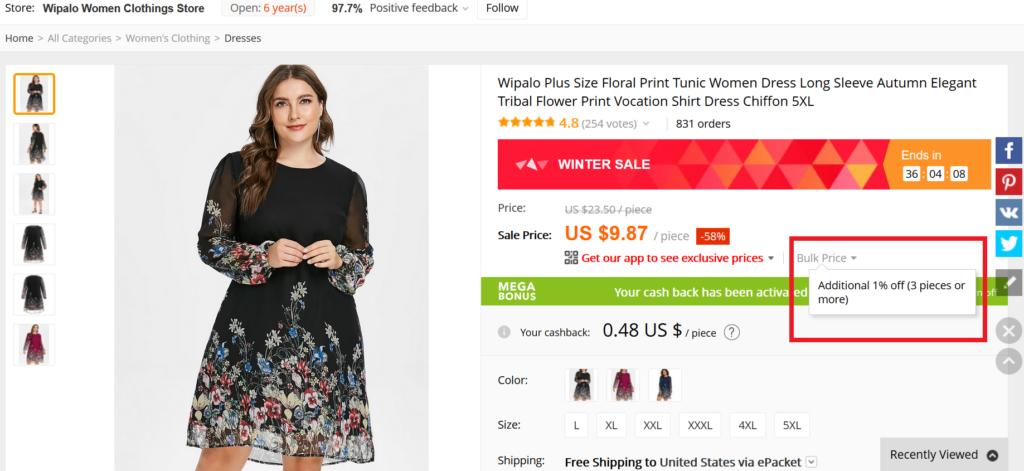 Negotiate with the seller
If you want to buy an item that has no direct discount, you should always talk to the seller, explain that you want to buy "x" units in bulk and ask them to make you a good offer.
Trick to push the seller: generate a purchase order first
There is a way to push for a maximum discount on your purchase and you can try it even if the product already includes a direct discount. Just add your purchase to the cart and choose a payment method where you do not have your bank details saved for payment, such as PayPal.
Confirm the order by clicking on "Pay now" and then close the website or the application. This way you generate a purchase order for the seller without having paid anything, only one order pending payment will appear in your orders.
Now write to the seller to tell them to make you a good offer if they want you to finalize your order. This way the seller will see that you are close to making the purchase and is more likely to offer you a good price to close the deal and not lose the sale.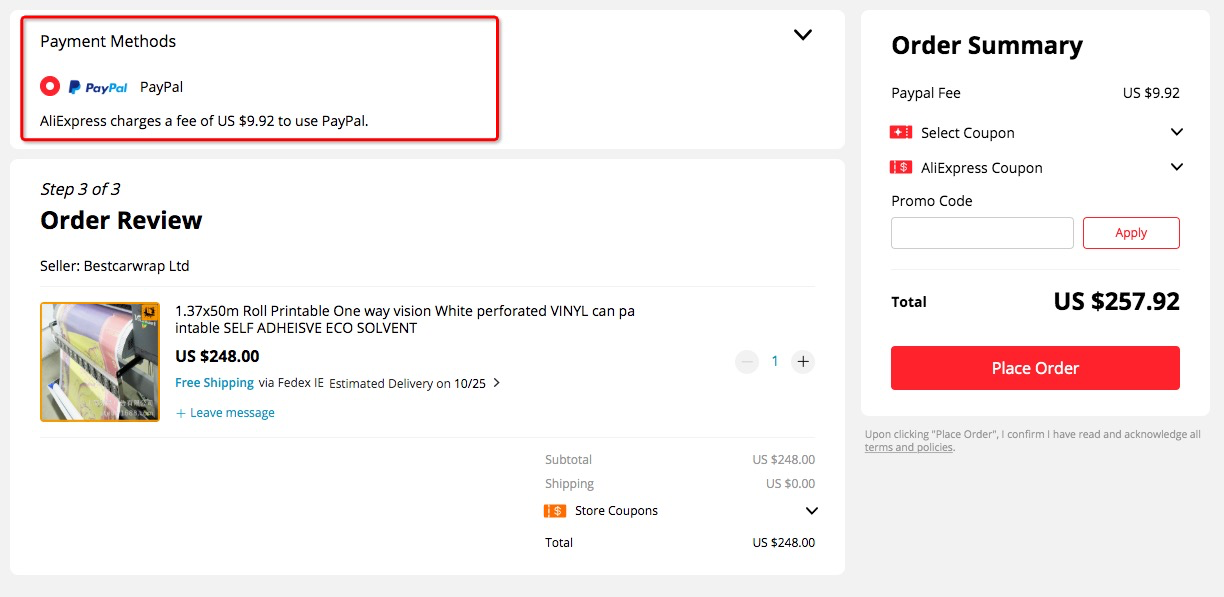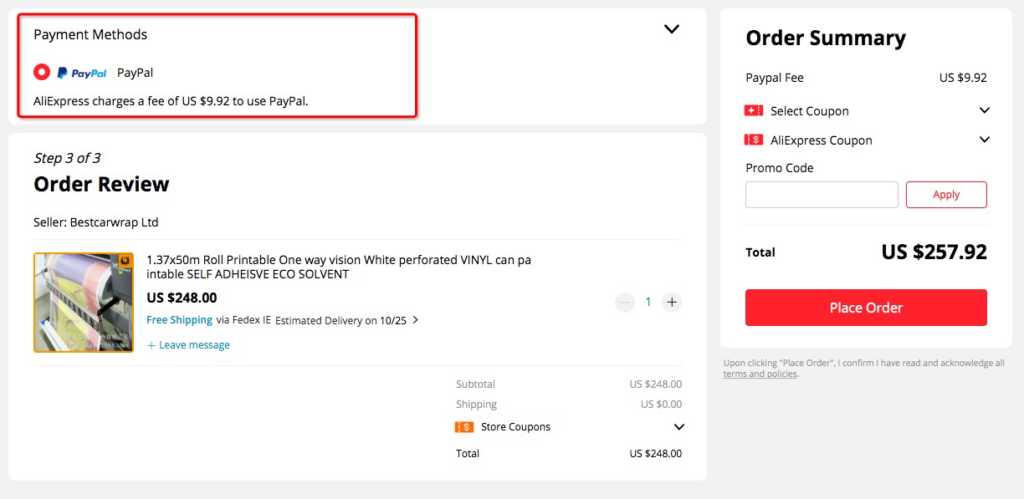 Ask for a quote from different sellers
Remember that most AliExpress sellers are small merchants selling products from other manufacturers. That means that the same product is often available from more than one AliExpress seller.
So you should always search the website if what you are interested in is all sellers who have it and ask for several quotes in parallel.
Shipping costs and shipping time for wholesale purchases
If your order also has shipping costs, do not hesitate to negotiate them as well: by squeezing a little you can get it for free or have it sent by express mail.
(Obviously, your bargaining power will always depend on your purchase: buying 10 units is not the same as buying 100 units).
Shipping time on AliExpress has improved a lot and with shipping methods like AliExpress Standard Shipping you can receive your order in 10 days, so planning to avoid running out of stock is much easier than before.
Prohibited items for import
Don't forget that in most countries there are items that you cannot import such as weapons (knives, razors, etc…), seeds or counterfeit branded items.
If customs detects such a package, it will be destroyed and AliExpress will not take care of it.
Therefore, we recommend that you check the restrictions in your country to avoid losing money.
How to download your AliExpress purchase invoice
In many countries now you can now download the invoice directly without having to ask the seller: go to "My Orders", click on "View Details" of your order and "Download Invoice".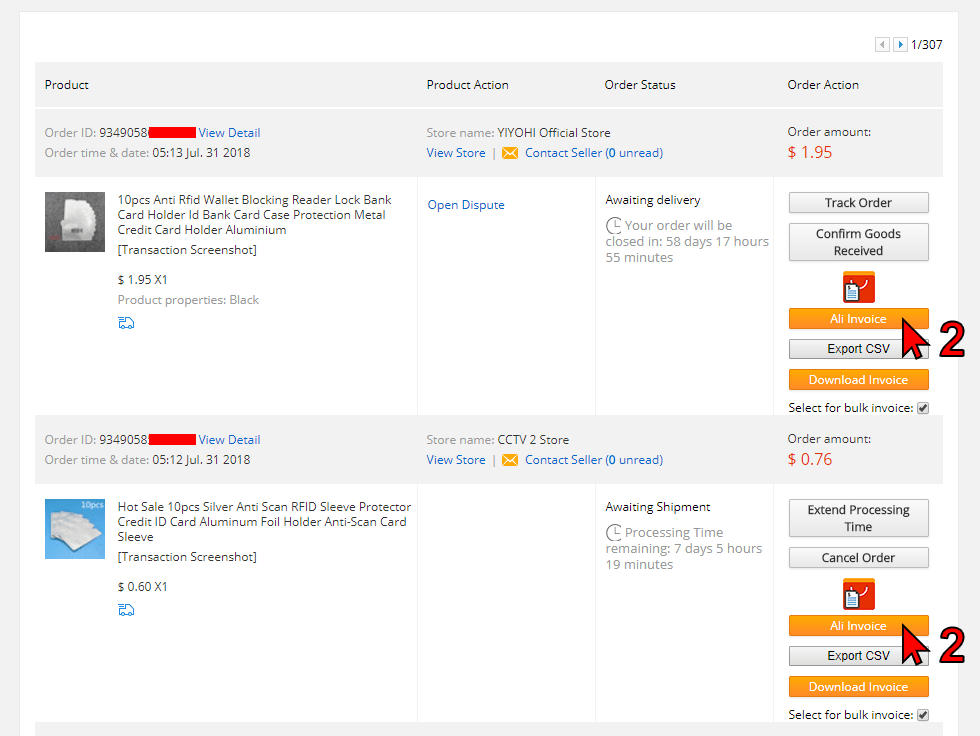 Customs, VAT and tariffs: what to consider before importing
One of the most important things to take into account to know if it is really going to be profitable to buy wholesale are the taxes you have to pay once the order arrives in your country.
What are the customs costs?
Depends on the country, but for example across Europe there are three possible charges:
VAT: all orders will have to settle VAT (depends on your country) in case you have not paid it on your purchase.
Duties: only for orders over 150€ (see below how to calculate them).
Customs handling fees (the amount depends on your country)
Orders of less than 150€
For orders under 150€ the only tax you will have to pay is VAT.
AliExpress now includes VAT on orders under 150€, which makes things much easier: it will arrive at your home without customs problems and you will be able to download the invoice from your user panel.
If your purchase exceeds 150€ (sometimes up to 200€), it is possible that VAT is also included: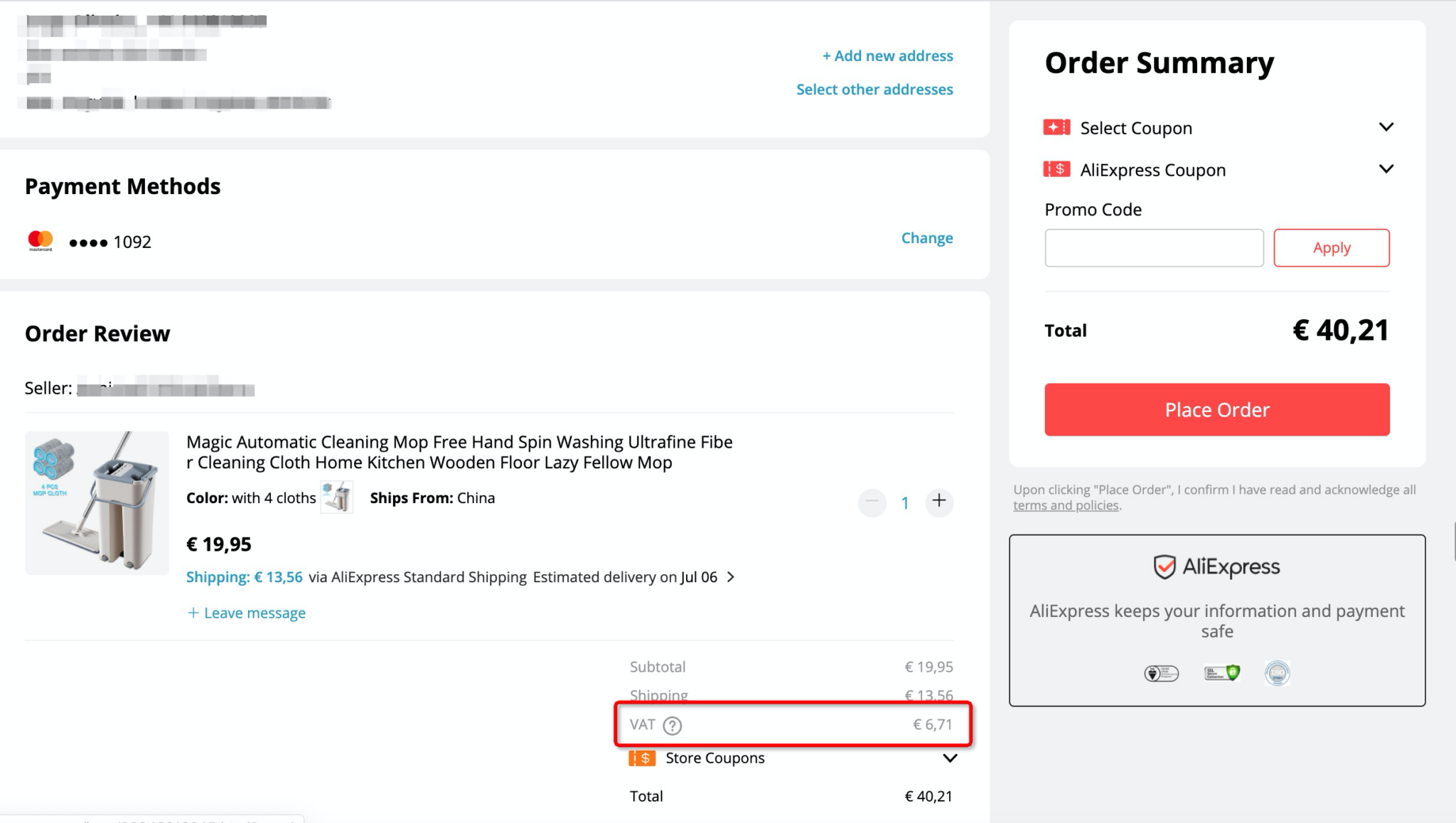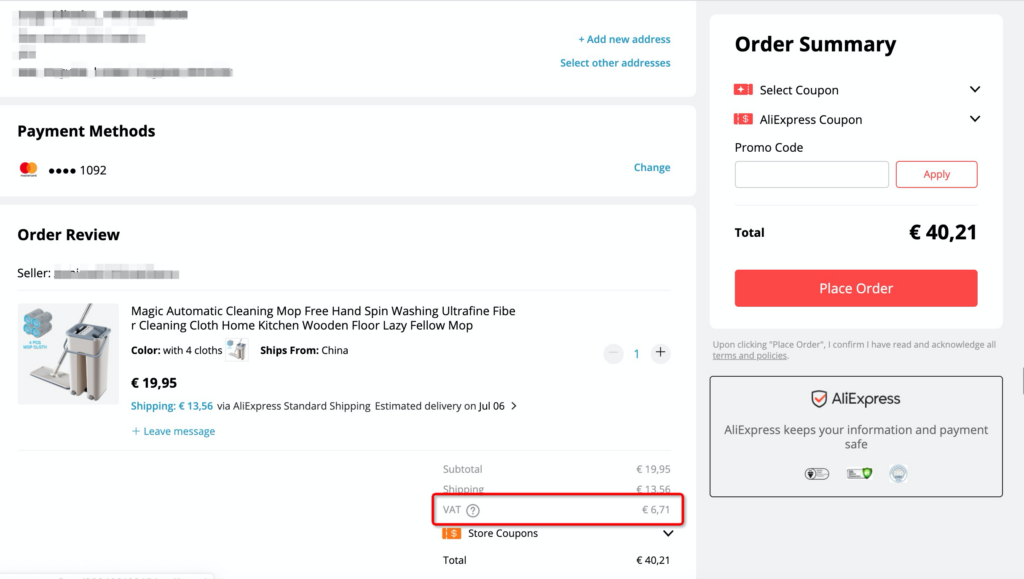 If you are registered as a company or self-employed you can deduct the VAT, so it is actually convenient to be charged and avoid problems with customs.
Orders over 150€
For orders over 150€ the VAT will not be included, you will have to pay it together with duties and handling fees when it arrives to your country.
For these orders things work as they used to: you only pay if the package is stopped. However, it is now more likely to be stopped than before, especially if it is bulky.
As we have explained before, you may be interested in being charged VAT to avoid paying it later in your country, to avoid formalities and to have access to the invoice. If so, you can contact the seller and ask them if they can include the VAT.
How to calculate the customs duty
For purchases over 150€, it is important that you know the percentage of customs duties you will have to pay in order to know what profit margin you can get with your purchase.
Tariffs for imports from China to the European Union vary according to the type of item, so to calculate the customs duty you will first need to know the HS Code of your item.
Ask the seller directly or simply find it out on Google, for example by searching for "tariff heading sunglasses".
Once you have your HS Code, you can check the EU duty rate by clicking here.
Don't forget to select "China" as the country of origin of the goods.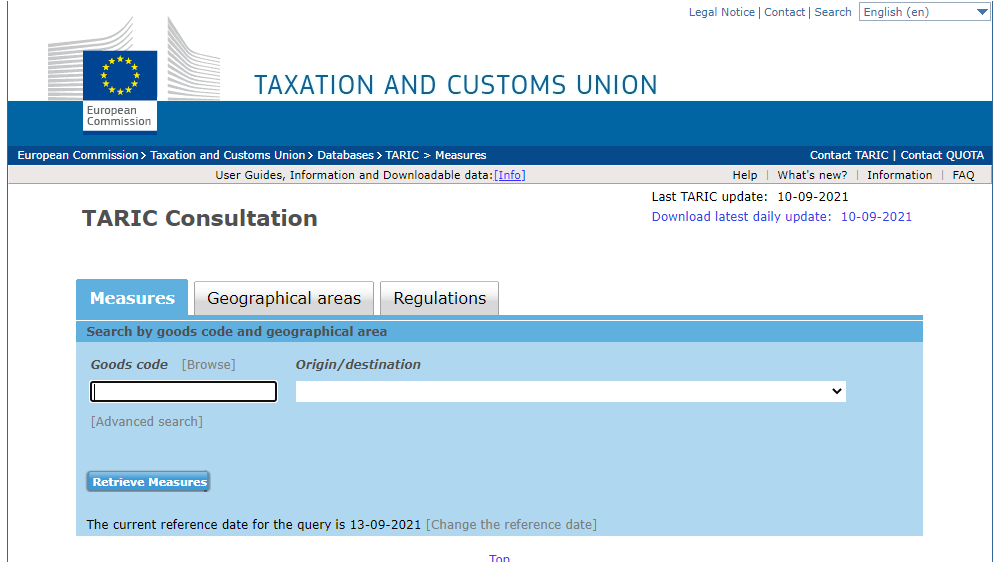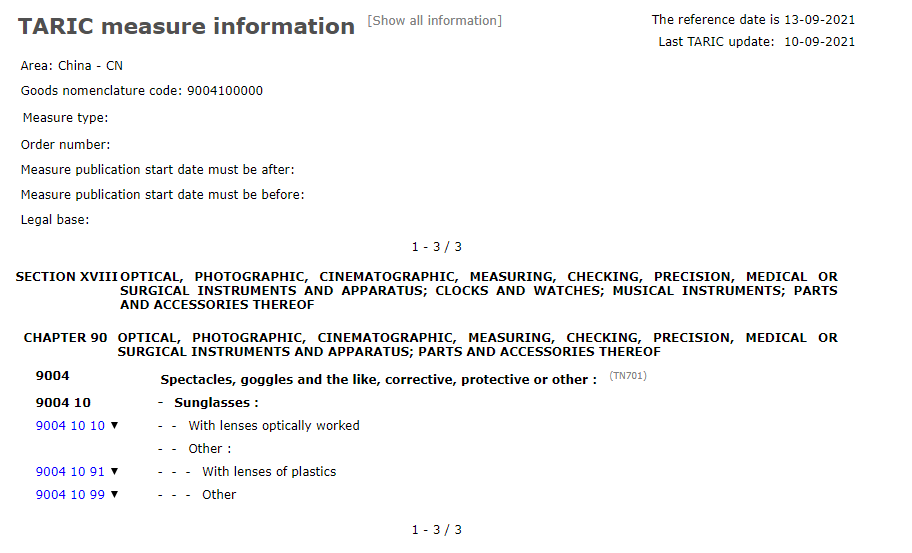 Self-employed or business: deduct VAT as an expense
If your intention is to buy wholesale to resell in your business, your country will probably allow you to deduct part of the expenses.
With all this, you will surely be surprised to find that import expenses are not as high as they may seem.
What if I ask the seller to send the purchase in several packages?
If you are determined to save on handling fees and duties, a good way is to negotiate with the seller to send your purchase in several packages that do not exceed 150€.
Although this way you may not get a price so tight, since the shipping will cost more expensive, you can analyze if in the end it is more profitable to do it this way.
Buying in bulk from European warehouses
If you are in one of the countries of the European Union, you can buy with shipping from a warehouse in the European Union and not worry about customs and duties, whatever the amount of your purchase.
This is also a very good option, especially considering that AliExpress offers more and more items with shipping from Europe.