---
You can see the shipping time guarantees directly on AliExpress by clicking here or on this other link.
---
Many times you send us comments on the blog asking us when your AliExpress order will arrive approximately if it is normal that it is taking so long… We can not know for sure when your order will arrive but in these years we have gained some experience on this subject and we want to share our knowledge with you. We are going to explain to you which orders take longer and how long it takes on average for an AliExpress package to arrive… Read on to become an expert!
Processing and shipping time in AliExpress
In order for you to understand how long your AliExpress order will take, it is important that you know how the shipping works on this famous website. Once we click the pay button and our payment has been confirmed, the seller begins to prepare our order. This can take a few hours or several days, depending on the size of the package, if the seller has had many sales lately, time of year… We can see how much time you ask the seller to prepare the order before buying, as you can see in the following image (only available in the app). Anyway, even if you put 9 days sellers usually prepare the order in much less time, in about 2-3 days your order will be on its way to your home.
In case the seller does not send the order, you will be refunded automatically by the same payment method you used. But this doesn't usually happen except in rare cases, usually, once you have it ready, we will be notified as the package has been sent. That's when the shipping time starts counting. If you want to know more about the refund process, keep reading our guide to returns, refunds, and disputes at AliExpress where we explain how to track the status of your refund step by step.
How long does it take for AliExpress packages to arrive?
When buying the product, the seller gives us an estimate of the delivery time. This is an approximate calculation according to the shipping method selected, but the actual time it takes for an AliExpress package to arrive depends on several factors that we will explain below.
1 – Shipping method
There are many shipping methods, but mainly we can differentiate between those sent by private courier (DHL, Seur, FedEx, UPS…) and the rest. If you have bought a product sent by a private courier your package will arrive in record time, but you may have to pay customs charges, which happens most of the time.
For all other shipping methods, the time varies depending on the shipping company. In general, certified shipping takes much less time than ordinary shipping. To learn more about this topic, we recommend reading our guide to shipping in AliExpress.
As a summary, and so that you understand the approximate delivery time for each shipping method, we can say the following:
Ordinary (untracked) shipments may take 20 to 60 days to arrive.
Certified shipments (with tracking) may take approximately 20 to 45 days to arrive. AliExpress Standard Shipping functions as a certified shipping with tracking.
Private courier shipments can take 5-10 days to arrive, but the cost of shipping is high and customs is almost always paid. AliExpress Premium Shipping is handled by a private courier.
2 – Country of destination
AliExpress ships products almost anywhere in the world, but will arrive much faster in countries where there are usually many overseas orders and with a good state postal service. In general, AliExpress shipments take 3 to 4 weeks to arrive, but the protection time is 60 days, and depending on the time of year or the country of destination you may have to wait up to 60 days to receive it. In any case, it is best to look at the weather forecast offered by the seller and think that it is always possible that it will take a little longer.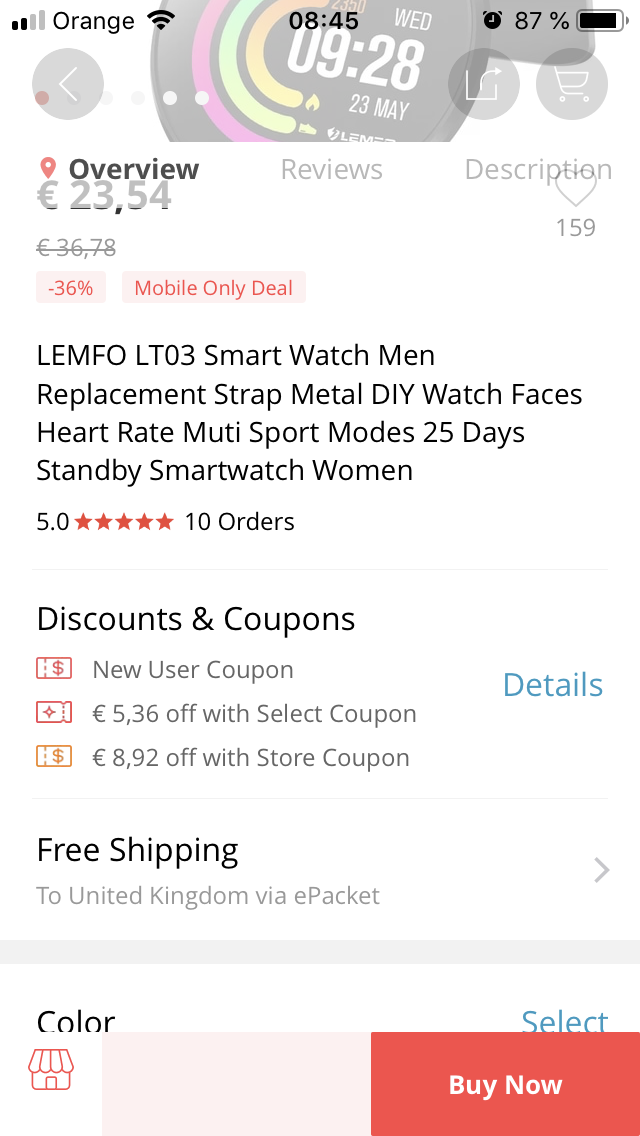 For more information about delivery times, agreements between AliExpress and transport companies in your country, and much more, we have prepared some buying Guides for different countries.
3 – Time of year
Your orders may take longer in times of many orders, like the famous 11.11 or Christmas. This happens because in the country of origin there is a great accumulation of orders, but in addition, when arriving at your country it is possible that it is extended still more because the service of mail is also collapsed.
You should also take into account China's national holidays when the whole country celebrates. For example, the Chinese New Year, which is celebrated in early February, usually lasts one or two weeks, so if you buy on those dates your orders may take longer than normal to send your orders or to have movement in tracking.
How to receive your orders in record time
If we want to receive our order faster, besides choosing to have the order sent by private courier, which is quite expensive (not only for shipping but also for customs as we have already said) we have other options. AliExpress, unlike other online sales platforms, has thought of alternatives to receive your order faster.
National warehouses outside China
One of the great advantages that AliExpress has over other sites is the possibility of receiving your products from a national warehouse located in your country (or near your country). This will significantly reduce waiting time and eliminate the possibility of possible customs charges. However, we will only be able to purchase with national shipping from those sellers who have their own warehouse. If you want to find products with this type of shipment you only have to filter the search like this.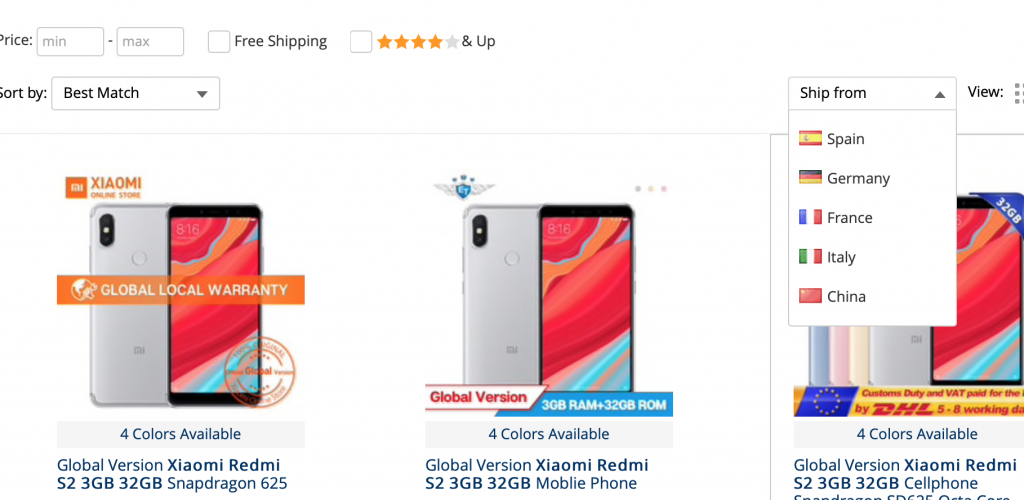 AliExpress Agreements with AliExpress Standard Shipping Companies
For a few years now, AliExpress has been seeking to improve the delivery times of its orders. That is why it has reached several agreements with transport companies. The best known is the agreement that AliExpress has with Correos España so that your orders arrive earlier. It also has an agreement with MailAmericas to manage orders to Latin America more quickly.
You can find more information in our guide to shipping methods and in the AliExpress guides by country that we have mentioned above. Not all countries have this agreement but if there is one, it is done by choosing AliExpress Standard Shipping with tracking. From time to time AliExpress launches a promotion of products with shipping processed by AliExpress, clicking on the link we explain the advantages.
Fast shipping in up to 10 days
And as we also told you in our article on shipping methods, AliExpress is opening the possibility of fast shipping in 10 days from China. Just click on the "Fast Delivery" button when searching for products on this platform. You will be able to see sellers with delivery in 3, 5, 7 or 10 days to your country, one of the best options to buy cheap and receive it faster than with private courier.
In short, does shipping take long on AliExpress?
No, it's getting easier to buy from AliExpress. Most buyers receive their AliExpress orders in 3 or 4 weeks if they purchase via certified shipping with tracking. If you want to receive it sooner, you will have to rely on private couriers such as DHL, FedEx, UPS… But taking into account that there is a higher risk of customs and shipping is more expensive. If you have bought with an ordinary shipment, it is possible that it takes longer, many times it is up to 2 months.
The best advice we can give you is to make your purchases with anticipation and always put yourself in the worst situation because even if your order puts an estimated delivery date, it is only an estimate. So if it takes longer, you are within 60 days of protection and the order is on its way, AliExpress will surely ask you to wait a little longer for your order. The protection time may end earlier if the tracking says that the order has been delivered. Once the protection time has ended, you still have 15 days to open a dispute.
We answer your frequently asked questions about the delivery time for AliExpress orders
There are some questions that are repeated in our comments section. Therefore, we are going to review your most common questions, remember that in our Guide to shipping methods in AliExpress we also answer other common questions regarding shipping.
I want to know where my AliExpress order is
If you are interested in knowing where your order is going or want to know what that message that just appeared in your tracking number means that you don't understand, in our guide to tracking your AliExpress orders we explain how to track your orders and what the messages that appear mean.
Is it normal for my AliExpress order to take so many days in transit?
The tracking of your order goes through several states, and sometimes it may not be updated as often as it should be. We recommend having patience and also looking at your tracking on external sites such as 17track.net to see if there are any more messages. In case many days pass without movement, the first step is to contact the seller.
I have placed several orders with AliExpress on the same day, will they all arrive together?
If you have paid for several products at the same time, but they are from different vendors, each will ship separately. So there is little chance that your orders will arrive at the same time since each seller is in different parts of the country and China is very large.
My AliExpress order is taking too long, can I cancel the order?
Orders can only be cancelled if the seller has not yet sent the package. While the payment is being verified (first minutes- hours of the order), it can be cancelled directly, while from the time the payment is verified until it is sent, the cancellation needs the acceptance of the seller. If you want more information we recommend our article on how to change or cancel an order from AliExpress.
Does AliExpress ship to my country? How long does it take for the order to arrive?
This platform sends to almost every country in the world. So it is best to select in the upper right corner the country where you are, the language and the currency. This way you will be able to see products that arrive in your country. Keep in mind that each country has its own customs regulations, although in most of them we will skip customs if we make quite small and light orders, it is better to check the regulations first and start making small purchases.
What day and time are the packages delivered? What if no one is home?
The delivery depends on the transport company that manages the order in your country. In general, the orders are delivered within the usual post office hours, but it is best to call them and ask what time they are delivered. If you are not at home, it is likely that they will leave you a notice. If there is someone at home, they can sign for your order.
Will AliExpress notify me when my order is delivered?
No, AliExpress will not notify you of tracking status changes, but since it is something that affects the protection of your money, it is important that you review your orders from time to time. There are applications that allow you to add tracking numbers and easily review status changes.
Want help with your AliExpress shipments? Read this
If you want more tips and tricks to buy safely and know-how this famous website works, we recommend you to go to our tutorial section where you will find interesting articles like this one. If you don't know where to start, we recommend you read our Ultimate Guide to AliExpress, where we explain everything you need to know before you start shopping on this website.
What do you think of this article? Has it helped you to know AliExpress better? We would love to know your opinion, do not hesitate to leave us a comment below.