---
You can see all the guarantees and shipping times directly on AliExpress by clicking here, and see all frequently asked questions in this other link.
---
AliExpress Coupons
Active
List of all the coupons
List of all Seller Coupons ordered by category.
Use this code to get a 3$ discount with a minimum spend of 4$.
Latest Flash Offers. If you see something you like don't hesitate, these products sell out quick.
---
AliExpress is a Chinese online sales platform that is becoming more and more famous worldwide. They ship almost anywhere in the world and their prices are amazing. If you are from Germany, in this article we will explain how to buy safely on AliExpress, how the process works, which are the most reliable payment methods, and everything else you need to know to shop safely online.
Go to AliExpress.de Germany directly just clicking here.
First step: register on AliExpress.de and get a welcome coupon, as well as a promotional coupon
The first thing to do before buying is to register with your e-mail to create an account. There, your orders will be registered and you can also create lists with your favorite products. Besides, if you are a new user, AliExpress will offer you a Welcome Coupon to spend on your first purchase. To get the coupon, you have to click on the ad that appears when entering the page as you can see at this link. AliExpress has different types of coupons and discounts, if you want to know more, in our guide "Coupons on AliExpress" we explain how they work.


Promotional code AliExpress Germany
Introduce the code as below before finishing your purchase, and you will receive a discount: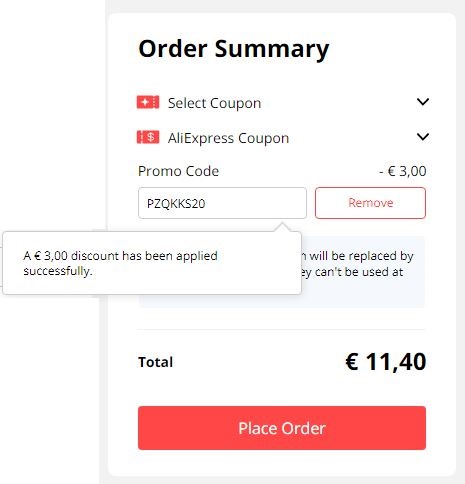 Once you have registered, you must enter the address where you want the packages to arrive. Add all the necessary information so that the postman can locate your address, and we also recommend adding your telephone, in case they have to contact you. And remember that you must add the address of your home or a particular one where they can locate you. You cannot receive the orders in the post office. If the promo code does not work, try this link instead.
How to find products with shipping to Germany on AliExpress
After creating the account, we can start looking for the products that we are interested in buying. But first, you have to make sure you have the AliExpress page properly configured: at the top of the page, you will find a box to choose the destination country and the payment currency. In this case, we will have to put Germany as the country and "EUR" (Euros) as the currency. Thus, we can see the price of the products in our own currency.
Click here to go directly to the version of the image (Germany – Euros).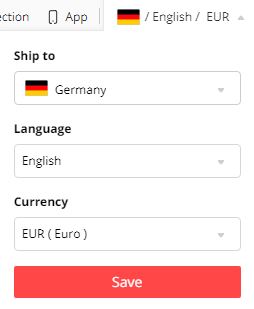 Now you just need to find what you are looking for. You can do this by accessing the different categories that appear on the main AliExpress page or by using the search engine at the top. If you use the search engine, we recommend using very specific keywords and then using the filters offered by the page itself. For example, to find a black t-shirt for women, it is better to write "women's t-shirt" and then filter the search by putting black, try to make the most of the AliExpress search engine to find the best products.
Before buying, check the description of the product
Although it may seem absurd, we never tire of saying it: it is essential to review the product description. This way we can better know the details of what we are buying, and we will find useful information: materials, the content of the package, measurement tables to choose our size… In case you do not find any important information, contact the seller to be completely sure before making the purchase.
Also, in the ad you will find two very important pieces of information: the evaluation of the product that other buyers have made after receiving it (and some even upload real photos so you can see if it matches the ad) and the seller's evaluation. It is highly recommended to buy from sellers with a good rating on AliExpress, as it is awarded through the score that other users have given when receiving your order. In our Guide to finding reliable sellers, you will learn how to detect them, although in the next section we will tell you a trick to find them more easily.
Payment methods accepted for AliExpress Germany
If you already have all the products that interest you in the basket, it is time to pay. Remember that each seller will send the products from their store, that is, if you buy from 10 different sellers you will receive 10 packages even if you have paid for everything together. When paying on AliExpress from Germany, you will find several payment options.
The most popular of all is payment by credit or debit card. AliExpress accepts Visa and Mastercard, as well as Maestro debit and American Express cards, among others, such as Troy or MNP. Prepaid or virtual cards are also accepted.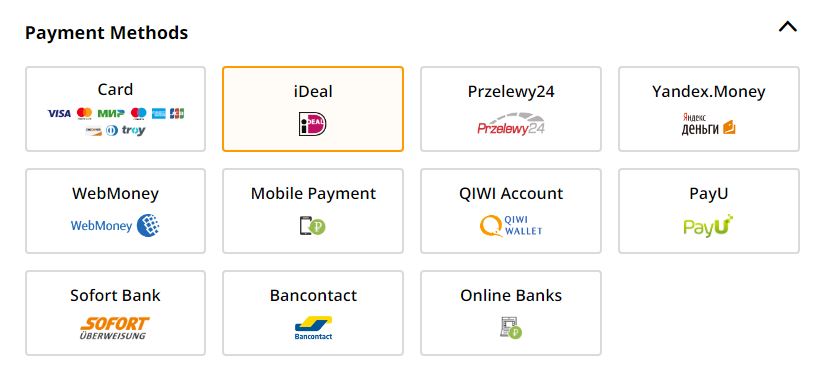 In addition to a card, you can also pay with Webmoney, iDeal, Przlewy24, Yandex.Money, Mobile Payment, Quiwi Wallet, PayU, Sofort Bank, or Bancontact. Now, it is even possible to pay by bank transfer, although this option is not recommended due to the commissions it can generate. We recommend paying by card.
If you are worried about security when paying with a card online, you can rest assured. AliExpress uses Verisign SSL encryption in all transactions, so your data is fully protected. Besides, AliExpress uses the escrow system, that is, your money does not reach the seller until you confirm receipt of the seller and that everything has arrived in good condition.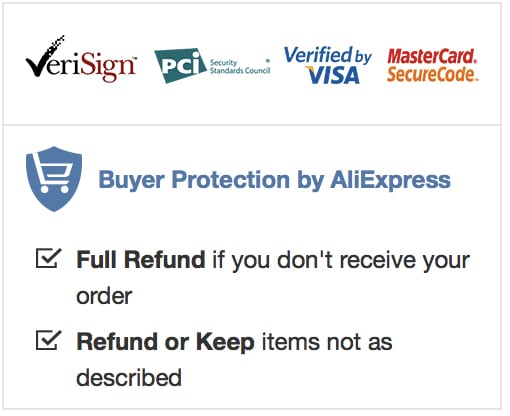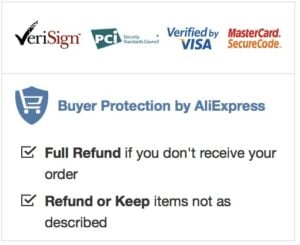 If you want to know more about payment methods on AliExpress, we recommend our Guide on AliExpress payments where we explain in detail how they work.
Shippings: How do they work for Germany
Once you have paid, how does the package get to your home? Well, it will be delivered to the address you indicated, by national mail. If you are not there at the time of delivery, they will leave you a notification to pick it up at the corresponding office. Many times you have asked us if you can send the orders to the post office; well, the answer is no, since the post office cannot save your packages, it only manages the shipment. We recommend that you read our AliExpress Shipping Guide for more information.
Shipping time: How long does it take an AliExpress package shipment to Germany?
The order protection time is between 3 and 5 weeks, that is, it will take at most 5 weeks to be delivered. But the average time to receive an AliExpress order from China is around a month.
However, some of the most recognized brands have local warehouses in European countries. In these cases, if for example, you place your order with shipping from Spain, it may take only 7 days. When this option exists, it will be indicated so that you can choose from where you want the shipment to be made. Some brands and stores even have local warehouses in Germany, so in those cases, you will receive your order in the blink of an eye.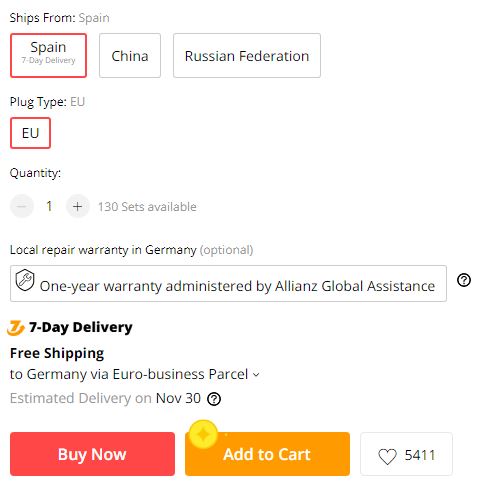 Shipping Methods: Private Shipping vs AliExpress Standard Shipping
For certain products, sellers may offer different types of shipping. We recommend you use the one that is by default, that is, free shipping, or the one that costs less money, and although it may take longer than sending through private couriers, you will avoid the extra costs that receiving it through these companies may entail. That is why it is advisable to order your orders with shipping through AliExpress Standard Shipping.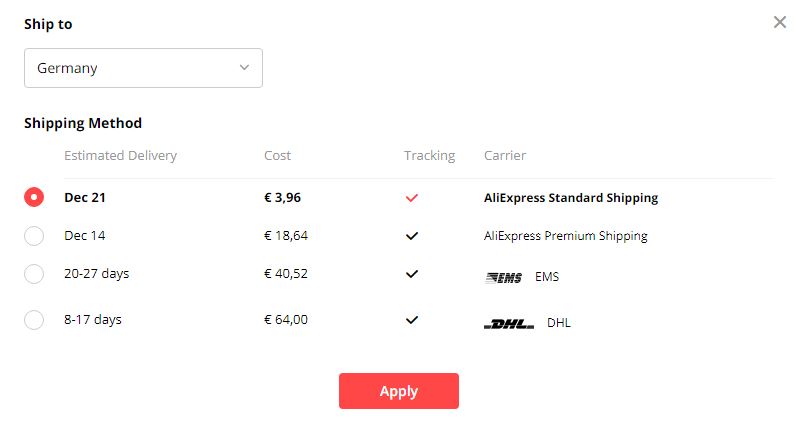 How to check the tracking number
To track your order, you just need to enter its details, there you can see where it is. You can also check it on the national post page or generic pages like 17track.net. If you need help deciphering what the different messages that appear in the tracking of your order mean, we have a Guide for tracking your orders from AliExpress, for you to know where your order is.
Customs
Most shipments on AliExpress are free, but customs fees are borne by the buyer. The good news is that orders are rarely detained at customs. However, when the shipment is made through a private company, there is a greater chance that they will be withheld. That is why many of these companies already charge customs fees in advance.
All packages will go through customs, both in China and upon entering Germany. So even if a customs message appears on your tracking number, you don't have to worry. In case your order is withheld, they send a letter by post, call you or send an e-mail with the steps to follow, you will have to provide documentation and for them, they can calculate what you should pay.
However, the regulations establish that any order between 22 and 150 euros must pay VAT (which in Germany is 19%), but will not pay customs duties. However, if the order exceeds € 150, you will have to pay VAT and duties. Customs duties are calculated based on the price of the product and often also on the category or type of product: electronic items usually have a very low percentage, but other items such as shoes, for example, will pay a higher percentage.
The best thing to do to avoid customs is to place orders that are not too large, that do not exceed 2 Kg in weight or 22 Euros, and choose AliExpress Standard Shipping whenever possible, although as we already mentioned, with this method shipping takes a little while more. Many times, when it comes to small products, they are not retained even if the price exceeds € 22. Sometimes it is a matter of luck.
Tricks like asking the seller to mark the package as a gift or declare the package for less value no longer work. A good trick if we have to buy several products from the same seller is to place several orders of up to 22 euros (making sure that the seller actually sends it in several packages, since they may put them together with the same tracking number if orders have been placed, for example, on the same day). Take into account that if the shipment is made from a local warehouse in the European Union, you make sure you do not pay customs duties.
How to open a dispute on AliExpress if you have a problem with your order
If what you receive is not as it appears in the description or it simply has not arrived within the established period, we first recommend contacting the seller, but then we recommend opening a dispute. Disputes can be opened while the protection time is active (about 60 days since it has been sent) although if the order appears as delivered in the tracking number it can be closed earlier. After that time or if we confirm receipt of the order, we will still have 15 extra days to open a dispute.
Through the dispute, we can claim our money. This dispute will reach the seller, who will have to respond, although if we do not reach a good agreement with him, AliExpress will automatically intervene in a few days. If you need to open a dispute, you just have to go to your order and look for the "open dispute" option. Find more help in our Guide on Claims, disputes and Returns on AliExpress.
Frequent doubts and questions when buying on AliExpress from Germany
Many of the questions you have asked us are repeated in the comments section, so we will answer your most frequent questions.
What should I do if my order has been detained by customs?
All orders go through customs twice, once in China when leaving the country to prevent the shipment from violating any regulations of the country and again in the destination country. Therefore, in our follow-up, a message may appear as our package is at customs. But that does not mean that they have retained it, it is a normal procedure.
If customs has really retained your package, they will contact you to request documentation about your order. Remember that it is the buyer's responsibility to do all customs formalities, since sellers do not know the customs regulations of each country.
My order appears as delivered but I have not received anything
Although this happens less and less, sometimes the order appears as delivered but we have not received it. In that case, we recommend contacting the seller in parallel (so that they can communicate to us if there is an issue) and through emails (so that they can give us more information, if it has been delivered to another person or something like that). If it has not been delivered to you, we recommend collecting evidence to open a dispute, a good example would be on the trackitonline.ru page where we can see in which city the package has been delivered.
Can I buy from another country and send the order to Germany?
Whether you want to buy from another country and send it to Germany or if you live in Germany and want to give a gift to someone abroad, no problem. You simply have to add a new address by selecting the country of destination. When paying, just enter your payment details.
I'm not at home much, can I send my orders to the post office?
AliExpress does not allow you to send your orders to post offices, you have to enter a private address where they can reach us. Therefore, it does not have to be our usual address, for example, you could put the address of your work, in case you are most reachable there within the postal delivery schedule.
How to change any detail of my order
Sometimes we find out that we have chosen the wrong size, color, or any other details when ordering. In that case, we advise you to contact the seller and explain the problem to see if they can solve it without having to cancel. You have more information about this in our Guide on changing or canceling orders on AliExpress.
Can I buy wholesale from Germany on AliExpress or Alibaba?
More and more people are encouraged to start businesses thanks to the great value for money products from AliExpress or Alibaba. In our blog, we have an article on How to buy wholesale on Alibaba with all the steps you must follow, although we also recommend you find out about possible customs procedures with a manager specialized in imports.
Is it safe to buy from Germany?
AliExpress is a totally secure page, thousands of people buy from anywhere in the world and receive their orders at their doorstep without problems. They also use an escrow method, therefore, your money is protected at all times. And, in case you have a problem with your order you can open a dispute and claim your money, AliExpress will intervene in case you do not reach a good agreement with the seller. In our Guide to avoid scams in AliExpress, you have more information about the security of this platform.
Throughout the article, we have already mentioned and left links to our most popular guides to learn to buy on AliExpress, but we have a section with tutorials on the blog in case you want to learn even more. Also, if you are starting to buy on this platform, you should read the Essential Buyers Guide for AliExpress, where you have everything an AliExpress buyer needs to know to buy with peace of mind.
What about you? Have you already bought on AliExpress from Germany? We would love to hear your opinion, do not hesitate to leave a comment below about your experience.