---
You can see the shipping time guarantees directly on AliExpress by clicking here.
---
At AliExpress there are many different types of shipping, which vary depending on the destination country and the time in which we want to receive it. Usually, sellers always offer free shipping (or very little money) so our packages arrive in about 3 or 4 weeks and without customs charges. But many of you have noticed that there are new shipping methods, one of them is called "AliExpress Premium Shipping" and promises that your packages will arrive in 7-15 days. Today we are going to explain how this shipping works if it is reliable and how to find products with this type of shipping
AliExpress Premium Shipping: how this shipping method works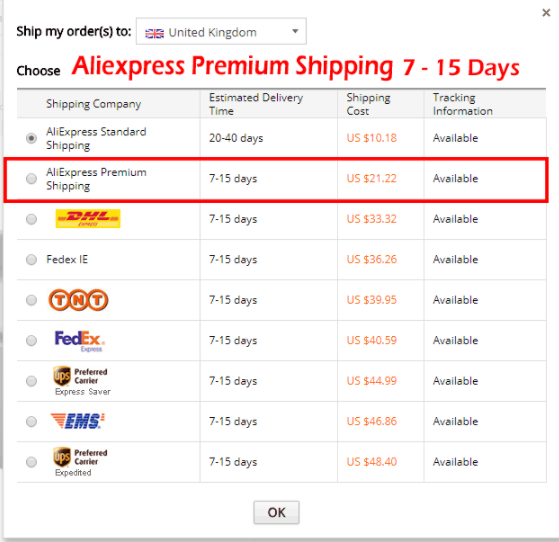 For a few months now, AliExpress has created new shipping methods that are handled by the website itself. In this way, AliExpress has managed to close an agreement with certain transport companies worldwide that offer better delivery times and better service as well as lower prices. These methods do not work in all countries since, as we have just said, the negotiation is carried out with local carriers, while AliExpress carries out an internal negotiation with Chinese shipping services (China Post).
Recently we compared the different shipments processed by AliExpress but the one that generates more doubts is the so-called "AliExpress Premium Shipping". The word "Premium" can give you a clue: it is a priority shipment with which we will receive our shipment in less than 15 days from its country of origin.
However, this shipment is made through private couriers such as DHL, FedEx, Seur, TNT… As we have already mentioned in other publications, these couriers always charge customs fees at the time of delivery. However, thanks to the processing of AliExpress this type of shipment costs less than if we directly select the private courier when choosing the method of shipment in AliExpress.
Advantages of the AliExpress Premium Shipping method
Therefore, we can summarize the advantages of this shipping method mainly in two: we will receive our orders in record time and the cost of shipping, although not usually free, usually costs much less than choosing a private courier directly. Another advantage is that if the package is very large, it is possible that the customs costs by private courier are lower than through the state postal service.
Disadvantages or why you shouldn't choose this shipping method
The main drawback is, as we have already said, that you will have to pay customs charges and taxes on almost all the shipments you receive through any private courier. Therefore, if you don't mind waiting, it's better to buy through free shipping and avoid surprises.
How to find products with this shipping method
At the moment, it is impossible to filter AliExpress products received through a particular shipping method, so we will encounter this type of shipping by chance. Below you can see a case in which we found a product in which we can choose AliExpress Standard Shipping, however for this we have had to deploy the list of shipping options as you can see in the image below, you can also see the different options by selecting the tab "Shipping & Payment".
When clicking, you can choose between AliExpress Standard Shipping (shipment processed by AliExpress and arriving by state mail), AliExpress Premium Shipping, EMS, or DHL. Depending on the country, the shipping time with AliExpress Standard Shipping will vary, so it will depend on how quickly you need the products to get to you. You will also find that, as we said before, AliExpress Premium Shipping, even if it is a priority, is much cheaper than other shipping methods.
Other alternatives to AliExpress Premium Shipping
But if you want to receive your orders in the minimum time possible, we are going to give you some alternatives that perhaps you did not know. AliExpress is working on reducing its delivery times and that is why we are receiving our orders faster and faster.
AliExpress Standard Shipping with fast shipping
As we have already explained, there are different types of shipping handled by AliExpress and one of the best known is AliExpress Standard Shipping, which has become the best alternative to China Post. It is a certified shipping method with a tracking number. But thanks to agreements with several shipping companies, sometimes AliExpress Standard Shipping is even faster than private couriers.
Of course, the delivery time will vary depending on your country. For example, in Spain, the Spanish Post Office is in charge of managing these shipments and sometimes they can arrive in less than 3 weeks. In Latin America, the company MailAmericas manages AliExpress Standard Shipping, making shipments arrive much faster. If we add to this the fact that we probably do not pay customs, it is clear that AliExpress Standard Shipping is a good alternative.
Local shipping with delivery in 72 hours
More and more vendors have local warehouses outside of China. This means that the delivery time is reduced to only 72 hours, i.e. 3 days. In addition, since we will be receiving our order from a local warehouse, we will avoid customs problems and be able to make returns more easily. Just filter your search by selecting the country from which you want to receive your products. Our guide to local shipping and easy returns on AliExpress explains how it works.
Fast shipping: 10 days from China
Another novelty is that now we can also receive our orders in record time even from China thanks to the new agreements between AliExpress and some airlines that will make express deliveries, so we can receive our products in 3, 5, or 10 days by filtering the search when selecting "Fast Shipping". Without a doubt, this is one of the best alternatives in AliExpress Premium Shipping, although it is not available for all countries.
In short, is it worth choosing this shipping method?
The only reason we think it may be a good choice is how quick it is. Therefore, if you are looking for an express shipment to receive your order in record time, choose AliExpress Premium Shipping, as it is cheaper than other private couriers. If you're not in a hurry and want to avoid spending more money, then go for the classic shipping methods that don't risk being stopped within their travels. In our guide to AliExpress shipping methods, you have all the necessary information about other shipping methods.
More tips and tricks for safe shopping on AliExpress
In our blog, we have a section with a wide variety of tutorials where you can find interesting articles like the one you just read. If you are starting to buy at AliExpress we recommend you to start with our Essential Guide about AliExpress: What is it? How to buy?, where we explain everything you need to know before clicking the buy button.
Do you find this new shipping method called AliExpress Premium Shipping interesting? We'd love to hear your opinion, so don't hesitate to leave us a comment below with your experience.
GuardarGuardar