Have you heard about domestic shipping and local returns on AliExpress but aren't quite sure what it is? In this article, we will be talking about all the benefits and in what ways it protects you as an online shopper. We will start off by talking about domestic shipping, then move on to local returns and finally give you alternatives if this service is currently not available in your country.
If you prefer you can find all information on domestic shipping and returns directly on AliExpress by clicking here.
What is domestic shipping and what advantages does it have when buying on AliExpress
More and more sellers on AliExpress have warehouses in other countries besides China. This is a great advantage because it allows you to receive your products in less time. Thanks to this we will be able to receive quality Chinese brand products at a good price. There are several ways to find products with local shipping from your country. On the AliExpress search page, select 'National shipping' or the option 'Ships from' and there choose the country.
And if you already have your item tracked, the description also indicates this possibility. Sometimes, a product can be sent from different national warehouses, so you must choose which is the most convenient or closest for you. In these cases, the order will be probably cheaper than if it is sent from China, taking into account that the shipment will be made from a country closer to yours (or, if possible, it will be a national shipment).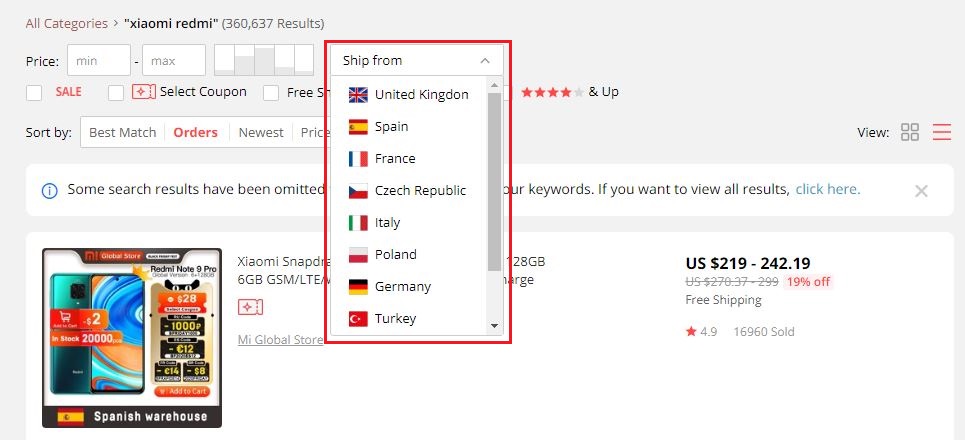 And yes, if you're wondering if these shipments really take just 72 hours, we can say that is true. There are many comments from AliExpress users that corroborate this. In this case, returns will also be easier, as the terms are shortened.
Needless to say, it is much easier to avoid any issue if, for instance, you are in the European Union and you receive a package from another European country than if the package is sent from Asia. Besides not paying for certain import costs, it is less likely that you have to bear with delays in your order. And if you do, we have already described how to make a dispute. You just have to follow the steps.

Is domestic shipping available in all countries?
The answer is: not yet. However, if you live in a country where this service is not yet available, there are some ways around it, like ordering products from the country with the nearest warehouse.
But don't worry, it's just a matter of time. You wouldn't believe the speed at which AliExpress is growing, every day it reaches more and more places around the world. If you still do not have the possibility of enjoying national shipments, you will probably have it in less time than you think.
How to find products with domestic shipping?
It's very easy, you just have to search in the AliExpress search engine. You can do it by category or write directly the name of the product. Among the filter options you will see one indicated as "Ship from", and there you can choose the destination country from where the product will be sent.
There are up to 16 different categories with shipping possibilities from different countries. You will find them below. Entering each one, you will also be able to see the available subcategories.
What to do if domestic shipping is not available in my country?
Well, as we already said, it is probably a matter of time until you can order from your country. But if its not possible yet from where you live, you can always order from the country that is nearest to you. This way, the shipment will take less time and the price for the delivery (if not free) will also be lower.
Check if your country has shippings in 10 days also known as Superexpress shipping
Superexpress shipping is a new facility offered by AliExpress. Thanks to agreements made with some airlines and mail companies, we can receive our orders from China in just ten working days, which is very little compared to standard shipments. Not all countries have access to this benefit, but it is already available from many places: countries such as the United States, France, Germany, Spain, and Brazil can already make use of Fast Delivery.
To check if you can count on this type of shipping, first of all, select your country in the upper right part of the AliExpress page (in the same place where you indicate the language and currency of your preference). Later, when you do a search, you will see the option "Fast Delivery" if it is available for your country.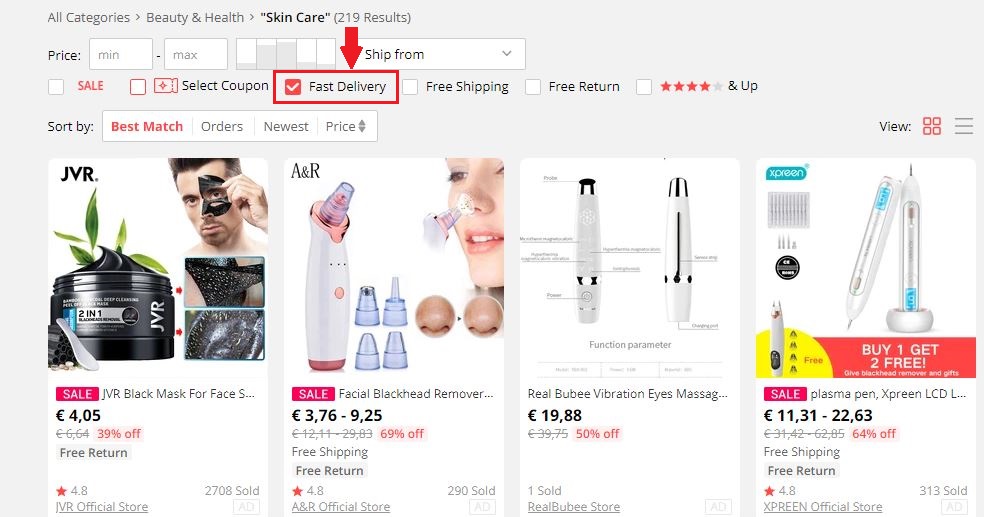 What are local returns on AliExpress?
All orders can be returned, but if we buy from China we will have to pay high shipping costs if we want to make a return to the seller. Orders shipped from your own country include an Easy Returns policy. In the past, the return period was 7 days, but now AliExpress has increased the return period and you will have 15 days to decide whether you want to keep the product or return it. Also, there are some sellers that allow this return to be free, that is, you will not have to pay anything for the shipping. This free return option is also available for products shipped from China that are identified by this logo.

How do I find products on AliExpress that have local returns in my country?
Finding products with free returns is very easy, since now you will find a filter in the AliExpress search engine. Select "Free Return" to find sellers who offer to return the purchase in case you are not satisfied with the product. If you are doubting about buying something, better filter your search with this way, since they will not charge you in case you decide to return the order. The only problem is that not all AliExpress products have free returns so it will reduce your purchase options.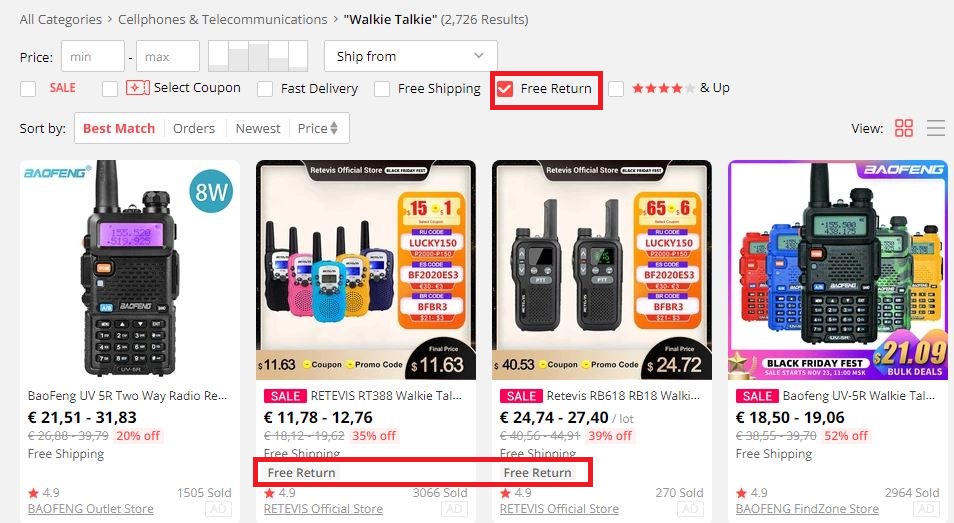 Can I return any product bought on AliExpress?
Returns are only accepted as long as the item has not been used and comes back with its original packaging. In the opposite case, AliExpress will not offer this service. If everything is in order, you can claim a free return through the following steps.
The first thing you have to do is request a refund. This must be done before sending the product back to the seller. You can do it from the user's personal account, within 'My Orders'. You have to open a dispute, as indicated in the following image or from 'View Details' within the profile of the product.
Then, you will choose 'Simple Returns', or what we call "local returns", within a drop-down that AliExpress the page will display. Once you have requested a refund, the seller has 5 days to respond to your request. It may happen that during this period of time you decide to modify or cancel the dispute, it is perfectly valid. That is, you can think about it for a few days, and you can change this up to a maximum of 5 times. As a general rule, nobody does it 5 times 😉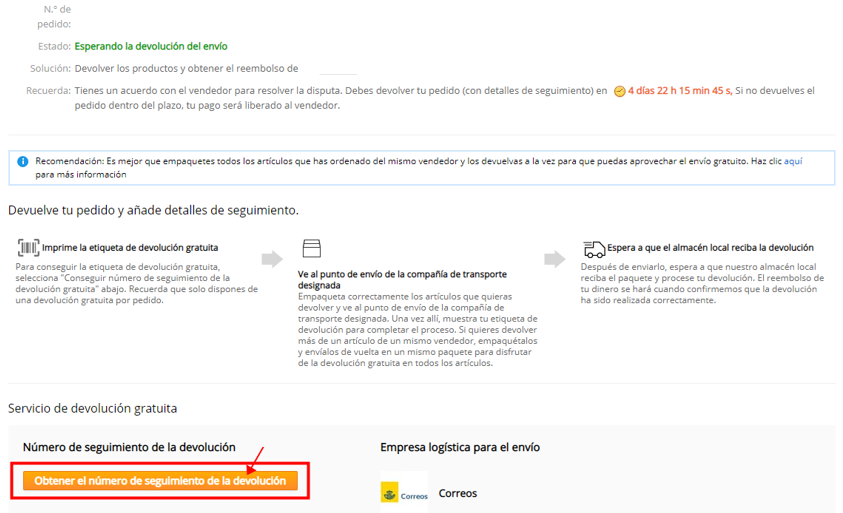 The next thing will be to wait and check the answer of the store. At this time you can accept, reject, modify, or cancel the dispute, and once you have reached an agreement with the seller, you have to send the product within 10 days. BEWARE, do it in this period, or the dispute will be canceled.
Once returned, it is now up to the seller to confirm that they have received it. They have two weeks for this. Once received, you will have your refund in the account from which you have paid or by the method you have chosen.
Can I make a local return for a product that I bought from another country?
If, for example, you made an order from China, although you probably cannot make a domestic return to a local warehouse in your own country, it is possible that the return will still be free, as long as this service is active in your country and the product that you have bought indicate this possibility from the very beginning.
Frequently asked questions about AliExpress local returns
We know you have many questions about this returns service, so we will answer your frequently asked questions below.
Who pays the shipping costs when making the return?
As we have already said, the cost of the return may or may not be borne by the seller according to the purchase conditions. In general, the cost must always be borne by the buyer except when it is included in the "free returns" policy.
If we have bought from a warehouse in China: The cost has to be borne by the buyer except when it is included in the "free returns" policy with the corresponding logo. In case the product is different from the advertisement, it is best to request a refund of money claiming, since the cost of the return is high.
If we have bought from a national warehouse: The cost has to be borne by the buyer except when it includes the "free returns" logo or if the product is different from its description or has defects. The advantage is that shipments within the same territory are usually very cheap, which facilitates management.
How long will it take until I receive the refund of the money?
You will receive your money after up to 14 calendar days once the seller has received the return and verifies that it meets the conditions for the refund. Remember that you can learn more about the refund process of your money through our Guide on claims, disputes and returns in AliExpress.
How will I receive the money?
The money for your return will be received through the same means that you used to pay for your order. If you want to know more, in our Guide on AliExpress payment methods, we explain which are the best payment methods and how returns work for each one.
Can I make a change instead of a return?
No, AliExpress does not allow changes unless your order has not been shipped, in which case I recommend reading our Guide on changes and cancellations in AliExpress. So if you have already received your order, you will have to request a return and order it again.
How can I return multiple products that arrived in a single package?
Only one free return can be made per package, so you will have to open a dispute for each item that you have to return. You will have to pack all the items in a single box, enter the tracking number in each dispute and when they arrive at the warehouse (or when the seller receives them), you will receive your money.
More tricks to buy safely on AliExpress
AliExpress increasingly offers more benefits so that buying through this platform is an easy and practical process. We have already explained how to place orders locally (or from the local warehouse closest to your country), and how to find products with free return. But if you want to know more about how this page works, in Alixblog we have a section with tutorials where you can find out everything you need to know. Also, if you are starting to use this online sales platform, we recommend that you read our Essential Buyers Guide for AliExpress.
Below you will find a list of links to AliExpress shopping guides for different countries. Take advantage of these benefits in your purchases from anywhere in the world.
What about you? Have you already used some of these benefits? We would love to know your opinion, so please don't hesitate and leave a comment below about your shopping experience.