---
You can check all the guarantees and shipping times directly on AliExpress by clicking here. And see all the frequently asked questions resolved in this other link.
---
AliExpress Coupons
Active
List of all the coupons
List of all Seller Coupons ordered by category.
Use this code to get a 3$ discount with a minimum spend of 4$.
Latest Flash Offers. If you see something you like don't hesitate, these products sell out quick.
---
More and more people are starting to use AliExpress from different countries, and the United Arab Emirates is far from being the exception. We receive questions continuously about how to purchase from the UAE, so do not miss this guide because we will explain all you need to know.
Click here to go directly to AliExpress UAE.
First step: register on AliExpress and get a new user coupon, as well as a promotional coupon
The first thing to do: register with your email (avoid doing it with your Google or Facebook account, because you will miss notifications about your orders). When you register, you can collect this Welcome Coupon and get a discount on any product!


Want to know more? Read our guide on Discount coupons on AliExpress.
Promotional code AliExpress UAE
There are also promotional codes like this one. Just paste it and copy it right before paying.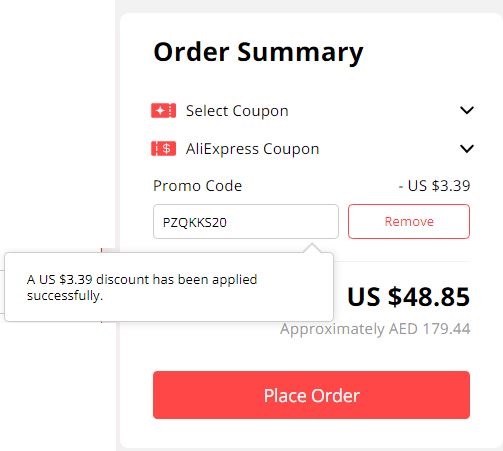 If the promo code does not work, try this link instead.
How to find products with shipping to the UAE on AliExpress
After you register, you can start purchasing. However, if you want your searches to show results of products with sipping to the United Arab Emirates, you have to adjust the settings on the top right of the page. There, you can select your country and currency.
Go directly to AliExpress UAE by clicking here.

You can use the new AliExpress search engine to find your products by keywords, or you can also navigate through the different categories.
Before buying, read the description and specifications of the product
Something that you should not overlook is to carefully read the description in the product profile, so that you know exactly what you are going to buy. There you will find, in the case of clothing items, the size equivalence table. You will also get information about materials, models, among other things. If you have more doubts, you can always contact the seller.
In the comments section you can see the opinions of other buyers about the product, and even real photos, it is essential that you read this section. Also, don't forget to check the seller's reputation, and never buy from sellers who don't have a good reputation. We explain more about this in  our Best AliExpress Sellers Guide
Payment methods accepted for AliExpress UAE
There are several methods available for paying on AliExpress (you can see them all in the image below). The most common and recommendable option is by credit or debit card, since processes are much easy and practical (it is also better in case you have to request a refund).
Virtual cards are also a common option, and now you can even pay with a bank transfer (although we don't recommend it).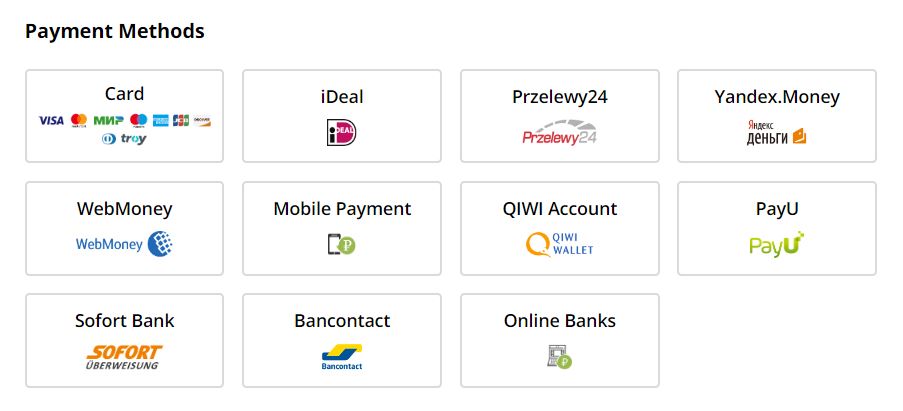 Take into account that your payment will be protected thanks to AliExpress's escrow system. Also, the Verisign SLL system protects your data from their parties.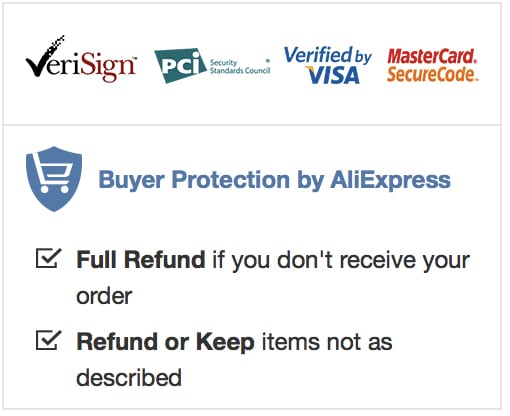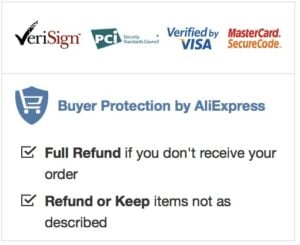 Shippings: How do they work for the UAE
For some time now, AliExpress customers in the United Arab Emirates or Arabia Saudi have the benefit of AliExpress direct. With this shipping method, you can receive your order between 10 and 20 working days, for a low price (even lower than AliExpress Standard Shipping, as you can see in the image).
Most sellers offer this option since it's very practical. However, the shipping methods available for an order can vary from one store to the other, and you will find sellers that offer their own shipping method, or alternatives with private shipping companies. We suggest using AliExpress methods rather than private mail, even if you have to wait a little more since the prices are lower and it is less likely that your package is blocked in customs.
Take a look at our Definitive Guide to Shipping Methods to know more about this.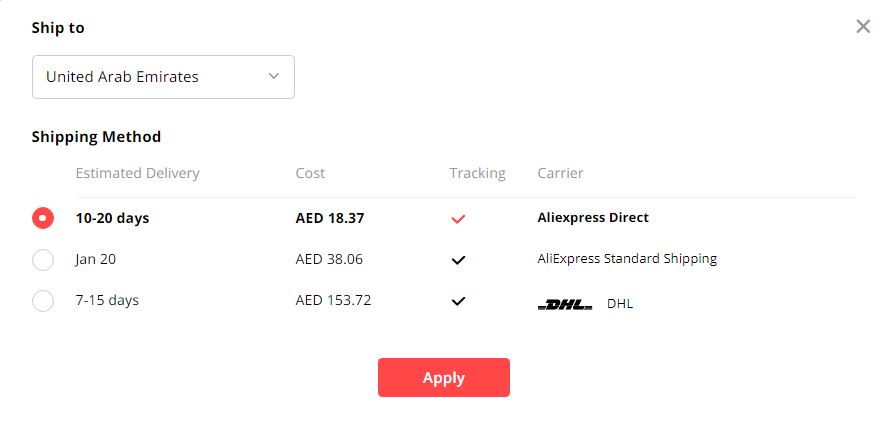 How to check the tracking number
You can track your order through AliExpress, just go to the details of the order and you will see a message that indicates the state of your package (you can read our Guide on tracking AliExpress orders to know more about what each message means). You can also track your order with the tracking number on pages like www.track17.net
Customs
In UAE, almost all products pay a common tariff of 5% of the CIF value (that is, "Cost, Insurance, Freight") although some others like alcoholic beverages or tobacco pay way much more. But as it is a standard value, it does not mean that you have to do an extra procedure. Some shipment methods charge it directly on the price; and in other cases, you may pay when you receive the order.
But, as we mentioned, it does not mean that your order should be retained in customs. If your package is blocked for any reason, customs will contact you directly and explain what you have to do. On the other hand, don't worry if in the state of your order it says "in customs", it's just part of the process.
On our blog, we have a Guide about customs you may find useful.
How to open a dispute on AliExpress if you have a problem with your order
If for any reason your order appears as delivered but you do not receive it, or if the product you receive does not match what you bought, you can open a dispute (just go to your orders in your account and click on "open dispute"). It is important that you do this during the 60 days of product protection (in many cases it has been increased to 90 days) or within 15 days of receiving your order.
Take into account that if your order appears as delivered, even if you have not received it, the time to open the dispute will also be 15 days. Collect evidence of where the delivery was made (through shipping tracking pages or with the postal company), whenever possible you should provide them.
Remember that before opening a dispute it is convenient to consult with the seller and see what answer or solution they can offer you, but do not let the protection time run out since you will not be able to make a claim later.
We also have a Guide on claims, disputes and returns that may interest you.
Frequent doubts and questions when buying on AliExpress from the UAE
We will try to solve the most frequent doubts we receive within the comments of the blog.
What should I do if my order has been detained by customs?
Do not worry. As we said, if this happens, they will explain all you need to do.
My order appears as delivered but I have not received anything
Contact the seller and the mail company. But the don't solve the situation, proceed to open a dispute so you can get a refund.
Can I buy from another country and send the order to the United Arab Emirates?
Yes, just provide the destination address when you make the purchase. You can also send an order to another country buying from UAE (just be clear whether if it has to pay any taxes)
I'm not at home much, can I send my orders to the post office?
You must always give a personal address, or it can also be your work address if it is where they can reach you during delivery schedules.
How to change any details of my order
You can do changes only if the order hasn't been sent yet. In some cases, you may have to cancel and order again. However, if the package was already sent, you won't be able to change any details. We have a guide on how to contact the seller if you need to clarify something about your order.
Can I buy wholesale from the UAE on AliExpress or Alibaba?
Yes, but do the pertinent research with a specialist in imports, because these processes work differently for each country. But you can still start by reading our guide on How to buy wholesale on Alibaba.
Is it safe to buy on AliExpress from the UAE?
Some people feel a bit insecure about buying in an online platform from another country. But once you start purchasing on AliExpress, you will realize that it offers many advantages. You will find Chinese brands with very good value for money, and the prices have no comparison.
AliExpress is completely reliable. As we said before, your data and your money are protected by different security systems. We still recommend reading our guide on how to prevent scams so you can be completely secure when buying.
We also have a section with tutorials, where we explain all you need to know about this platform, and an Essential Buyers Guide for AliExpress for those who are about to purchase for the first time.
What about you? Have you already bought on AliExpress from the United Arab Emirates? We would love to know your opinion, do not hesitate and leave us a comment about your shopping experience.