You ask us a lot of questions about AliExpress cycling shoes: are they good quality, what kind of shoes should you choose, are Chinese brands worth it?
In this article we'll explain everything you need to know.
Is it a good idea to buy cycling shoes on AliExpress?
In our opinion, yes: AliExpress offers the best prices on the market and, in addition, it also has some great quality products, which has nothing to envy to other better known brands (which, in all likelihood, also manufacture their shoes in China).
All in all, it's a good idea if you want to save money without sacrificing safety and comfort.
Also, keep in mind that AliExpress offers daily great discounts on their items, which you can still lower even more with discount codes, coupons from the platform or seller.
But if you want to get your purchase right, it is very important to choose well, and today we will make it easier for you.
How to find them: To find the best deals on cycling shoes, go through this search.
Types of cycling shoes available
Cycling shoes are divided into two main types: road and mountain (MTB). Within these two, you have other subgroups that we detail below.
Road shoes
This type of footwear is indicated for long itineraries in which there is little contact of the foot with the asphalt. Within this category you have road shoes and triathlon shoes.
For road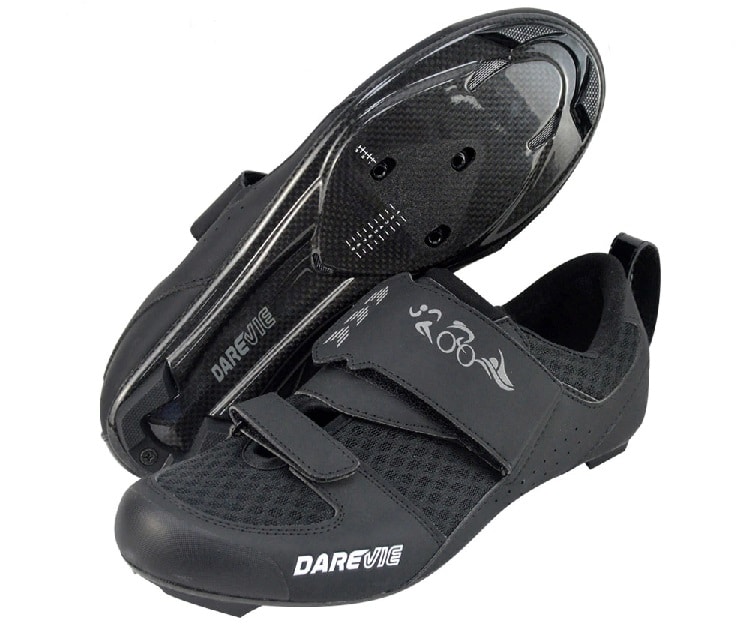 Road shoes are characterized by not having cleats on the soles, since they are not designed to support the foot on the ground. The most common is that they only have a heel cleat, and on the top of the sole they have three anchor points for the cleat, which will be the one that will be hooked to the bicycle pedal.
The soles of these shoes are usually quite stiff for one reason: the transfer of power from the foot to the bike will be greater. However, the stiffer they are, the more fatigued the foot becomes and the more discomfort they cause. If you don't have much experience, try not to choose very stiff soles.
There are carbon soles, composite soles and soles of different plastic compositions with different weights and flexibility.
The upper part of the instep and heel can also vary depending on the fabric and materials: the more elastic fabrics adapt better to the shape of the foot, while the stiffer ones allow a total transfer of the power you generate.
These shoes can be found with different closures: BOA type, with micrometric closures, Velcro or laces (below we explain what they are).
For triathlon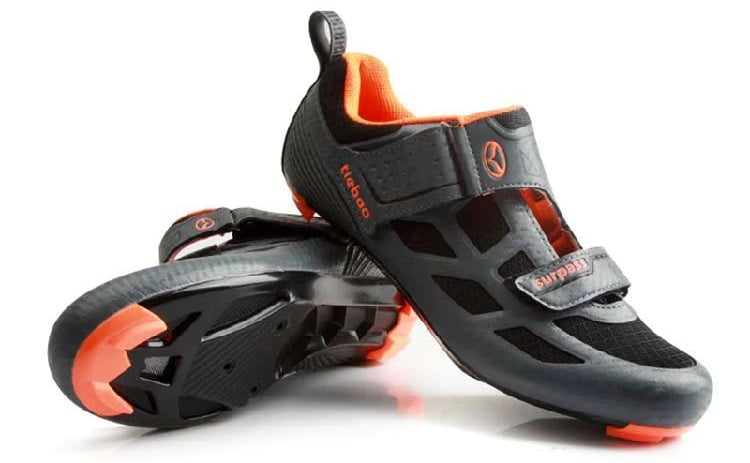 Triathlon shoes are very similar to road shoes except for the way they close: in this discipline a quick change of shoes is needed and the most common is to find them with a large Velcro in the upper area. You can also tell them apart because they are usually more ventilated shoes to facilitate drying.
Mountain shoes (MTB)
Within the mountain modality, you have basic shoes, initiation shoes, and more aggressive shoes indicated for enduro, downhill or XC disciplines.
It is essential when choosing a mountain shoe that it is well reinforced, since it will be subjected to friction and friction continuously.
Basic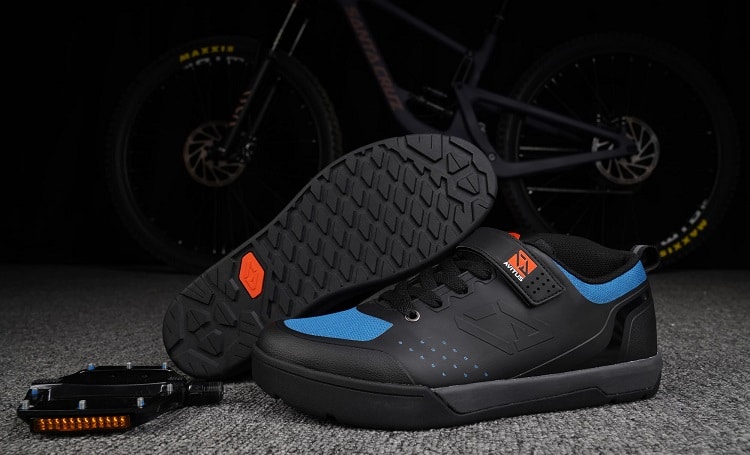 They are very similar to a traditional shoe, but have a more reinforced sole so that the transfer to the pedal is more direct.
Initiation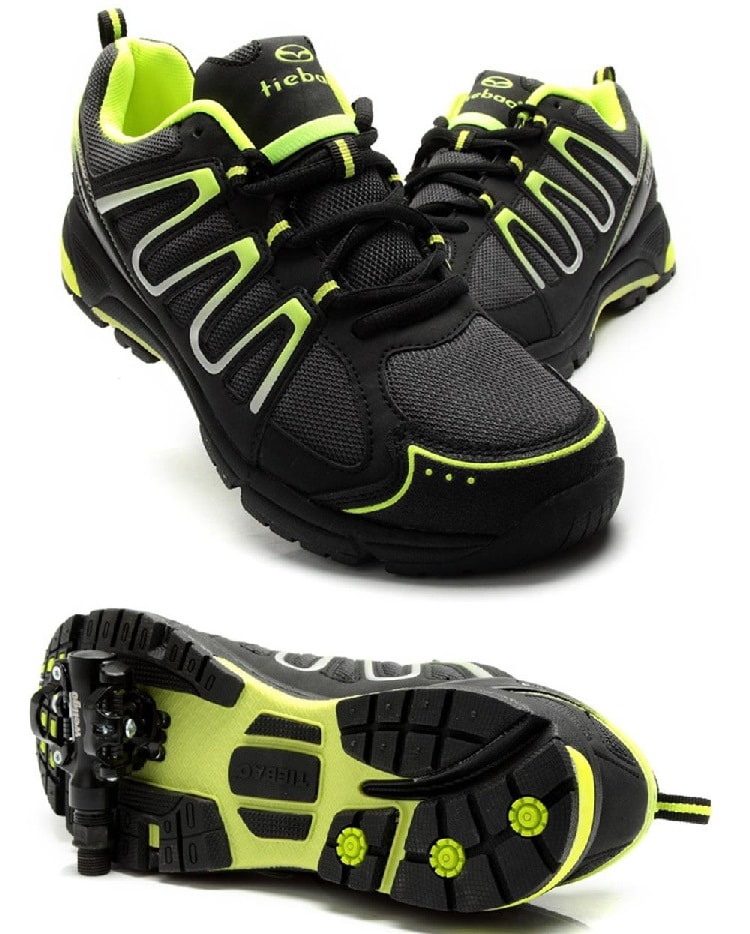 Similar to the basic shoe, but with a specific sole to mount the cleats that will be hooked to the bicycle pedal.
For enduro or downhill
Flat sole with a large surface area, very necessary for maximum contact with the bicycle pedal.
XC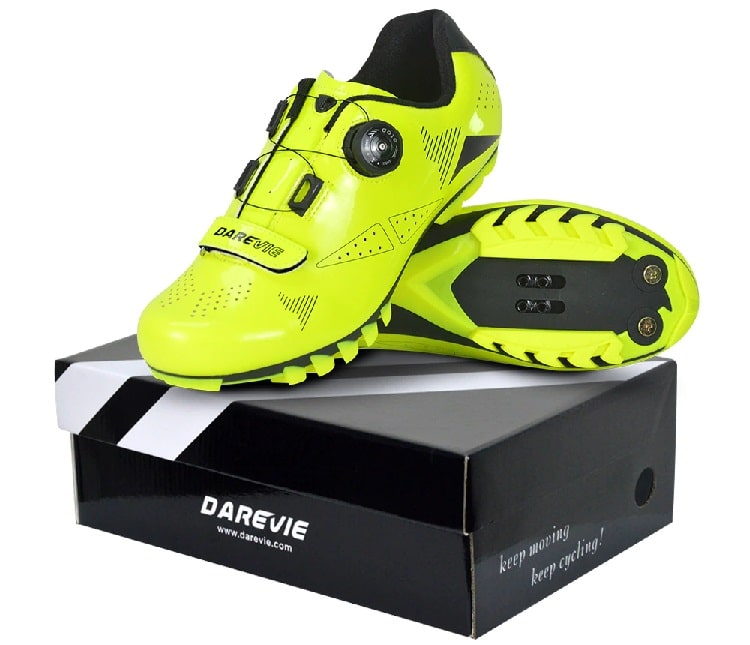 The XC are the most used mountain bike shoes and therefore the most common that you can buy on AliExpress.
The soles, as in road, are available in different materials such as carbon fiber or other more traditional ones.
They are easily distinguished from road shoes by having a varied tread pattern on the sole, which is essential to grip firmly to the ground. In addition, in the case of very soft terrain where you need extra grip, some models have the option of adding two more lugs in the front.
The materials used in the upper and the closures are very similar to the road ones, although with fabrics reinforced with better materials, since it is common to subject them to greater friction.
Best cycling shoes brands on AliExpress
In this selection of brands, you will find shoes to suit all needs, whether you are thinking of getting started in the world of cycling, or if you are looking to take a step further with a more professional footwear.
1. Shimano
Official distributor: Go to the store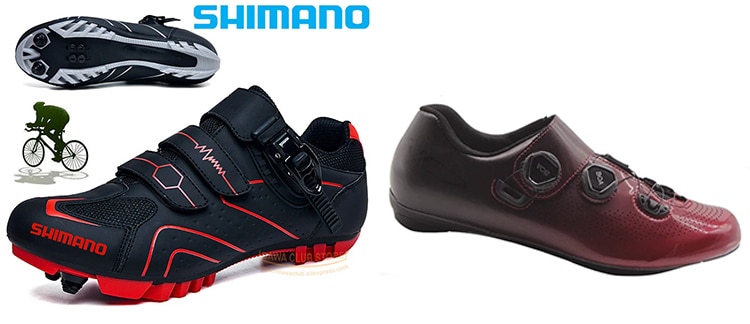 Shimano is a very well known worldwide brand of bicycle components. Therefore, it is not uncommon that in addition to AliExpress, you can find them in many other online stores.
Their latest models both road and mountain, are characterized by being very light, stylish. They fit the foot like a glove, for its good grip at no time you will have the feeling that you get out.
Although they are not the cheapest on AliExpress, they are highly recommended if you are looking for a top quality shoe. Remember to check in the product description if the store offers any discount coupon to make your purchase cheaper or even ask the seller directly through the chat if they could provide you with one.
2. FAD SPEED
Official store: Go to the store
FAD SPEED has road and MTB shoes at very competitive prices. If you are looking for something to get started or renew your shoes without investing a lot of money, you have models from $30.
Despite being cheap shoes, they have a good design and different types of fasteners to choose from.
Do not forget to read the opinions of buyers, there you can check their degree of satisfaction and see real photos of the product.
3. Boodun
Official distributor: Go to the store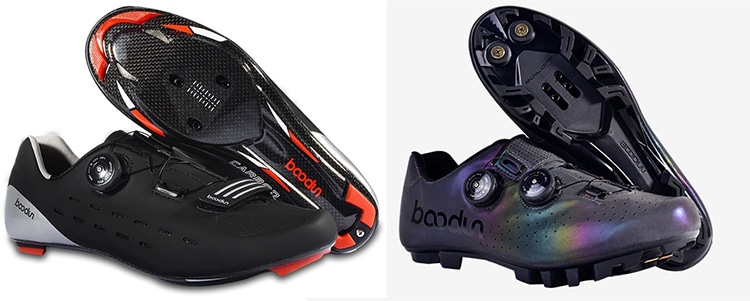 Boodun shoes are mainly focused on road cycling. They are of medium-high quality and you will notice it especially for being very light, with resistant, breathable, well-finished fabrics and ultralight carbon fiber soles.
If you are a regular cyclist, this brand (along with Shimano, Sidebike and Santic) is one of the first options you should consider.
4. XTERNITY (Speed)
Official store: Go to the store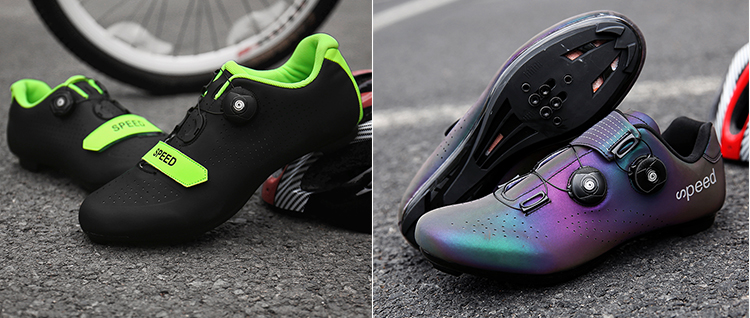 XTERNITY's popularity on AliExpress has grown exponentially thanks to its cheap prices, fine designs and good quality feel.
The truth is that, despite their cost, many models include BOA-type closure (the most practical type) and totally meet buyers' expectations. And, although you may find them a bit hard when you first wear them, don't panic: as you use them, they will adapt to your foot.
It is a very recognizable brand because most of its models have "Speed" printed on the instep or heel. They cost about $30 or less, a real bargain that has made this brand one of the most demanded on AliExpress.
5. SANDUGO
Official store: Go to the store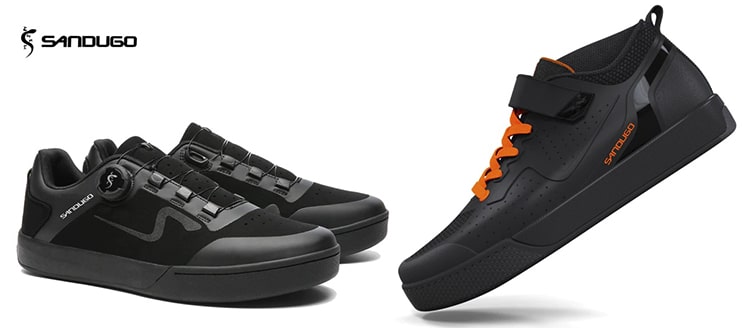 Want to combine adrenaline and nature? Sandungo has all the perfect mountain footwear for those who are starting out in enduro or downhill.
It has very affordable prices (from $30) and its official store has many sales and positive reviews, emphasizing the comfort and resistance of this brand.
Just keep in mind that they can be a bit heavy.
6. Tiebao
Official distributor: Go to the store

Tiebao is already one of the most established brands on AliExpress in terms of cycling accessories. Their shoes are in a medium quality range more than acceptable if you practice cycling intensively, but without being professional.
No matter the modality, you have shoes for all tastes: road, triathlon and MTB routes.
7. Santic
Official store: Go to the store

Santic also has a long history on this platform and in its official store you can also find all kinds of cycling accessories: helmets, jerseys, shoes, socks, sweatshirts…
We only recommend this brand if you practice cycling on a regular or professional basis, as their prices are a bit high ($100-200), although you also have some models from $60.
If you are looking to invest in a top shoe to use a lot, there's no doubt this brand can fit you perfectly.
8. DAREVIE
Official store: Go to the store

Although DAREVIE does not have as wide a catalog as other brands, their shoes have accumulated a good amount of sales and positive reviews.
Their shoes for road and MTB can be included within the professional field, but without costing a lot of money (from $65). Their designs are sober but they also have some more modern models that attract attention for their originality.
9. SIDEBIKE
Official distributor: Go to the store

SIDEBIKE manufactures professional cycling shoes and also for a wider public that practices cycling occasionally.
These shoes are distinguished by their excellent finish, maximum support without chafing and highly breathable materials.
Their most basic models have Velcro fasteners, which, although they can provide good security, are far from the fit and comfort of the BOA type fastener.
10. GOMNEAR
Official store: Go to the store

GOMNEAR, apart from having all kinds of footwear for the sport, also has its own line of cycling shoes for all budgets and modalities.
If you are looking to buy a basic shoe that in the eyes of many seem premium, this brand has all the models you need for just over $30.
Other accessories for your cycling shoes
On AliExpress, apart from cycling shoes, you can buy all the accessories to keep your shoes as good as the first day.
Tips for choosing the right size
Never buy your shoes with your usual European or American size in mind: when choosing your size, try to stick as closely as possible to the seller's size chart. Keep in mind that if the shoes fit too loosely, they will be comfortable, but you will not pedal efficiently.
Lay a piece of paper on the floor, put your bare foot on it and with a pencil draw the outline as roughly as possible. Then measure the length with a ruler and compare it with the measurement chart. Some retailers also include the foot width of each size, so you can get an idea of whether the shoe last is too narrow for your foot or not.
If you are between two sizes, it is always better to choose the larger size, because if they are a little loose, you can adjust them with a sock or an insole. On the other hand, if they are too small, they will cause chafing and sores and you will eventually stop wearing them.
What type of fastener (or closure) is best?
The number and type of fasteners on the shoe also play a role in ensuring a good fit.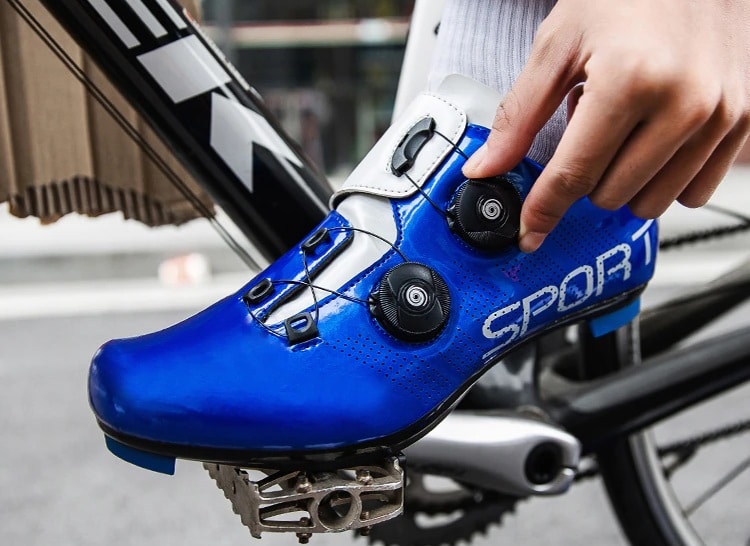 The best ones are the DIAL (BOA type): they allow a very fine adjustment with one hand, even when you are on the move. That is why it is common to find them in higher quality shoes, since they have a higher cost.
The next in order of preference are: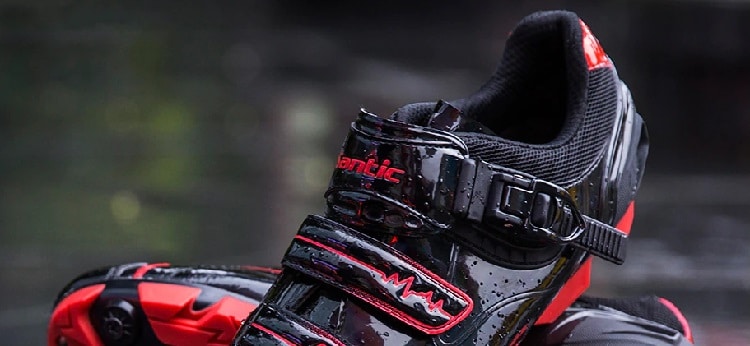 Micrometric rail-type: together with the BOA type, they are the ones that provide the best support.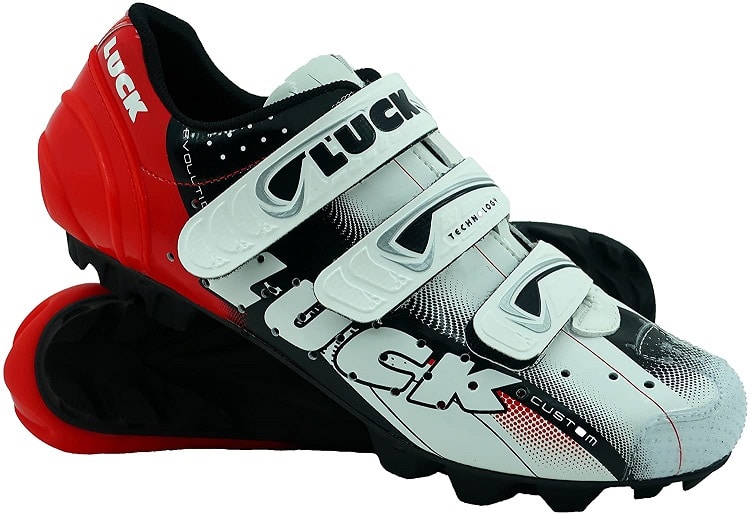 Velcro: they can be adjusted well, although it tends to deteriorate with use.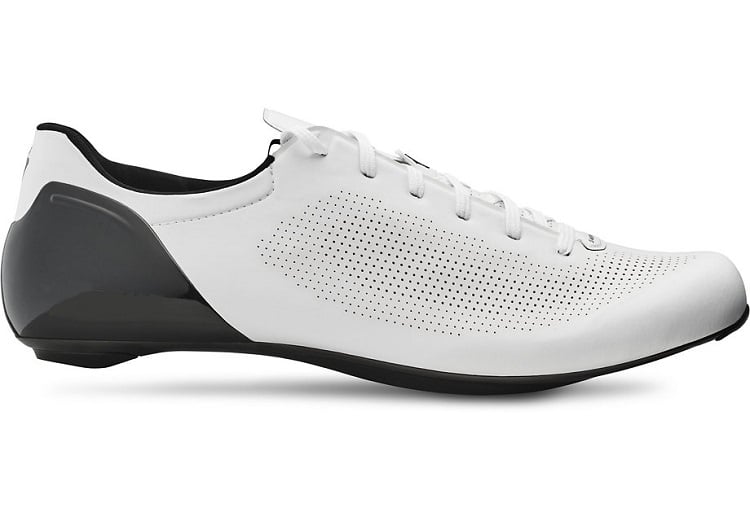 Laced: This type of closure is the cheapest and generally fits the foot well, but they are not highly recommended, as they can get caught in the chainring and cause an accident.
Note that most shoes, both road and MTB, usually combine two types of closure to reduce costs and offer greater comfort. In the toe area there has to be a very high pressure, in order not to oppress the circulation. A combination of Velcro on the lower part and a BOA type closure on the upper part will achieve a good balance.
Does the material of the sole define its quality?
Be careful because in this case, the material of the sole does not define its quality. So don't think that just because you buy a shoe with a carbon fiber sole, that it will be better than another material such as plastic.
It is true that carbon fiber soles provide greater rigidity and less weight, but you can also find shoes with this type of sole and poor quality materials in the upper and heel.
Always try to read buyer reviews to guide you with their experiences.