On November 2015 the Asian multinational Huawei released the Huawei Mate 8, an improved version of it's successful predecesor, the Huawei Ascend Mate 7. And pay attention, because this phablet is one of the best rated cellphones in the market, surprising both experts and regular users.
But, how much does the Huawei Mate 8 cost? And the Ascend Mate 7? It seems like you are curious about both, and not only about their price… we've also received questions about features, differences and where to buy them at affordable prices. Well, let's start by telling you that AliExpress is one of the best platforms to purchase them: you can find both the Huawei Mate 7 and the Huawei Mate 8 at incredibly cheap prices.
What's a phablet?
This term became popular among users when companies started making cellphones larger than 5 inches. In this case, both the Ascend Mate 7 and the Mate 8 are larger, in fact, they are both 6 inches. These devices combine the connectivity of a smartphone with the characteristically large tablet screens, using the same operating system and processor.
Advantages of a phablet: half smartphone, half tablet
These models join the best qualities of a cellphone and a tablet, ergo the name. In fact, the main advantage of these phablets is that you can use them to call, something you can't do on most tablets.
Huawei soon became aware of just how popular this kind of product was, so only two years after launching the Ascend Mate, in 2014, they released the Mate 8. Lets take a look at the specifications for both models.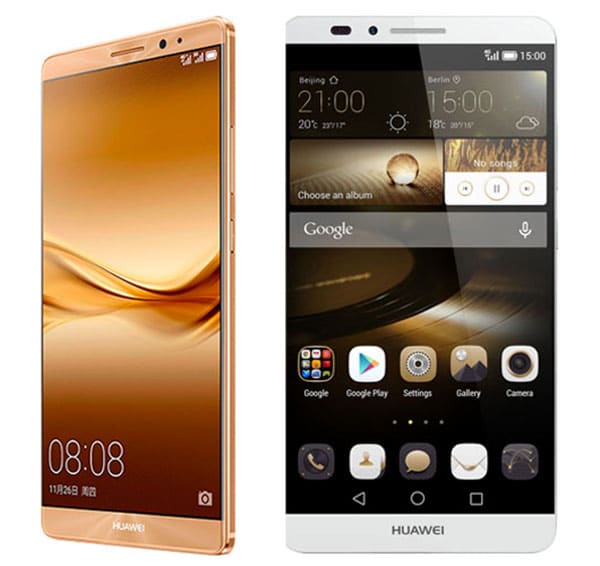 Features of the Huawei Mate 8
In the Mate 8, Huawei has keep both the screen and the design of its previous Mate models. In fact, it features a 6 inch screen with a Full HD resolution of 1920×1080 pixels. The only difference being in the rounded corners of the screen. It's available in black, silver, gold and copper and only weighs 180 grams. It also keeps the fingerprint sensor already featured on the Mate 7.
As for other features, the Huawei Mate 8 uses a new HiSilicon Kirin 950 processor. It's an octa-core to 2.3 Ghz with a 3GB RAM for the 32 GB and a 4GB RAM in the 64GB one. You can also create more storage space with a microSD card. The camera is also a big improvement, with a main 16 megapixels camera and a 8 front one, both featuring image optic stabilization, fase detection and double LED flash. The battery is of 4000 mAh and it uses Android 6.0 Marshmallow software.
Features of the Huawei Ascend Mate 7
When it comes to the Ascend Mate, Huawei wanted to conquer the market for phablets, something it definitely accomplished. The features of the Mate 7 are pretty similar to those of the Mate 8, even thought they phone is actually two years 'older'. Let's talk about similarities and differences. It has a 6 inch screen, a Full HD resolution, a four nucleus processor and an Android 4.1 technology (this being one of the main differences). It's available in a black, silver and gold, has a dimension of 157x81x7.9 millimeters and weighs 185 grams.
The main camera has 13 megapixels and the rear one has 5. However, the front camera doesn't film in Full HD, like the Huawei Mate 8 does. It's available with two kinds of RAM memory, 2 and 3GB and an internal memory of 16 and 32 GB. The Ascend Mate 7 may have less RAM memory, but remember that you can always expand it with a micro SD. Also, the battery is 41000 milliamps, higher than the one in the Mate 8.
Price comparison between AliExpress and other European platforms
The first thing you should know is that prices vary, both on AliExpress and other platforms, depending on the internal memory. You aren't going to get the same price for a Mate with 32 GB, than one with 64 or even 128GB. The same thing happens with the Ascend Mate 7, available with 16GB and 32.
Just to give you an idea, the Ascend 7 originally cost 500 euros, and you can find it in AliExpress for 350. If you take a look around Amazon or Ebay, you aren't going to find it for less than 420 euros. That means you are saving up to 70 euros! Click here to go directly to the cheapest Ascend Mate 7 of the platform.
On the other hand, when it comes to the Huawei Mate 8, you will find it in European shops for 760 euros more or less, whilst in AliExpress you can find it from 465 up to 685, depending on the model. Click here to see the cheapest models in AliExpress.
AlixBlogger advice
To conclude this comparison in between the 7 and the 8, here at AlixBlog we believe, after checking both models, that there is a massive jump in quality between the Ascend Mate 7 and the Mate 8, even though they feature the same design. The reason for this is there is a significant improvement in the features, so if we had to recommend just one, it would have to be the Mate 8. It is slightly more updated and offered a great camera and processor.
However, it is more expensive. That's why at the end it should be you and your budget to decide which model to purchase, but do keep in mind that there are some differences. In fact, we can assure you the Mate 8 is the improved version of an already great smartphone.
Cheap Ascend Mate 7 and Huawei Mate 8: Best shops in AliExpress
There are tons of sellers in AliExpress offering this product. So, to save you some time (and money), we've selected some of the best shops offering both the Ascend Mate 7 and the Huawei Mate 8. All of them have a crown rating (one of the best ratings there is), so you can be sure they are trustworthy and good.
IMPORTANT: After tons of hours investigating we can assure you all the Huawei phones we found on AliExpress are original, so there is no need for suspicion here. But if you have any other doubt, do make sure to contact the sellers directly, they will help you out with any questions you may have.