On AliExpress you can find many brands of motorcycle helmets at very good prices and with very attractive designs.
But, as you know, the most important thing when choosing a helmet is not aesthetics or design. The most important thing is safety.
That's why many of you are asking us if buying a helmet on AliExpress is a good idea.
Let's check it out!
Are they safe? This is our opinion
As you know, on AliExpress there are many different sellers and brands, and therefore there are many levels of quality. When choosing a motorcycle helmet, the fundamental thing is to make sure that it is homologated and that it meets the highest standards (or at least those of your country).
The homologation is the guarantee that the helmet has passed a series of quality controls and that its protection is adequate against a fall or a strong impact, regardless of whether its price is higher or lower.
It is not advisable to skimp on these things: do not buy a motorcycle helmet without homologation because it could leave you unprotected in case of an accident. In addition, the police could fine you.
Another thing is that, as a hobby, you like to collect helmets of all kinds. In that case, on AliExpress you have very nice and cheap options.
How to find them: to find the best deals on motorcycle helmets go on this search.
What kind of homologations are there?
There are many different homologations around the world, but the three most important are the following:
ECE/ONU R22: this is the homologation standard at European level and the one required in all European Union countries.
DOT: This is the mandatory homologation for helmets in the United States and, as it is not as restrictive as ECE, it is not valid in the European Union. It is also accepted in most Latin American countries.
Snell: This is the existing homologation in the United States and, together with ECE, is the most demanding: it measures impact resistance, the effectiveness of the retention system, stability and optimization of the protected areas of the skull. It is considered more of a quality standard, as it can be complementary to the other homologation systems.
Types of motorcycle helmets
Retro helmets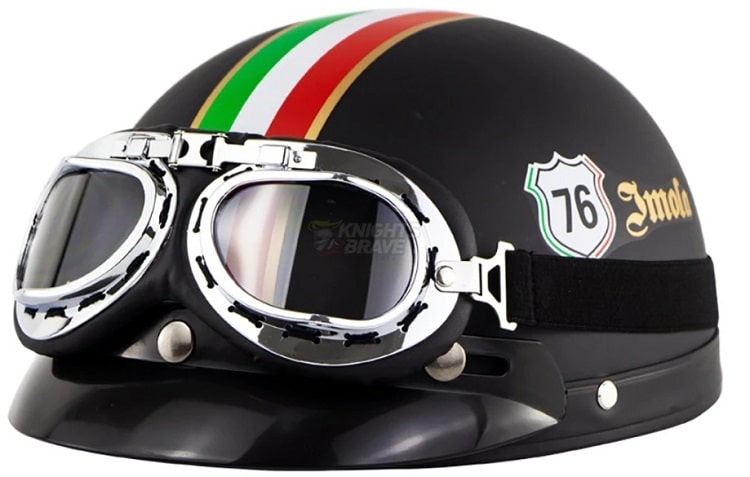 These types of helmets are the ones that protect our head the least, since they only cover the upper part.
They used to be very common due to their low price, but nowadays their use is forbidden in all European Union countries.
Jet helmets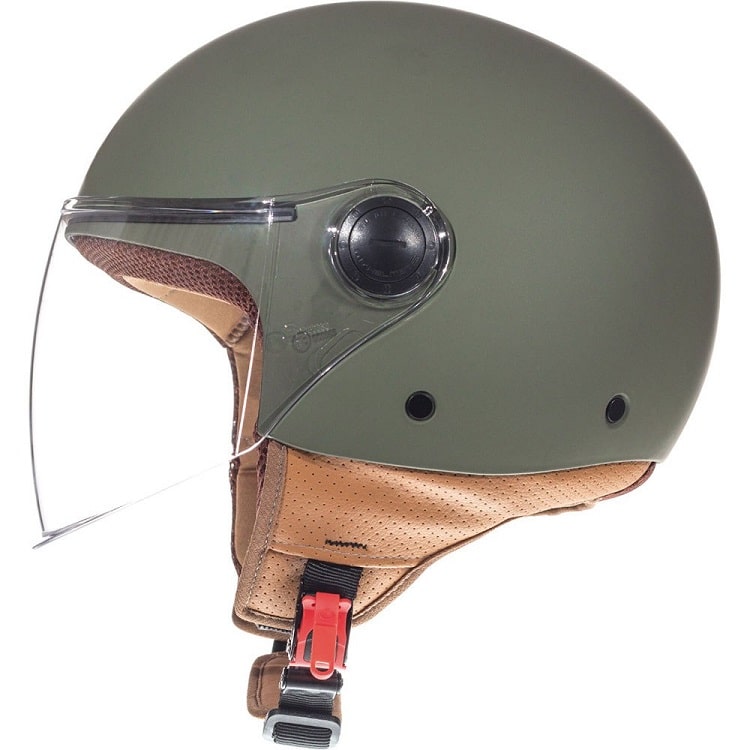 These helmets are more common for use in the city, as they do not offer a very high degree of protection because the part of the face is more unprotected.
They weigh much less than full-face helmets and also produce much less heat, so they are usually used for short and urban journeys, especially in hot areas.
Full-face helmet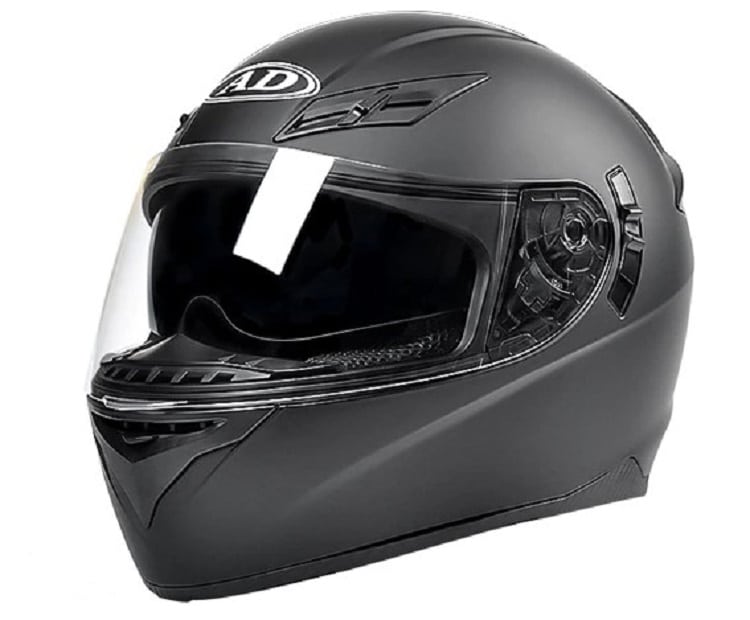 Full-face helmets are the ones that protect our head the most against a motorcycle accident: in addition to the skull, they completely cover the back of the neck, ears and face.
As they are made up of only one piece, they are not as comfortable as other helmets and in summer they are much hotter.
Flip up helmets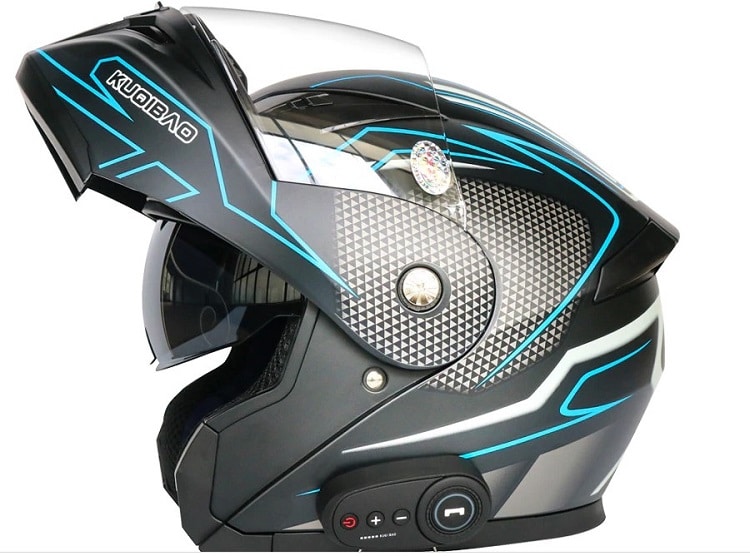 Modular helmets also have a high degree of protection, although they are not as safe as full-face helmets because they have a flip-up chin guard.
They are a mix between jet and full-face helmets, and are ideal for people who ride frequently in the city and on the road, although bear in mind that on the road you must wear the folding part completely lowered.
Off-road helmets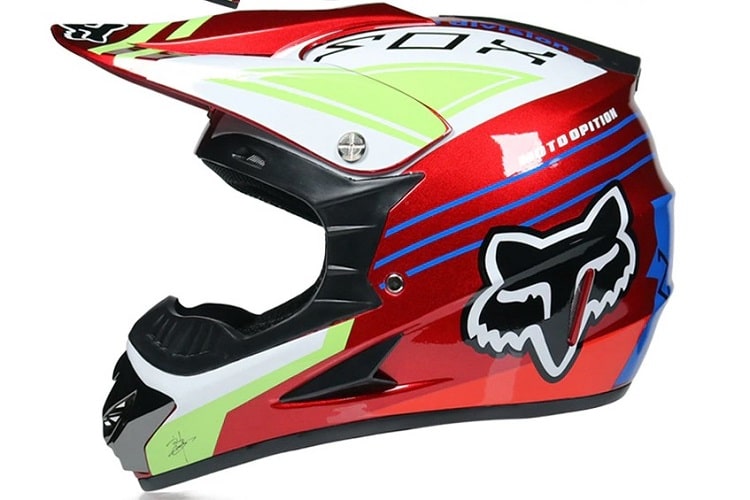 These helmets are designed for sports such as enduro, motocross or trial.
Their protection is quite high and their ventilation level is higher than that of road helmets: the screen of these helmets is replaced by goggles that protect from external agents.
Best Chinese helmet brands
ECE approved helmets (European Union)
The brands listed below meet all the standards required by the European Union and, in addition to having cutting-edge designs at a good price, they are totally safe.
1. Beon
Official store: Go to the store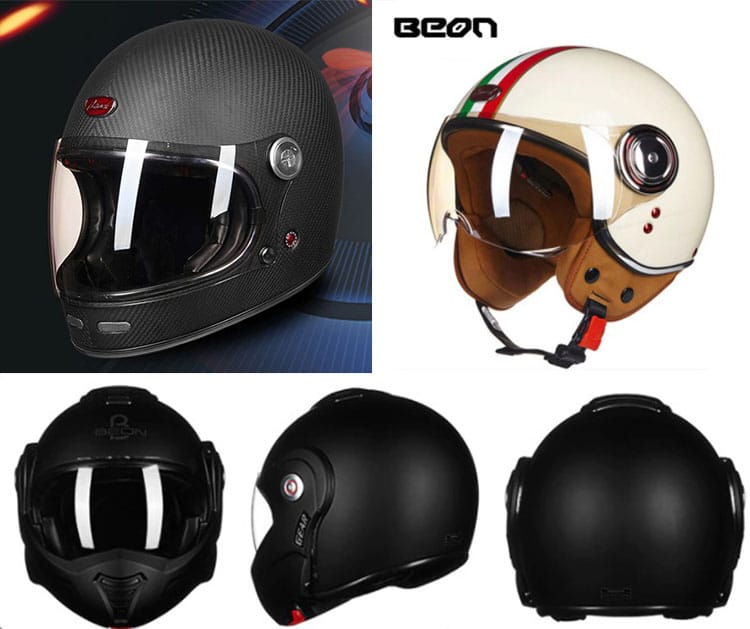 Beon motorcycle helmets are among the most popular on AliExpress: jet helmets, full-face and flip-up helmets with very careful designs with vintage air and at very reasonable prices: jet helmets from $70 to move around your city or full-face carbon fiber helmets from $150, to move on the road in the safest way.
With Beon helmets you will not have any problem, they comply with ECE/ONU R22 homologation and in their official store you have direct shipping from Europe.
2. Soman
Official store: Go to the store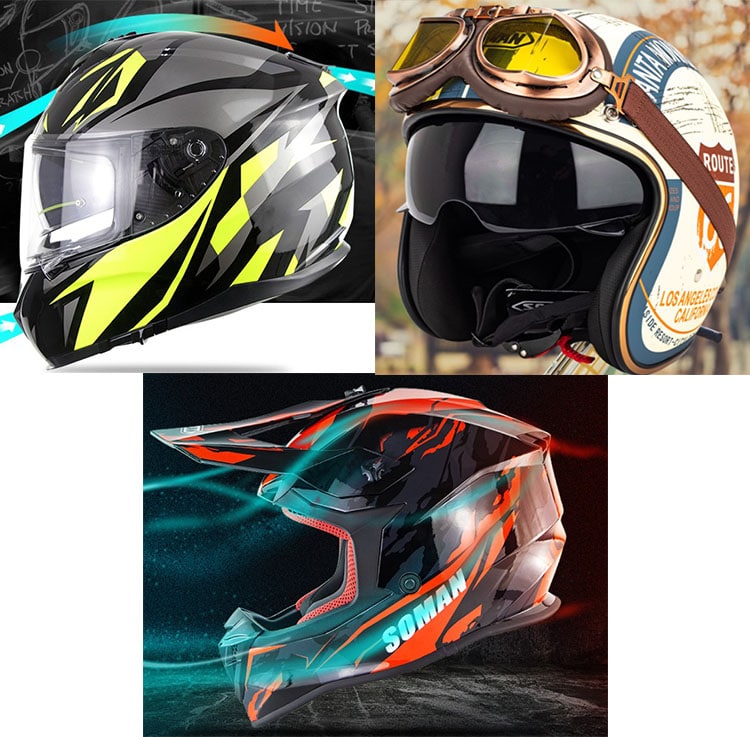 Soman was founded in 2009 and already has a long history in the motorcycling market backed by its quality at a very good price: from full-face helmets at $80 to the most sophisticated ones made of carbon fiber (very comfortable, resistant and lightweight) for $250.
You have many different models to choose from: full-face, jet, flip-up, off-road… and they are considered by buyers as one of the best Chinese helmet brands on AliExpress.
3. HEROBIKER
Official store: Go to the store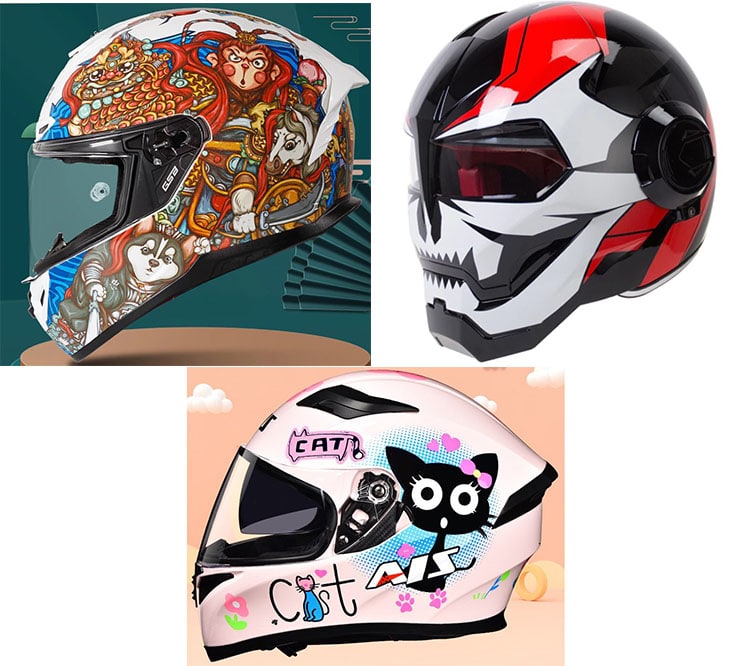 HEROBIKER is designed for people looking for daring and casual designs: very colorful prints, with youthful and original drawings.
Some of their models are inspired by the famous HJC and Shoei helmets.
4. LS 2
Official store: Go to the store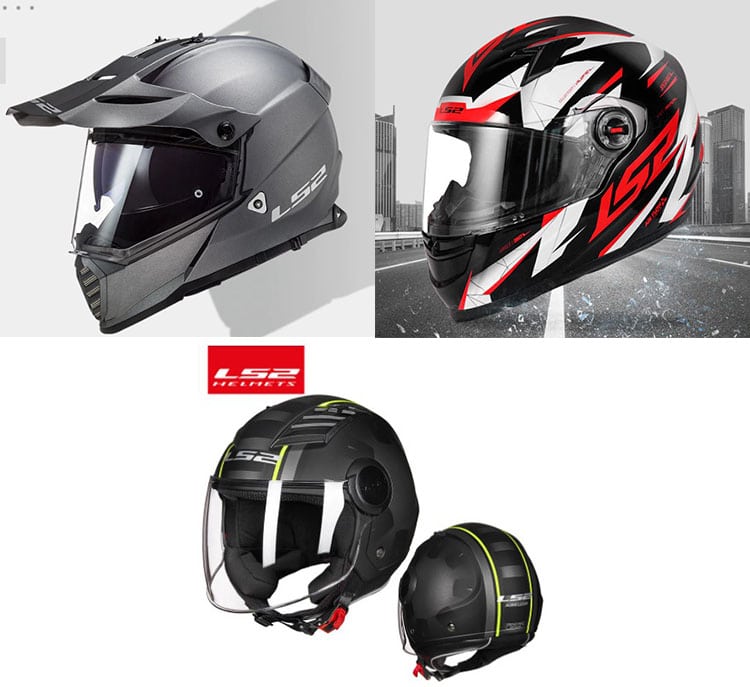 In LS 2 you have motorcycle helmets of all styles and for all budgets.
If you are thinking of investing in a good helmet, here you have many options: although some of the models are more expensive than those of other Chinese brands, their price is still much lower than in any specialized store, despite having comparable quality and designs.
5. ZEUS
Official distributor: Go to the store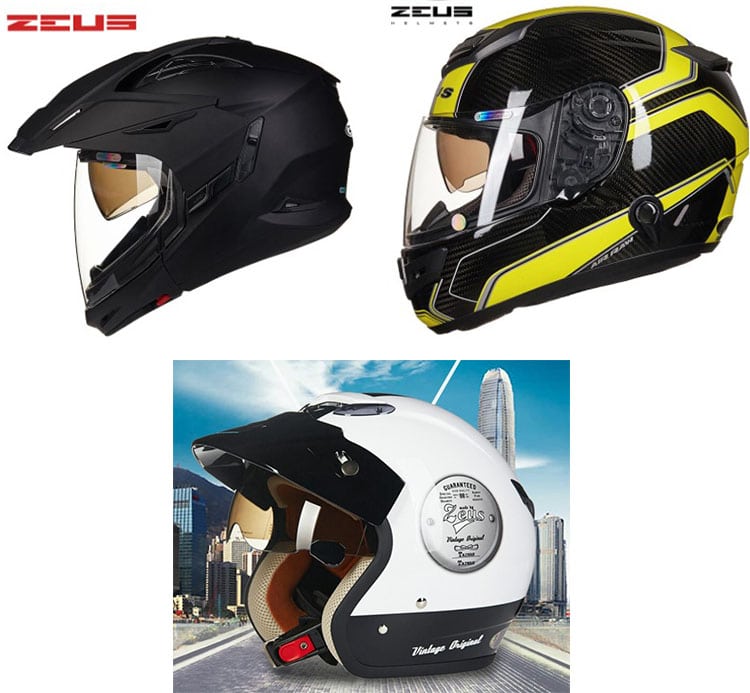 Although it is not one of the best known brands on AliExpress, Zeus has an impressive price-quality ratio and manages to stand up to the premium motorcycle helmet brands.
It manufactures full-face, modular and jet helmets, most of them in carbon fiber, the strongest helmet material on the market. Although they offer economical models, their prices are a bit higher than the previous brands, without going too far.
Their vintage style jet helmets are pure elegance and very functional for everyday use.
DOT approved helmets (USA, Latin America…)
In many Latin American countries, in addition to accepting the European Union ECE/ONU R22 certificate, it is also allowed to ride with helmets approved with the DOT certification of the United States.
Here we leave you with the Chinese helmet brands that comply with the DOT certificate, because if in your country it's allowed, you can buy them and circulate with them without any problem.
6. Orz
Official distributor: Go to the store
Orz is growing in popularity very quickly because of its very low prices, with sober designs suitable for all tastes.
Despite their low cost, remember that their helmets comply with DOT homologation, so they are totally safe.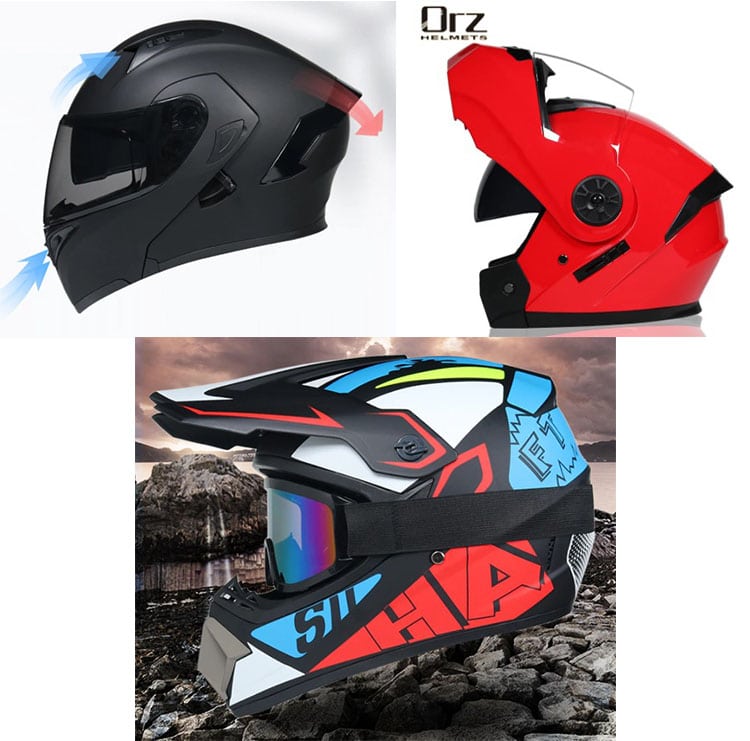 7. MASEI
Official distributor: Go to the store
MASEI only manufactures helmets for the most daring and those who do not want to go unnoticed on the road: Iron Man, Predator, skulls… some models remind us of the mythical movie Ghost Rider.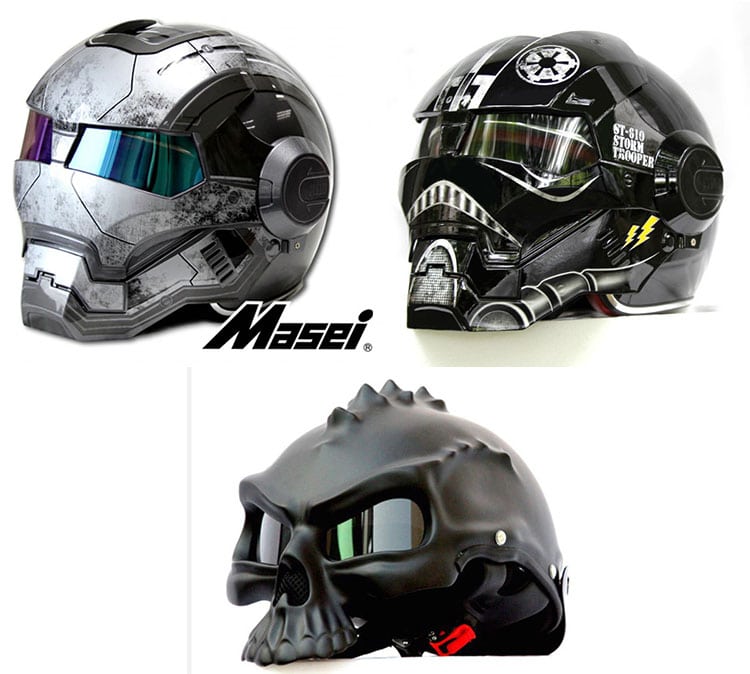 8. Virtue
Official distributor: Go to the store
Virtue designs are inspired by the famous AGV helmets: full-face, modular and off-road helmets with DOT certification.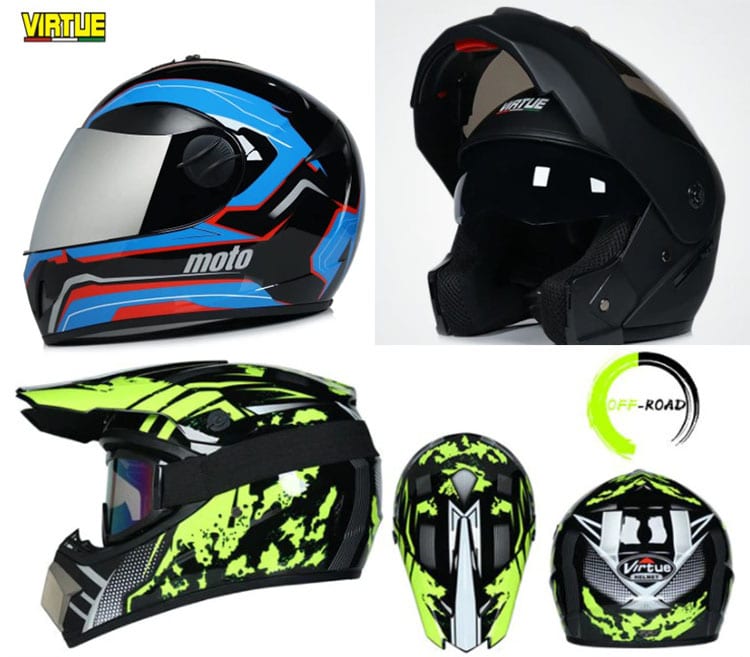 9. KEMIMOTO
Official store: Go to the store
KEMIMOTO also has very youthful models of full-face helmets, if you are looking for something casual but at the same time perfectly protect your head against a strong impact.
They also have helmets in the shape of Iron Man, a little cheaper than those of MASEI and with drawings of Venom or cat ears on the top that give a different and unconventional touch to the full-face helmet of a lifetime.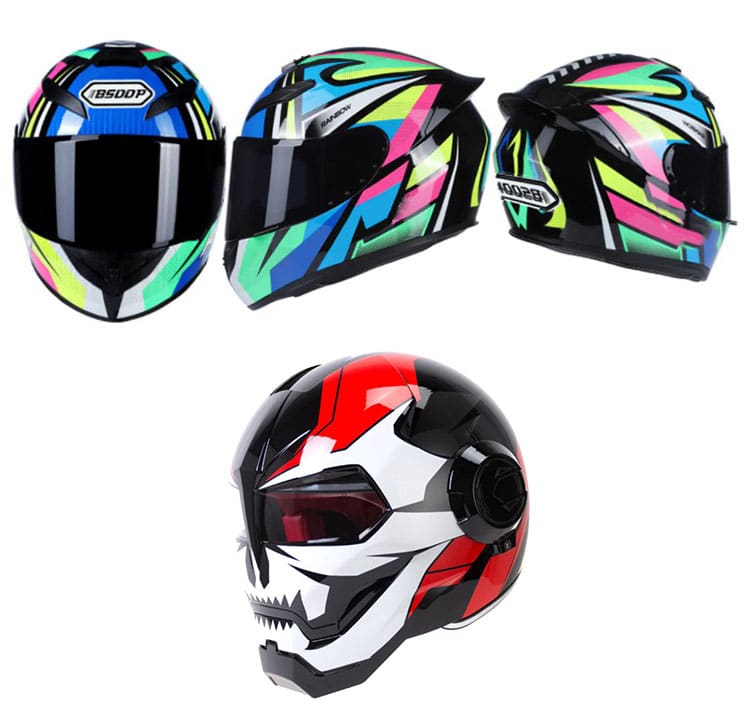 10. GXT
Official distributor: Go to the store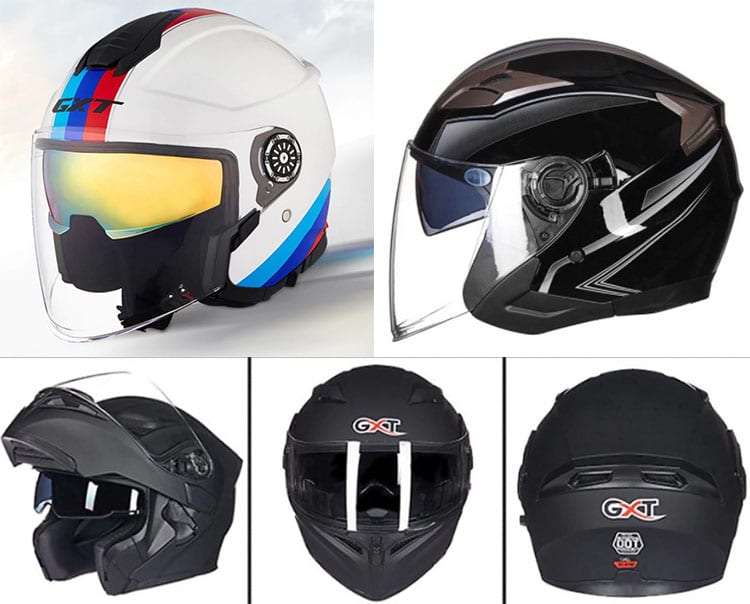 GXT has a wide range of products, although their jet and modular helmets with sophisticated designs and a very recommendable quality-price ratio stand out.
If you are looking for something durable and that you will not get tired of, be sure to keep an eye on this brand.
11. Jiekai
Official distributor: Go to the store
The Jiakei brand has helmets for both the younger members of the household and for those looking for something simple but sturdy.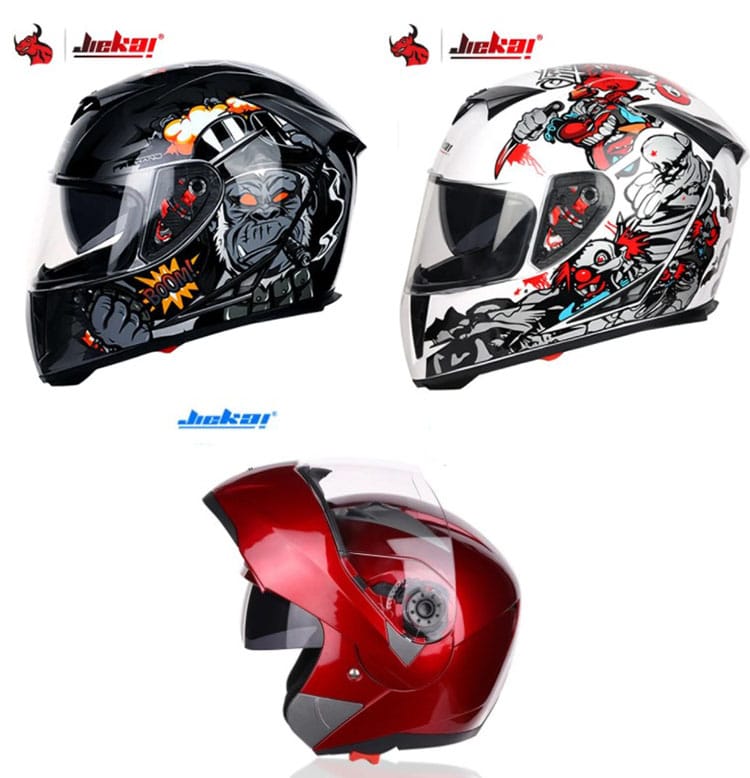 Is it a good idea to buy replica helmets? (Shoei, Scorpion…)
If you are a fan of the most important motorcycle riders and you would like to buy a replica of the helmets they use in their races, from brands such as Shoei, Scorpion, HJC, AGV, X-Lite… you may have found helmets of these brands on AliExpress but at a very cheap price.
Although AliExpress is now very restrictive with counterfeits, it is still possible to find some replica of these helmets in stores with few ratings. AliExpress eliminates these when it detects them.
As we have commented before, if you are a collector of helmets, go ahead and buy them. But it is completely inadvisable to buy them to actually ride a bike: replica manufacturers tend to focus their efforts on imitating designs, so safety guarantees take a back seat.
In addition, many of the recommended brands that we have left you in this article include helmets inspired by high-end ones, so if you search a little, you will find a model very similar to the one you want but with all the guarantees of quality.
See the deals of the day on AliExpress