Last year, a new phone came out taking the internet by storm, this year its still going strong: the OnePlus2. Not only does this phone have incredible ratings, it costs half as much than other similar cheap phones you can find online.
You can find it on AliExpress, a platform well known for the quality of its technology products. Furthermore, the OnePlus is made in China, so the platform can offer it directly, with no need for intermediaries. This also means you can get it a lot cheaper than in most other websites.
Technical specifications of the OnePlus2
After the success of the OnePlus One phone (for more information take a look at this guide), the brand released another model, with even more incredible features. As you can see in the pictures bellow, it has an incredible design. In fact, the OnePlus2 is pretty similar to its predecessor, except for the fact that the back case is rougher and can be changed. Go take a look, I'm sure you'll be impressed by this mid range phone, it has all the features of a high range one!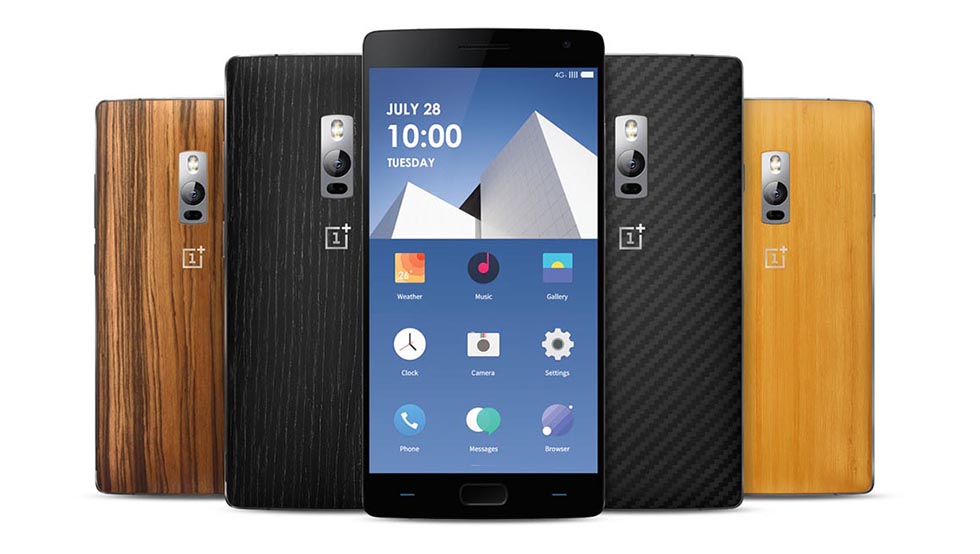 Although the rear cover can be exchanged, the battery of the OnePlus 2 cannot be taken out. Unlike the previous model, the on button and the volumen one are located at the right part of the terminal, while alert button (similar to the silence button found on the iPhone) is the left side  and features three modes: only alarms, only important messages and all notifications. It also has a fingerprint scanner the can memorize up to 5 different fingerprints.On the downside, the OnePlus2 doesn't feature a fast charge system or a microSD.
If you've already used a 5.5 inch phone, switching to this one will be super easy. If not, keep in mind that its size, design (measurements are 151.8×74.9×9.85 mm) and weight (175 grams) are specifically aimed at making the phone easy to carry around, so much so you will barely notice it.
Features of the OnePlus2
With a 5.5 inch LCD screen (Full HD 1080×1920 pixels), the OnePlus2 features a super modern operating system, the Oxygen OS 2.0 which varies from the pure versions of Android but keeps the same features of the Android 6.0 adding a few of its own. As for the processor, it has a Qualcomm Snapdragon 810 with 4GB of RAM, working with four nucleus at 1.5GH and the other four at 1.8 GHz.
The OnePlus2 has a 13 megapixel camera with focal aperture of f/20, optic stabilizer, dual-LED flash and laser autofocus. Furthermore, it can capture up to ten minutes at a time with 4K and includes high definition slow motion and panoramic shop. The front camera is 5 megapixels.
The battery is of 3300 mAh. Other higher resolution phones have smaller batteries, but in this case OnePlus has actually lowered the capacity, the previous one model having a 3.100 mAh one. Not to worry, the phone cant last up to a whole day of constant use, even with the screen luminosity set to its maximum capacity.
Purchasing a cheap OnePlus2 online
The price of this smartphone may vary depending on the storage it has, 16Gb or 64GB. In any case, neither o them goes for more than 400 euros. You can find the 16GB OnePlus2 for 340 euros, and the 64GB for only 60 euros more, around 400. Compared it to other similar models such as the Samsung Galaxy S6 which goes for 650 euros,this is a real bargain.
Another advantage of purchasing a OnePlus2 on AliExpress is that you don't need an invitation to access the sale, like you do with certain makers or Chinese brands, so the purchase is overall a lot faster.
Advice on purchasing a One Plus phone in AliExpress
If you are thinking about purchasing a OnePlus2 on internet, we suggest you get it on AliExpress. In fact, this Chinese platform is widely known for the quality of it's electronic devices and how cheap they are. However, to ensure you make a good purchase, follow these three premises:
The shop's reputation: we always recommend shopping from one with at least 1 diamond. With this kind of rating you can be sure the seller is completely trustworthy.

Description of the product: when it the product is original it will say so in the product description by using words such as "original" or "100% original".

Ratings and comments left by previous customers: this will help you get a better idea of what to expect when it comes to both quality and shopping experience.
The best shops to purchase OnePlus 2 online
Keeping in mind the premises above, we've selected some shops with excellent ratings in AliExpress that offer cheap OnePlus 2 phones.
Best credit Technology

(1 crown): a shop specialized in cellphones with a wide stock of OnePlus 2 and great ratings.

Bloomberg Mikki

(1 crown): this Chinese seller specialized in technology is one of the best rated by customers. Safe and realiable.

AXL Store

 (5 diamonds): it may have less reputation than the other two but it's still pretty good. You can find a OnePlus2 for 340 euros.
If you choose any of the three shops above, you can be sure you will be making a good purchase, so go ahead and give this incredible phone a try.