Currently, there are thousands of good and cheap tablets in the market. So figuring out which tablet to buy, is becoming a real dilemma, not only the fact that the number of opinions available is huge, but there are so many features you have to take into account, such as the type of screen, the operating system (Windows tablet or the Android one?), storage capacity, hardware, camera, battery life, etc…
To be honest, the best advice we can give you is to get the tablet that best suits your necessities and, most importantly, your budget. Lucky for you, in AliExpress you are going to get the best prices no matter what tablet you decide upon. 😉
What tablets can I find in AliExpress?
As a general rule there are two pre-established sizes: the 7 inch tablets and the 10 inch tablets. As for pricing, if you are interested in buying a famous branded tablet (like Samsung), you can find 7 inch tablets for 200€ and 10 inch ones for 300-600€ (obviously you can also find the latest generation tablets, as long as you are willing to pay over 600€).
At the same time, we can't forget Chinese phone brands, growing bigger everyday and establishing themselves as rivals over big electronic companies worldwide. In fact, in AliExpress, as well as selling tablets from traditional brands, you are also going to find a wide range of cheap Chinese tablets (a lot of them using the exact same manufacturers that big electronic companies use).
How do I start my search for cheap tablets on AliExpress?
As we already mentioned, whenever you decide to buy a tablet make sure you know exactly what you are going to be using it for. If you are looking for a tablet you can take around and use for reading, or to check your social media on the bus, we recommend you choose a cheap 7 inch tablet.
But if you want a more professional one, to write, edit text or watch movies in HD, you might want to go for a bigger model, like the 10 inch. Furthermore, most 10 inch models offer great tablet accessories, such as keyboards, external batteries or cases.
Best steps to finding great tablets
Every time I have to buy an electronic product from AliExpress, the first thing I do is look at this shop. At this point, you should have heard about it, but if you haven't it's high time you knew that Goldway is the leading shop in technology in all the AliExpress platform. Clicking on this link you can see all the tablets it sells sorted by number of sale.
Another good option is to go to the category "Tablets" and sort them by sales (here you have the search already sorted), or by "Best rated" as you can see in the following image: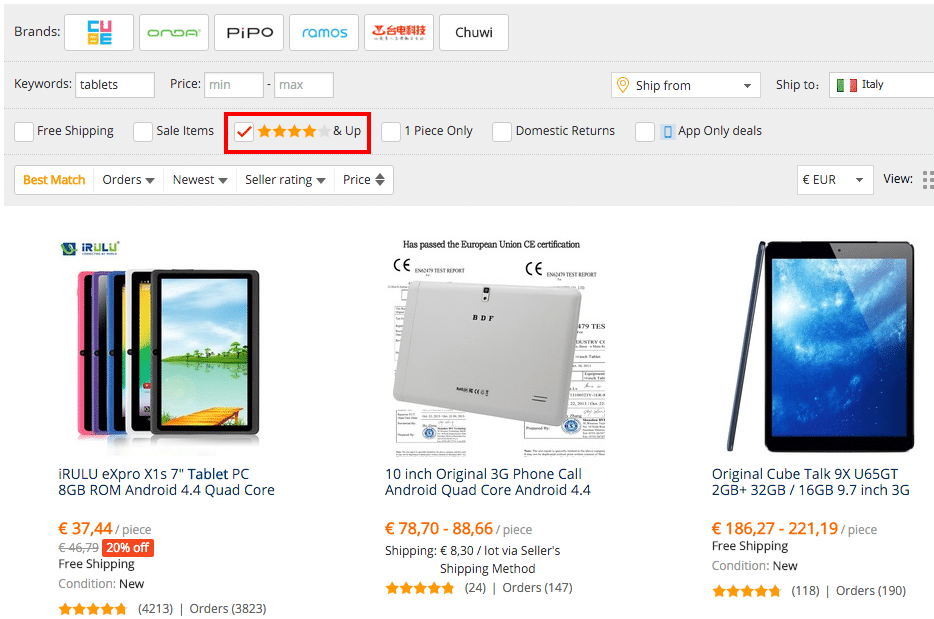 Another useful tool is the tablets "shopping guide" section, where you can find the best selling tablets in AliExpress.
Looking for tablets like Lenovo, Xiaomi, Huawei, Samsung…
Unlike most clothes brands, technology products are very easy to find because they aren't actually replicas, because the suppliers are authorized (apart from a very few exceptions). In any case, we aren't going to have to use acronyms.
What you should know is what filters to use in order to find the best deals on tablets, that's why we've made a list of searches and manually filtered them for you:
Beyond these, there are a couple more brands that you might not have heard of but are pretty well priced and are selling like crazy in AliExpress: Irulu and Chuwi.
Things to take into account when choosing a seller
The positive thing about AliExpress is the fact there are so many sellers, it's not necessary for you to take any risks by buying products from sellers with no reputation, seeing as you can choose from the best stores.
That's why we always advise our readers to sort results by rating: this way, you will be able to see the best rated shops from the beginning and avoid running into less trustworthy ones. In fact, no matter how safe AliExpress is, it's always a good idea to be careful and buy only from trustworthy sellers. How do I know if an AliExpress seller is trustworthy? Simply check these three things:
The shop's reputation: if a shop has at least 1 diamond, you can rest assured that it's 100% trustworthy.
Customer ratings and comments: you'll be able to read comments by real people buying tablets in AliExpress.
The occasional AliExpress "Guaranteed Authenticity" stamp. Some stores, especially the oldest ones, have a stamp that guarantees the quality of the product and its 100% originality.

Are you too lazy to find the best tablet shops? Don't you worry! We've already made a list for you.
The best tablet shops in AliExpress
We've asked some friends and readers with a lot of experience buying tablets for advice, and after a bit of investigation, we've made a small selection of the best shops in AliExpress to buy quality cheap tablets: Chinese tablets, Widows tablets, Android tablets… All of them for incredible prices!
What tablet to buy: my personal opinion and some useful advice
I personally have this tablet and I couldn't be happier with it. It's one of the most sold tablets in AliExpress apart from the fact that Xiaomi is a great brand.
But don't just listen to me, take as much time as you need to choose the right tablet for you. Think about what you need, and especially, how much you can spend. Once you are clear on these things make sure you find a top rated seller to avoid any bad experiences.
Also, you might want to take a look at the return policy the sellers offer, just in case you decide to return it. Finally, remember you can always contact the seller directly: they will help you decide and give you all the information you need on the product.