A lot of people go to AliExpress looking for replicas of famous watch brands (Omega, Rolex, Hublot, Panerai, Casio, Tag Heuer, Cartier…), but there is a lot to say about Chinese brands as well.
Chinese watches are slowly becoming more and more popular for being affordable, having a sophisticated design and topnotch technology. Forget about "Chinese" being a synonym for low quality: watches such as Curren, Lemfo, Shark, Weide, Megir…are far far away from the classic Chinese watches you could find in a dollar store.
There are Chinese brands specialize in all kinds of watches: there are brands for women and men, classic or modern, smart watches, cheap ones…all of them worth looking at.
Let's take a look!
Top Chinese watch brands better than replicas
Lemfo: the ultimate Chinese smartwatch
Are you looking for an affordable smartwatch? Lemfo is the ultimate Chinese smartwatch and the best option for those that cant afford an Apple Watch but want to try out one of these devices.
Lemfo Lem1: the "Chinese Apple Watch" in AliExpress everybody wants
This is a "high range" watch, and we use quotation marks because even thought it is Lemfo's star product, the Lemfo LEM1 only costs 70 or 80€. In theory, the watch is much more expensive, but reality is most sellers are offering it in this range of price.
It's a Chinese smartwatch with some pretty good features.The best part being its appearance: a unisex watch available in three colors (silver, gold and black); made of stainless steel and with a comfortable and resistant leather strap that comes in black or brown, depending on the seller.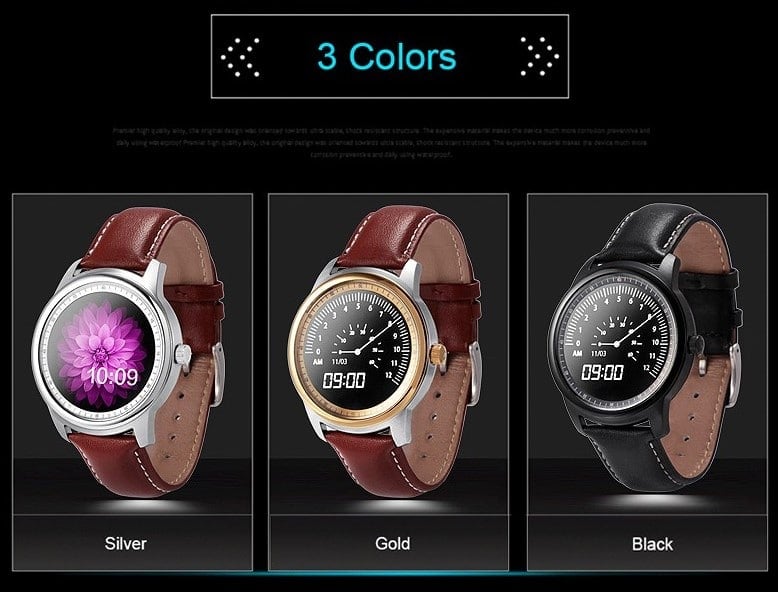 The screen is Full HD and it has a reasonable size: 0.98 centimeters, almost a centimeter.
You can see an unboxing video here:
As you can see in the video, there are a few choices when in comes to the watch's appearance, one of them very similar to the Samsung Gear S2.
It charges through a magnetic charger that attaches to the back of the watch.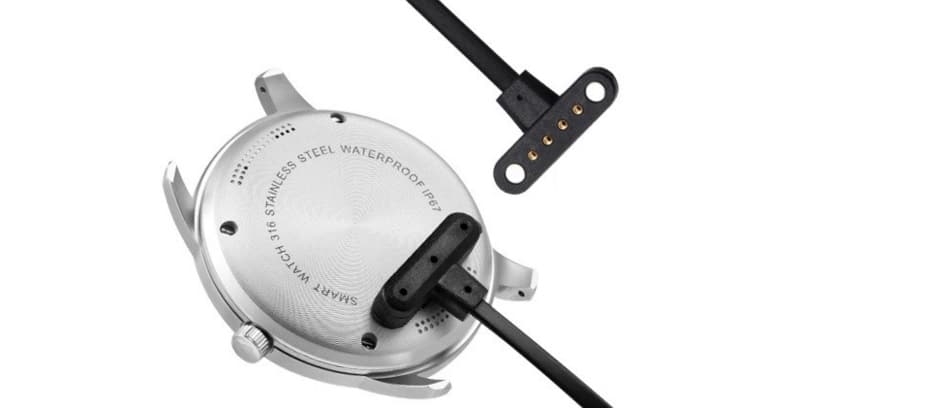 It features a remote control for music, pedometer, sleep monitor, water resistant…as well as a Siri voice, which you can use for calling, looking up information, or anything else you might need, just like you would on your telephone.
Another interesting feature is the remote control camera: you can take pictures with your phone by just selecting the option on your watch.
Other Lemfo watches better than replicas
We've talked about the Lem1 because it's one of AliExpress' star products, but Lemfo has other interesting and attractive models. One worth mentioning is the Lemfo LF07, very similar to another very famous smartwatch: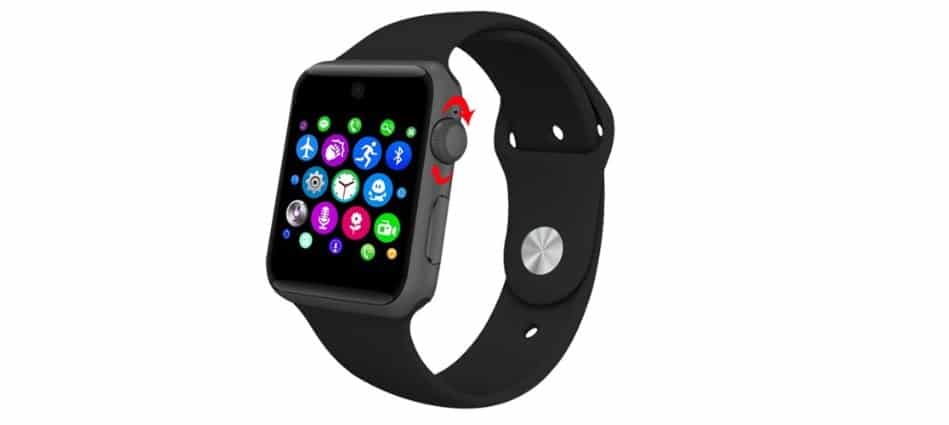 🙂
Take a look at our article on Lemfo watches to read a complete analysis on the brand or click here to see all the Lemfo watches AliExpress has to offer.
Curren: watches almost as elegant as a Rolex…for only 10€
Main article: Curren watches
Curren is a very well known Chinese brand, just take a look at how many sales on AliExpress. We were surprised to see just how many sales it had, so we took a look at previous customer reviews to confirm what we already suspected. The price has nothing to do with the quality. They have models for both men and women.


As you can see in the image, there are tons of different models, some more casual, formal, sporty or classic, all for less than 20€… Don't think their price is everything: Curren has been making watches for many years now and all their items come with a guaranteed certificate.
Here you can see a man unboxing of two Curren watches (in Portuguese):
You can take a look at Curren watches here.
Thousands of sales in AliExpress
The best selling model is this one: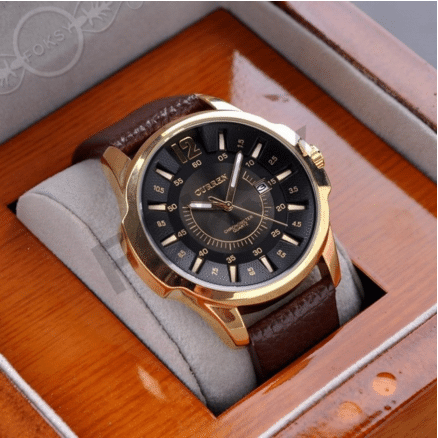 It goes for about 10€ and has excellent ratings. It's made of stainless steel and is water resistant, but sellers don't really recommend taking for a swim or training with it.
Take a look at our article on Curren watches or check the Curren catalogue in AliExpress by clicking here.
Shark: sports watches for 30-50€
Main article: Shark watches
Another brand that people seem to be talking about lately is Shark, with an incredible amount of sales in AliExpress. The brand is almost 20 years old, but it only became popular a few years ago, when occidental customers started purchasing them in AliExpress.
Their sports watches are very pretty, and for what we can tell from comments left by previous customers and forums, they are really good.
Here is an unboxing video of a Shark watch:
How to find Shark watches in AliExpress
For some reason, when you try looking for "Shark" in the AliExpress search tab, you don't get many results for the brand, so try looking in the Timezone shop instead, they have the largest selection of Shark watches in AliExpress. In fact, the shop is recommended by Shark itself on their official website.
Geneva watches: their name might sound Swiss, but their price sure doesn't
Geneva: Watches by this brand (Chinese, not Swiss, don't let the name confuse you) are one the best deals you can find in AliExpress. For less than 5€ you can have a very cool watch indeed. Their models are selling by the ton and their most popular one is this one: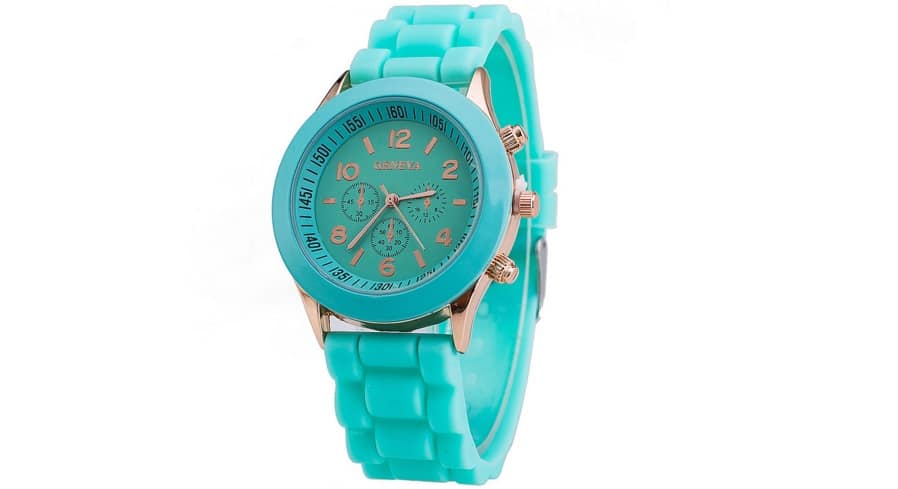 It's a simple model, available in very bright colors and features a very comfortable rubber strap. Here is a video review:
Megir: sophisticated style for 15-25€
Main article: Megir watches
Megir is one of those brands that could easily be confused with a high range men's watch brand. That's until you take a look at the price, nothing like those upscale three figure watches.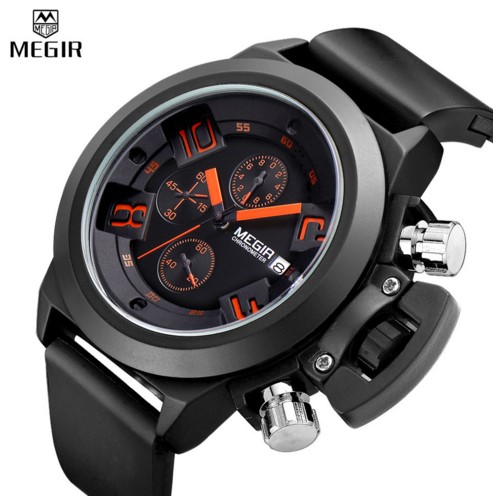 Megir watches use excellent quality materials, such as quartz or Hardlex hard glass, have a timer, are water resistant and have great features such as the comfortable strap or their adaptability to sports activities.
Here you have a review of their watches:
Available in AliExpress from 30 euros
Naviforce: Citizen Aviator style for only 15€
Naviforce isn't a Chinese watch (it's Japanese), but we included it because it's one of the top selling brands in AliExpress and I personally have a weakness for them. I don't want to say much more, but just to give you an idea, I bought a Naviforce 9044 for 29€ and I'm incredibly happy with it: it's a beautiful watch :).
Here's an unboxing of another Naviforce model:
You can see all the Naviforce watch in AliExpress here
Feifan: minimalist watches for 4-6€
Feifan watches are quite unknown in most European countries, but they are an interesting option to consider if you are look for cheap and minimalistic watches. The most popular models cost 5€ and have thousand of sales.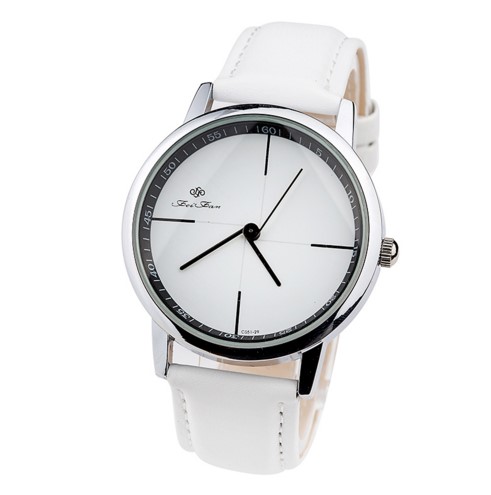 This Feifan model is also available in black and only costs 6€. Looks like a high range model doesn't it? Personally I'm in love with it :).
Soki watches: inspired by the Rolex Submariner and other topnotch models
Soki: Affordable quality watches? Let's take a look at these Soki watches. They have a beautiful sporty design and one of their models has almost 13.000 sales and is one of the top ten watches in AliExpress.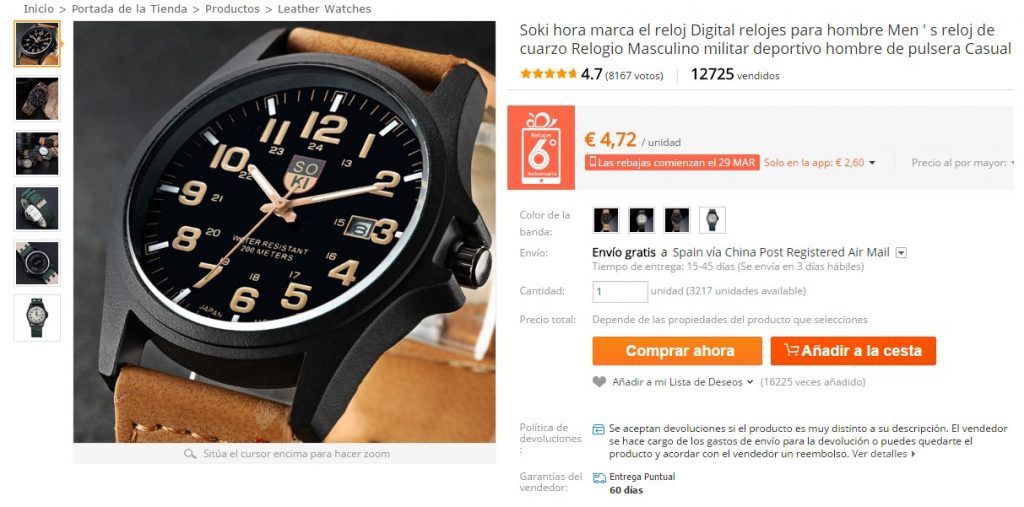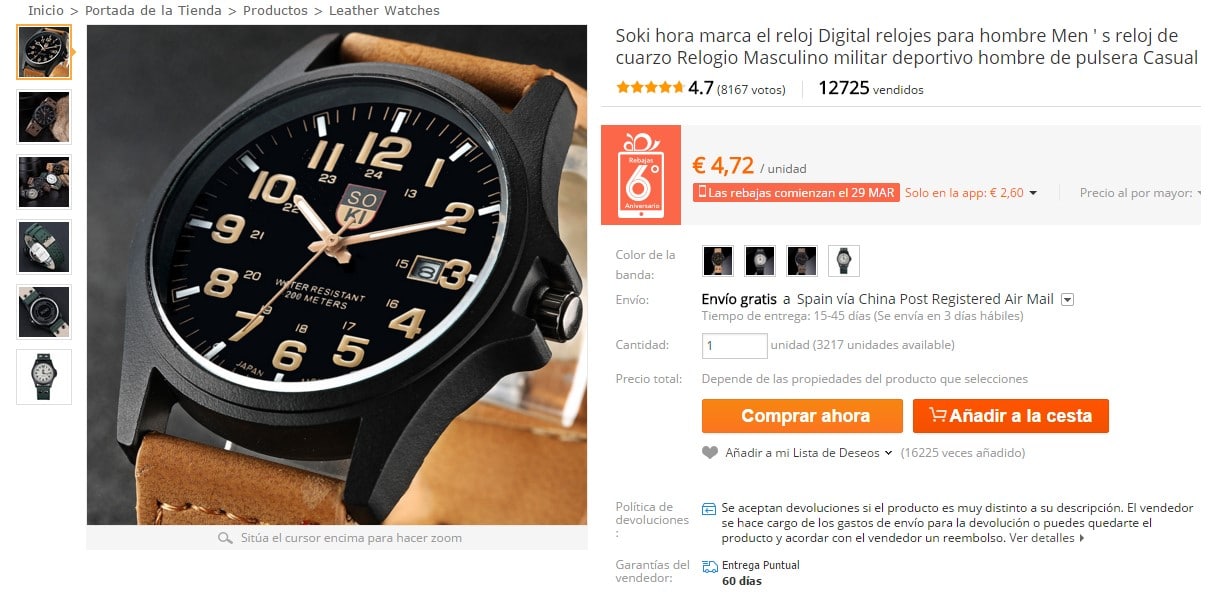 They also have a line that is most certainly inspired by the Rolex Submariner: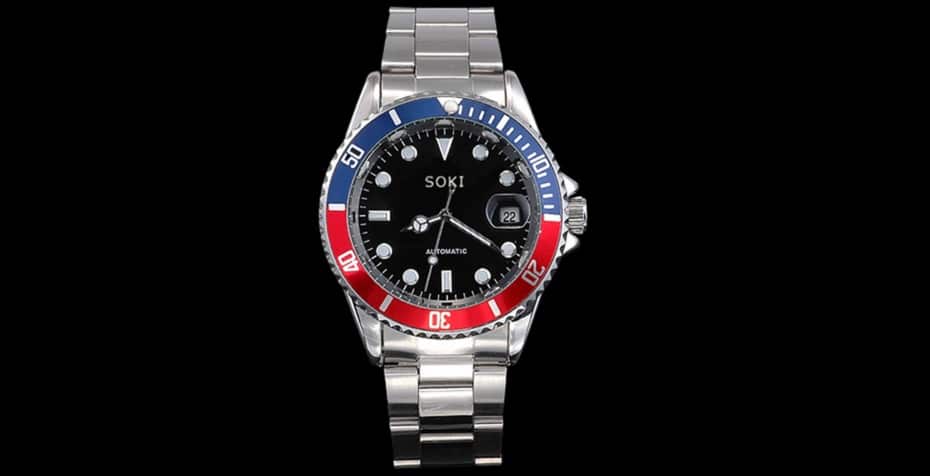 As pretty as they may be, I have to admit I must like their own personal line better. You can see the rest of Soki watches in AliExpress here.
Beinuo and Sinobi
Another two Chinese watch brands that you might want to check out are Beinuo and Sinobi. You can find a wide range of men's sports watches and other more classic ones, all of them super cheap. They aren't spectacular, but may adjust to what you are looking for.
What about the quality of these Chinese watches?
As a general rule, all of these brands are very well known and produce both replicas and their own collections. They can offer cheaper prices and save on manufacture because they don't use any intermediaries. No wonder Chinese brands are becoming so successful, especially considering they are using the same materials as big occidental brands.
You might not be purchasing a Michael Kors or an Armani, but to be honest these models have nothing on them, and I can assure, you if you buy one for yourself or as a present you are going to be just as happy.
Remember that Lemfo smartwatches are incredibly popular in AliExpress and they are super affordable. Finally don't forget to purchase them from a trustworthy seller, with good reputation, lots of sales and plenty of positive feedback from previous customers.
Was this article useful? Do you know any other good brands? Tell us about it 😉
See all the watches AliExpress has to offer.