Xiaomi has really outdone itself with its smart band Xiaomi Mi band! With its incredible features and affordable price, this new gadget is ready to go head to head with the biggest brands out there. After only a few months and with the new Xiaomi Mi Band 2 about to be released, today we are going to talk about this great gadget including its design, functionality, features and operating system.
Xiaomi Mi Band Design
The Xiaomi Mi Band is made out of two simple parts: on one hand the light comfortable rubber strap (available in all sorts of colors), and on the other hand, it's made out of aluminum and fits perfectly in the center of the strap.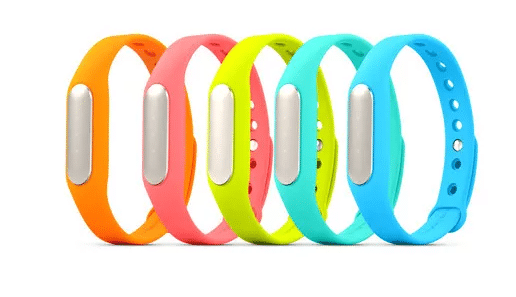 Xiaomi Mi Band sold in Hong Kong Goldway
As you can see it has a minimalistic simple design that is both discreet and elegant, perfect for any kind of wrist. It also has three discreet leds that show notifications from your phone, battery life and progress on our goals.
Xiaomi Mi Band features and functions
One of the best features of the Xiaomi Mi Band is that, even with its minimalistic look and affordable price, it really does have a lot of interesting functions and features:
Water resistant (IP67 certification), so you can take it in the shower or even to the sea.
Great autonomy: the battery life can last up to a month without charging, so you don't have to rely so much on having a charger at hand.
It has a fitness monitor, so you can count the steps you take, the calories you loose, visualize your progress and set goals.
You can quantify your sleep: it calculates the time you sleep and your REM cycles.
Its compatible with Android 4.4 and further models and Bluetooth 4.0.
It has a special application for Android, called Mi Band, through which you can control your smart band.
As for how it compares to the new Xiaomi Mi Band 2, which will be released in the following months, it is said it has similar features but will add a sensor to measure heart rate.
To sum it up, you are looking at a great gadget with all the great features an activity monitor should have, at a ridiculous price: you can find original Xiaomi Mi Band in AliExpress for only 12€!
Buying Xiaomi Mi Band in AliExpress
There are loads of top rated shops in AliExpress selling the Xiaomi Mi Band for much cheaper than other platforms such as Amazon, eBay or Rakuten. Here is a list of the best shops in AliExpress to get this band:
Eternal Team – This shop (3 crowns) is one of the most famous phone and electronic shops in the platform.
Hong Kong Goldway – This shop has a great reputation (2 crowns) and a wide range of cheap phone devices..
X Show Technology – Don't miss out on the offer this shop (1 crown) has: not only do they have Xiaomi Mi Band, they also have a wide range of cheap smartphones.
Important
Before you get a Xiaomi Mi Band in AliExpress, make sure you check the sellers reputation (if they have at least a diamond you can be sure the shop is trustworthy); comments and reviews left by previous customers (this will help you get a better idea of what you can expect); the buying conditions and return policies (in case you want to give the product back) and, if you have any doubts, contact the seller directly to get more information. 🙂