It is becoming easier to find quality Chinese alternatives to Apple's very expensive AirPods. We already have a Guide on the best AirPods type headphones, and recently we also analyzed the famous Xiaomi Airdots Pro, the best alternative to Apple headphones. Today we are going to talk about the new Xiaomi Redmi Airdots, which are succeeding in sales. We will explain how to get them even cheaper on AliExpress.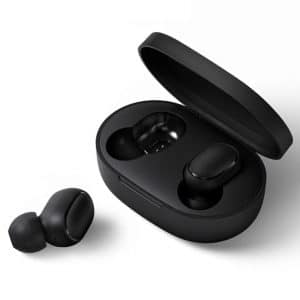 Xiaomi Redmi Airdots Headphones Features
The days of wired headphones are counted, and there are fewer and fewer phone brands that incorporate an audio jack output. Besides, with the evolution of wireless headphones, it is now possible to enjoy incredible audio quality without interruptions.
So decent quality wireless headphones at a very low price are guaranteed success, as it is an almost unexploited market where we often find poor quality products. That is why Xiaomi has decided to launch the new Redmi Airdots. In the company, the Redmi range always comes with an affordable price and surprising quality.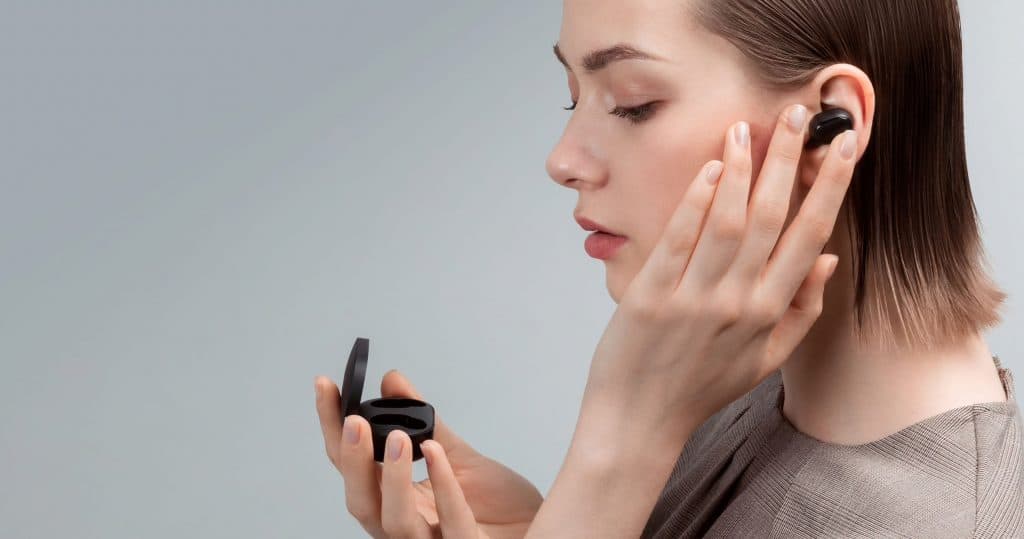 The design is very similar to those of its competitors: it differs from the shape of the Airpods, being a little larger. Still, they are comfortable in the ear. They come in a fairly compact box that allows us to transport them comfortably, made of polycarbonate. This box acts as a charger, as it includes a micro USB socket, and the headphones are anchored magnetically.
They are very light, each earphone weighs only 4.1 grams and the set with the included box about 35 grams, so they are easy to transport. They also include 3 sizes of ear cushions so that they adapt perfectly to your ear. The box has a charging capacity of 300 mAh and each earphone 40 mAh so we can charge almost 4 times. The full charge lasts 1.5 hours, while the box is fully charged in just 2, so we can always have our headphones ready without much effort. With a single charge, we can enjoy 4 hours of continuous playback.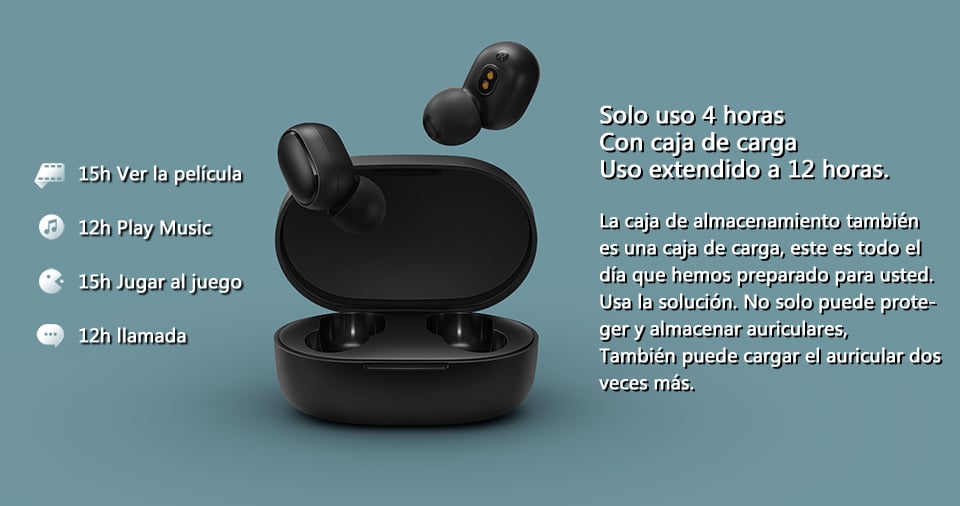 In terms of sound, although we obviously cannot say that they are on the same level as other headphones that cost twice or triple, we can say that they sound really good given their price. They are equipped with a 7.2mm moving coil, also, thanks to their DSP noise cancellation technology, ambient noise will be reduced, and we can achieve better sound quality. Of course, we can only increase the volume through the mobile.
They have an actual button that allows you to control them without using the mobile: by touching it twice, we will activate the voice assistant, and a single touch will activate or pause the music. With this button, we can also answer incoming calls or reject them. We will only have to take out the mobile to change the song or increase the volume. These headphones have IPX5 resistance so we can use them for sports without worrying about sweat.
Pairing these headphones with our phone is very simple. The first time we will have to press the physical button and wait for the led on the headset to show red and white lights flashing. Then we can link it via Bluetooth. For the following uses, we will only have to take the headphones out of the box so that they connect automatically. The Bluetooth 5.0 connection ensures a stable and seamless connection.
In short, these new Xiaomi headphones offer good value for money and have all the functions that we can look for in wireless headphones with a fairly decent autonomy. The only weak point is that the charging box does not show the state of the charge, which can be somewhat uncomfortable not knowing if we will run out of battery soon.
Xiaomi Redmi Airdots vs Xiaomi Airdots vs Xiaomi True Wireless
While Xiaomi True Wireless or Xiaomi Airdots Pro are very similar to Apple's Airpods, the first two (Redmi Airdots and Airdots) are very similar in terms of aesthetics although, obviously, True Wireless have a better sound quality and more autonomy because the other two are focused on offering good value for money..
But between Redmi Airdots and Airdots there are few differences. They have the same autonomy (both in the headset and in the box), the same usability, and similar size. However, Redmi Airdots are smaller and have a physical button instead of a capacitive one. They are also black while the Xiaomi Airdots are white. For their low price, the Xiaomi Redmi Airdots are even better than their older brother.
How to find Xiaomi Redmi Airdots at a lower price on AliExpress
The best way to buy Xiaomi Redmi Airdots on sale is by AliExpress. This page has thousands of sellers competing to offer their products, so we will always find the best price: you can find Redmi Airdots with shipping from China for just over US $18.
Remember that on AlixBlog, besides analyzing the best products and having news all the time, we also help to solve your doubts, that is why we have a section with tutorials in which we explain our tips and tricks for you to buy safely on AliExpress: what payment methods are best, which are the best shipping methods, how to know if a seller is reliable, what discounts are offered and how to get coupons. In our Essential Buyers Guide for AliExpress you will find a summary of everything you need to know.
What about you? What do you think about these new Xiaomi headphones? We would love to know your opinion, so please leave your comment below and tell us about your shopping experience.