If you have not shopped yet at AliExpress, then you're one of the lucky ones, because you are entitled to great discounts on your first order.
Today we'll tell you everything you need to know to get a bargain on your first purchase, so you no longer have excuses to finally try this marketplace that we have fallen in love with.
How to get discounts on your first order
You can save on your first purchase in one of two ways:
These two options are not cumulative, but we give you a hint on how to choose either one: the welcome coupon is applicable for any AliExpress product, so you should use it if you are clear on what you want to buy.
On the other hand, the 1 cent offers are ideal for when you don't need anything urgently and just want to take advantage of the bargain.
But… let's take a closer look at both discounts.
Welcome coupon
There is always a coupon for new users whose discount may vary. Right now there is one with which you can deduct $2 to your purchase as long as it is at least $3. To get it just click here, click on Coupon, and click on "Get now".


AliExpress will ask you to register on their site to save your welcome coupon automatically.
Remember that this coupon is only valid for your first purchase and it also has an expiration date, so we recommend that you do not think too much about your purchase and use it before it expires.
Offers for new users
Items at $0.01
If you prefer, you can also buy any of the selected items here for $0.01.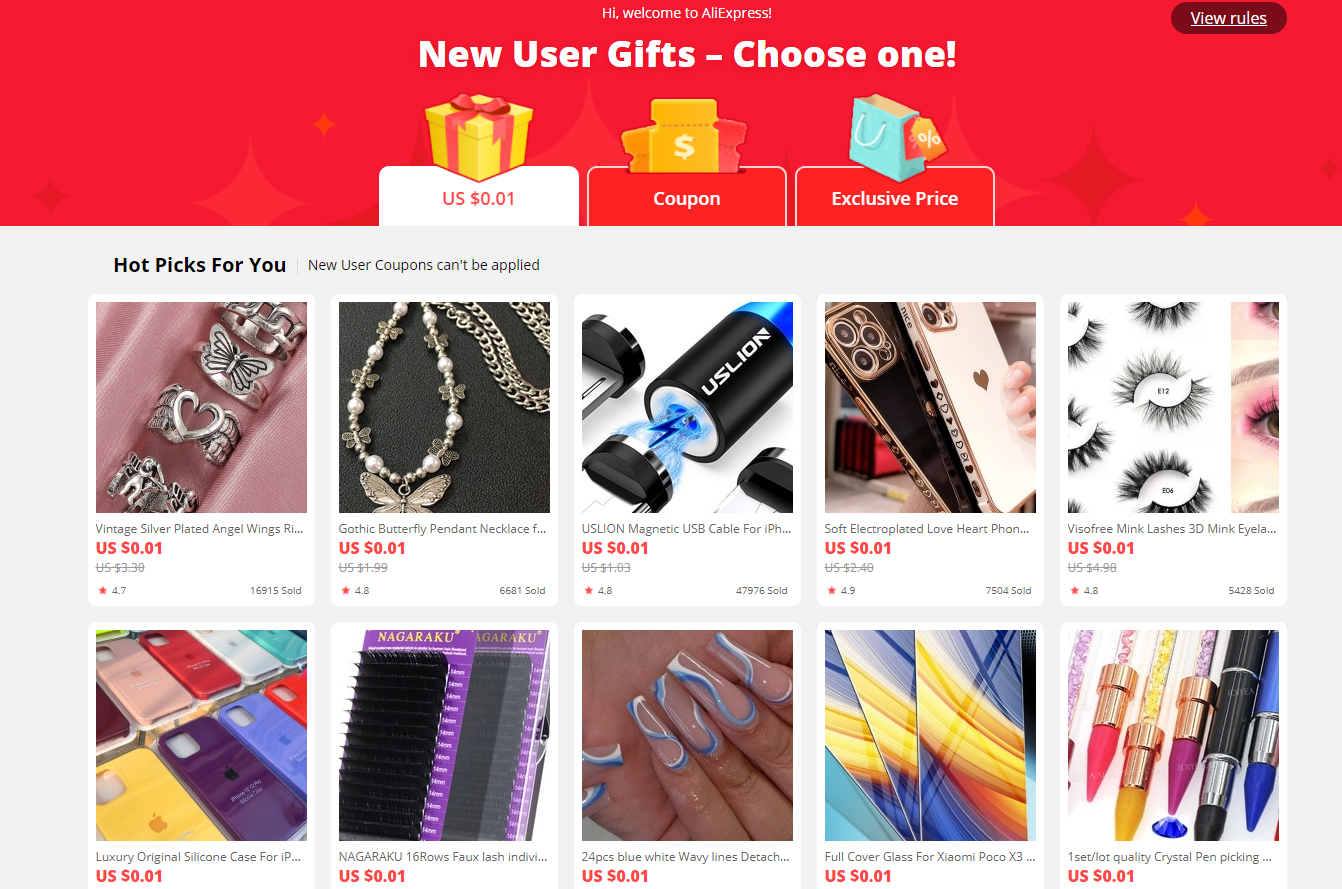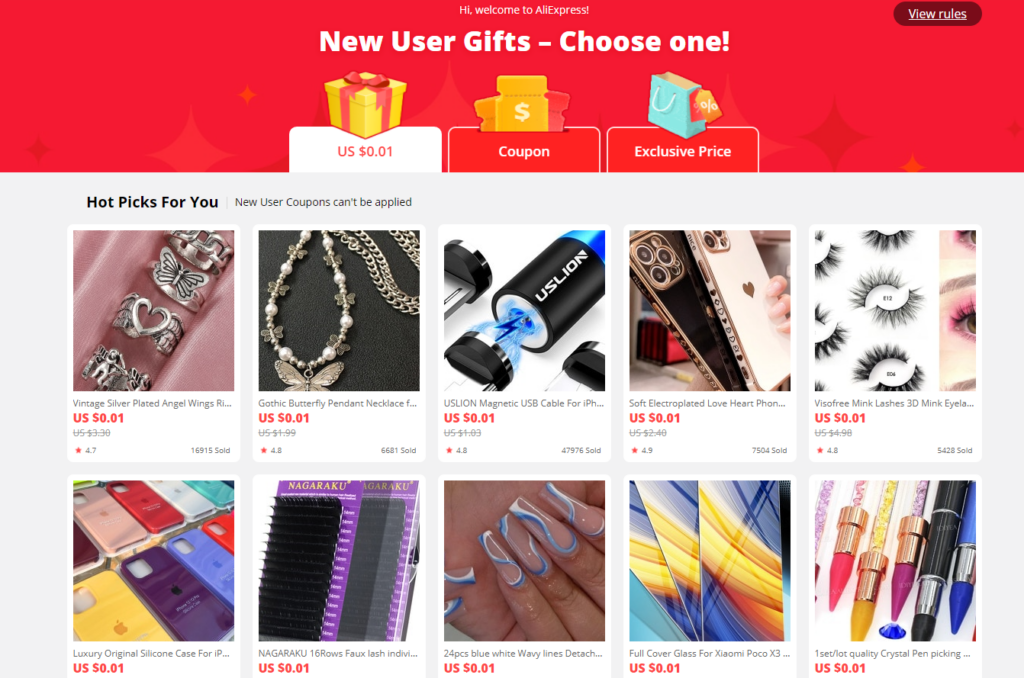 The truth is that there is a wide variety of products and if you dig around a little you will find very interesting items: wireless headphones, home gadgets, clothing…. And you'll get them practically for free.
Super Deals with exclusive discounts for new users
Finally, AliExpress also has a great selection of products within its Super Deals with exclusive discounts for new users. You can see them all directly here.
The range is much wider in this section, although the items have a smaller discount than the previous ones.
How do I use my new user discount?
First purchase coupon
Using the discount coupon for your first purchase is very simple: when you have your order in the cart, click on checkout and your coupon will be automatically applied to your purchase without you having to do anything (as long as you meet the minimum condition currently: a $3.00 purchase).
Easy, isn't it?
New user bonus
You won't have any difficulty to see how the new user bonus works: if you already know what you want, add it to your shopping cart and click on checkout.
You will see how happy you will be when you see that your first purchase on AliExpress will cost you just a little money.
Of course, you can only buy one item at $0.01 or with an exclusive discount from their Super Deals.
How to get even more discounts
Many sellers offer an extra discount on items in their store with so-called "Store Coupons" or "Seller Coupons".
The best part is that these coupons can be combined with your new user code or coupon, so the final price can be a real bargain that you can't pass up.
How do I find the store coupons
You can find these coupons in the item description, under "Discount and Coupons" or also on the front page of the store.
If you click on "Discounts and Coupons" a drop-down will open with all the available coupons: choose the one that suits you best and click on "Get Coupon".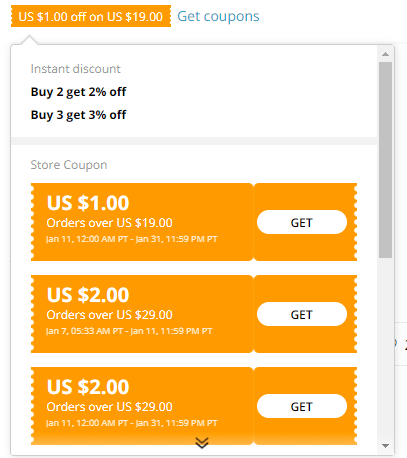 Store coupons have a minimum purchase amount: the more a product costs, the more discount you will get.
These coupons are completely optional on the part of each seller: there may be items that do not have them available (although we always check before making any purchase, to see if we can save something).
Where can I check all my coupons?
We've already explained how to get your welcome coupon and store coupons, but now you may have no idea where you can check all your coupons for conditions and expiration dates.
We make it easy for you: click here to go directly to all your coupons.


Just choose between AliExpress coupons and seller's coupon to see the conditions of each one.
How to get more coupons
Did you know that getting AliExpress coupons is easier than it seems?
While on other online stores you can only get discounts after spending your money on some purchase, on AliExpress there is a better and cheaper way: being active on their website or app.
How can I be more active on AliExpress?
To do this, you will have to participate in the different games that you will find on AliExpress or by completing daily missions that will be proposed to you to get AliExpress coupons, store coupons or coins that you can later redeem for discount coupons.
If you still don't know what this is all about, in our post on AliExpress coins we explain it in more detail.
Invite your friends to register on AliExpress
You can also get coupons for each new user you invite and register on the website.
For every friend that successfully completed their first order, you'll get a US $5 coupon to help you save money while shopping.
If your friends are new to AliExpress, they will get US $19 in coupons to get them started.
You can get up to 10 coupons every month via inviting friends. After earning 10 coupons, you won't get more of them but you can still invite friends.
Also, if you want to know how to get more AliExpress discount coupons and promotional codes, you can't miss this article.
Frequently Asked Questions
Can I combine the coupons and the bonuses?
As we have already told you, these discounts are not cumulative and also you can only buy one unit (either from the $0.01 selection or with exclusive discount for new users of the Super Offers).
If you add two of these products, when you go to pay you will see a message like "You can only purchase one New User BONUS or Super Offer Express deal at a time. Please make your final selection to continue.".
How can I remove the first user bonus?
Maybe you already got the AliExpress new user coupon, but you prefer to use the bonus with a $0.01 offer or with the Super Deals discount (you can only choose one discount).
If you want to remove the AliExpress coupon that is automatically added at checkout (so you can use the bonus), you have to go to your order summary, click on "AliExpress coupon" that has been applied and then select "Remove":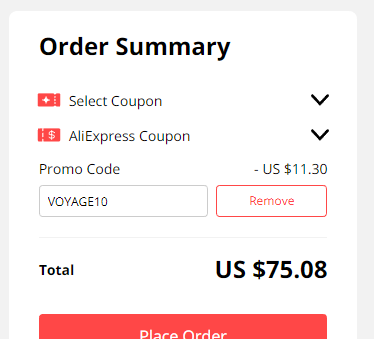 So your purchase will automatically appear with the bonus offer price of $0.01.
Can I get any product for $0.01 on my first purchase?
No, not all items are available for 1 cent, only the ones you will find at $0.01 in this list and the ones that have exclusive discounts for new users here.