If you have a bike, but you don't have lights yet, you've come to the right place. Lights are essential to improve your safety while cycling, however, in many stores they are too expensive. Luckily nowadays you can buy online and save money.
And for this particular reason, we recommend AliExpress, where you can find all kinds of super-cheap products and also products from brands specialized in cycling accessories.
Below we are going to explain in detail how to find the bike lights that best suit your needs.
What lights should a bike have?
Generally, all bicycles should have two lights: a white front light and a red rear light. In addition, you can also carry a front light on your helmet or lights on the pedals, but this depends on the type of cycling you do and the environment in which you will be riding.
Are bicycle lights mandatory?
It depends on the country. In some places of Europe, authorities indicate it's compulsory to have bicycle lights on at night. During the day it's not mandatory, although they're recommended to improve your visibility.
The police can also stop you if the light is annoying or insufficient. Therefore, although the regulations do not indicate what type of power should be used, it's better to buy lights that fit the environment where the bike will be used.
As for flashing lights, which can be annoying for other road users, there is no indication. That is why it's better if the light has several modes of operation, and you can choose between continuous or flashing light.
How many lumens should the lights have?
It depends on the environment in which you're using the bicycle:
For urban use, about 10 lumens at the rear and 30 at the front are more than enough.
For road use, it's better to increase up to 100 lumens at the rear and up to 800 at the front.
For MTB, it's better to reach 2000 lumens in the front (although it can be a combination of light on the handlebars and light on the helmet) and 30 lumens in the rear will be enough.
Keep in mind that each manufacturer may indicate the power in different units: lumens or lux are two very common concepts, but they're not equivalent. The lumen is what the bulb emits, but the lux is the lumens divided by 1 m².
Best Chinese brands of bike lights
Buying bike lights on AliExpress is very easy. Just click here to find thousands of different models. There are lights that are white-label and can be found in different stores, but the best models will be found in specialized stores like the ones we'll show you below.
Rockbros
Official store: Go to the store
This is undoubtedly one of the most popular stores to buy cycling products on AliExpress. Their items are of great quality at a very adequate price.
They have different models of lights as you can see in this link. Not all of them are the same: there are detachable, fixed, of greater or lesser intensity… And the price varies according to their performance. All of them have in common a very careful design and a good quality-price ratio.
Their best-selling lights are the rear lights, as they have very good visibility and different options. Some even have a vibration or light sensor that allows the light to turn on automatically.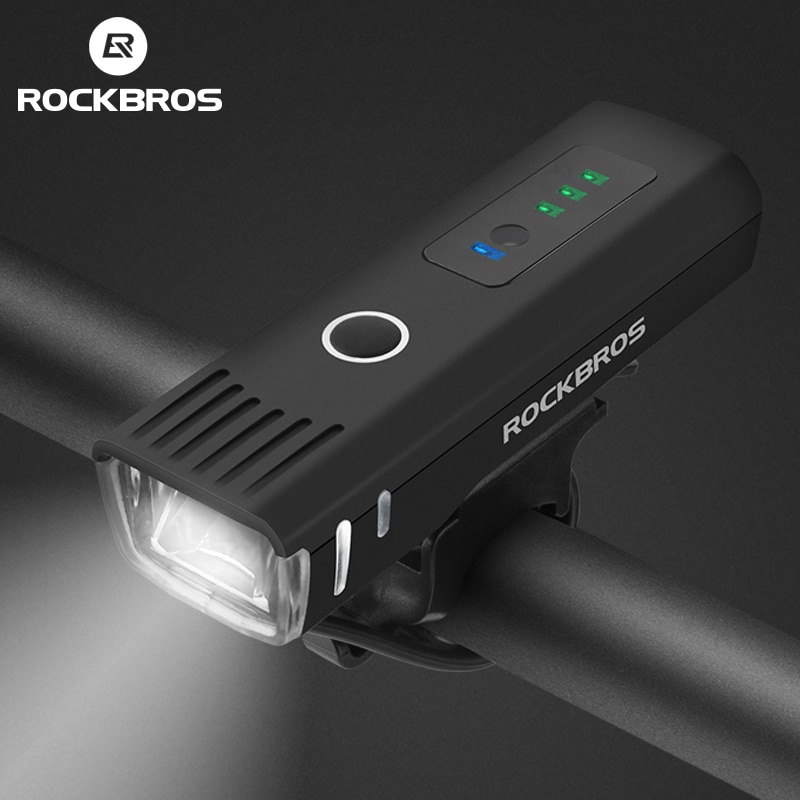 Peaches
Official store: Go to the store
If you're looking for high-powered lights with good autonomy and at a very reasonable price, this is the best store to find them. It has more than 100 different models of lights, the most sold are the USB rechargeable ones, but it also has models with solar charging.
If you don't want to spend a lot of money, but want a very powerful bike light, we recommend you to look here. As you can see in the comments, other buyers also value their good quality.
The bestsellers in their store are the compact lights, although there are also more powerful models for MTB or road cycling.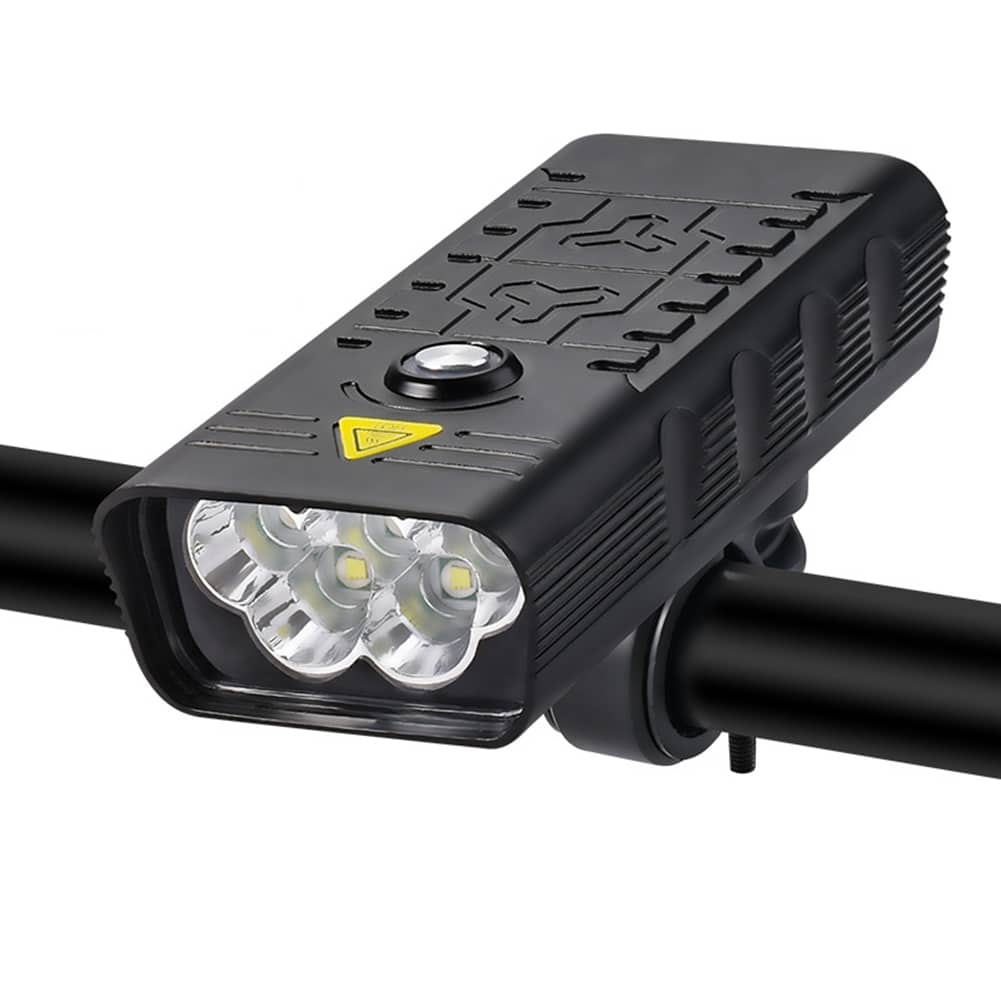 X-Tiger
Official store: Go to the store
Although in appearance this store looks a lot like Rockbros, it has completely different products. Even so, it has fast 3-day shipping to some countries, so it's worth taking a look at their products.
As for bike lights, X-Tiger has several models. The quality of their lights is very good, and they have different powers and qualities. You can see them all from this link.
Their best-selling lights are the front and rear light packs, with C0B lamp beads and different scenes available (continuous, flashing, with yellow light, red light…). They're light and have good finishes such as aluminum housing or IPX6 rain protection.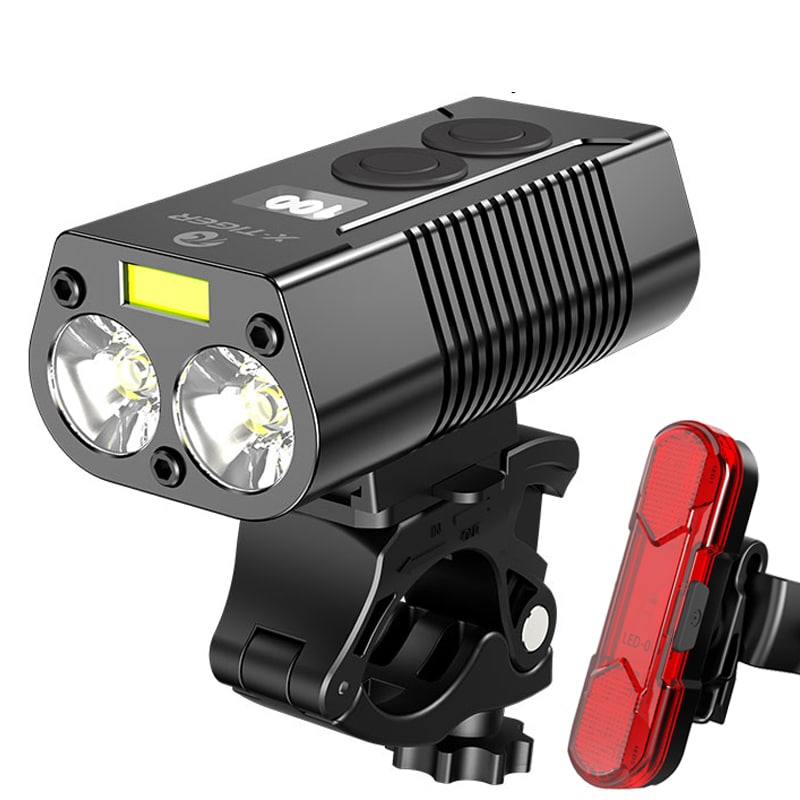 Newboler
Official store: Go to the store
This store is very similar to Peaches, as they also have a wide variety of flashlights at a very low price. Their best-selling lights are those that exceed 3600 lumens, offering a powerful light and great autonomy.
But you can also find other cheaper lights with less intensity, ideal for riding around the city. Some can even be found more expensive in the Rockbros store. Therefore, the manufacturer is the same and so is the quality. You can find them all by clicking here.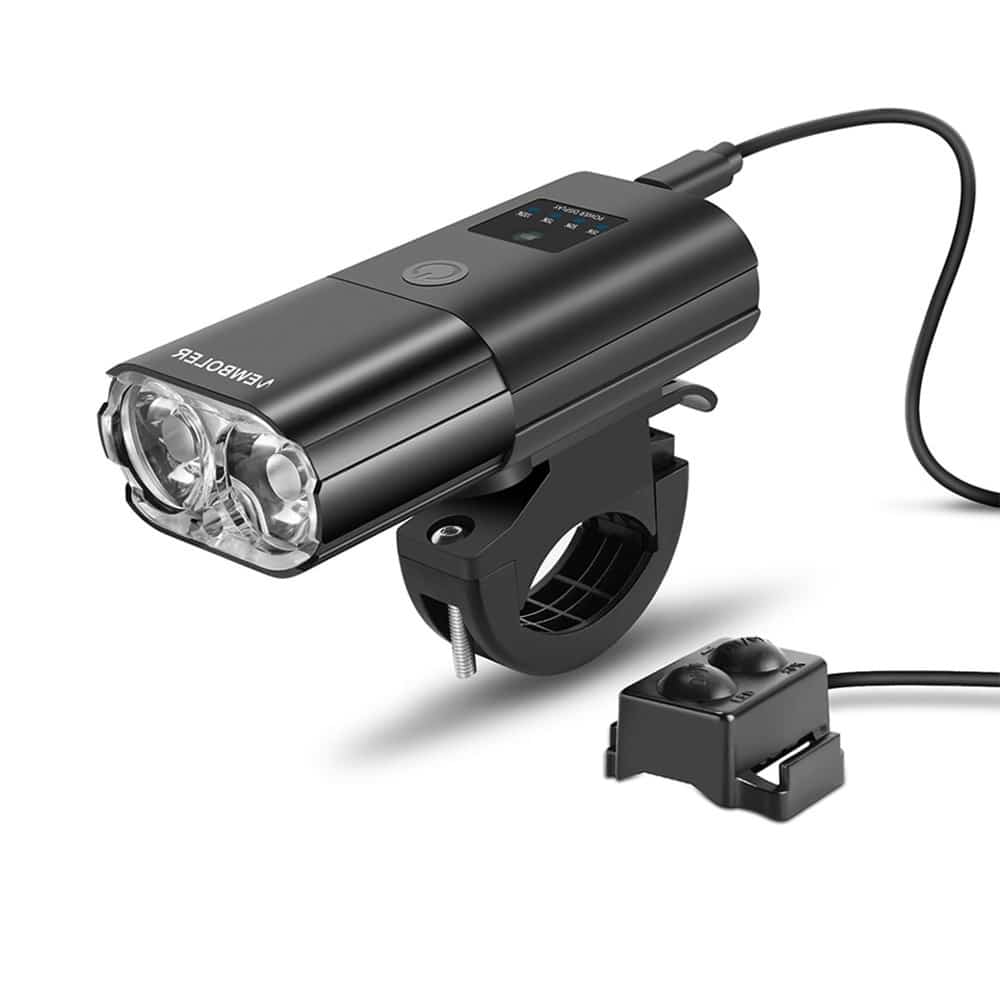 Natfire
Official store: Go to the store
This store has drop-shipping products, so you can find very cheap lights. You can find lights with great autonomy and power for less money than other brands we have already talked about.
And, although they are cheap, they illuminate very well and the materials are good and resistant. Perhaps the worst thing about their flashlights is the support, which in some models is a bit fragile. However, considering their price, it's worth it. You can see all their lights from this link.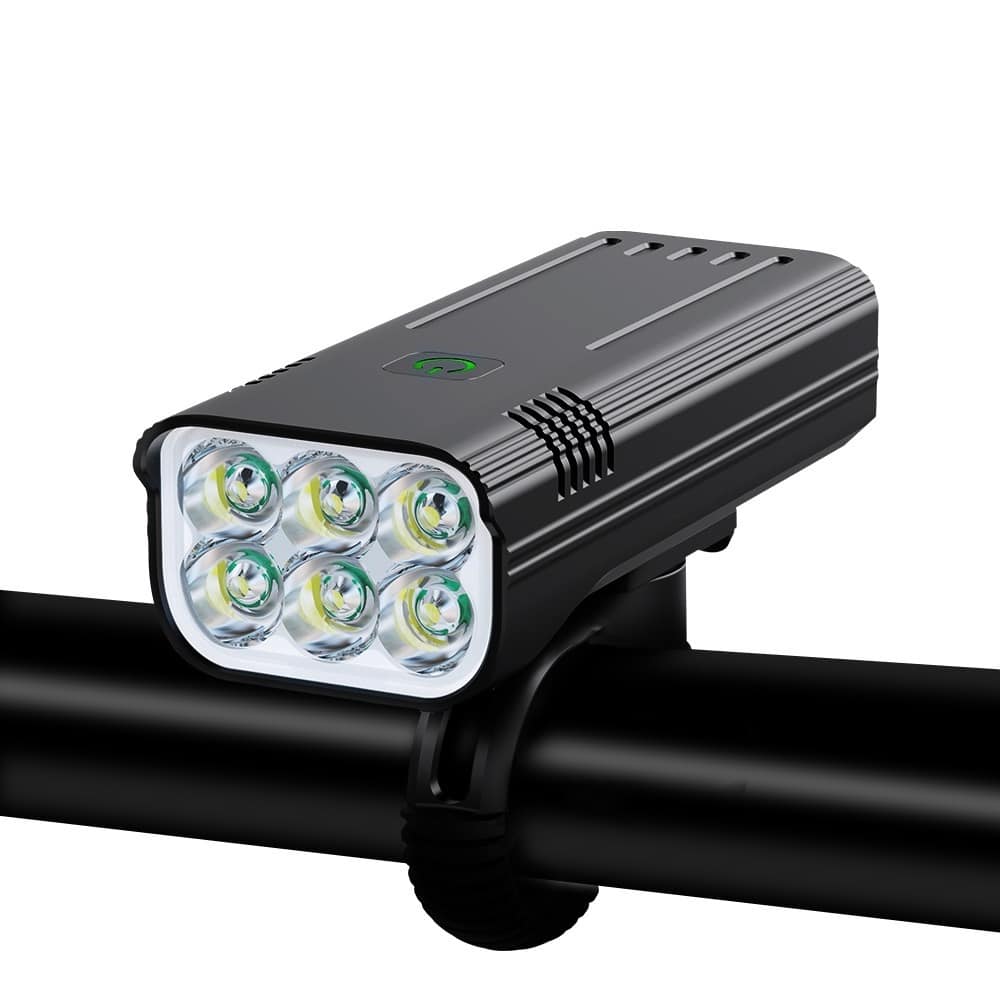 What to consider before buying
We're going to explain some interesting things to keep in mind when trying to choose the best lights for your bicycle.
Luminous intensity
Most lights are LED, and the description always shows the luminous intensity explained in lumens. You may also be interested to know what the lumens are at a certain distance.
If the seller doesn't explain it in their description, it's best to look for other lights or ask the seller (it's an important fact, since the light requirements can change according to the type of cycling you practice).
Light types
When you think of a bicycle light, you probably think of a continuous light, just like the lights on cars or motorcycles. However, there are also lights that have flashing modes of operation, they attract more attention.
Not everyone is interested in flashing lights. It all depends on how you are going to use the bike and the environment in which you're going to move. Check what type of light you are interested in and look at the description before you buy.
Type of discipline
If you ride in well-lit areas such as a city, you won't need too much power. If you ride long distances, it's better to choose lights with a rechargeable battery. Keep in mind that if you park your bike on the street, it's better to use detachable lights to avoid having them stolen.
For mountain bikers, it's advisable to use a very powerful front light and to also use a front light on the helmet. In this case, the front light is less important, since you will almost always ride in areas without cars.
Finally, if road cycling is your thing, it's better to buy a front light that is visible at about 100 meters and a rear light that is also well visible at hundreds of meters. But in this case, the lights must avoid dazzling.
Power supply and autonomy
Nowadays almost all the lights that we can find on the market have a USB rechargeable battery. This type of light can be charged anywhere, and they usually have very good autonomy.
But there are also battery-powered lights. They are cheaper, but you will have to change the batteries and usually, this type of light has less autonomy and less power. Check the type of power supply used by the lights you are going to buy.
Starting and braking lights
In the old days, dynamo lights were used: they came on when the bike was started. However, nowadays almost all lights are battery-operated, so we have to turn them on and off manually.
But there are also lights that have sensors that prevent carelessness. They switch on when they detect that we are using the bicycle. This is very interesting, especially in the rear lights, which is usually the one we forget to turn on regularly.