---
Alternative: If you prefer to see directly the latest AliExpress seller coupons click on this link.
---
Thanks to the AliExpress application, we can now easily access this platform from anywhere. Do you want to take advantage of your visits to this application, winning prizes and discounts? Well, your daily visits are rewarded, and many of you have confirmed to us through the comments that they do work, so don't miss these tricks that we explain.
For some time now, in the AliExpress mobile app, there has been a section called "Coins and Coupons" and another called "Freebies" of which there is usually not much information. After receiving several questions about them, we have decided to create this definitive guide where we will explain how they work and if it is worth it.
Coins and coupons
To enter the coins section, we will have to access the AliExpress application and look for the section that says "coins and coupons". This section is only available in the AliExpress mobile app, and within it, we will find everything related to coins: how to get them and how to redeem them for coupons or products. It is quite interesting if we know how it works.
How to get coins
When you log in, you will see a currency icon at the top. If you click on it, you will get coins. On the first day, we will only get 1 coin but will increase until the eighth day and later give us 16 coins. But there are also other ways to get coins, as we tell you below. You can find more information about the coins and their conditions in the AliExpress customer service by clicking here.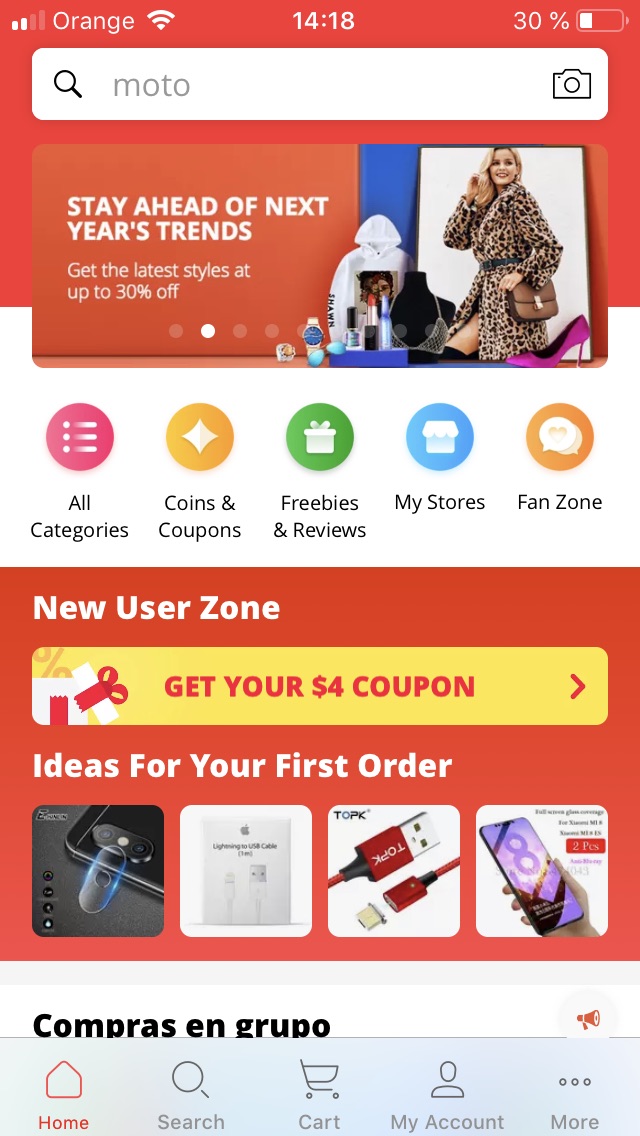 How to have more chances to win freebies? Daily Missions
If you want to have more chances to win freebies in AliExpress you will need more coins, and we can get them through the daily missions. It is a very simple mission, currently there are these 3:
Leave a comment on the rating of a freebie, we will get 2 coins.
Share a purchase made, we will get 3 coins.
Exchange the coins for coupons or products, we will get 3 coins.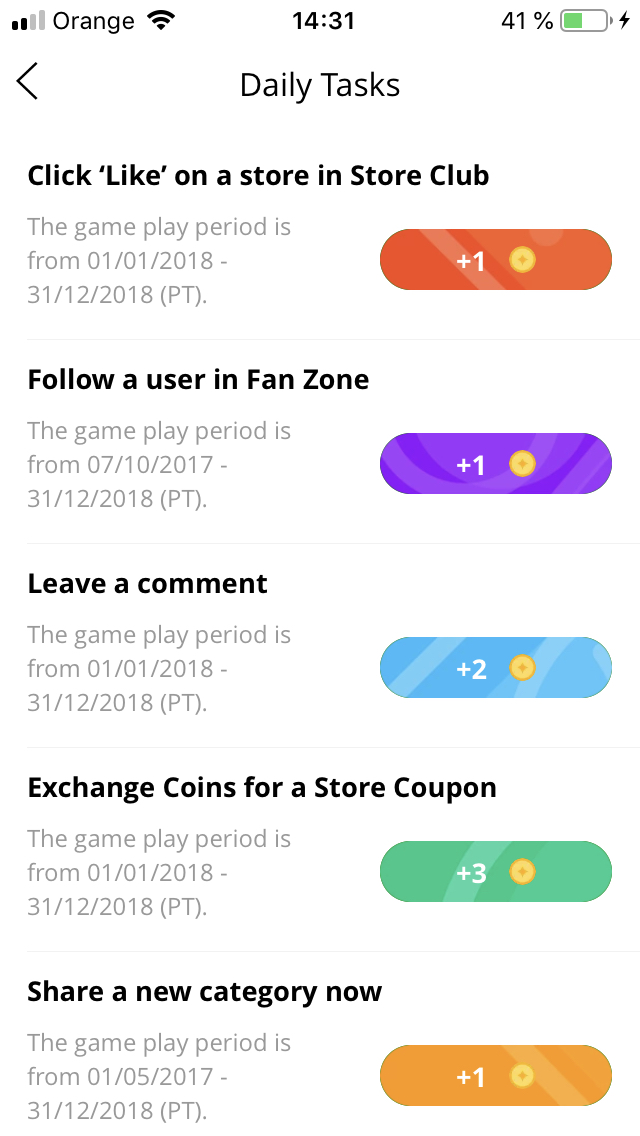 As you can see, these are simple tasks. It is possible that in a few weeks they will change them, but you will only have to click on the icon of each mission and the application itself will explain how to complete the missions. In this link, you have the official information of AliExpress about how to get daily coins.
Coin tree or magic orchard
This is one of the games that we will find in the section of coins and coupons. It is about planting a tree or a garden and watering every day. We can water it with the free water drops that we are given every day and also paying extra coins so that the tree grows faster. As it grows it will bear fruit, which in this case are the rewards: coins and coupons.
The truth is that it is a rather slow game since at most we can get about thirty points a day, and the tree or orchard dies at a thousand points, but it is quite entertaining and gives assured prizes. You only have to enter the section of coins and coupons from the main page of the application of AliExpress.
Other temporary games available in the AliExpress app
Through the AliExpress app, if you access your AliExpress account, you can find more games and other ways to get discounts and coins. These are usually simple games in which you can save some money or get more coins. They are fun and have prize money guaranteed, so it's worth looking at the AliExpress application to save more money. From time to time these games change but they are very simple and allow you to win some coins.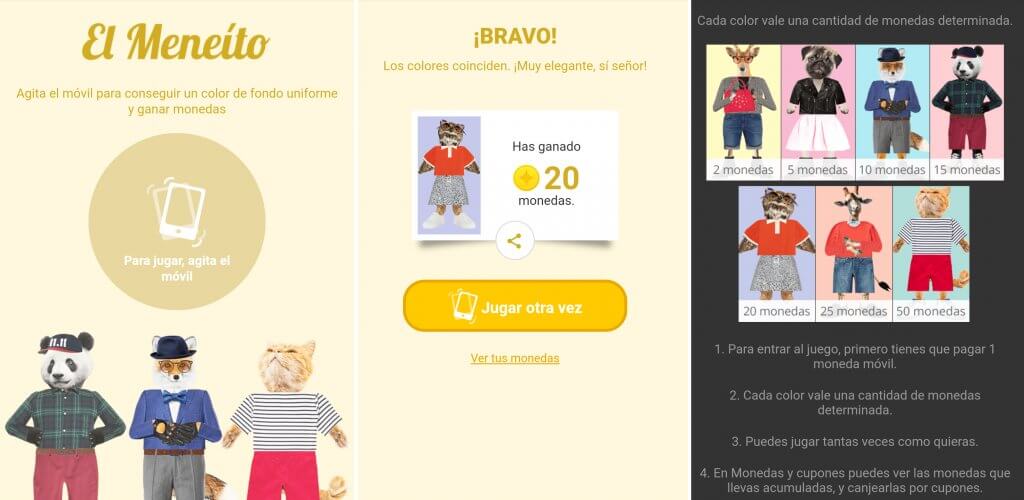 What are the coins for?
The coins can be exchanged for various quite interesting gifts that will help us save money when buying on AliExpress. Basically the gifts are coupons and items (free or with a certain discount thanks to the coins).
Redeeming coins for coupons
For us, the best thing about getting coins is being able to exchange them for coupons. We can get two types of coupons: AliExpress coupons, which apply to any AliExpress purchase above a certain amount, or vendor coupons, which will only work in certain AliExpress stores. Remember that you can find more information about coupons through the customer service center by clicking here or in our tutorial on AliExpress Coupons.
The former, AliExpress coupons, are the most difficult to get since they are highly sought after by the buyers of the site, although they are renewed every hour. We can get coupons for $1, $3, or $8, and they can be applied to any AliExpress purchase (from one or more sellers) when they reach a certain minimum amount. In this summary chart below you will be able to see the conditions.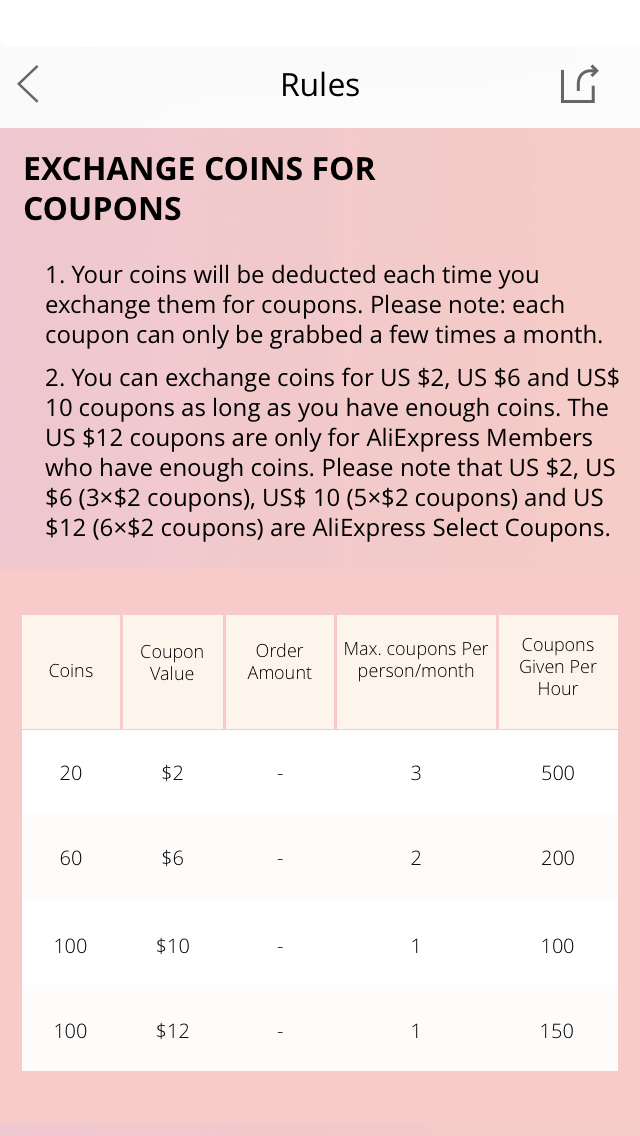 The second coupons, the seller's coupons, are much easier to get, and it's a good way to save since the minimum purchase amount is usually very low. In the coins and coupons section, you can see all the stores that offer coupons and the number of coins you need to get the coupon.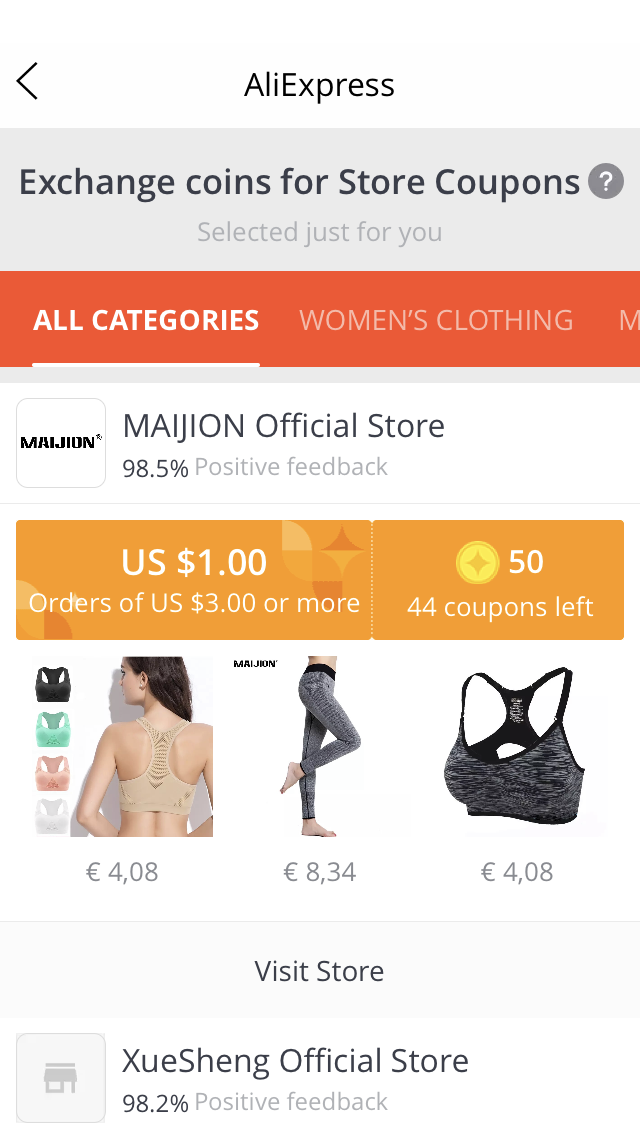 Redeeming coins for items
Another option is to exchange the coins for items, paying $0.01, or getting a small discount when spending coins. Free items are almost impossible to get and are renewed daily at 00.00h PST. However, discounted items are much easier to get, although the variety of items is very limited. Like the almost free products, they are also renewed daily.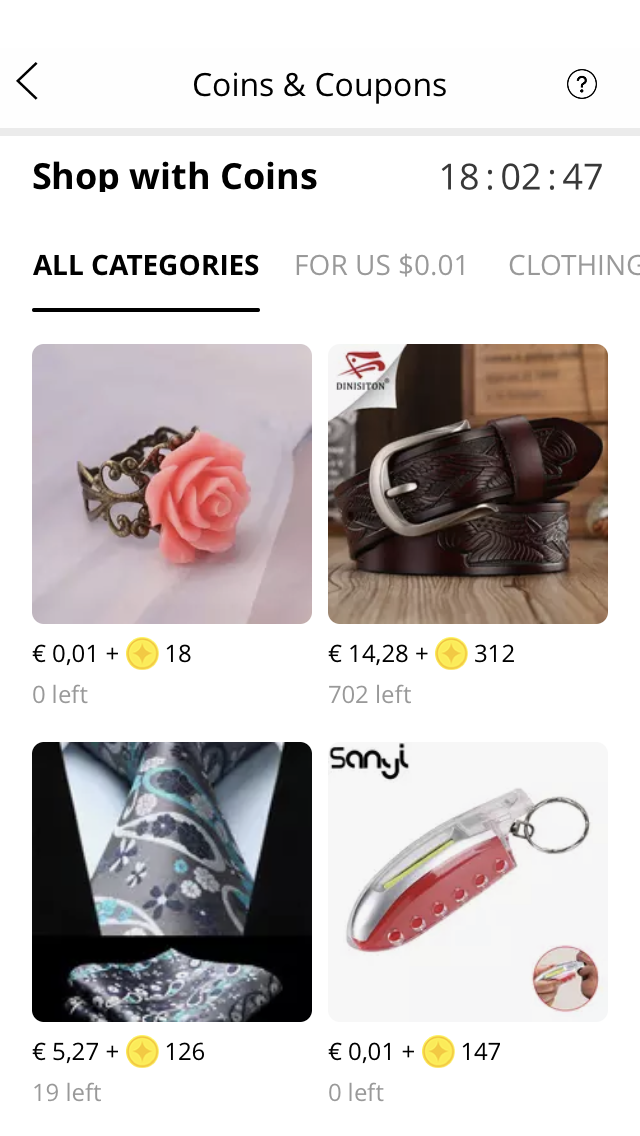 Freebies and ratings
The freebies section, quite recent in AliExpress, is another one of those we receive quite a lot of inquiries. Its operation is quite simple, we only have to access and select the products we would like to receive for 0.01$ instead of their original price. We will only be able to choose 2 products per day. Then we just have to wait and if we have been selected, we will only have to pay $0.01 and make an assessment of the product when it arrives.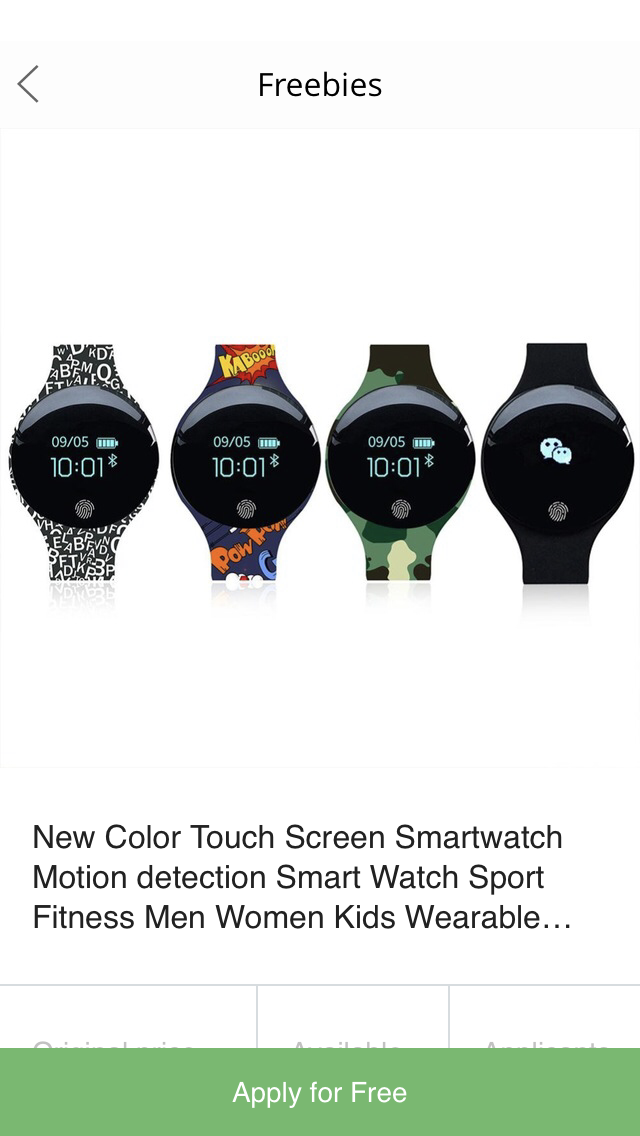 Without a doubt, it is quite difficult to get the freebies since many people request them, but by trying it you won't miss anything, since it is totally free and very fast. If you want to know all the conditions and tips about freebies from AliExpress you can see them through this link although we recommend you to read on for more information.
Frequently asked questions about freebies and coins
Through the comments section, you have sent us several questions regarding freebies and coins. In the customer service section of AliExpress, as you can see here, there is some information but it does not answer some important questions. That's why we're going to collect them here so you don't waste time looking through the comments for the answer to your question.
Why do I have to pay the cost of sending a freebie?
On the AliExpress page itself, the terms and conditions of the freebies are shown, and one of the conditions is that depending on your address and shipping method, you may have to pay for shipping. This does not happen in most countries, but there are always exceptions.
I've been applying for freebies for a long time and I haven't gotten anything
Every user has 2 chances a day to apply for freebies, so of course, the best products always have more applications. The winners are chosen randomly although AliExpress takes into account how active they are in the freebies section if they are experts in a category based on their searches. They also take into account the shopping behavior (if they leave comments, photos…). Try to always leave comments on your purchases at AliExpress to increase your chances. However, in our comments, several users have confirmed that they can be obtained although with quite some insistence.
Do I have to pay customs on freebies as well?
If the seller sends the product from China, it can be stopped by customs as in any other country and in case you have to pay, yes, you would have to do it. However, there is little chance of this happening as we explain in our customs guide in AliExpress. In addition, if the cost of customs is high, you can refuse the package and not pay customs. Since it's free, you won't lose any money.
Do I have to pay the shipping on products with coins or at $0.01?
As with freebies, you may have to pay for shipping on coin-exchanged products because of your country or address. This does not happen in all of them but it can happen.
Can I apply for freebies or get coins through the computer?
At the moment you can only apply for freebies or play for coins through the AliExpress mobile application. This is a way to attract more users to the application. But it is worth having the AliExpress application installed, we can quickly access the best offers on the platform and save money.
What are the consequences of not valuing a freebie?
Well, AliExpress can't penalize us but doing a specific valuation of a freebie will give us more chances to win the next freebie, plus it will help other buyers to know if the seller is good and if it's worth buying the product. And as the freebie conditions state, if you don't leave a rating, your chances of winning another one will be drastically reduced.
Can I change the address of the freebie?
When we request a freebie, AliExpress asks for our address. This address cannot be changed if we win the freebie so please check before you apply.
Can I apply for freebies from multiple accounts?
Yes, but accounts using the same IP can be reported as violating AliExpress rules and be cancelled, so don't try to increase your chances with another account as you may lose your account.
What happens if the seller doesn't send my freebie?
In case the seller does not send you the freebie after you have won it, the seller will be punished accordingly and the money you paid for your freebie will be returned to you automatically.
How to get more coupons and discounts on AliExpress
As you can see, it's easy to get coins, and we're getting more and more messages from people who have gotten freebies, although this is more a matter of luck. But we have other tricks that will help you get coupons, discounts and save money on your AliExpress purchases.
Referral system: invite your friends to AliExpress
A very easy way to get discount coupons is to invite your friends to buy at AliExpress. Thanks to the referral program you will both get discount coupons and the best thing is that you can get this reward up to 10 times a month. So you know, recommend this page to your friends and get discounts. We explain how it works in our article to invite your friends and win coupons at AliExpress.
AliExpress Members: every purchase adds up to points
If you are a regular buyer of AliExpress you are in luck, because with the AliExpress member program each purchase you make on this platform adds up points and allows you to get discounts, coupons on your birthday, faster refunds… In addition, with the new VIP member program, you can get discount coupons and faster shipping.
Welcome or new user coupons: being new has a reward
If you are not yet registered on this platform and do not have any friends who can invite you through the referral system, do not worry because AliExpress also rewards new users even if they do not come referred by another user. You will be able to get new user coupons and other discounts so that your first purchases at AliExpress will have a greater discount. In addition, in our AliExpress coupons and discounts tutorial, we explain how all the coupons in the platform work, as there are several types.
Other tips for safe shopping at AliExpress
Finally, remember that in our blog you will find a section with tutorials, where you can find many tips to buy safely in AliExpress, as our ultimate guide on AliExpress, a totally recommended reading if you're starting to buy on this page of Chinese online shopping.
What about you? What do you think of AliExpress' coins and freebies? Feel free to leave a comment below explaining your experience shopping at AliExpress.