Hello again! Today we are going to talk about cheap handbags in AliExpress. You probably already heard all about the replica brand handbags you can find in AliExpress, but today we are going to talk about the cheap and pretty "white label" handbags you can find on the platform. As you may have noticed, we used quotation marks, the reason for this is that most of them are actually really well known brands in China.
Get ready because after you read this article, you are going to be an expert on AliExpress handbags and how to find them. Ready? Let's get to it.
Forget about replicas: today we are going to show you how to find Chinese handbags in AliExpress
Let's get started with two AliExpress pages: the handbag shopping guide and the main category for women's handbags.
What's the shopping guide for women's handbags exactly?
The shopping guide is an AliExpress section that isn't as well known as it should be, because honestly, it's probably the best tool to get you started on this incredibly large web. In it you can find two things: a ranking of the top selling handbags at the moment (the ones in fashion) and a second ranking of the all time AliExpress best sellers.
You can see the first ranking clicking here. It looks something like this: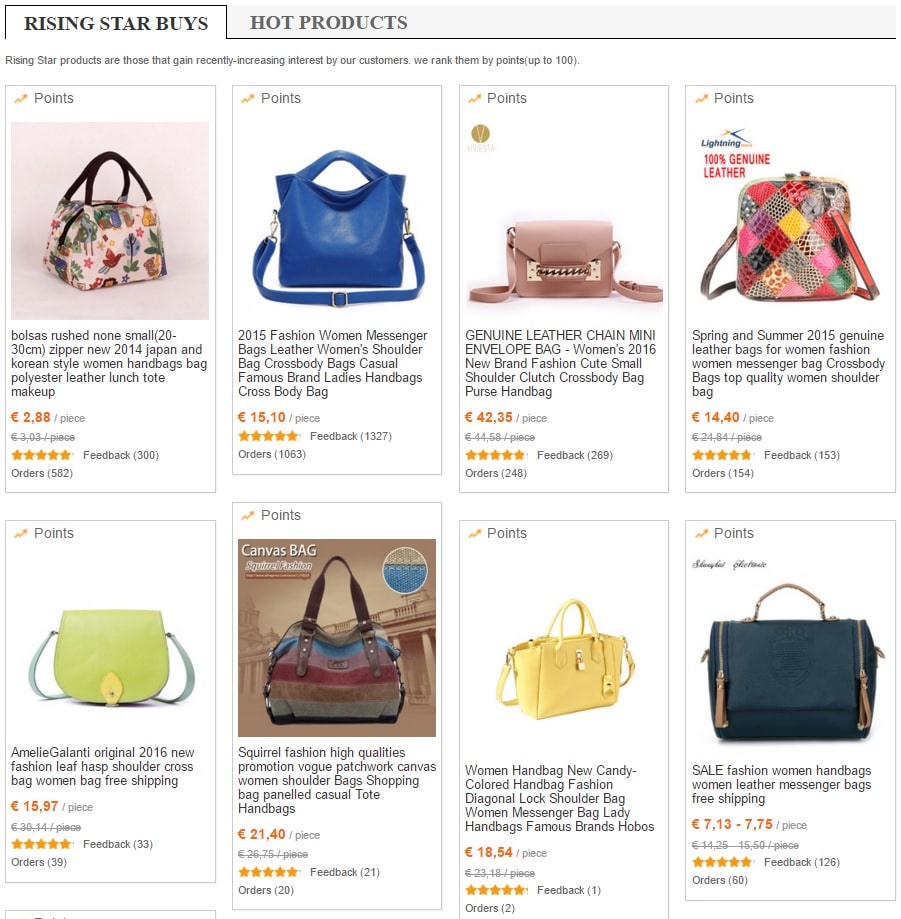 These are called "Rising buys", products that are selling very well at the moment. Don't even think about missing out, they have incredible deals and stock tends to run out pretty quick!
The other ranking is "Hot products" (you can see it here) and it sorts all the bags by number of sales. And when we say sales, we're talking 9.000…I don't know about you, but I'm pretty curious.
What about the main category for women's handbags?
The other page we were talking about is the handbag category, where you can see all the kind of bags AliExpress has to offer sorted by type (although the names aren't offer translated right):


In fact, a lot of the translations can be confusing, so lets take a look at them in English 🙂
What kind of handbags are there and how do I find them?
1 – Clutch (party bag)
This type of handbag is usually used for parties. Since it's small, AliExpress will sometimes call them "wallets", and although they don't have a strap, they usually do have a chain: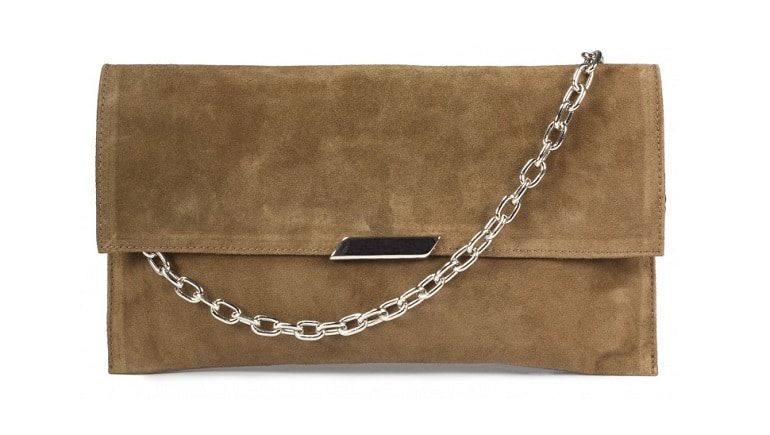 You can find clutches by searching for Clutch Bag in the AliExpress search tab, looking up the section Wallets or, what we think is the easiest way, looking at the Clutch shopping guide (remember what we said before :)). You can find here. We say this is the best option because it's where you will find the most relevant results: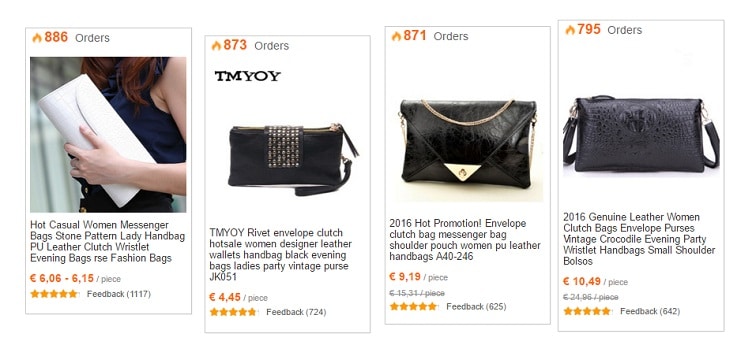 2 – Shoulder bag
This kind of handbag doesn't need much explaining, it's the classic bag you sling over your shoulder. Not to be confused with the cross body bag, very popular right now.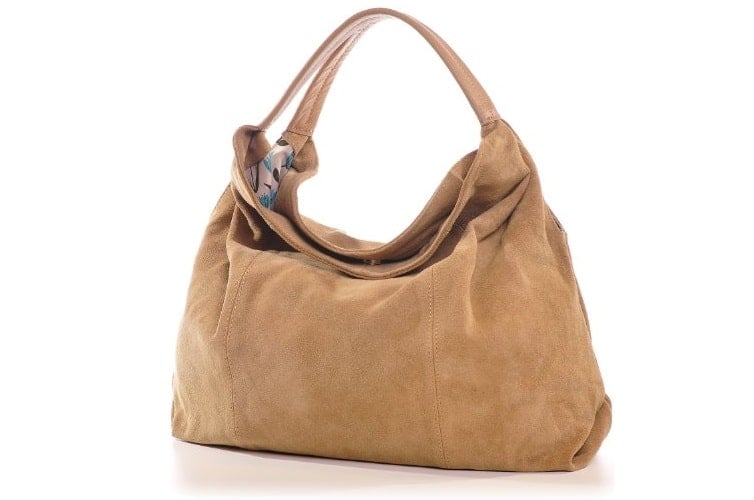 To find them in AliExpress look for Shoulder Bag or take a look at the Shoulder bag shopping guide.
3 – Crossbody bag
This is also a pretty common type of bag, and they are almost the same as shoulder bags, the only difference being that the strap is a lot longer so they hang lower, hip distance or even lower: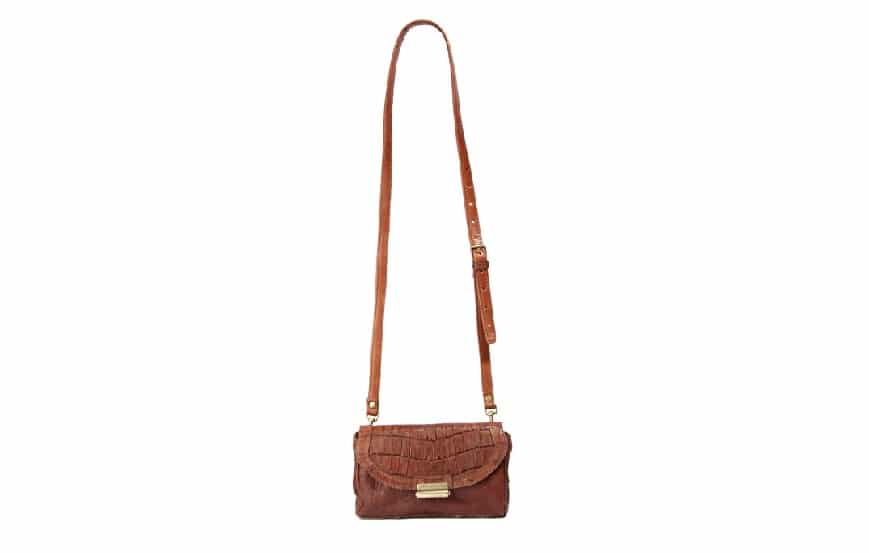 You can find them in AliExpress by typing in "Crossbody bag" or in the shoulder bag shopping guide.
4 – Tote bags
They tend to be very big and are used to carry a lot of items. They have a square or trapezoid shape and have a double strap, which can be quite short so you usually carry them in your hand instead of your shoulder: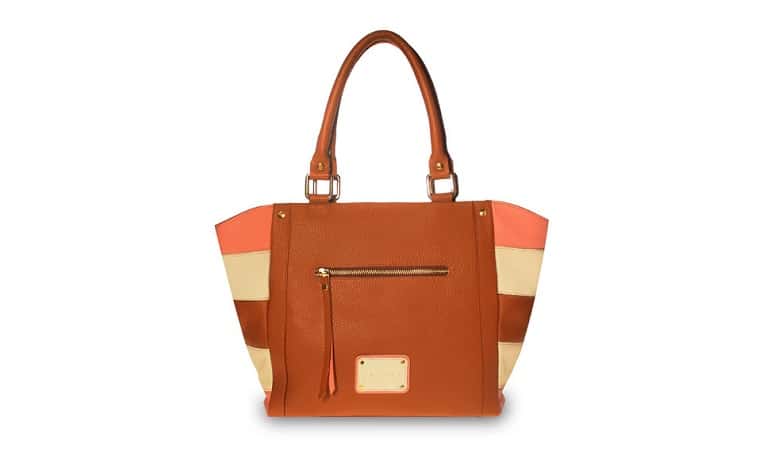 To find them in AliExpress go to this search.
5 – Bucket bag
The bucket bag is named after its shape and is known for its functionality. It was very fashionable in the nineties and it just made a huge comeback, with brands such as Alexander McQueen, Prada, Alexander Wang or Mansur Gavriel offering beautiful models.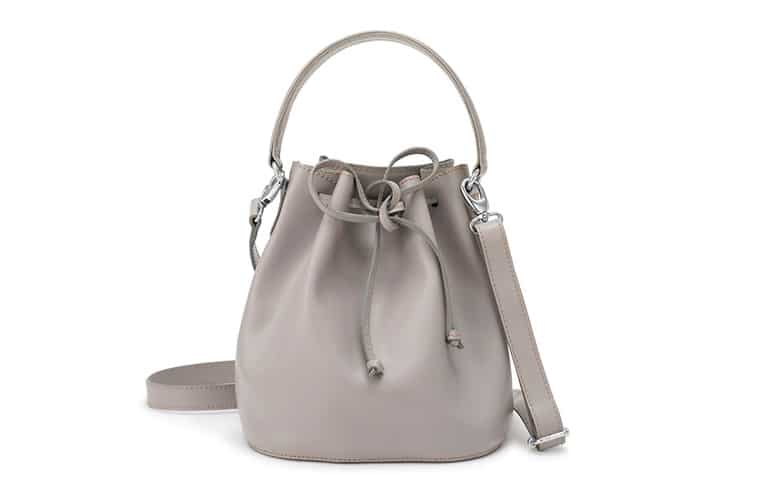 You can find them in AliExpress under the category "Bucket bag" or in the bucket bag shopping guide.
6 – Hobo bags
With a trapezoid shape and a rounded bottom, they tend to be really big and are inspired by the bags carried by hobos in old american movies.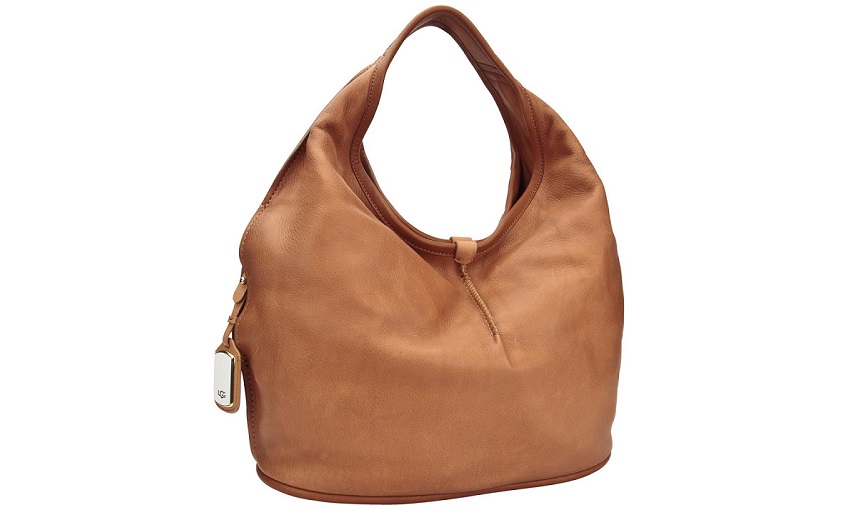 You can find them in AliExpress here.
7 – Backpack
It's not a handbag, but they can easily be included in this list.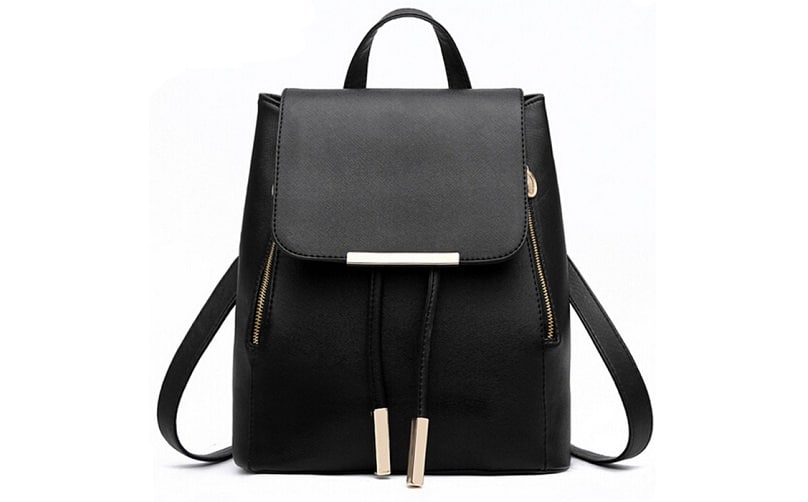 You can find them here and here.
More things you should know to make a good purchase online
Are there any real leather bags in AliExpress?
Yes, just look for products under the description "genuine leather" and then click on the product page. Under the pictures there is a tab where the seller specifies exactly what parts of the bag are leather:

In this case, you can see that some of the parts are leather, but the main part is made out of polyester. Remember that if the seller doesn't tell the truth, you will be compensated by AliExpress after you claim it.
What is this so called PU material?
PU is an acronym for polyurethane, a synthetic leather. It's a lot cheaper than leather, but it's a pretty good material nevertheless, just make sure to choose a good supplier.
How to filter prices in AliExpress
If you have a limited income, the best thing you can do is filter products by price to avoid expensive temptations :). All you have to do is type in the maximum price here:

If you can, try shopping from sellers with a good reputation
I know we mention this a lot, but if you can choose, make sure the seller you pick has a good reputation. Here is a chart explaining how reputation works in AliExpress: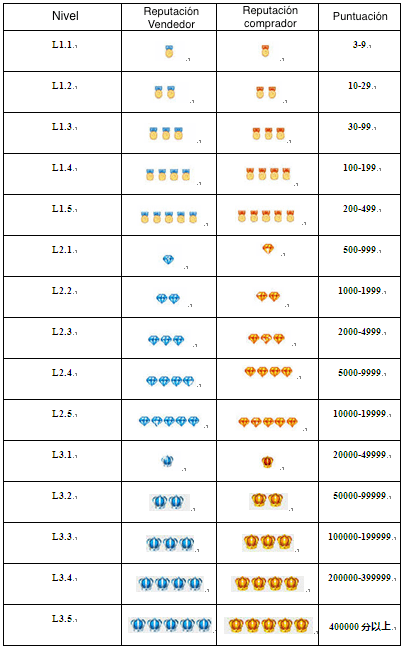 Do you need more help with your shopping? Just ask!
In AlixBlog we want to make sure you make a good purchase, so if you are still having any doubts or would like to ask us anything else, just leave us a comment.