You are lucky if you have a garden with a lawn. However, it requires periodic maintenance. Mowing the lawn is a chore, but it can be lighter if we have the right tools. The best mowers can handle complex, very uneven or steep terrain. It will also make mowing your lawn a breeze as the best mowers prevent muscle strain and injury.
If you've been looking, you know that low-priced lawnmowers are hard to find. The best brands like Honda or Husqvarna are quite expensive, so we are going to show you alternatives available on AliExpress. We will talk about the best economic Chinese lawnmower brands, which are brands specialized in tools. We will also tell you what you should take into account before buying your lawnmower.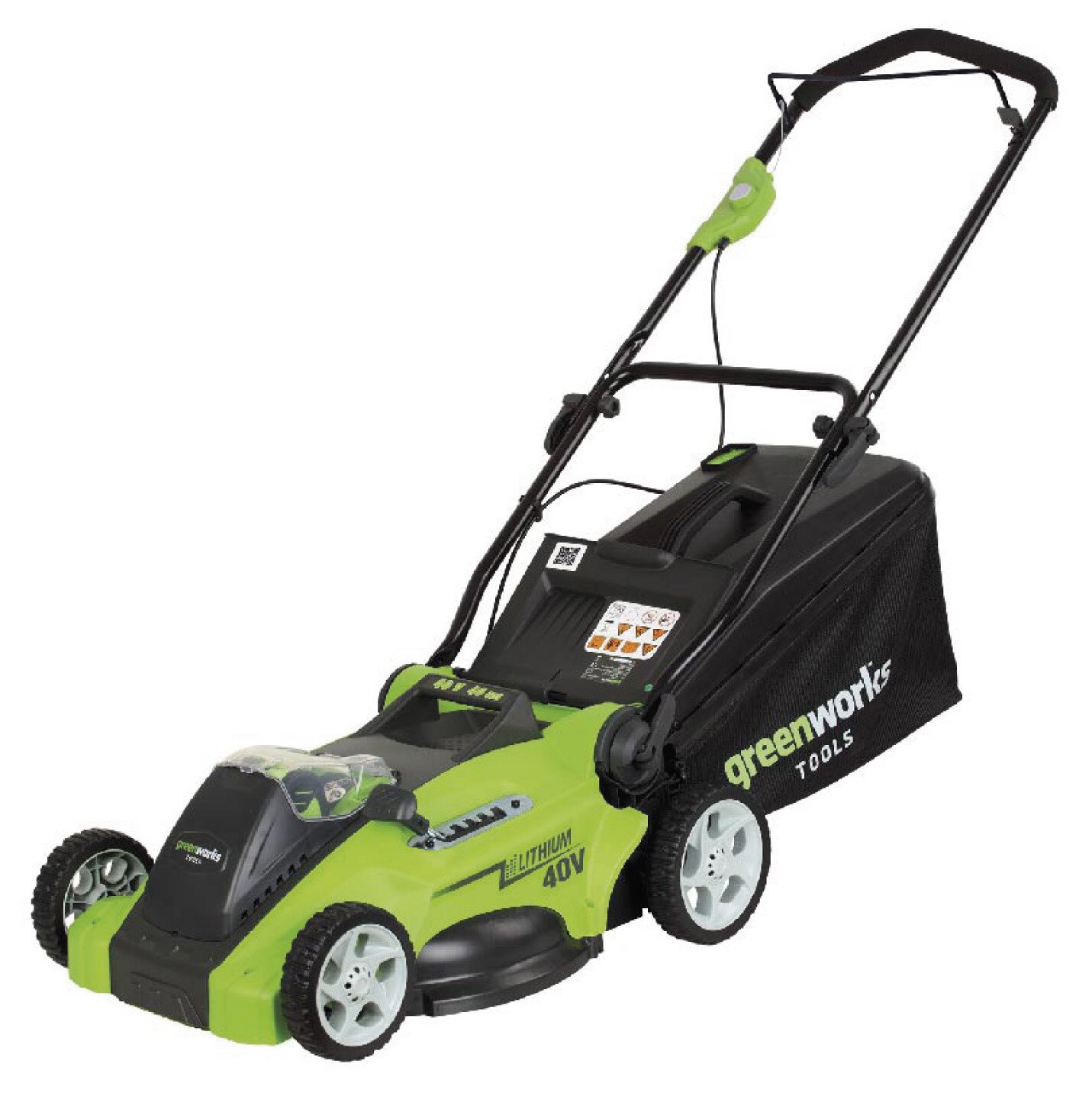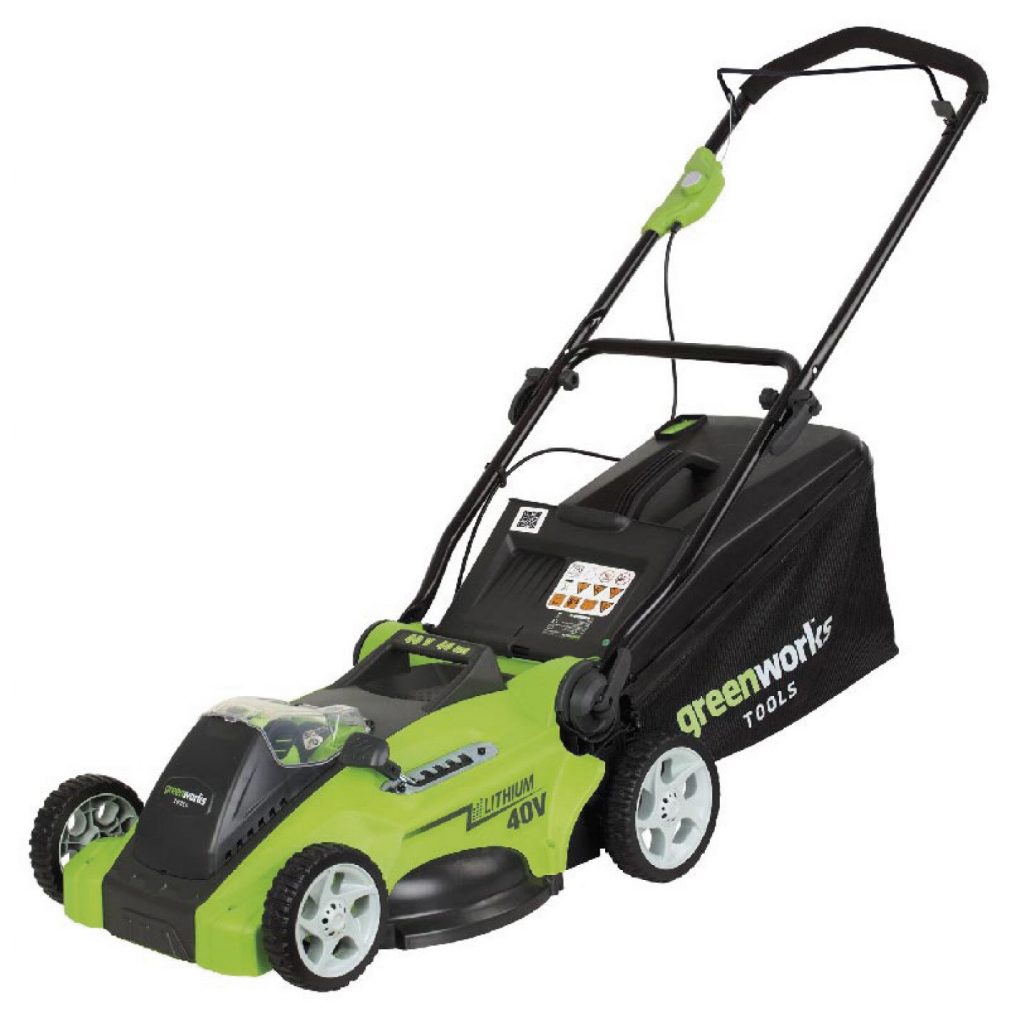 Best lawnmower brands available on AliExpress
When we look for a low-priced lawn mower, it will probably be hard to find economic alternative brands, but thanks to AliExpress and its Chinese brands of tools and DIY we can find great value for money lawnmowers. Many people have realized this, and several models already have thousands of sales. We are going to show you the most prominent brands. You can also find them all by clicking here.
Prostormer
Prostormer is specialized in DIY tools and is one of the most famous brands of this online sales platform. It has an official store that you can access from this link. A great advantage of buying in this store is that it has warehouses in China, Europe, the United States, Brazil, Russia…  So you can enjoy faster shipments and avoid customs problems. Their lawnmowers can be found here.
They have specialized in 2-in-1 battery-powered brush cutters and lawnmowers, and they are so cheap they have made thousands of sales. This type of lawnmower is for professionals or people accustomed to its use, it allows cutting in two directions and thanks to its large capacity battery, we can cut the lawn for about 50 minutes in 5 different positions. In addition to mowing your lawn horizontally, you can also cut it vertically, ideal for edges and corners.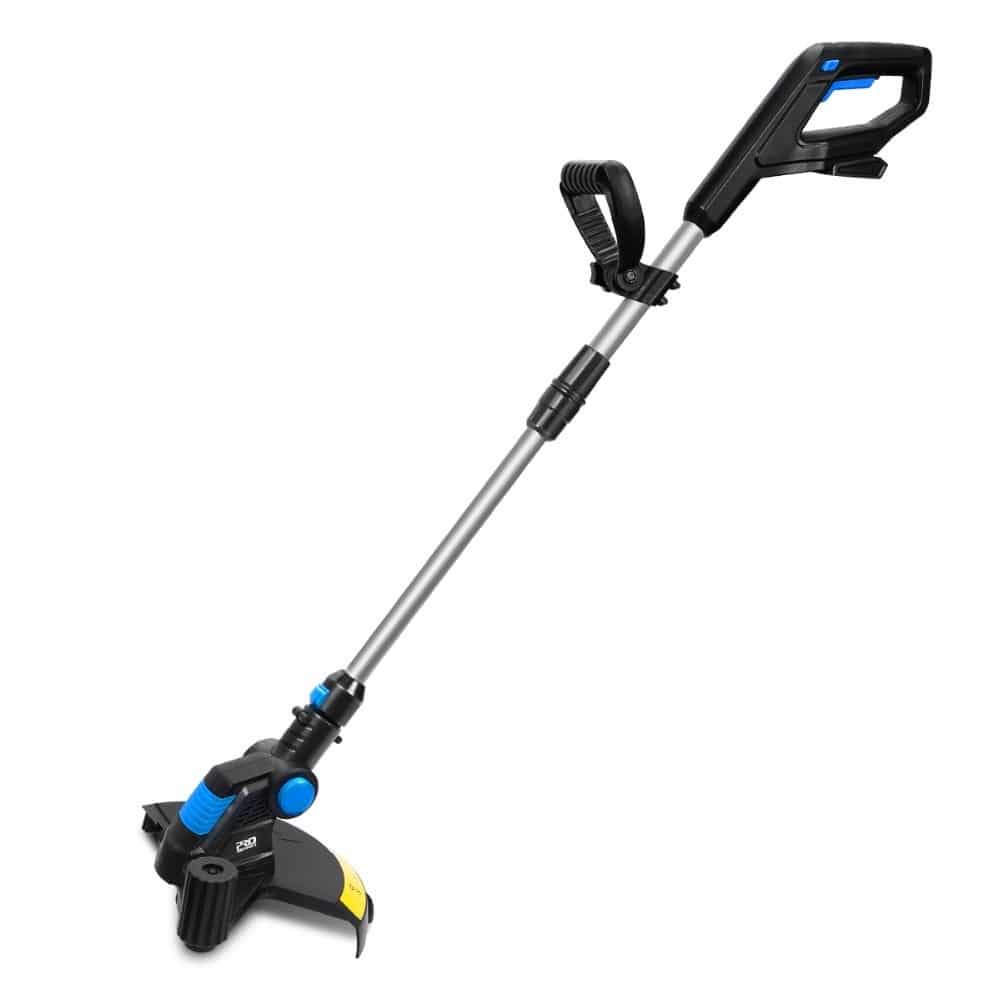 Devvis
But in recent years, our household chores have become easier thanks to robots, a good example is kitchen robots, vacuum cleaners, or window cleaners. And luckily there are also robotic lawnmowers, which are ideal for those looking to have the perfect lawn effortlessly. Devvis has been specializing in these types of economic robotic lawnmowers for years, so it is one of the best Chinese brands, the best alternative to the Husqvarna, Gardena or Worx robotic lawnmowers.
To buy a machine from this brand, it is best to go to the official Devvis store on AliExpress, which you can access from this link. Although other authorized stores sell their products, as you can see here. Their robots can be purchased from their warehouse in China, Spain, or Poland, avoiding customs and receiving your robot in record time for European buyers.
They have several models of robotic lawnmowers, you will have to choose depending on the size of your garden, from 400 to 3,600 m2. The main difference between them is the size of the deposit. The latest generation of Devvis lawnmower robots have a Wi-Fi connection to control it through its mobile application, multiple sensors (rain, elevation, inclination, pressure …), height adjustment… Thanks to its gyroscope, they are very precise. They have large batteries for a range of up to 5 hours.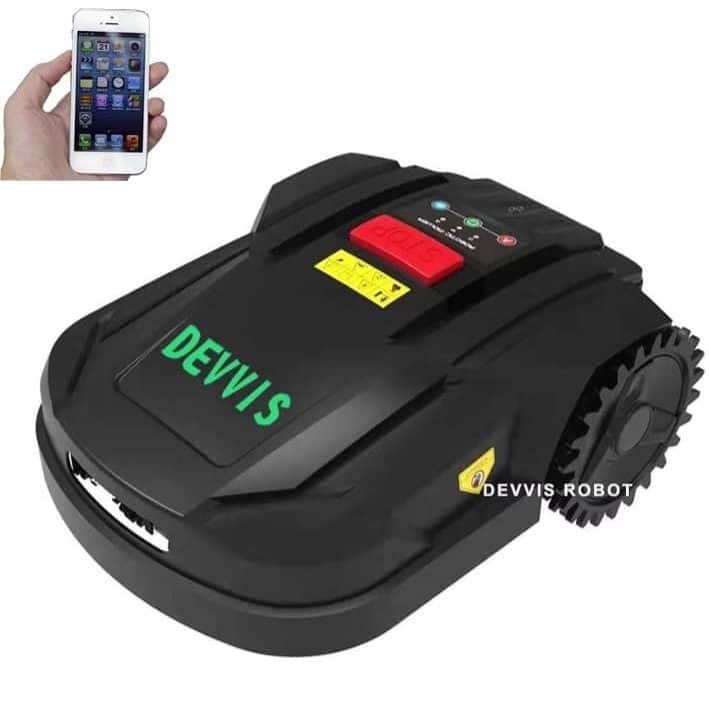 Lanneret
Lanneret is specialized in tools, but it is cheaper than others as it is not as famous for AliExpress buyers yet. On their official AliExpress store, which you can access from this link, you will find a wide variety of gardening tools such as chainsaws, weed removal machines, or hedge trimmers, with shipping from China, Spain, and Russia. You can find all their lawnmowers by clicking here.
They manufacture manual lawn mowers or brush cutters of great value for money. The cheapest models are very simple but have advantages such as being foldable, and they are very light and easy to use. However their cutting capacity is more limited and they also work with a 20-meter cable, which can be quite uncomfortable for medium-sized gardens. They are ideal for trimming small grass.
The most expensive manual brushcutters already have a battery for working wirelessly. It is specially designed to be used more easily: soft and comfortable grip, pivoting head to cut at different angles and postures, telescopic pole … It also has several safety systems to protect us and other objects from the cutter blades.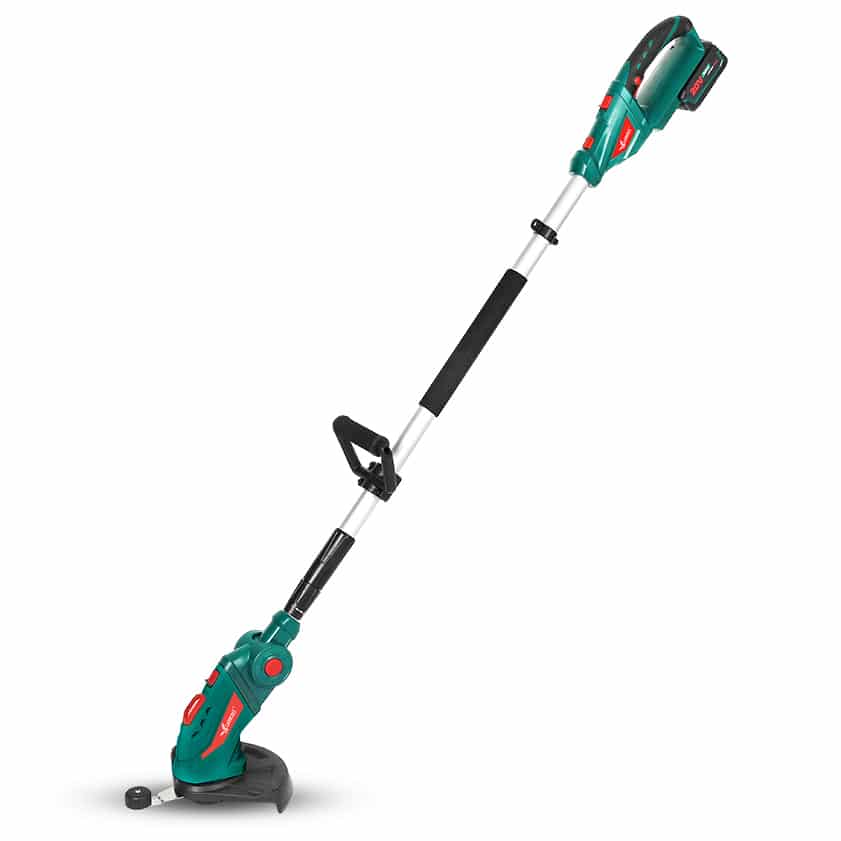 Greenworks
Greenworks is specialized in gardening tools, it has the largest variety of lawnmowers on AliExpress, from electric handheld lawnmowers to lawn tractors. It has very low prices, as you can see in this link and also on their official AliExpress store, which you can access by clicking here.
The best sellers are the cordless electric lawn mowers from Greenworks. Thanks to their magnificent features and the quality of their finishes, they could be compared to Honda, Husqvarna, Stihl, or Toro mowers… They have powerful batteries that allow them to work for about 60 minutes without interruptions. Their mowers are designed for professionals, with oversized wheels, a lightweight finish, and a steel finish for a longer duration.
Greenworks electric handheld mowers are also quite popular since their price is lower and also have great quality. Compared to other cheaper models, those of this brand stand out for their great power (up to 800 W), their autonomy of up to 1 hour with only one charge, and their design that reduces noise, weight, and vibrations. You can find them at this link.
They also have robotic lawnmowers and lawnmower tractors, the former are characterized by having great autonomy and being able to adjust the cutting height at various levels and work with GPS connected to a mobile application. Lawn tractors are designed for professionals since they exceed 10,000 euros.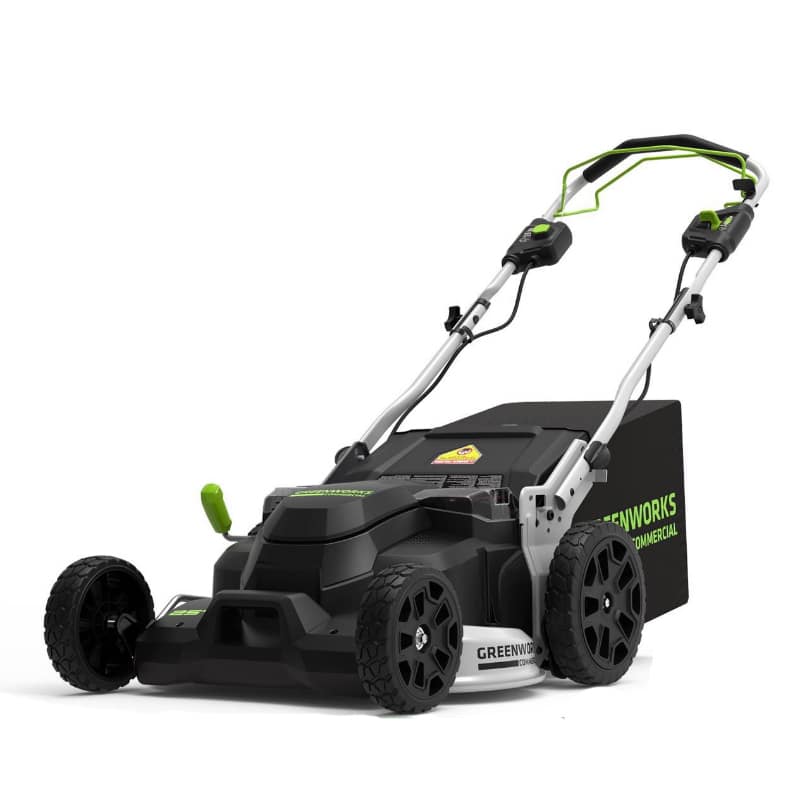 Deko
Deko is one of the most popular brands on AliExpress for buying tools. They offer cheap multifunctional lawnmowers and other garden tools such as leaf blowers, hedge trimmers, or chainsaws. You can access from this link to their official store in AliExpress.
They have several lawnmowers but the most popular are the 2-in-1 models that you can find here. They are ideal for gardens with various plant elements. They are versatile tools that allow you to cut hedges or trim lawns without cables, thanks to the high-capacity lithium battery system. Ideal for urban or small gardens, without the hassle of cables or gasoline. Deko has conceived these machines with a design that ensures your safety, and their head can change angles for different tasks.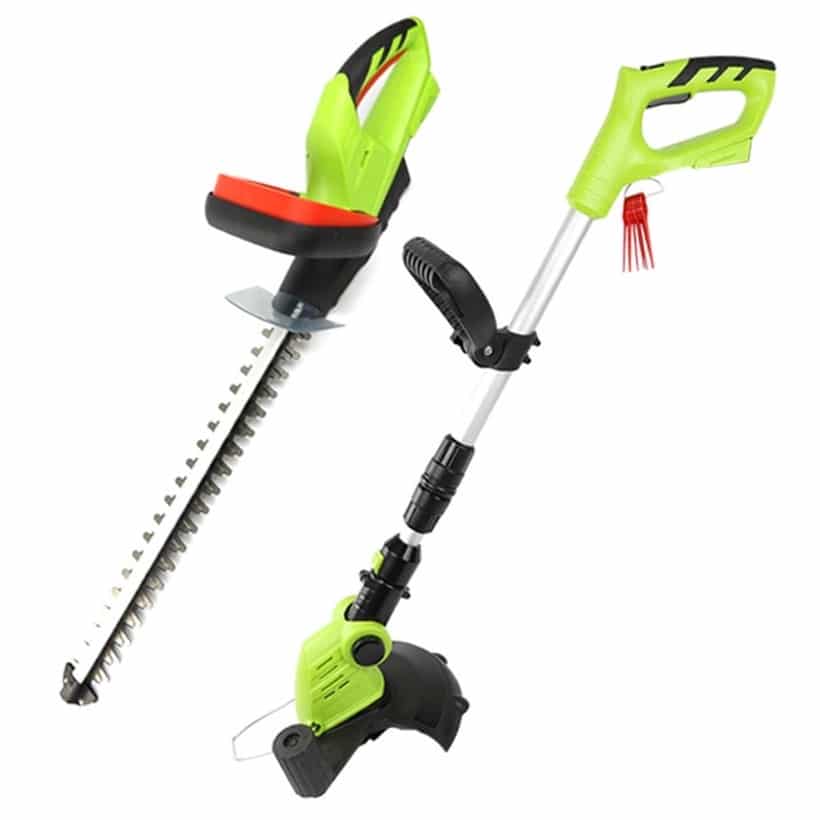 Greencut
Another professional brand specialized in gardening tools is Greencut. It has a great variety of lawnmowers, they are of great quality and their price is very reasonable. We could place it on the same level as other major brands on the market such as Toro or Sterwins mowers.
They have a wide variety of gasoline self-propelled mowers that differ mainly in the power of their engine, the size of the fuel tank, and the capacity of the collection bag. But even on the most economical models, you'll find a professional design thanks to its air-cooled, hand-pulled OHV 4-stroke engine. Its double-edged blades and adjustable height will give you a perfect lawn.
They also have some battery-powered electric mowers, with similar power to the more powerful gasoline engines. They are easier to use as they can be started with the push of a button. Up to 2 batteries can be connected to achieve maximum autonomy, also through its LCD screen, we can see the remaining battery.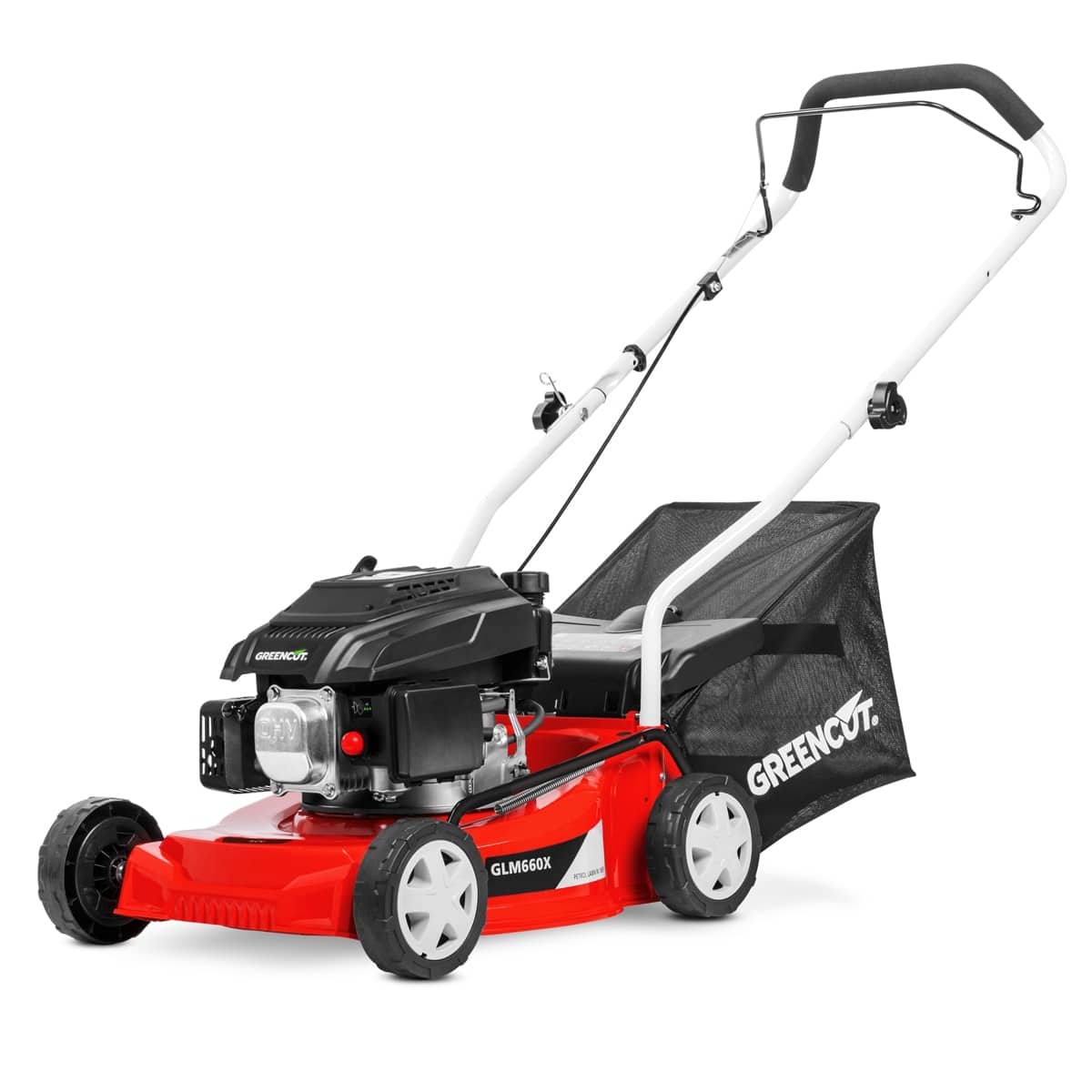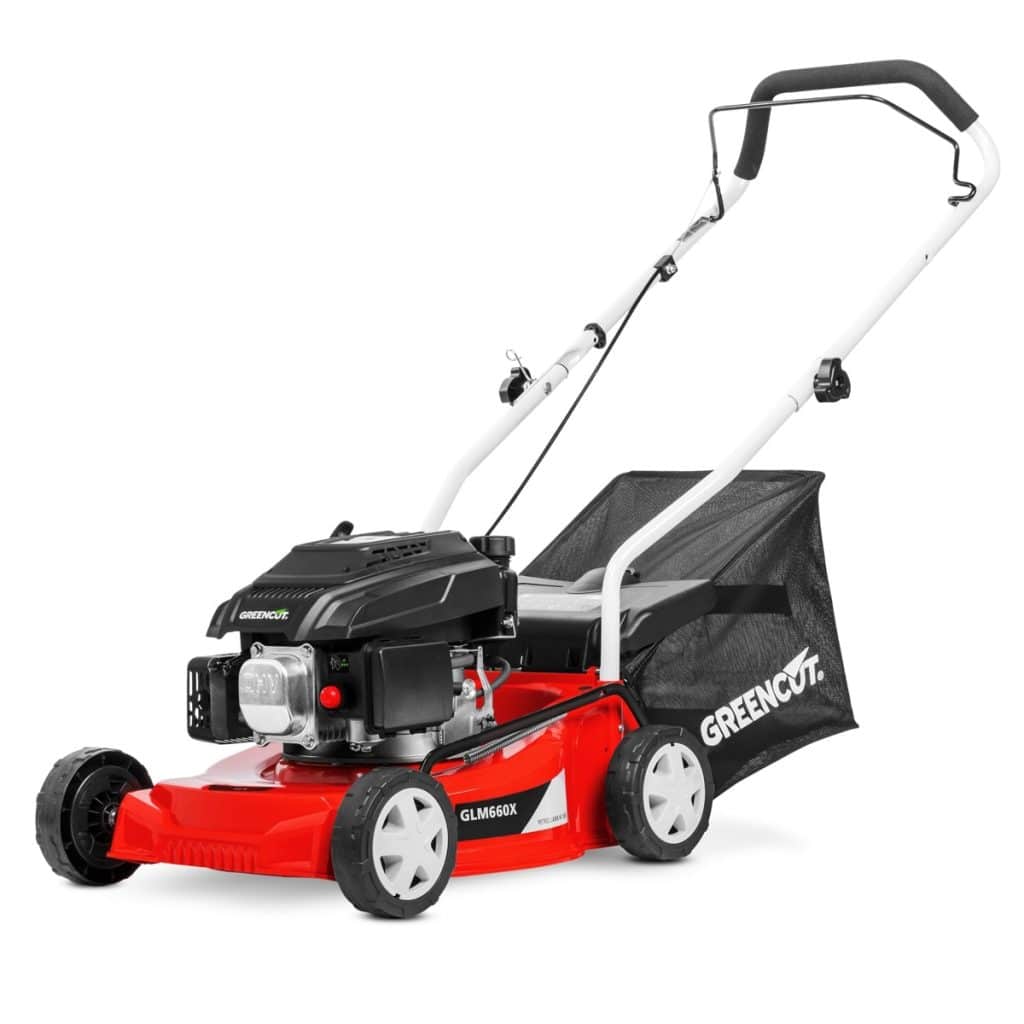 Kärcher
Thanks to their famous pressure washers, Kärcher has become popular within the DIY world for its flagship product. However, they have many other high-quality tools, among which we can find a wide variety of garden tools, from grass trimmers to blowers, and obviously lawnmowers. You can easily find their products by clicking here.
Kärcher lawnmowers are wireless. They are light and handy, you can use a collection bag with fill level indicator, or thanks to its mulch kit you can distribute the grass so that it works as a natural fertilizer. They have sharp blades for clean cuts, and thanks to their side combs they can cut to the edge.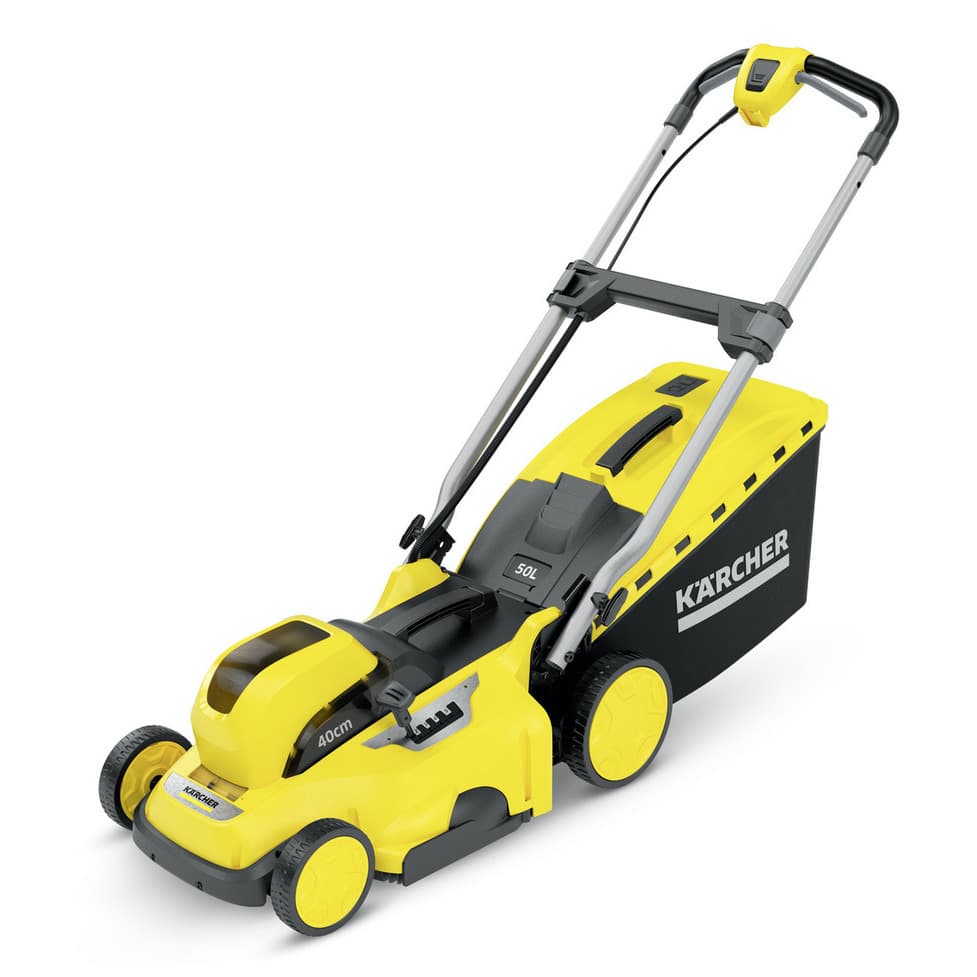 Other lawnmower brands
Now you know the best Chinese lawnmower brands, with excellent value for money. Below, there is a list of the main brands on the market, in case you want to take a look at their models (and check for yourself that their prices are much higher).
Honda lawnmowers
Husqvarna lawnmowers
Viking lawnmowers
Stihl lawnmowers
Toro lawnmowers
Sterwins lawnmowers
Outils wolf lawnmowers
Types of lawnmowers that you can find on sale in AliExpress
We have mentioned different kinds of lawnmowers so far. if you are not completely familiar with this type of tool, we will explain below the main features, advantages and disadvantages of each type.
Petrol lawnmower
They work with gasoline. This means that we have to refill the tank regularly, but the good thing is that they don't need cables, even in large gardens. They are cheaper and more powerful, but also heavier, louder, and more expensive than electric mowers. You can also find self-propelled petrol mowers, which move autonomously.
Robot lawnmower
Also called automatic lawnmowers, they are small robots that can cut the grass without any human help, and they even return by themselves to the charging base. But they have limited autonomy, so they are not recommended for large gardens, nor for sloping terrain. They are perfect for urban gardens although their price is quite high.
Electric lawnmower
They are the most traditional ones and are very easy to find. They only work connected through a cable. However, this cable can limit us when using it in very large gardens, and there is also the risk of cutting the electrical cable with the mower blades. But they are quite inexpensive and powerful so they are perfect for small areas.
Battery lawnmower
It is a battery-powered electric lawnmower, so the cable is replaced by batteries. In this case, the problem will be autonomy, since the more power a lawnmower has, the more battery it consumes, and this can significantly reduce the time of use. Its price is also higher.
Manual lawnmower
Also called brush cutters, they are electric hand mowers. They are very small and can be stored easily. Economic and wireless models are easy to find, although probably you will have all kinds of mixed results when you search for these on the platform. The helical mower is another type of manual mower, it does not use a motor, they are very cheap, but they require more effort and sharper blades.
Tractor lawnmower
It is a professional lawnmower designed for large areas. The price is very high, so its use is limited to large gardens or golf courses, they are also louder and require some engine maintenance.
Things to consider before buying a lawnmower
Not only are there different lawnmowers that can be better suited to our needs, but it is also very important to look at the characteristics of each model to verify that we are buying the best lawnmower for our garden. We are going to explain to you which features you should look at.
Type of surface and cut
Not all gardens are the same so it is important that your lawnmower can adjust the height of the cut. For uneven terrain, large-diameter wheels will also be important. The more versatility your mower has, the better it can adapt to different terrains and needs.
Manual or self-propelled push
A self-propelled mower moves through the terrain by itself, we only have to guide the direction of the machine. It is a great help, especially on sloping terrains, however, models with manual push advance are cheaper. On some lawnmowers, the advancing speed can also be adjusted.
Weight
If you have a large garden, you will spend a lot of time using your lawnmower, and you will also have to store it after using it, so a light lawnmower will make our work easier. Look for lawnmowers made of lightweight but resistant materials at the same time, especially when it comes to handheld lawnmowers.
Size
Lawnmowers must be stored properly, so it is important to pay attention to the dimensions of the machine, especially if you have little space. Some machines allow folding the handlebar or removing the reservoir for easier storage.
Connection and power
You have already seen that there are different lawnmowers, some use petrol and others need a battery to operate. Each one has advantages and disadvantages (wireless ones tend to have less autonomy while those that are connected to electricity need an electrical outlet). So take a good look at the different possibilities before choosing your mower.
Grass clippings deposit
If your garden is very large, it will be important to look at the size of the deposit for you to empty it fewer times during your gardening tasks. Some lawnmowers even notify us when the tank is full. The material used is also very important to prevent grass clippings from coming out.
Price
Lawnmower prices can vary significantly depending on the model, size, brand, and if we buy it on AliExpress or other stores. But we are going to give you some clues so that you can have an idea of the different prices.
Petrol mowers are the most expensive ones, they can cost between US$ 240 and $800 depending on the brand, size, and capacity.
Battery mowers are in the middle, it is difficult to find them for less than US $175. They can cost up to $950.
Electric lawnmowers are cheaper, they can cost between US$ 60 and $600 depending on the size of the deposit or other characteristics.
Manual lawnmowers are less common but they are also cheaper, you can find them between US$ 120 and $235 depending on the technology of the machine.
Robot lawnmowers are the most expensive for their technology, so prices can vary from US$ 450 to $1200.
Is it safe to buy on AliExpress? Which guarantees do they offer? Is it easy to return the product if I am not satisfied with it?
If you are looking for a lawnmower, you will surely be thinking of purchasing it in stores such as Home Depot, Lowe's, OBI GmbH & Co, or other stores specialized in bricolage or tools for the home. But if you want to save money, you don't have to look for a second-hand lawnmower, thanks to AliExpress you can buy an economic, new, and reliable lawnmower.
The main reason to buy your lawnmower on this sales platform is that you can find lower prices. Nevertheless, in recent years the page has significantly improved its guarantees. On its buyer protection page, which you can access by clicking here, you can see some of the conditions: complete refund if you don't receive the order, 15-day returns (for some countries), local guarantee according to your location…
Get your lawnmower at the best price with special offers and coupons
Now you know which lawnmower to buy, but if you want to get it at the best price on AliExpress, we recommend looking at the temporary offers of the platform. So that you do not miss an offer, it is best to regularly look at the AliExpress main page and also to visit our blog, where we inform you about the best sale promotions and how to get coupons so that it is cheaper.
We also have a section with tutorials where you will find the best tips and tricks to buy like a pro on AliExpress: which payment methods are more secure, how long do orders take, which guarantees does the platform offer, how to get coupons and discounts… If you don't know this platform yet, we recommend starting with our Essential Buyers Guide for AliExpress, where we explain how it works and everything you need to know to buy from scratch.
What about you? Have you already bought a lawnmower on AliExpress? We would love to hear your opinion, do not hesitate and leave us a comment below, it will also be helpful for other buyers.