Olevs is a Japanese watch brand that is becoming quite popular lately.
Their low prices and varied model offers, sizes and materials have caught the attention of watch lovers.
In fact, we have received several inquiries about whether they are worth it or not, so today we are going to put an end to all your doubts and tell you everything you should know about Olevs watches.
Is Olev a good brand?
Olevs has been on the market for several years, but since it increased its catalog its sales have not stopped growing.
As a starting point for its desgins, it takes into account those of the most recognized watch brands. As you may have noticed even its logo is similar to Rolex'.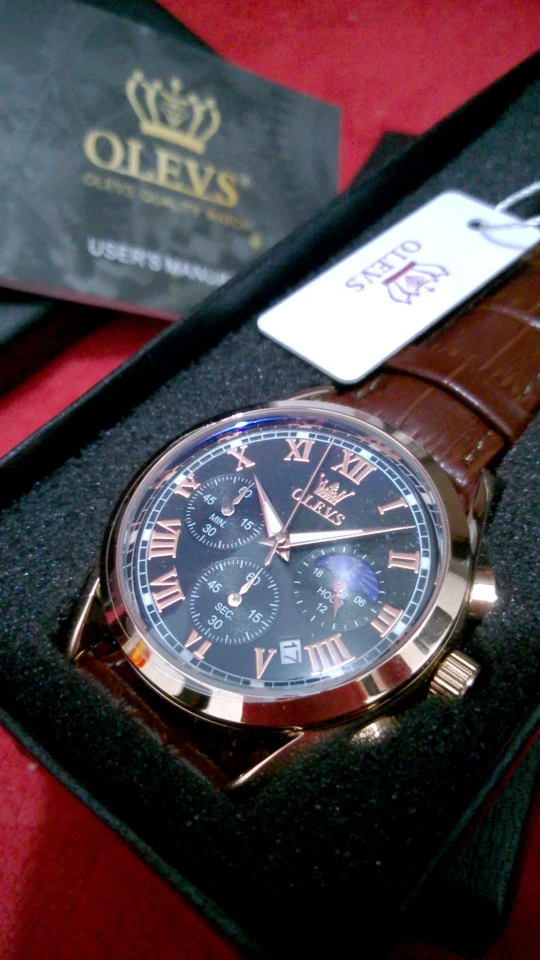 Here, in this image uploaded by a buyer, we can notice the delicacy of the finishes. They appear to be made of the finest materials but are actually very affordable.
What Olevs does is to give the watches functions, details and elegant designs at a much lower cost than other brands but without giving up quality standards.
Now we will mention a couple of features that will help you get to know the watches better and choose the option you like the most.
Straps
On the one hand you have the stainless steel ones. This material allows to guarantee the durability of the product taking into account that most of the watches are submersible in water.
We can say that products made of stainless steel are a kind of all-terrain type. The watches are made to resist scratches and the passage of time in the best possible way. It is worth mentioning that the length of the straps is adjustable with a screwdriver that accompanies the watch.
You can also opt for those with imitation leather straps, as they have the urban touch that is often needed for a watch that we wear on a daily basis.
These come in different colors and thicknesses.
Quartz or mechanical automatic
Some prefer them quartz and others automatic, but luckily for everyone Olevs offers watches with both types of operation.
In this sense we can say that the accuracy of the quartz ones is remarkable but if you are not a friend of batteries and you think there is nothing like a watch that works to the rhythm of your pulse you can opt for the automatic ones.
However, automatics require maintenance from time to time to stay calibrated, so keep that point in mind when choosing.
Water and shock resistance
You can be sure that your watch will continue to function after being submerged by water, as they are submersible up to 30 meters.
In addition, the materials chosen for the straps and crystals resist shocks and contact with various particles. This ensures maximum durability of the product.
Attachments and functions
Here the brand has many points to note.
Olevs watches have in their body moon phase indicators, weekly and annual calendars, 24-hour format, a small magnifying glass to observe the day, among other extras.
Some of the quartz models have glow-in-the-dark hands. Beyond the aesthetic value of this luminous function, it can be very useful at night, especially for those who like to train and play sports outdoors.
Olev wants to meet the needs of the most demanding customers and knows that the incorporation of these functions in their watches makes them improve their reputation and consolidate themselves as a serious brand.
Pricing
The price depends on the strap material you choose (leather or metal) and the different extras offered by Olevs models but to give you an idea, they cost between $15.00 and $80.00 on average. They are really cheap, even if compared to other alternative watch brands that have emerged in recent years.
If what you want is to buy a watch that looks nice and lasts a good time, but you can't afford one of the big traditional brands, the Olevs brand could be a good opportunity.
Where to get them?
You can buy them on AliExpress, where the brand has its official store with numerous special offers and discounts.
In fact, the large number of sales that Olevs has and the positive ratings left by buyers have made it one of the top brands on AliExpress.


In addition, buying on AliExpress gives us the peace of mind of knowing that we are covered by the warranty to the buyer and that the seller will be serious, as it has the incentive to keep its good reputation.
You can also find watches of this brand on other AliExpress sellers specializing in watches.
Buyer reviews
We have read many reviews and seen many unboxings from buyers on YouTube, and the ratings are generally very good.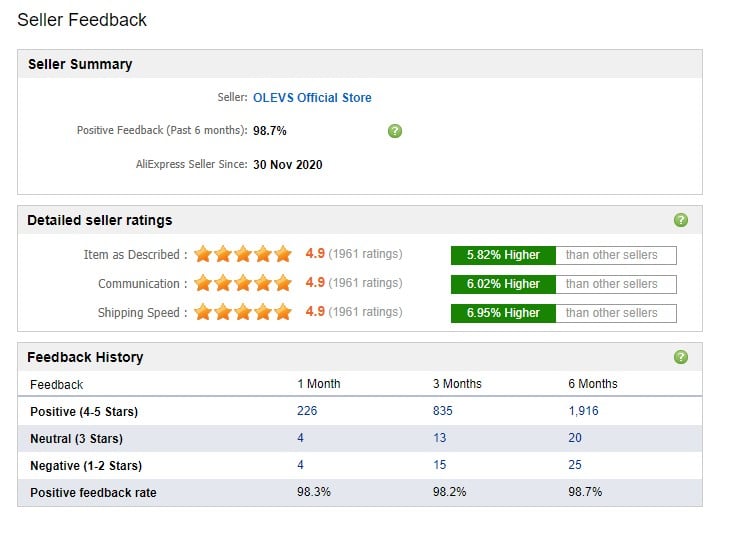 If you doubt the official images uploaded by the brand, the pictures uploaded by buyers could help you because you will see the product you will receive.
The packaging and accessories that come as a gift are also a detail that users are very grateful for. The models for women come in container boxes with bracelets and necklaces. They also come with a screwdriver to adjust the links of the straps if necessary.
The crystals, straps and level of detail make these watches elegant and very appealing to the eye. Not surprisingly, buyers are pleasantly surprised by the quality of the product in relation to its price.
Also, the date and moon phase indicators are functions that are well liked.
The winding of those that are automatic could be an aspect to improve according to some buyers, but besides that, they comment that they have had no major complications after months of use.
On the other hand, those few buyers who have received products with any problems have had no problems communicating with Olevs and initiating refund/return/exchange procedures from AliExpress.
Watch models
Here we leave you a selection of the most featured and sought after Olevs on AliExpress:
Olevs 6898
Features: It has brown leather straps, and both its case and hands are gold colored. You can choose from several background colors. It is water resistant to 30 meters and has a date indicator. 

Type: Quartz.
Olevs 6642
Features: It has stainless steel straps and gold-colored details. The case back comes in different colors and is water resistant to 30 meters. You can buy it as a gift set that includes a bracelet and a chain.

Type: Quartz.
Olevs 6633
Features: Its straps are made of silver stainless steel with gold-colored details. In this, case the watch has a few more functions such as a day marker, 24hs. format, and month and day of the week markers. The back of the product comes in various colors.

Type: Automatic mechanical.
Olevs Water Ghost Series
Features: Stainless steel straps in silver color with gold details. It has LED details on the hands that will allow you to see in the dark. The back of the watch comes in different colors. It is water resistant to more than 30 meters. 

Type: Quartz.
Conclusion
From what we have read about the brand and the products we've seen, we can attest that this is a serious brand. More-so, the official AliExpress store has a good reputation: customers have not had major complications and the service/communication with the company is a point that they value positively.
In short, Olevs is an interesting brand for those looking for a sophisticated-looking watch at the price of a low-end one.