Let us start by saying that, when it comes to sunglasses, Ray Bans are truly iconic.  Here are some of the most famous people in the world wearing them.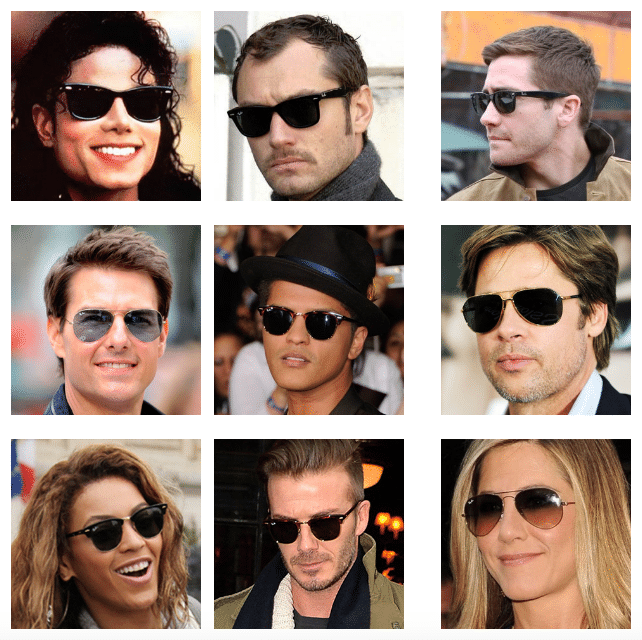 The only problem with Ray Ban sunglasses: they can be quite expensive considering they don't go for anything less than 80€, even in discount shops such as Amazon.
How do I find these kind of sunglasses on AliExpress?
Although AliExpress is widely known for replicas, there are another two options you might want to consider: the first are Chinese "white label" brands, which are usually cheap and good quality; the second are original Ray Ban.
What? I can find originals in AliExpress? Yup, let me tell you all about it…
…how to find original Ray Bans in AliExpress
There are so many sellers trying to sell fake Ray Bans on the website, AliExpress had enough and decided to block "ray ban" from their search tab. Take a look:

That's how serious AliExpress can be: if they suspect a lot of sellers are selling replicas of a specific product, they will block it completely, so now when you look for them, all you are going to see is something along the lines of "Sorry, your search 'ray ban' did not match any products. Please try again."
The worst part is that AliExpress seems unaware of the shops offering original Ray Ban sunglasses, like LianSan Eyeglasses, making them almost invisible to customers even thought they are actually selling authentic products. 🙂 🙂 🙂
Take a look for yourself: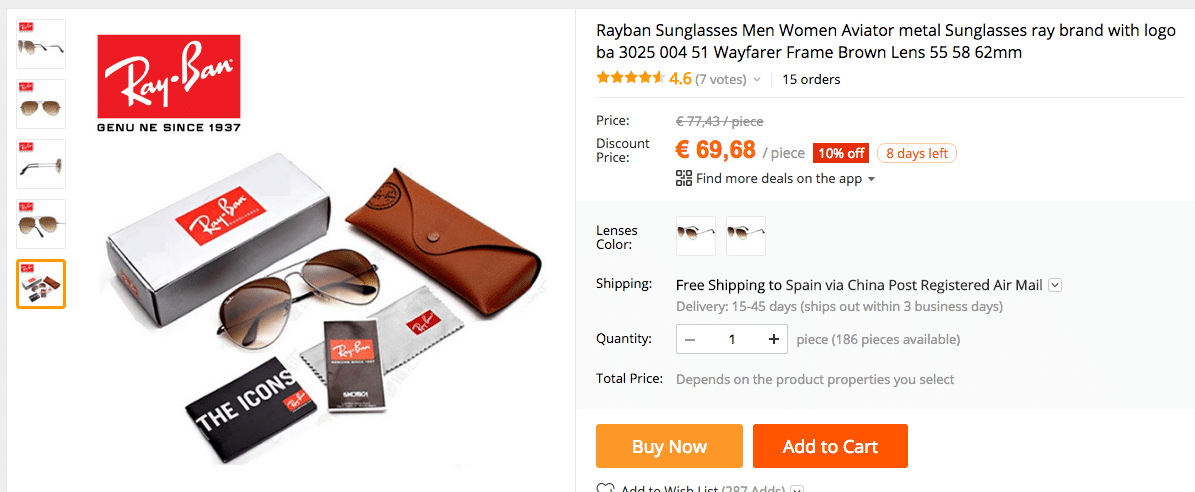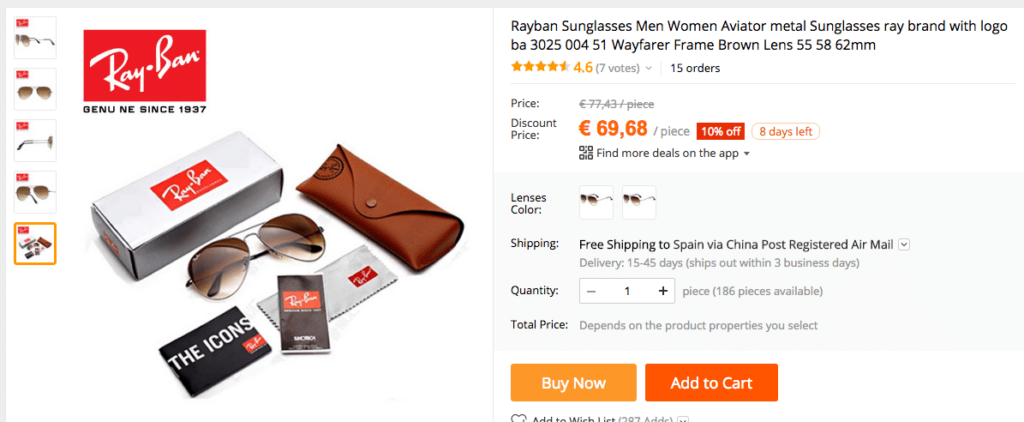 As you can see the price isn't really a bargain, but for a Ray Ban Aviator model, it's not all that bad either, about 15€ less than usual.
Three tricks to find Ray Ban glasses in AliExpress
Here at AlixBlog we are always trying to help our readers, so today we are going to show you three tricks to escape the block on the AliExpress search tab and find the Ray Ban glasses you are looking for.
Trick 1: Look for Wayfarer, Aviator, Clubmasters, just don't mention the brand
Type in the model + sunglasses without mentioning Ray Ban. So:
Or whatever model you are looking for. By doing this and not mentioning Ray Ban, the search tab won't block your search and you'll be able to find the original Ray Bans you are looking for, like the ones in the picture, Aviator Ray Ban (the ones to the left):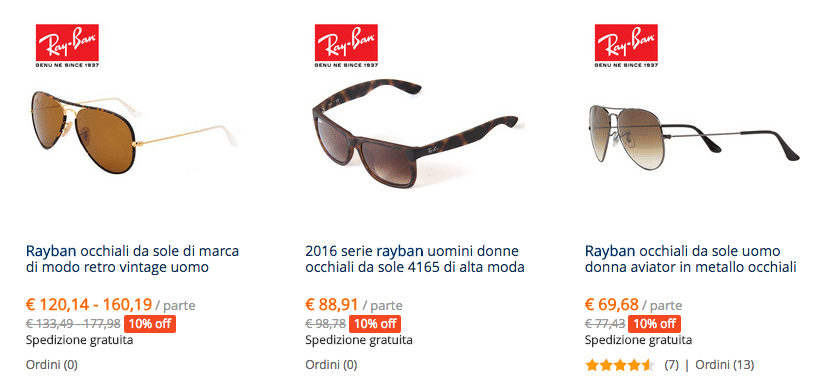 You can tell them apart from replicas both by their price and the Ray Ban logo being openly displayed.
Trick 2: use this page
If you to the regular AliExpress interface, you won't be able to look up words such as "Rayban", but we've found an old interface (or an alternative, we are not quite clear on its origins) that's not censured. You can find it by clicking here.
Then just use the filter at the left of the page to limit your results.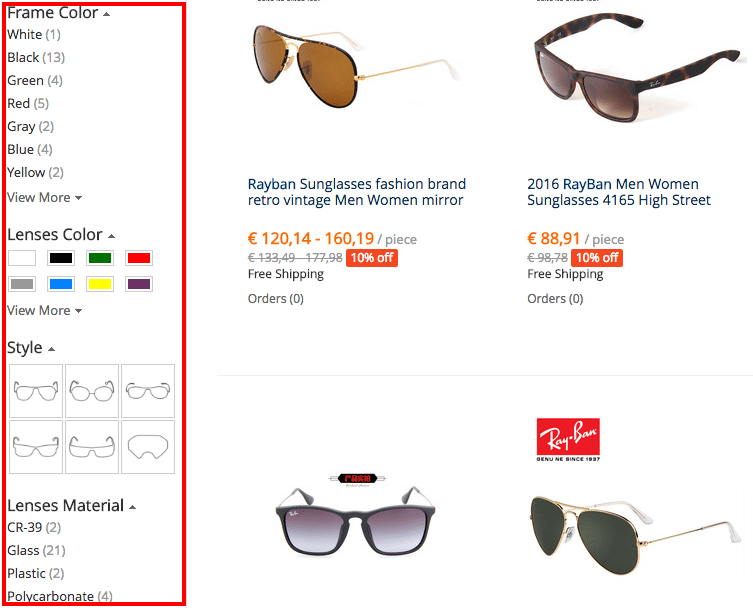 Trick 3: look for them with the sunglasses code
All Ray Bans sunglasses have a reference number that specifies the number and the size of the model. Jus to give you an idea, the reference code for Ray Ban Wayfarer is RB2140.
And to make it even easier for you, here is a list of searches already listed for you:
Cool trick, ha? 🙂
An alternative to the expensive originals: white label sunglasses
If you are still unsure about prices, here is a plan B: white label Chinese brands that copy the style of Ray Bans.
Aren't these replicas?
Nope. They might be similar, but they are simply white label glasses, sunglasses inspired by the style of Ray Ban but without their logo and with a different kind of cloth and case. In fact there are quite a few Chinese brands selling glasses inspired by the Ray Ban style, which is great considering aren't prosecuted at all by AliExpress (they don't copy any of the distinctive features of the brand) and they can save expenses to offer them for incredible prices, such as 3 or 5€ a pair. A real bargain.
My theory is that these Chinese suppliers simply got tired of being closed down by AliExpress for making replicas and started making "legal" sunglasses.
Here are a few (if you know any more, tell us an I'll add them):
Careful! Take a look at the protection factor
Everybody knows sunglasses have to be cool, but nobody wants to hurt their eyes by wearing something that doesn't protect them at all… So be careful and try to make sure you are actually getting something that is going to protect you against the sun.
The standard protection offered by sun glasses is UV400 protection. If you find some sunglasses you like, just check the name of the product or the description to see if the seller specifies what kind of protection it offers.
That's it! Do you need any more help?
We hoped we helped you find some Ray Ban sunglasses in AliExpress, but if you still have any questions, don't worry, just leave us a comment and we'll be happy to help you with anything else you might need.