In this article, we'll tell you how to deal with rare errors that can occur within AliExpress, when creating our account or logging in. We will explain how to register correctly in AliExpress, how to solve some common problems with the quick log-in, and what we can do in case our account has been deactivated.
How to properly register on AliExpress
To be able to buy from AliExpress, you need to register. To register, simply go to the AliExpress home page, and click on the "Join" button. The most common way to register is by adding our e-mail, name, and password. We will receive a verification message from AliExpress, confirming our account. If you do not receive the verification email, try looking in your spam or junk mail folder.
Add your shipping address
The next step is to enter our home address. To do this, go to your account, click on "My Shipping Addresses" and add a new address. Remember that the form does not accept non-English characters, so if you're in a region where your address contains accents or other characters, delete them and modify them to fit the English version. It is advisable to use our telephone number, considering the transport company may require it to send us notifications about the status of the package.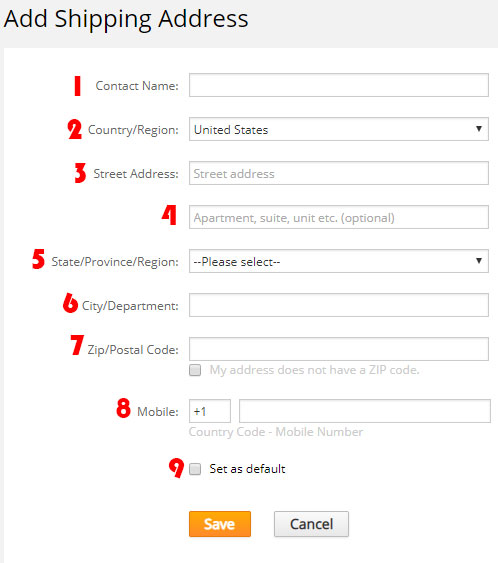 Alternative registration methods: quick log-in and phone number
You can also register with other fast log-in systems, accessing with some of your social media accounts such as Facebook, Instagram, Twitter… This particular way is quicker and will save us the step of having to add our name or a password. However, keep in mind that even though these social networks are linked to your e-mail, each one will create an independent account.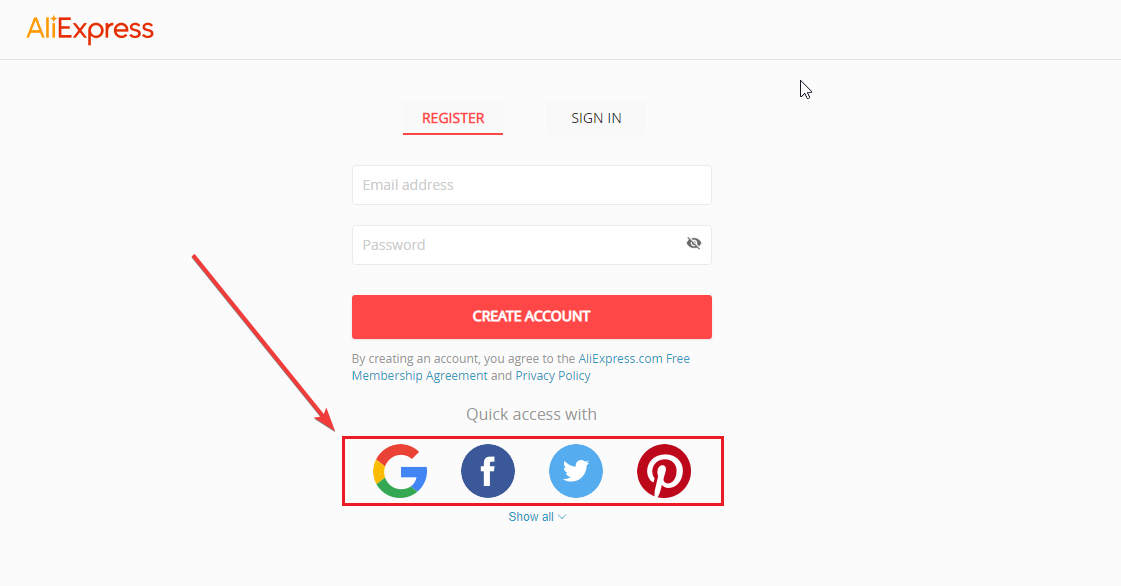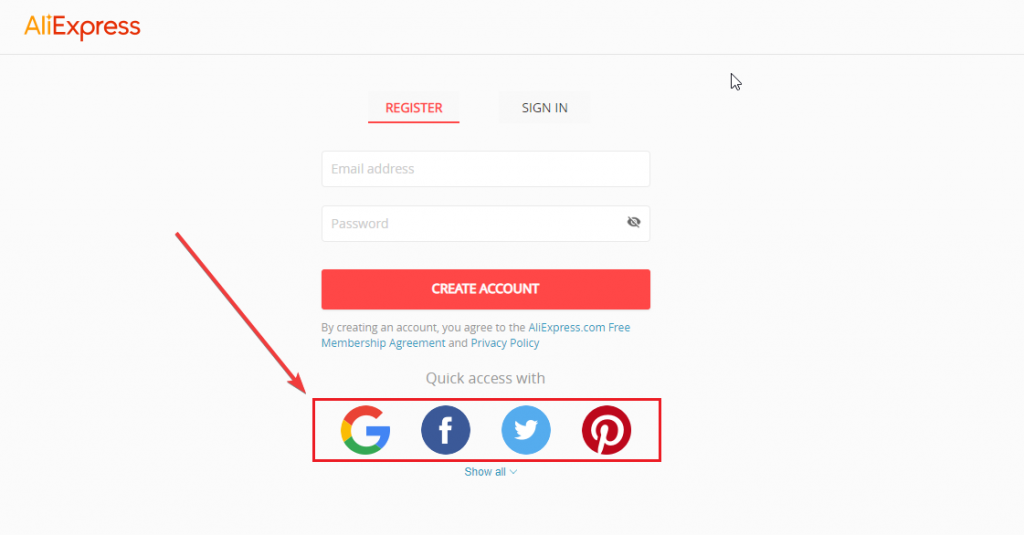 You can also register with your phone number. Just enter your phone number with the corresponding country code. You will receive a verification code via SMS. To log in with your smartphone, you simply need to enter your phone number and password through the mobile application. If you do it from your computer, you will find the option to log in with your phone number at the top right.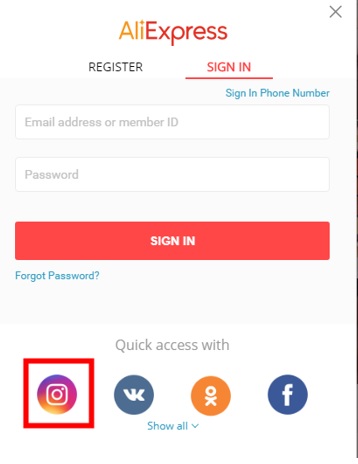 However, here on AlixBlog we do not recommend these registration options, especially registration with a phone number, since they create quite a lot of confusion, especially when it comes to recovering our password if we forget it or if we want to log in from a device where we do not have a session started on Twitter, Facebook, Google…
Finally, Apple ID users with the option "Hide My Email" inform us that in case you need to verify your data via email, you may encounter some problems, as this registry uses alternative email accounts that can filter out some important AliExpress messages as spam messages.
How to recover your AliExpress password
If you have forgotten your AliExpress password, don't worry, because recovering it is very easy. Just click below the login form on "Forgot your password?" Right after, we will access a form where we have to put our e-mail or identity. Then you will be asked to verify our identity by e-mailing us or sending us an SMS with a code. After entering said code, we will be able to change the password of our account.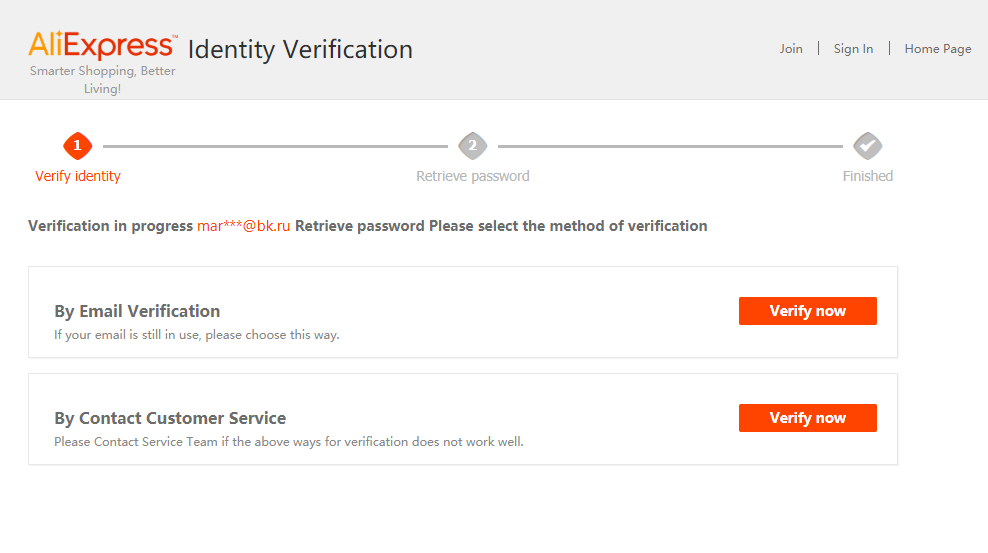 You have asked us several times how you can recover your password if you have registered with your phone number. The process isn't really that simple if you're on a computer, because in the password recovery form we will have to enter the account with the following format: "Country code – Phone number". Depending on the country you reside in, you will have to add its country code before the phone number.
Rules for AliExpress buyers
Being a buyer on AliExpress does not mean that we aren't tied to certain rules. On the website itself, AliExpress informs us of the rules that buyers must follow, you can see them here. In general, these are very simple rules, but let's review them.
Unpaid orders: We can buy products and leave them unpaid, in case the seller has offered us a discount, and this is the only way the seller can change the purchase price. But if we leave orders unpaid (and we don't end up paying for them), very often, we can get our AliExpress account suspended or deleted.
Manipulating the seller's feedback: If we try to modify the seller's rating in any way (either to benefit them or to lower their score) this may result in the suspension of our account.
Extorting the seller through ratings: Although there is no problem in leaving a negative comment on the product, AliExpress reserves the right to remove or block a comment if it is excessive and intended as extortion or threat to the seller.
Creating false disputes: Undoubtedly, if the product has arrived badly or has not arrived at all and there is no follow-up information, it is time to open a dispute. But some facts such as opening a dispute saying that we have not received the product when we have, asking for a refund if the seller has already done so by another route, opening too many disputes at once, or opening a dispute that is considered extortion (to get discounts or other things) if the product has actually arrived correctly, can lead to the suspension of our account for fraudulent use of it.
Frequently Asked Questions
In the blog's comments, we have found some questions that repeat from time to time, so here we are going to respond to your most frequent inquiries and how to solve them.
I can't access my AliExpress account
Check that you are entering the registered e-mail address correctly, as well as the password you entered at the time of the registration. Remember that the password is case-sensitive and no spaces are accepted. If the problem persists, it is best to follow some (or all) of these steps.
Delete cookies, change your browser, or try registering from another device.
Recover your password, in case you don't remember it properly and might be entering it incorrectly.
If all this does not work, or a message appears saying that you are not authorized to enter the account, contact AliExpress through the Customer Service chat. Access it by clicking here.
It says my account isn't available, why?
Most likely your account has been deactivated. There may be several reasons for this, but the most common one is to open disputes on a massive scale. It is also possible that we have had our account deactivated for security reasons (when fraudulent activity is detected) or that we have had our account deactivated for violating AliExpress' rules. It is important to check the email linked to your account as we may have a message explaining why. If you have pending orders and cannot access your account, the only solution is to contact AliExpress through its customer service chat, as in the previous case.
I can't follow other users
Another error that can occur in our account is that we cannot follow other users (nor can they follow us). In this case, we can continue shopping but our account is partially blocked for having violated any of the rules of the site. In this case, and as in the two previous ones, the best solution is to contact AliExpress, since only they will be able to fix the problem and prevent it from going any further.
New to AliExpress? Save money on your purchases
Registering on AliExpress has rewards now! Thanks to the welcome coupons for new AliExpress users, you can make your first purchases with great discounts. There are also temporary promotions such as products at $0.01 for new users. And if you are already a regular buyer, don't forget that by inviting your friends to register on AliExpress both you and your friends will get discount coupons.
If you are new to this Chinese online shopping platform, in our blog we have a section with tutorials where we give you the best tips and tricks to buy safely on AliExpress. If you don't know which one to start with, we recommend our Essential Guide to AliExpress, where we analyze everything you need to know before buying anything from this website.
Have you experienced any of these problems with your AliExpress account? We would love to hear about your experience, so feel free to leave a comment below!