Shein's growth is overwhelming and seems to have no end, and it was clear that Alibaba could not stand idly by.
And what does this Chinese giant propose to stand up to Shein? Well, allyLikes, an online clothing store with worldwide shipping and is undisguisedly inspired by Shein's formula and its so-called "fast fashion".
Here we tell you everything you need to know about this store and our opinion about it.
Warning: with this trick you can get unlimited Shein coupons. Click here to find out more.
Features of allyLikes
Fashionable clothes at the best price
The clothes you can find in allyLikes are very similar to Shein's: fashionable clothes, many models clones of other online stores or famous brands, and prices that appeal to the public who wants to renew their closet every season.
Yes, this clothing consumerism may not be the greenest thing in the world, but it is what the public demands. And Alibaba knows it.
And there are not only clothes: in allyLikes, in addition to women's clothing (click here), you also have available a section of accessories and home and decor (here), although they are not as extensive as the fashion section.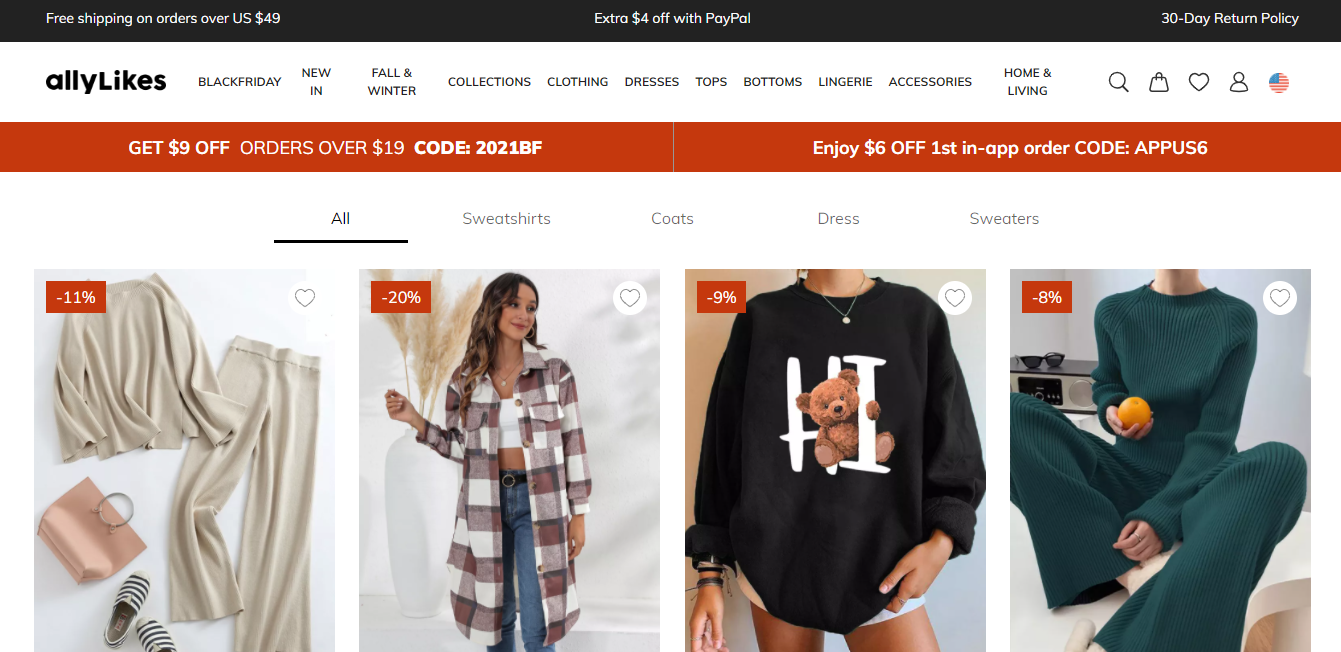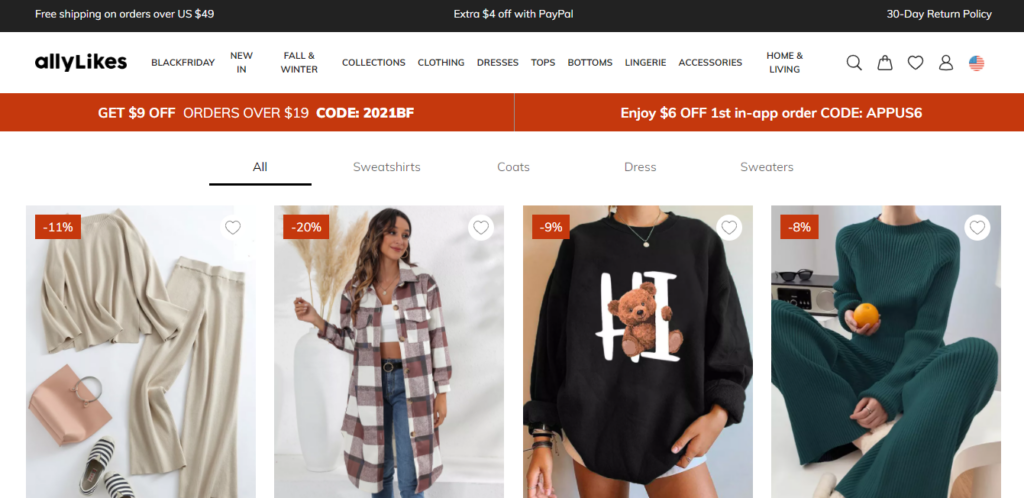 Free shipping from $19
As we have already told you, the clothes of this online store are very similar to Shein's, but something that differentiates them and that can make the consumer decide are the shipping costs.
In allyLikes, you have free shipping from $19 versus the $29 free shipping from Shein.
And the shipping cost for orders under $19 is $4.99, which we think is a bit pricey and should be more in line with the price of the clothes. But as long as they don't lower it, we'll have to jump through hoops and try to exceed the minimum amount to get free shipping.
Shipping time from 10 to 20 days
The estimated shipping time will depend on your country of residence, but is usually 10 to 20 business days.
At first, it seems a more than reasonable time, even very fast if in the end it arrives in 10 days, considering that the clothes are shipped from China.
In this type of stores it is always better to plan to buy in time and without haste: if you need something for an event you have in sight it is better to look for it directly in a local store, even if you have less to choose from and it is more expensive.
Multitude of payment methods (even accepts PayPal)
Like almost all new online stores that want to open a gap quickly in such a competitive sector, allyLikes accepts Paypal payments.
When we see an unknown store and we doubt whether to buy or not, payment with PayPal helps us to get rid of all kinds of suspicions.
These are all the payment methods supported:
Visa
Mastercard
Maestro
PayPal
JCB
Buyer protection
At allyLikes you have 30 days to return your order, obviously unused and in its original packaging.
If the return is due to an error or defect in the order, allyLikes will pay the return shipping costs, but if the return is due to the fact that you don't like the clothes when you try them on, you will have to pay the shipping costs.
Also, remember that for hygiene reasons you cannot return pajamas, underwear or swimwear.
How to return an order?
To return an order, go to "My Orders" (here) and click on the "Return" tab that you will find under each item.
Fill out the form with the reasons for the return: in case of an error or defect in the item received, upload photos or videos to prove it.
allyLikes will process the return within 5 days and will reimburse you within 7 days after receiving the package.
To make things go faster, please remember to include a detailed description in the request and attach your email address.
Can I change the size of an item?
At the moment allyLikes does not offer the possibility to change the size of an item. Therefore, in case you have made a mistake with the size, you will have to return it and buy it again.
If you consider that the size guide of the garment you bought was not correct, do not hesitate to ask for a free return, attaching photos with the real measurements and the one from the size chart.

Warning: with this trick you can get unlimited Shein coupons. Click here to find out more.
Feedback about allyLikes
Shipping
Rating: ⭐⭐⭐⭐ (remarkable)
As we told you before, shipping at allyLikes is very fast (10-20 business days), a little more than the standard shipping of any online store.
Also the minimum amount of $19 is quite low and you will have no problem to exceed it with any purchase.
The only point we would improve on is the standard $4.99 price for shipping under $19, as they could still tweak it a bit more, perhaps giving the option of slower shipping.
Variety
Rating: ⭐⭐⭐⭐ (notable)
The variety of allyLikes for women is very large and their clothing follows the latest trends: dresses, coats, pants, shoes, sportswear…. Every week they have an average of 100 new items, so you will probably have a hard time deciding between one model or another because you have a lot to choose from.
However, we miss a section of large sizes, for men and for children.
But considering that it is a new store, we are sure that in the coming months it will expand its catalog even more.
Prices
Rating: ⭐⭐⭐⭐⭐ (excellent)
The prices you can find at allyLikes are without a doubt their strong point: very cheap clothes that you can make even cheaper by using the discount codes and offers they offer every week.
Just for signing up you will get a $5 discount code (you can do it here), but on the homepage you have many more to choose from.
Warranties
Rating: ⭐⭐⭐⭐⭐ (excellent)
Buying from this online store is totally secure and you can always do it through PayPal to ensure total peace of mind.
Of course, if you receive an erroneous or defective order you can return it free of charge.
The return period of 30 days after you receive your order seems to us more than correct, although we hope that in the future all returns will be free of charge.
Customer service
Rating: ⭐⭐⭐⭐ (remarkable)
If you have any questions or problems with an order, you can contact them by filling out this form and according to allyLikes you will receive a response within 24 hours, as long as it is not a weekend.
If in this sectio,  we give it a remarkable instead of an excellent because something that would make it go certainly further is to have a live chat for customers or perhaps use a chatbot to quickly resolve frequently asked questions.
However, you can find a section with frequently asked questions here.
Quality
Rating: ⭐⭐⭐⭐⭐ (excellent)
The value for money of allyLikes is excellent and very similar to that of other online stores like Shein or Asos.
Although these clothes in principle are designed to use few seasons, some garments such as coats, jackets, pants or accessories can surprise you with their resistance and last for many years if you take care of them.
Knitwear or T-shirts tend to get damaged with washing, but nothing that can't happen if you buy them in your country, where they are much more expensive.
Warning: with this trick you can get unlimited Shein coupons. Click here to find out more.