As time goes by, more sites where you can buy products from Chinese brands are appearing and, little by little, the Gshopper site has become more popular.
When you first enter their site (you can find the english version here), the first thing that jumps out is their products, since they're very similar to those of sites like AliExpress, DHgate or Gearbest.
However, the big difference is in their prices. On Gshopper there are products from brands like Xiaomi, Roborock, Shiseido, Meizu, Amazfit, QCY, JBL, Lenovo, Haylou, Nars, Nintendo… but their prices are even better than AliExpress'.
Do you want to know if it is as reliable as it seems? Here is our opinion.


How does it work?
Based in Hong Kong, Gshopper is an online store that specializes in selling electronic products at very low prices. It is both a marketplace and a store with its own stock, just like Amazon.
You will be able to distinguish the third-party stores because the top right of the tab will look like this:

On the other hand, if the product is sold by Gshopper itself, only the product category will be displayed:

Even though its product catalog is still slightly limited, it has some very interesting features that you won't find in other online stores. The best part? It has some very interesting discounted temporary offers, as you can see in this link.
How to find interesting products
When you enter Gshopper's home page (here), you will see a selection of the latest offers, recommended products, discount promotions, amongst other stuff.
At the top, you will find a search engine. We recommend you to use the keywords of what you're looking for. For example, we can use simple words like "Xiaomi", "Roborock", "Amazfit"… Now, if we know the model, we could also add it to the search. Nonetheless, the fewer words, the better.
When accessing the results, we recommend you to filter the search by selecting only those models that are in stock. In the search, we will see the model, price and the store that offers this product, in addition to the valuation of other buyers. You can also filter the search by price and newness, i.e., organizing the search by showing the newest or oldest products first.
How to know if a Gshopper store is reliable
The Gshopper site aims to provide the best shopping experience to its users, so it tries to offer only recognized quality brands. Any seller can register on their platform. However, the process is difficult: sellers must sign an agreement and pass an audit before they can register their store.
Therefore, you can should feel safe when shopping on Gshopper, because their stores have been previously reviewed by the platform. If you're still unsure, the best way to confirm if it is reliable is to look at the opinion of other buyers, which you can see on the product you want to buy.
Gshopper Coupons
Gshopper's prices are low, but as you will see when you navigate through the website, before you pay you have the possibility of adding a discount code. There are two types of coupons:
Seller coupons: they are applied on all products from the same Gshopper store and usually have a minimum purchase amount. They can be applied from your shopping cart, but to get the coupon, you must access one of their products and copy the discount code.
Gshopper coupons: This is the discount coupon we all want since it can be applied to all the products in your shopping cart, regardless of the seller. They are not as common as the previous ones but can be found during sales periods.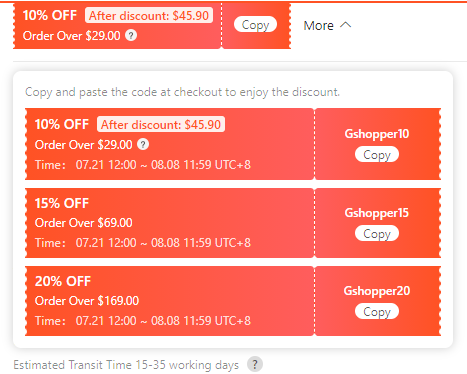 Brands
If you are wondering what product is worth buying on Gshopper, we explain their most prominent brands. Although it is probably better to stop by their page and start looking at their current offers.
Buying on Gshopper: what to keep in mind
If you want to know a little more about how this online sales platform works before buying, let's talk about the buying process. To start shopping on Gshopper you must register first (you can do it from this link) with your email or cell phone. You can find more detailed information and answers to other queries by clicking here.
→ Security when browsing the site
To ensure the security of Gshopper users, the site has obtained the McAfee Secure security certificate. This is an external audit of the platform that guarantees that the site:
It has not detected malware on the page or malicious links.
It has a valid SSL certificate.
No phishing is detected.
→ Pay securely
Once you get all the products you want in your cart, it's time to proceed to checkout. Gshopper works with different local currencies such as euros or US dollars, so if your local currency is not any of these, you may have to pay a small bank commission for currency exchange.
At the moment, Gshopper accepts payment for its products by:
Visa, Mastercard or American Express credit or debit card.
Paypal.
Alipay or WeChat Pay (only in China).
→ Shipping and customs
The Gshopper platform has sellers with warehouses in different countries such as China, Japan, Europe, America…. So when buying, we can choose between different warehouses if the seller has them available. Shipping is usually free but some sellers may charge a small shipping fee.
It is important to note that products coming from China will come with a registered standard shipping, while those we buy from our own country will arrive faster. Tracking information can be traced in 1-5 business days. Each seller will ship their products separately and as with most online sales sites, customs are not covered, so we will have to take into account the possible customs costs depending on our country.
→ Warranties and returns
To manage incidents with the products received by the Gshopper page, we will have to contact the platform itself during the first 14 calendar days after receiving our purchase. We will explain what the problem with the product is, and the page will provide us with the information to make a return of the product, and subsequently, they will send us a refund of the money.
→ Returning a product
One of the great advantages of this platform is that it allows refunds within 14 days from the date we received the product. To do this, we will have to contact customer service as we have already mentioned above, providing the order number.
We will have to place all the products to be returned in the original package and then send it to the local address provided by the site. It is recommended to do the shipment within 7 days after receiving the instructions. Once they confirm that they've received your returned products, the money will be refunded to you within 7 working days.
It is possible that the money may take a little longer to arrive, considering it depends on the management of the banks. So, as stipulated in their policy, if after 10 working days we have not received the money, we will have to contact their customer service center or send an email.
→ Gshopper contact center and customer service
If you have any problem, doubt or suggestion for the site, Gshopper makes it easy for you. If you want to contact this website you just have to enter their contact form from this link. If your issue has to do with an order, it is best to indicate the number of it. We can also attach documents to explain our problem. You can also send an email to support@gshopper.com.
Remarkable Gshopper pros
As we said at the beginning of this article, the Gshopper site includes different advantages unlike other similar platforms. Not only because of its low prices, but because this site is also focused on those professionals who want to buy cheap products for their business.
Buying in bulk (Wholesale buying): the lowest price
If you want to buy merchandise for your business to sell and make money, you're in luck because some sellers are willing to negotiate their prices if you buy their products in bulk. Just look for this button in the ad: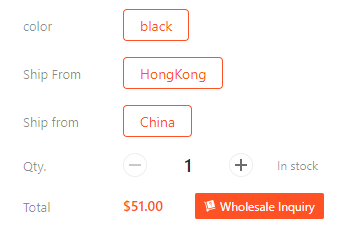 By clicking on it, a window where you can enter your data and make your offer will open.
Dropshipping: make money easily
Creating a profitable online business is easy thanks to dropshipping, which is based on selling products from other platforms with a price increase, without the need to have stock at a standstill, especially with the risks it involves. Gshopper will make your life easier when it comes to selling with dropshipping, because it allows mass product orders.
Real opinions about Gshopper: Is it a scam?
In short, when buying on this website, it's normal to suspect that this store could be a scam.
But in the case of Gshopper, it's really not: we have already made three purchases and everything went very well. Luckily, it turned out to be very reliable.
Big companies from all over the world support this platform and that's why they have a wide variety of sellers that keeps growing. Plus, they're all over the world.
In addition, the sellers are reliable because they go through an internal audit process that rules out fraudulent sellers. The site itself is responsible for managing returns and most importantly, you can contact them through a form and email, getting a direct and personalized response.


We have already bought some stuff in Gshopper and therefore we can give you our opinion: it is worth buying, if you find a good discount. But if you want to know other offers and AliExpress bargains, then we invite you to keep reading our blog.