OPPO has launched its new generation of smartphones. This Chinese company is having a quick and spectacular growth; quite possibly you are seeing its advertisements in your cities on many posters, in television commercials, or on internet websites.
And how is this barely 15-year-old company breaking into the market with such force? Its motto is to produce products with very high performance but at a reasonable price.
In this article, we will review the OPPO Find X2 Pro, the most powerful version of this latest generation. We will analyze its benefits and see its advantages and disadvantages, we will also see when and where to buy it at the best price.
OPPO Find X2 Pro
This is the model with the best features of the two announced by OPPO, the other model is the Find X2, a more limited version but still an excellent phone for those who are less demanding when it comes to photography options.
The Find X2 Pro is a model that is among the best smartphones of the moment and can compete with the Samsung Galaxy S20 Ultra, the iPhone 11 Pro Max, or the Huawei P40 Pro but at a lower price.
Design and Display
The Find X2 series features simple elegance, with a rectangular shape and smooth curves that fit perfectly in the hand. We will notice these curves both on a slightly rounded screen and on the back that maintains this same shape.
The texture of the back depends on the choice of color, it is a very peculiar characteristic but if we opted for ceramic black, we will have a shiny back surface with a silky touch and a deep black frame. If our decision is the vegan leather color we will have a texture similar to the leather but in orange, in this case, it is an ecological plant-based leather that makes the frame have a shade of rose gold.
In the back we will find the camera module and the name of the brand, in the black model we will see a silkscreen with the word OPPO; and in the orange one we will see it in a gold plate attached to the lower left part.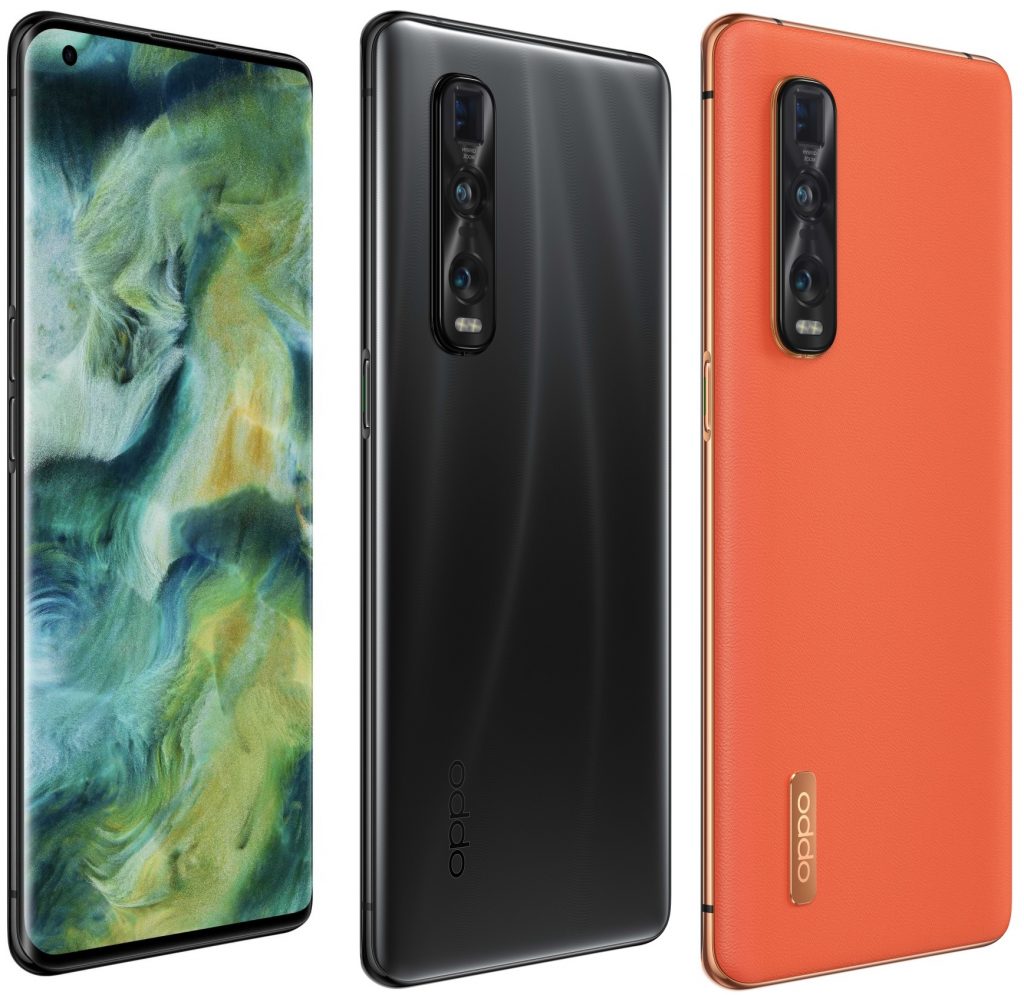 The screen that takes almost 93% of the front part, in which we will see a slight march in the upper and lower parts and a slight hole in the screen to hide the front camera, this is different from the first Find X, in which the front camera was hidden at the top with a retractable mechanism. To make even more use of space, the fingerprint reader is hidden under the screen.
With dimensions of 165.2 millimeters high by 74.4 wide and 8.8 millimeters thick, this model weighs 207 grams. A fairly normal weight if we compare it with other devices of the same dimensions and that is an advantage compared to the quarter kilo that some current models have. 
Another advantage is its IP68 resistance protocol, which protects it from being submerged in water for a certain time and makes it impossible for dust to enter the internal mechanisms.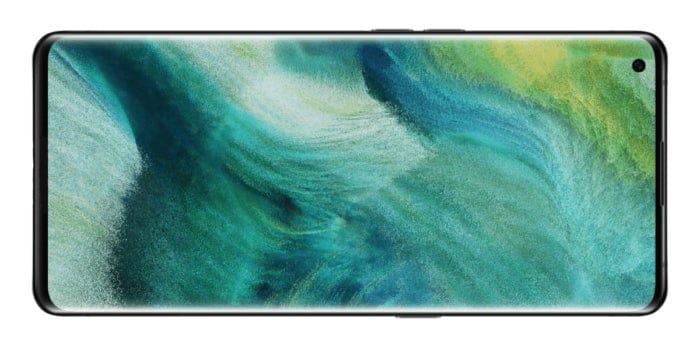 The 6.7-inch OLED screen is made of super resistant Gorilla Glass 6, with a resolution of 3168 x 1440 pixels. With technology that supports the HDR 10+ protocol, it also has a screen refresh of 120 hertz, something that places it among the best screens of the moment and does something that others similar models can't: it uses this frame rate in a resolution of 1440p (when opponents like the Samsung Galaxy S20 Ultra can only do it in 1080p resolutions).
The heart of the beast
This smartphone has generated a lot of excitement among all Android users as it has obtained performance results in the benchmarks that place it currently as the number one. Inside, beats a Qualcomm Snapdragon 865 processor that allows you to get this outstanding performance together with the Adreno 650 GPU. This processor also allows you to use 5G telecommunications networks for access to the fastest downloads possible. Besides, it also uses the protocols of Wifi 6 and Bluetooth 5.0.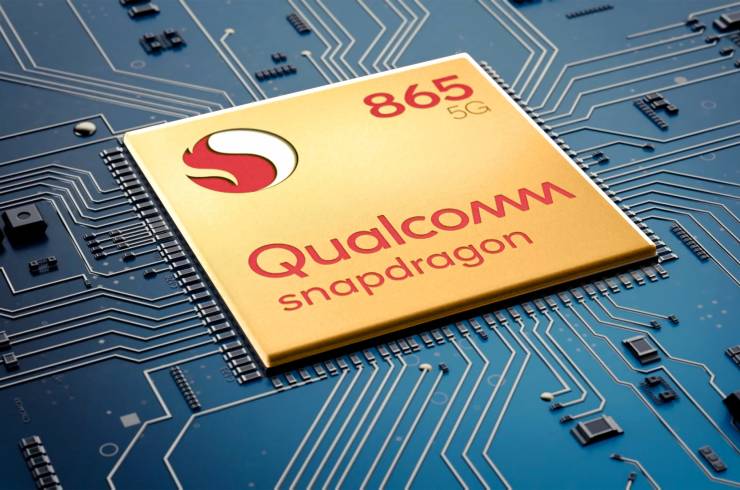 Accompanying the processor we have 12 gigabytes LPDDR5 of RAM and an internal memory of 512 gigabytes UFS 3.0. With this disk capacity, we can carry an infinite number of applications, photos, files, and videos with us at any time.
High-speed battery
With these high-performance both screen and processor, we will need a suitable battery. In this case, it includes 4,260 mAh with which we will have more than enough to spend all day shooting photos, answering messages, or making calls.
However, its main advantage is not the size of the battery, but its new 65-watt SuperVOOC 2.0 fast-charging system; which allows you to fully recharge the terminal's battery in less than 40 minutes. That may definitively be the envy of all competing phones. So if the battery is vital for you due to high usage, with this device it will be really difficult to get stranded.
A good camera and a better Zoom
Lately, one of the features most looked for by users and companies when it comes to smartphones is the capacity of making the best possible photos and videos. And the Find X2 Pro is not lagging either on this matter.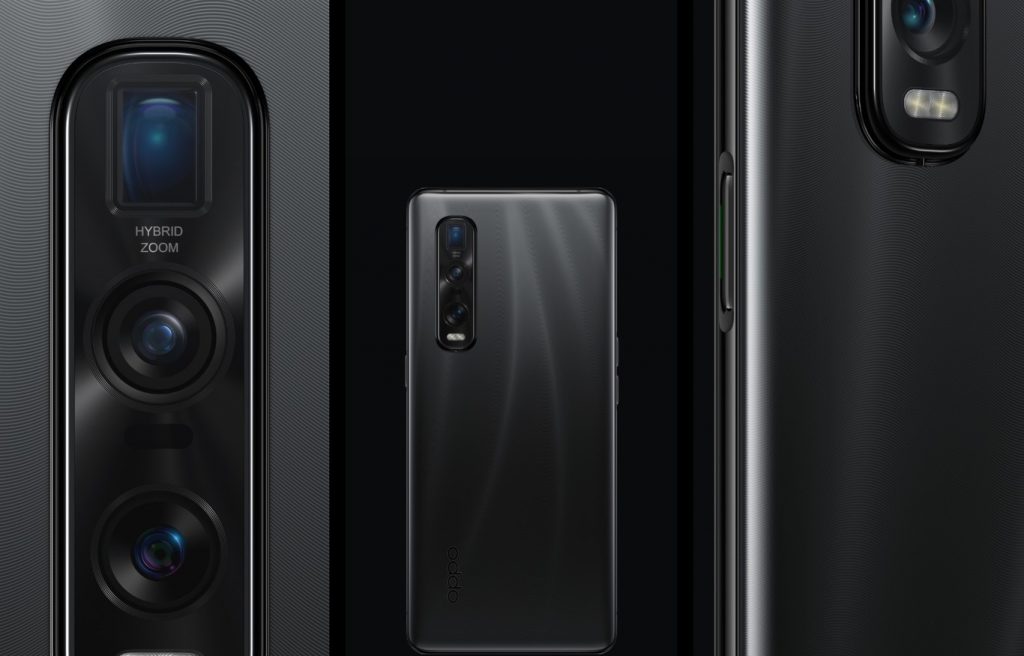 In the back, we will find the three-camera module. The main camera is composed of a 48 megapixel Sony IMX689 angular sensor, with a 1.4 focus aperture, dual OIS technology, and 12-bit True Capture.
The second lens is a 48-megapixel wide-angle lens made up of a Sony IMX586 sensor. The focal length is 2.2, and the field of view is up to 120 degrees. It also allows being used as a frame lens to shoot up to 3 centimeters away.
The third camera is a 13-megapixel periscope telephoto lens, with a 3.0 focal aperture. With a 2nd generation Hybrid Zoom of up to 10x and a digital zoom of up to 60x.
All these sensors have an optical image stabilizer to improve stability when taking photos or recording videos.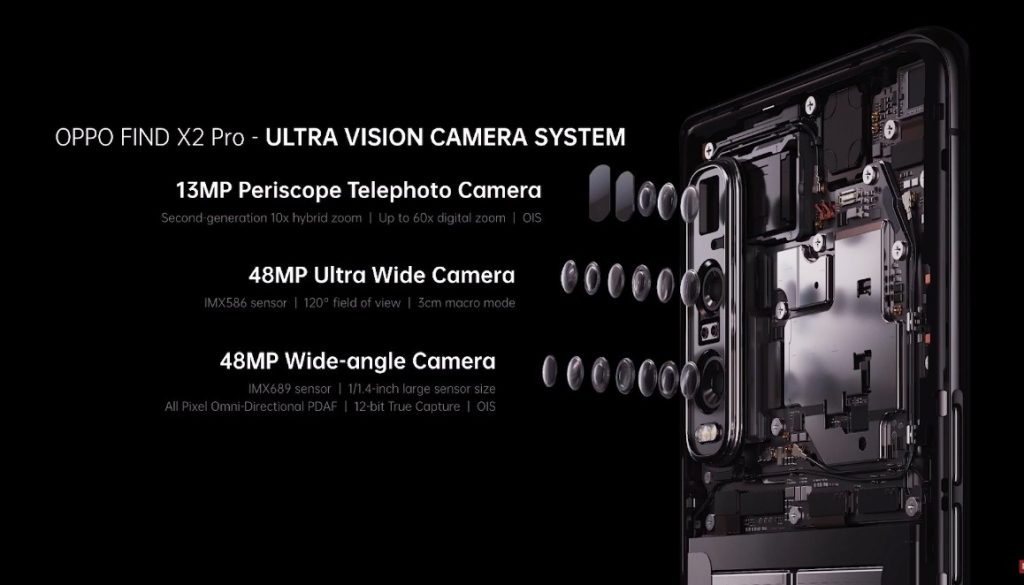 The front camera is a 32-megapixel sensor that includes the Beauty IA Mode to take the best possible selfies. Plus, Ultra Night Mode algorithms and a smart fill light mode pull selfies out of the shadows, letting natural beauty shine through.
How much does it cost?
The price of the OPPO Find X2 Pro is around US $900. Much less than when it was launched, in May of the current year. It is also a much lower price than the other competing smartphones that we have already mentioned. 
As we have seen in this review we have been able to criticize a few things and praise many, the reason is that the Find X2 Pro is an excellent phone with which few can compete. In the end, the only downside that we could highlight is that it does not have its own optimized operating system as Apple devices have. Still, keep in mind that this is one of the best Android phones there are.
And the best part? It is already available on AliExpress. You can find it by clicking here. Before buying, make sure to evaluate properly the different stores that offer it. You can check our tutorials section, where you will find many tips and tricks for buying safely on this online sales platform.