At this point, many of us are buying at Shein, since shipping costs are very cheap, there are always coupons and in some countries returns are free.
But if you want to try the clothes before and buy them without having to wait, what you need is to go to a physical Shein store.
Here we will explain how to find your nearest Shein store.
Shein slowly bets on physical stores
Shein is becoming way more successful, and it seems that its online store model is working: lots of sales at a low cost. Actually, thanks to this, it can keep prices low without losing profits. In fact, more brands are moving to the "online" store model: clothing giants like Zara or H&M are closing their physical stores.
However, we all like to try on clothes from time to time, and the presence of a physical store is also a form of marketing: indecisive people can see the quality of the clothes, and those who don't know the brand might be encouraged to buy. For this reason, Shein has opened some ephemeral stores or "pop-up stores".
Here you can see if Shein has any temporary stores open in your city.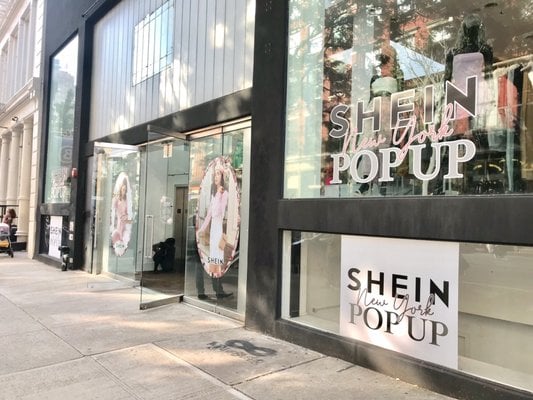 In these stores, you can find a varied selection of clothes, but as you know in Shein there is an unlimited amount of products and sizes. Every week there are new clothes, and you can even find "plus-size" sizes.
What is a pop-up store?
It's a temporary store, usually opened by online stores to make themselves known.
Shein celebrates the opening of these stores by inviting influencers and offering discounts. These stores usually have amazing decor, music, and a nice atmosphere, so it's definitely worth a visit, if only for the show.
Where are Shein's physical stores?
We are going to explain which ones are the physical Shein stores or where they usually open.
Shein stores in the US & Canada
As of now, Shein has opened physical stores in New York City, California and its latest addition was a store in Arizona. They usually open a few pop-up stores in other states, so we recommend that you follow their social media accounts to find out if your city will be one of the lucky ones.
As for Canada, there's no proper physical store, but they've opened pop-up stores in some cities before. Usually the store is up for a week before they move on to another city or just close them altogether.
Shein stores in Europe
At the moment, the only physical Shein store is located in Barcelona, Spain, and it's a section within another store. They also have a "Shein outlet" in different point in the city. They've also opened pop-up stores in Madrid.
As for the rest of Europe, there's no other physical stores. They did open up a pop-up store in France for Fashion Week to promote the brand, so it wouldn't be surprising if they opened another temporary store in Milan (Italy) for a future fashion week. There's also a pop-up store in Dublin, Ireland (as of March 23rd, 2022).
Shein stores in other countries
For now, Shein has shown no intention of opening physical stores in Latin America, although they did open a pop-up store in Mexico City for a bit. Still, there are many buyers of this brand and the online sales business model seems to work pretty well in these countries.
The Chinese giant is planning to open a pop-up store in Sydney, Australia in April 2022 and there's no doubt that they'll continue to consider other cities across the globe for this very purpose.

Unofficial Shein stores
In addition to the official stores, in Latin America there are many people who open a business using Shein clothing. Some don't even change the labels and continue to use the brand name.
In Europe, the costs of having a physical store are higher, so you don't usually see these types of stores.
They are not official stores, but considering Shein clothing is very cheap, you can still earn something by selling your clothes in a physical store if the costs of the venue are low. We won't find the entire catalog of products, either: it's usually a very small amount. And certainly the price will be higher than what it would be if you bought the clothes directly from Shein.
Keep in mind that the platform won't be responsible for any problems related to these unofficial Shein stores.
How to find out about Shein's new stores
The best trick to not miss the latest news and upcoming Shein pop-up stores is to log in regularly to their page. But if you don't want to waste your time, we have a suggestion: If you enter this link and subscribe to Shein, you will receive all the news from this popular online store, plus sometimes, they will offer you a small discount for signing up to their newsletter.
As you know, we love to inform you about the latest news of the platform, so if in the future Shein opens new physical stores, don't doubt that we'll let you know here on AlixBlog.