Nike, Adidas, Mizuno, Puma, Joma… these are only some of the cheap soccer shoe brands you can find in AliExpress. The platform has a wide range of soccer shoe styles, with cleats, with multi-cleats (for artificial grass and soil) or indoor soccer.
So, are they originals or are they replicas?
Soccer shoes in AliExpress
Here are some examples of the soccer shoes you can find in AliExpress: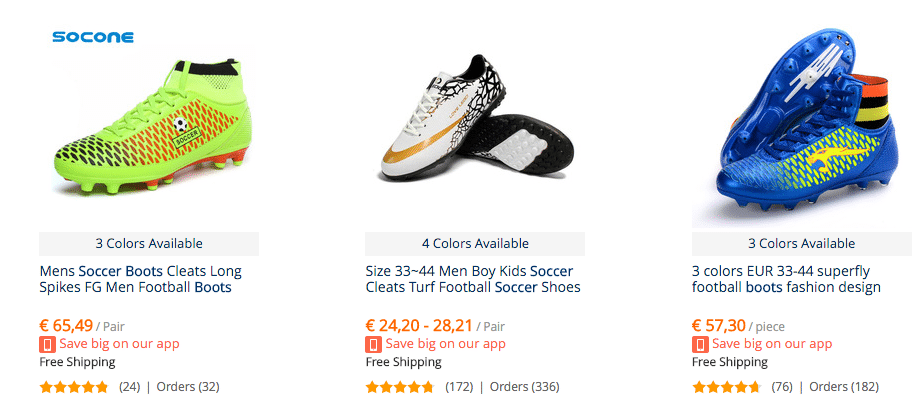 These are three examples of the thousands of originals, replicas and white label shoes you can find. AliExpress offers an alternative for replicas, at a similar price: white labels that look as good as original Adidas or Nike do.
Here are some Chinese brands that make soccer shoes
(Click on the brand name to see their catalogue)
When looking for soccer sneakers in AliExpress, try sorting results by sales. The more sales, the more comments and ratings you can check to see what kind of quality they are. White label brands such as these ones have shoes for 15 to 30€ and some models have already have more than 500 sales.


Furthermore, white label soccer shoes are probably a much better choice than replicas, they are cheaper and tend to be made out of better materials, as replica makes are more focused on copying out logos than the quality of the shoe itself. Personally I would go for originals on Amazon – or AliExpress, if they have them – or Chinese brands (you can get three for the price of one original) in AliExpress.
Finding original soccer boots
If you are looking for original soccer boots, try looking on Amazon, or even in the shop next to home, rather than AliExpress. Here's why:
Original soccer shoes in AliExpress aren't very cheap.

They are really hard to find…
To tell the difference between an original and a replica, check the price. If you find shoes for 20€ claiming to be original, be very suspicious, they are probably fake. The only soccer shoes you are going to find for that kind of prices are Chinese brand ones.
Furthermore, whenever you are looking for brands such as Nike, Adidas, Puma, Joma or any other famous brand, look for the guaranteed authenticity stamp. If they have, you can be sure they are original.

ATTENTION! This icon is used for sellers to show customers they are 100% sure the product is original. But, what if it isn't? Well, AliExpress will give you up double the price you paid for your soccer shoes and will punish the seller directly, sometimes even closing down their shop. And, in most cases, you'll get to keep the ones they sent before 🙂
How to find a good soccer shoe seller in AliExpress
Finding a good seller is always important. But before you do, you have to know how to find the product itself, which can be hard than it seems. To make it easier, we are going to give you some key words to get the best results for white label soccer boots. Unfortunately, like we mentioned before, it's very hard to find originals in these lists.
If you are looking for a specific soccer shoe brand use one of the key words Soccer boots/ Football Boots. Use this as a base, and then add words according to what you are looking for, for example "Indoor" or "kids, if you are looking for junior ones.
Tricks to help you identify original soccer boots in AliExpress
Check the price: let be realists, you aren't going to find super cheap original soccer shoes. The minimum is 70-80€. If you see them for less, they probably aren't original.

Check customer comments about the originality of the product and the brand.

Look for an authenticity icon in the description of the product.

Ask the seller via chat or email any questions you might have and ask for pictures (of the logotype) if you need to.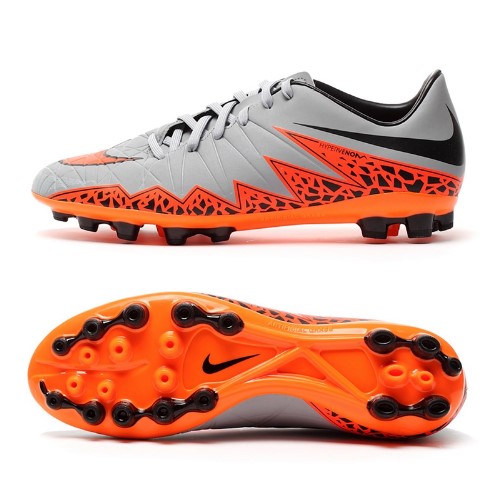 We've been able to find some original brand soccer shoes in AliExpress, here they are:
They're aren't many models and they don't go for cheaper than 70€ so, to be honest, you aren't saving much money at all, they're about the same price as anywhere else.
Check the size
If you aren't purchasing shoes from any of these four brands (originals always have the same size, no matter where they are sold), you'll have to convert your size to the American measurement, the one used by AliExpress sellers.

To resolve this, sellers usually provide a size conversion table underneath each product. Just check for the equivalent in your country.
Amazon, a giant bazar for Nike, Adidas, Puma, Lotto…
The offer gets much wider when look on Amazon, a true outlet of soccer shoes, featuring those worn by Messi, the Nike Superbly, Hypervenom, Magistax or the CR7 boots, among others. Between their own stock and that of external sellers, you can find more than 10.000 new pairs.


Another positive aspect about Amazon is that they offer 24 hour free shipping. AliExpress also has free shipping, but it usually takes up to 15-20 days. Therefore, if you are in a hurry, try getting your soccer boots on Amazon.
Another difference between these two platforms is that AliExpress is a platform for external sellers only, while Amazon has their own products as well as that external sellers, as you can see by looking at the product's description.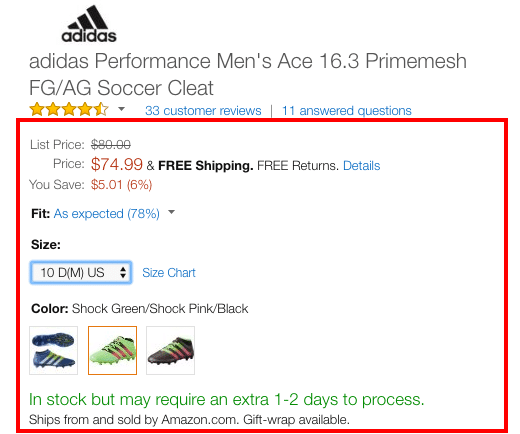 In this case, the product is sold and shipped by 'Galaxy Sports'. To get more information on the seller, click on the name and then look at their rating. You will also find detailed information about their shipping and other frequently asked questions.
Remember to select your size, and if you have any doubts or problems contact the seller of Amazon's Customer Service.
Price difference for soccer boots in AliExpress and Amazon
There is not perfect online store to buy soccer boots. Each platform has it's advantages and its disadvantages. What I usually do is look up the specific model. Then, if it's available on various platforms I compare prices, rating and sales and then choose the best one. This is also valid when looking for white label brands.
There is so many options when it comes to soccer shoes, it's hard to settle on a standard price. You can them for as little as 20€ (Chinese brand) or as much as 120€ (originals). 
Finally, you can also take a look on eBay. They offer second hand sneakers and new with defects (outlet), but do be careful: some seller here are just reselling AliExpress products for a profit.