If you have already started planning your big day, you might have realized how many things you will need for everything to be perfect. An endless list that starts with the wedding dress, and that turns your wedding into a big outlay of money.
You may have considered buying your dress on AliExpress and probably have many doubts about the quality of the fabric, if you can make it to measure, if it is really profitable, if people will notice that it is a cheap dress…
In today's article, we are going to see the best wedding dress stores on AliExpress and we give you a preview: you are going to love their design, quality and the amount of money you are going to save.
How to find the best wedding dresses here.
Our opinion: is it a good idea to buy a wedding dress on AliExpress?
Yes, we think that buying a wedding dress on AliExpress is worth it: you can find the wedding dress that best suits your personality, with very good finishes and for a lot less money.
Why spend a lot of money on a dress that you will only wear for a couple of hours?
Besides, you can be sure that no one will notice where you bought the dress, because the quality of these dresses is easily comparable to more expensive and well-known brands.
Aside from these facts, with such low prices, you can even afford to buy two wedding dresses and choose one at the last minute. Or change in the middle of the celebration and make your day even more original.
Of course, there is something that is essential: you gotta choose the right store. So here is our selection of the best brands and the best sellers of wedding dresses on AliExpress.
Best Stores
Although they are ordered according to our personal preference, all of these sellers are trustworthy and we assure you that you will not be disappointed.
1. BEPEITHY Official Store
Official store: Go to the store
BEPEITHY is the quintessential AliExpress wedding dresses store. Its age, sales and good ratings endorse it as one of the best and cheapest options.
They have dresses for less than $200 of high quality, you will hardly find in any local store something similar for less than $1,500.
There are all styles available according to your silhouette and tastes: mermaid cut, princess, imperial, A-line, straight, boho…
It also has a very important advantage: for just over $30 you can have any of the dresses made to fit you. This is an extra service that you will find on the product page itself, but if you do not clarify you can always ask the seller.
If you are interested, they also have guest and bridesmaid dresses.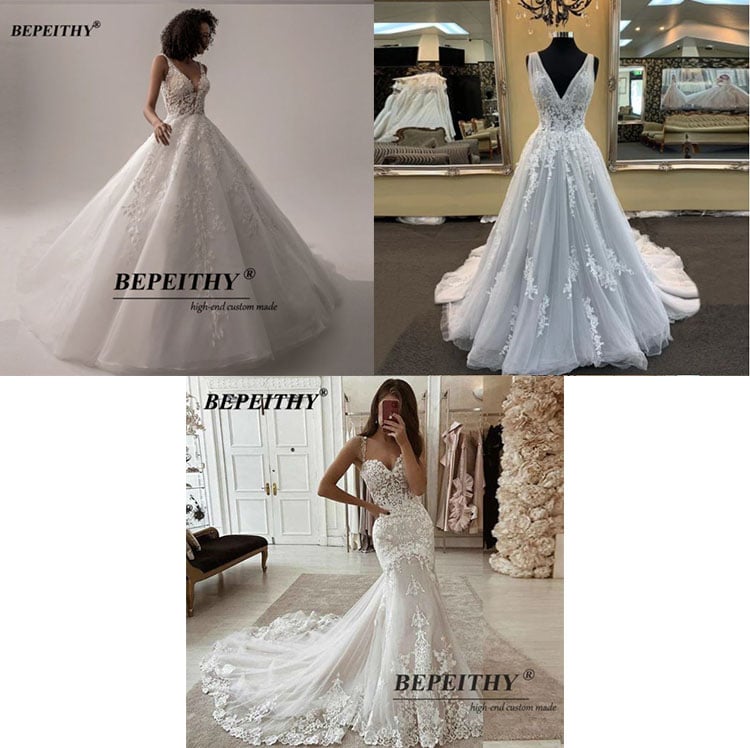 2. LORIE Official Store
Official store: Go to the store
LORIE wedding dresses are also one of the best rated by AliExpress buyers and it's no wonder: they have many current models that remind us of St. Patrick's couture dresses, but here they are available from $80.
Don't miss the real photos of the reviews, where you can see how beautiful they look and the drape of the fabric.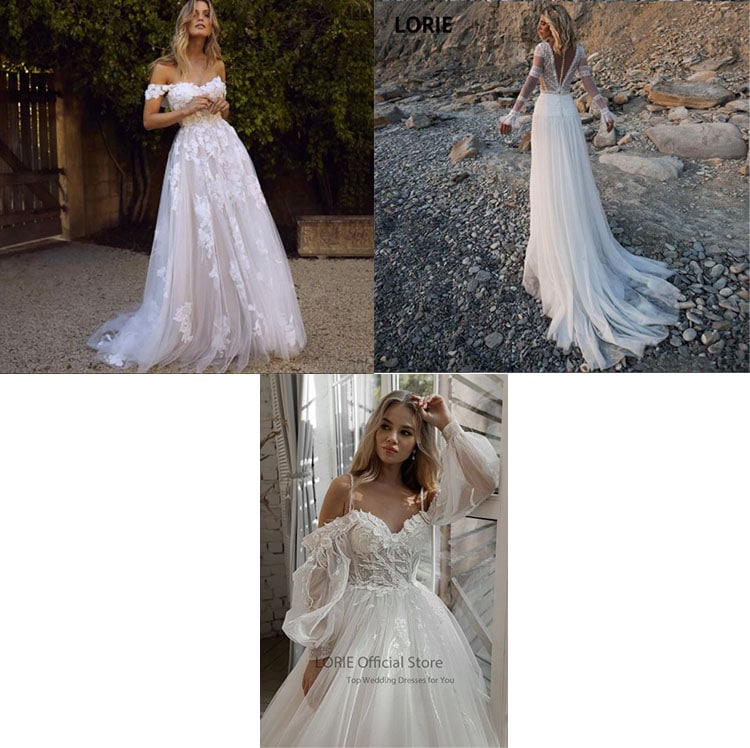 3. TL Romantic Wedding Dresses Factory
Official store: Go to the store
In this store, most of the wedding dresses are princess cut, you even have available wedding cancans and guest dresses for women and girls.
If you are looking for a simple wedding dress without many details, perhaps this is not the store that best suits you, although it has very interesting proposals at a good price.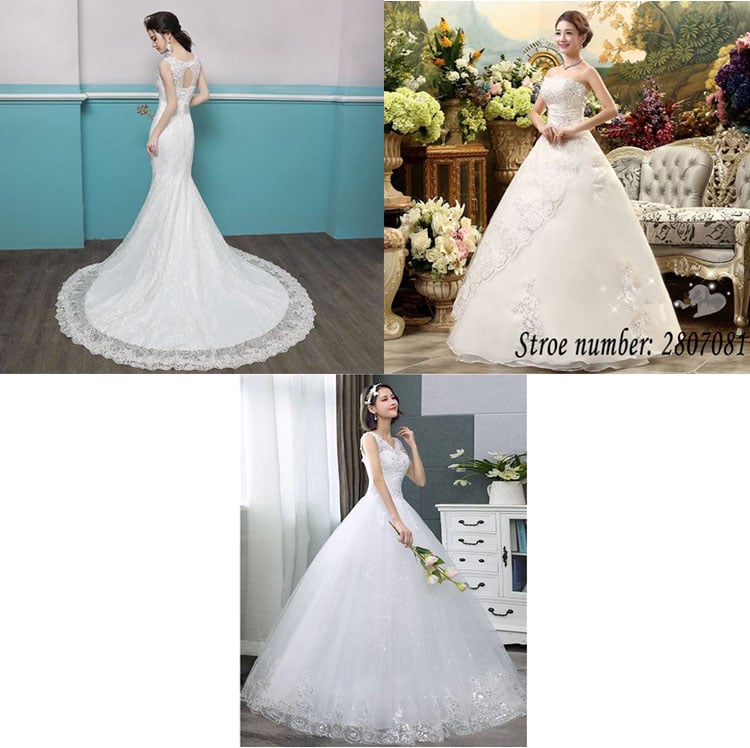 4. BECHOYER Official Store
Official store: Go to the store
BECHOYER is undoubtedly one of our favorite wedding dresses stores on AliExpress.
Their models are stunning: simple with long tails, romantic with embroidery, tulle, with rhinestones, corset with sequins…
The prices are a little higher than the previous stores, but they are still very cheap for the quality they have (about $200-300).
By clicking here, you can see their best selling dresses with many opinions and real photos of the buyers.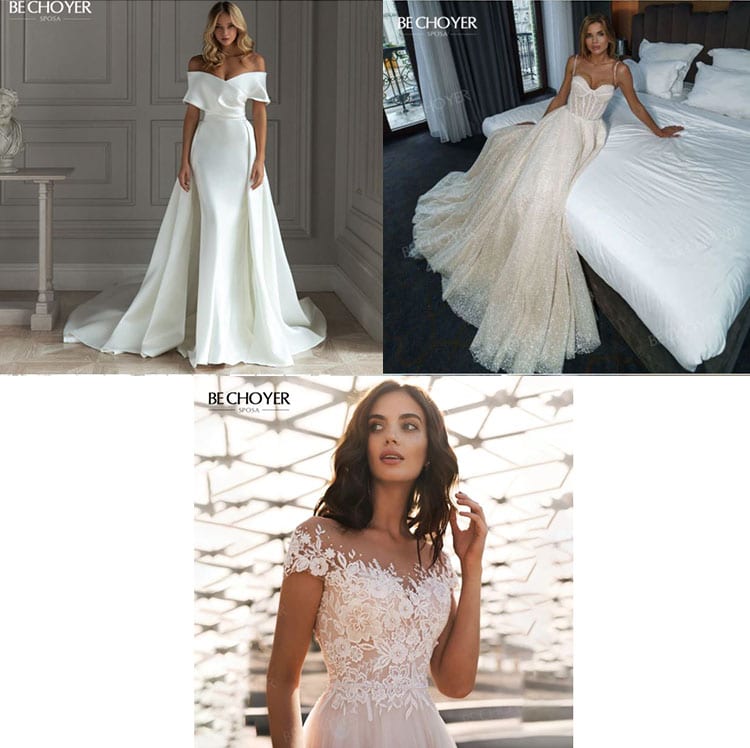 5. Poemssongs Official Store
Official store: Go to the store
Poemssongs is one of the top brands of wedding dresses and guest wedding dresses: its range is not as varied as other stores, but if you are looking for mermaid cut dresses with detachable tulle skirts, here you have several available.
This option is very practical if you are looking forward to wear a more spectacular dress during the ceremony, but then you prefer to be more comfortable at the celebration to be able to dance and move without problems.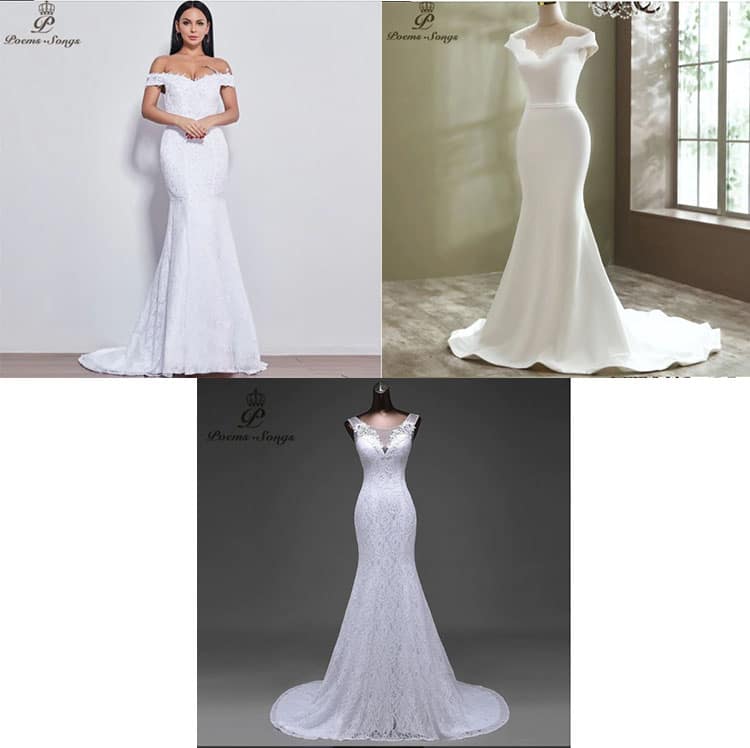 6. SoDigne Official Store
Official store: Go to the store
On SoDigne you can surely find the wedding dress of your dreams at a very affordable price: for less than $100, you have many models to choose from with many sales and photos in the comments.
In addition, for the same price, you can have it made to measure: fill out the form with the necessary measurements and make the payment directly without talking to the seller.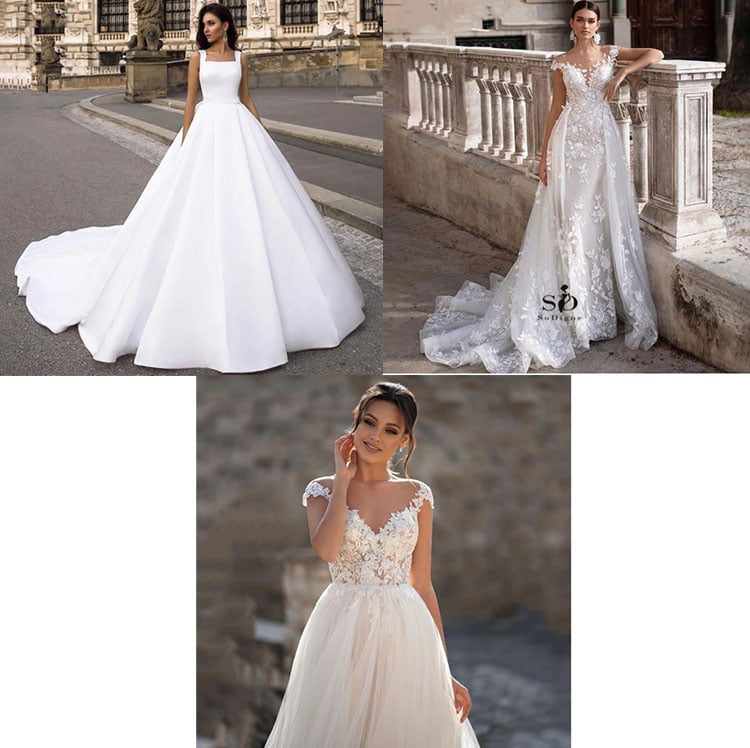 7. Booma Official Store
Official store: Go to the store
If you have clear that your wedding dress should be boho and romantic style: Booma is your ideal store.
Their dresses have a very fresh and original touch that we have fallen in love with. Perfect for a beach wedding or a country wedding.
You also have short wedding dresses, if you are looking for something more informal for a civil wedding.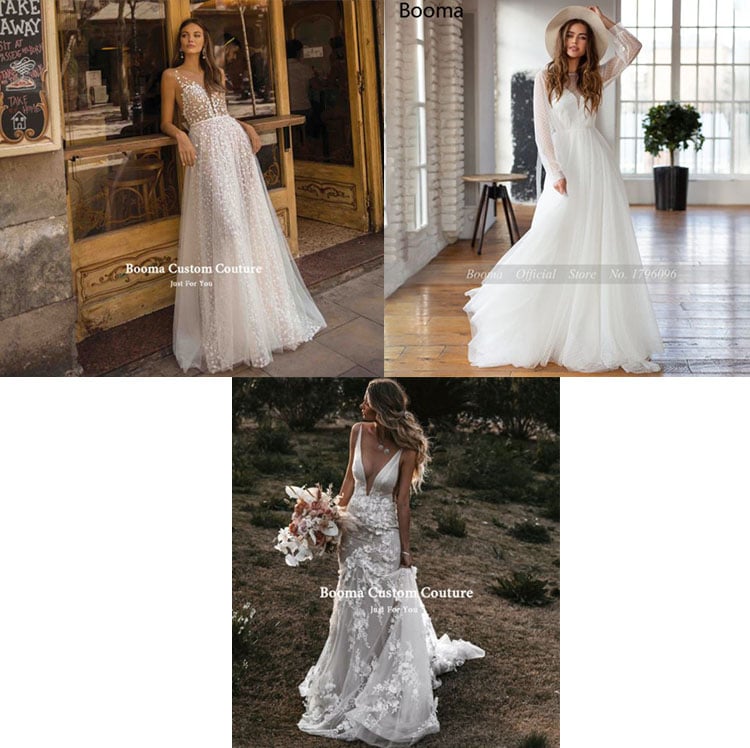 8. YOUXI Official Store
Official store: Go to the store
YOUXI is also one of the oldest bridal dress brands on AliExpress.
The catalog is not as large as you may find in other stores, but in return it also has dresses for guests.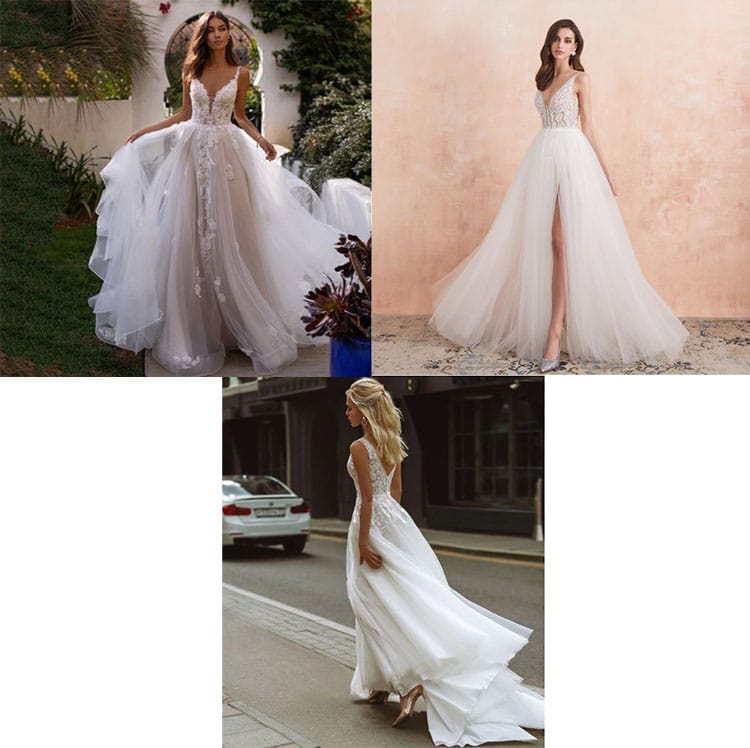 9. Mine Wedding Dress
Official store: Go to the store
In Mine Wedding Dress you have many options of dresses with a very elegant line and with all the details.
The prices are very affordable (most cost just over $100) and also, if you prefer to be more original and not get married in white, many of the models have the option of being made in other colors.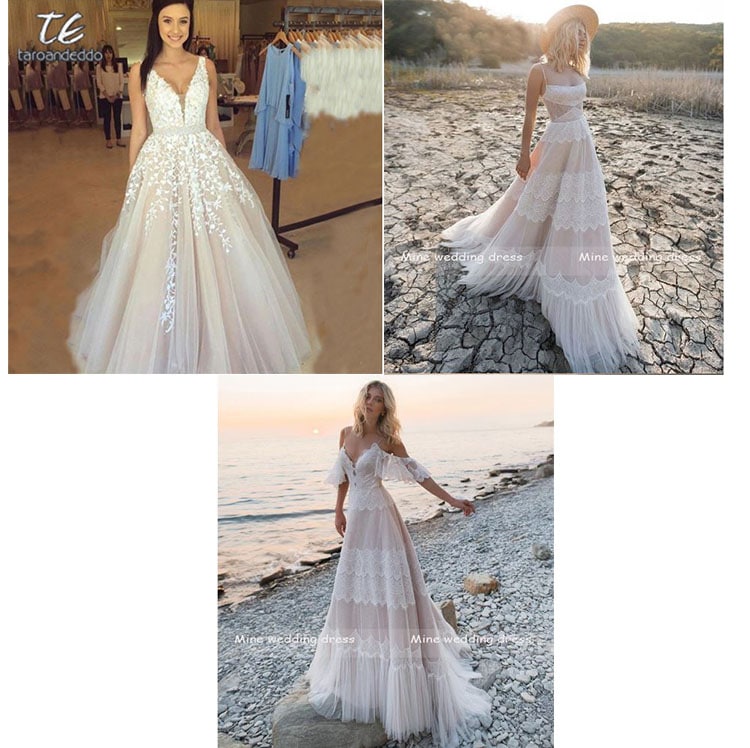 10. FMOGL Official Store
Official store: Go to the store
FMOGL has very similar prices to BECHOYER, between $200-300. This store offers a little more quality, although it does not vary substantially from the other stores that we have proposed.
Perhaps where you can notice the difference is in the tulle dresses, as the skirts look very voluminous.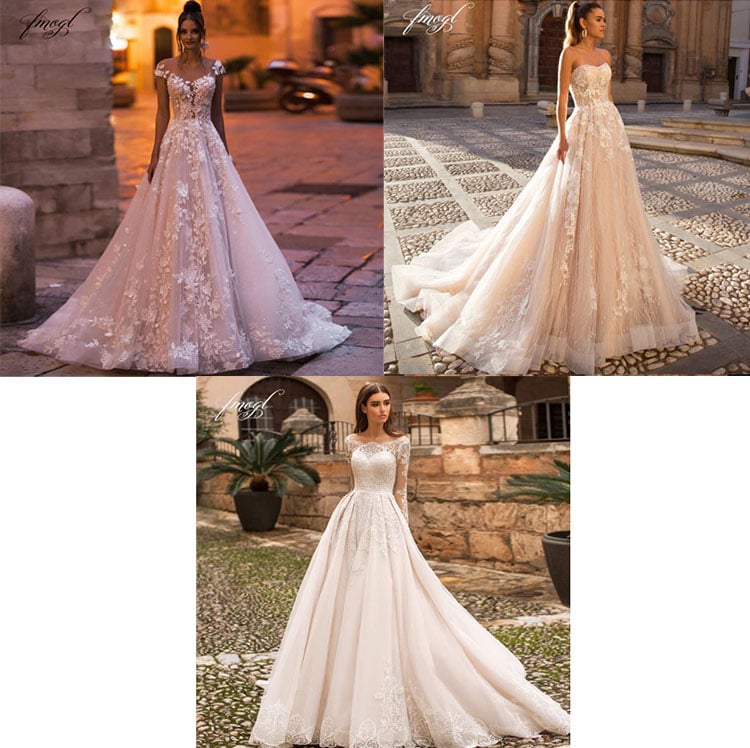 11. Mryarce Official Store
Official store: Go to the store
Mryarce has a selection of very special and different dresses: boho, classic and many in the Elie Saab style with long necklines.
Their dresses are amazing for the price they have (between $100-200) and something we love is that they include videos, so you can see perfectly all the details and the quality of their fabrics.
All the photos of their dresses are real and you can make any special request if you don't like something and you prefer to change it or you just want to add a detail, something very important for you to feel yourself one hundred percent.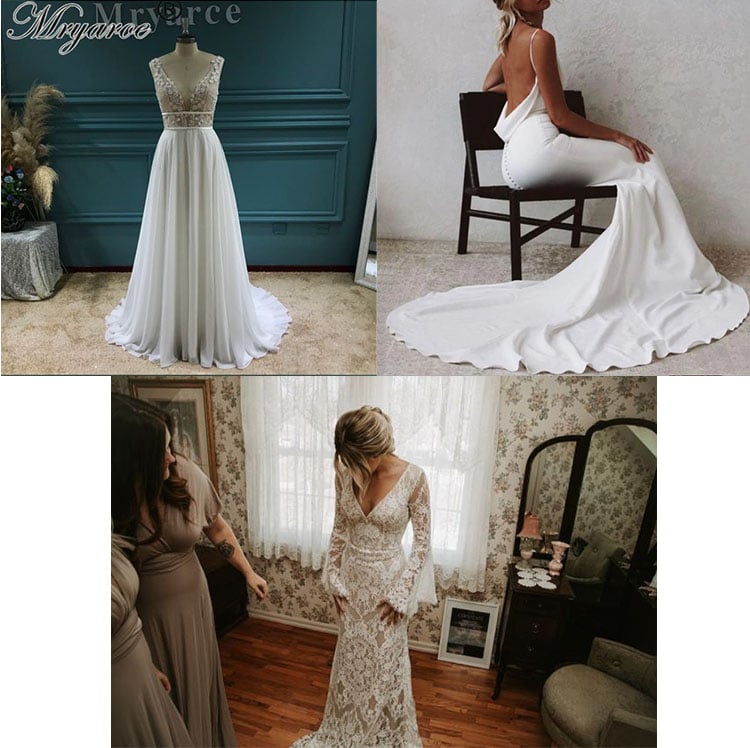 12. ADNL Official Store
Official store: Go to the store
What we like most about the ADNL store is that it has a section dedicated exclusively to plus size wedding dresses.
It is true that in most stores you can have any dress made to measure, but the cuts of these dresses are designed to fit curvy girls with larger breasts.
You can also get a better guide by seeing how the dress looks on a fuller woman, rather than a very slim model.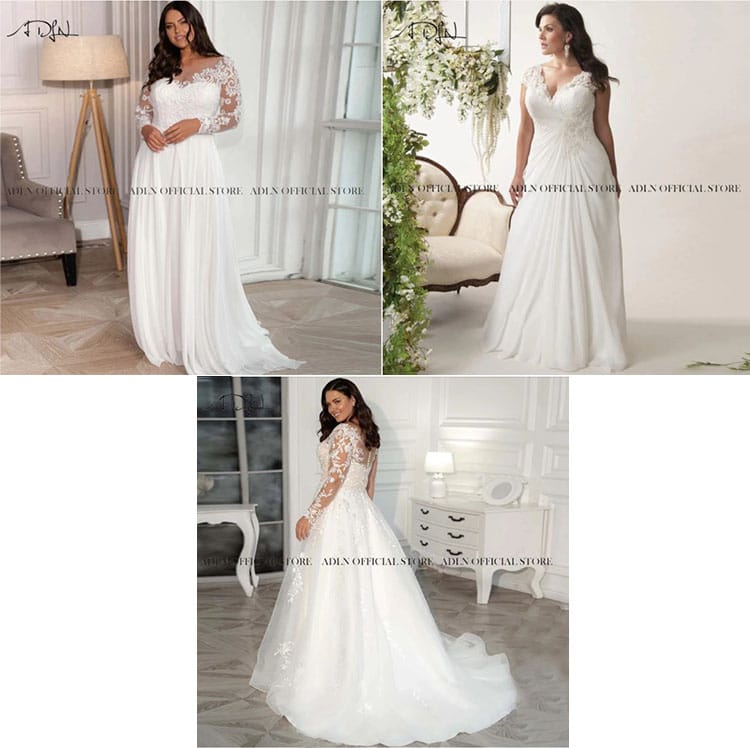 13. Sweety Wedding Store
Official store: Go to the store
In Sweety you have very cheap wedding dresses (from $50) and they also include a section dedicated to plus size dresses.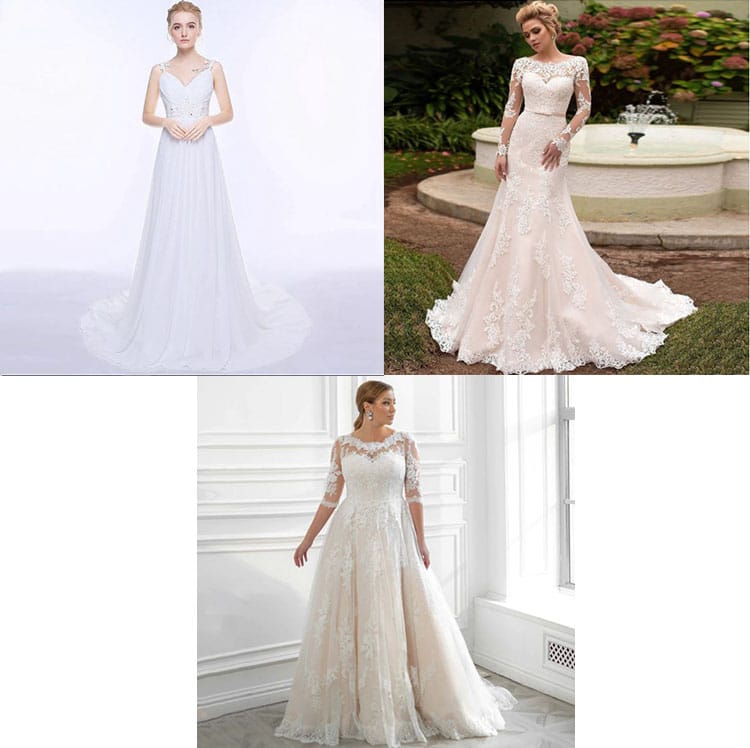 14. VESHJA DASMES Factory Store
Official store: Go to the store
If you like the traditional wedding dresses and prefer not to risk too much, in VESHJA you have many models available, as well as guest or party dresses.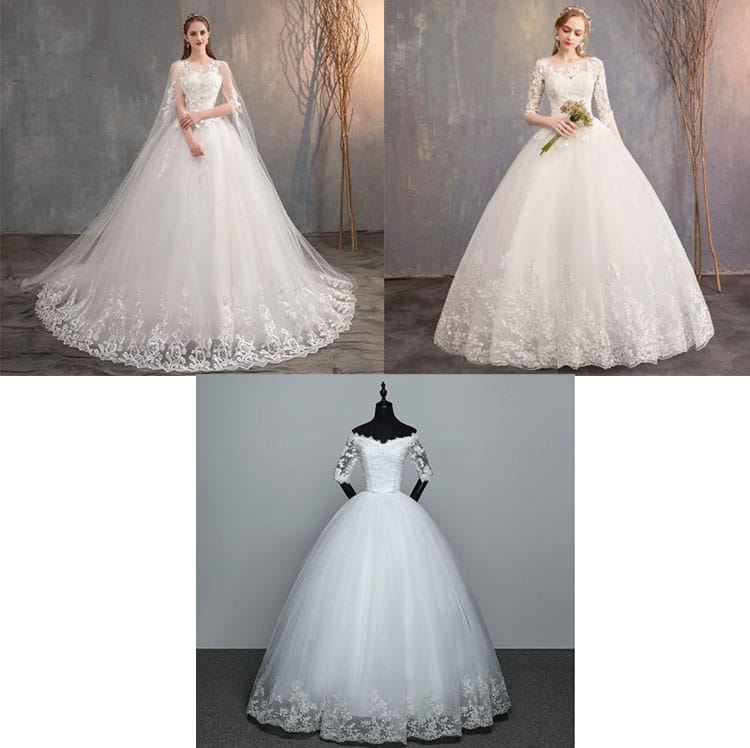 15. HSD Wedding Dresses Co., Ltd.
Official store: Go to the store
HSD Wedding Dresses also has the classic princess wedding dresses, without innovating too much, but with many sales and good ratings from buyers.
If you are on a tight budget, here you have super cheap dresses: there are dresses from only $40.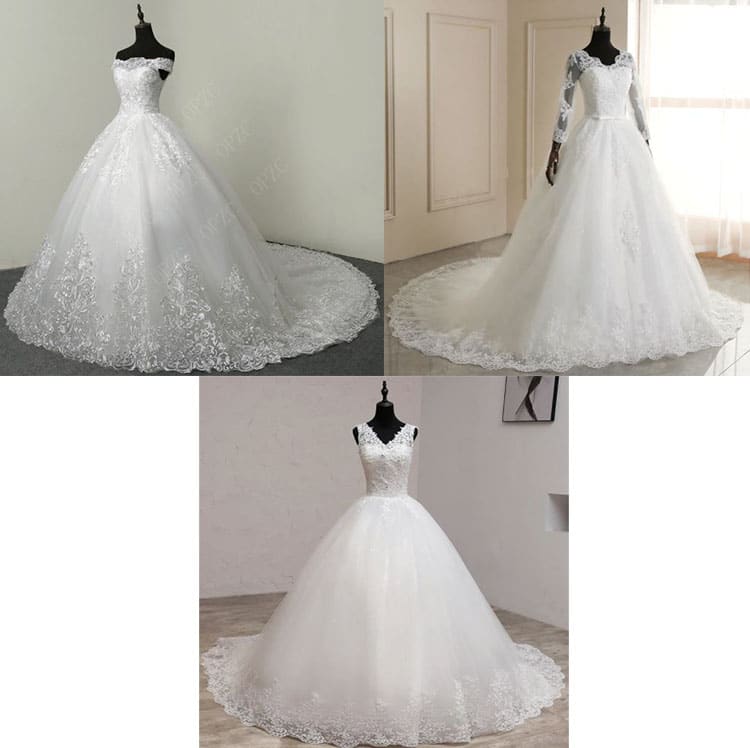 16. UZN Official Store
Official store: Go to the store
UZN wedding dresses are very modern, Pronovias, Rosa Clará, Lorenzo Caprile… style.
You even have two-piece sets and short dresses, if you are looking for something different and different.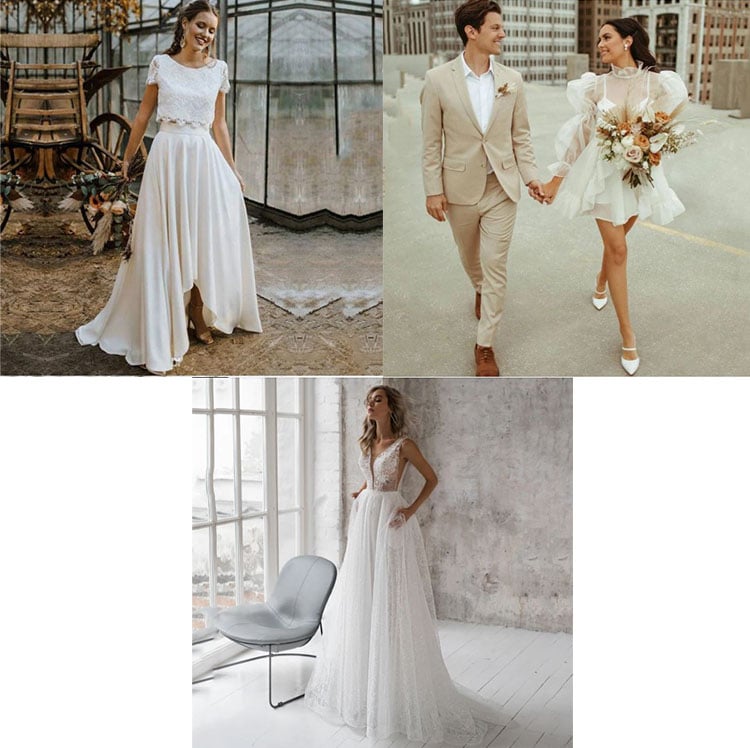 17. Meyisha Official Store
Official store: Go to the store
Another option where you can find your classic and timeless wedding dress.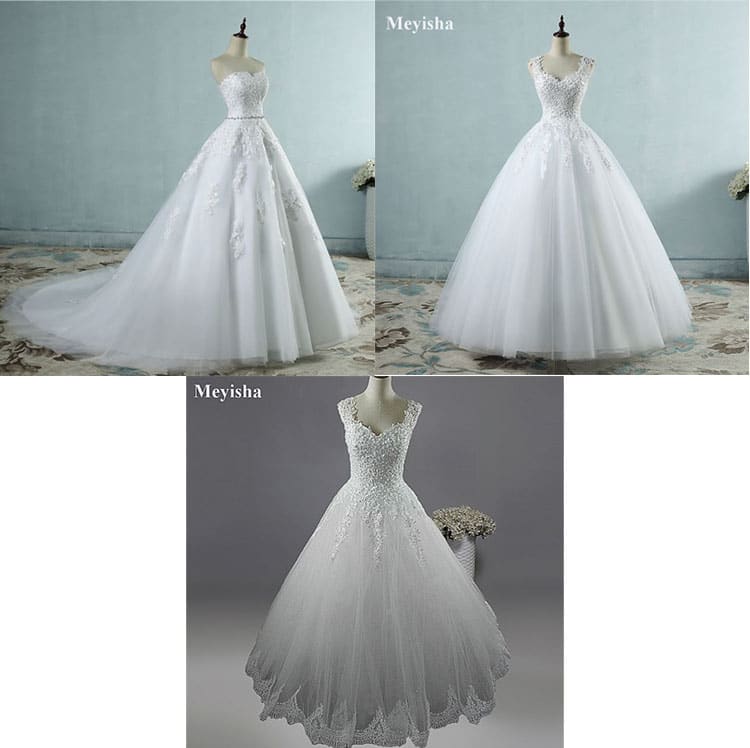 18. Vinca sunny Official Store
Official store: Go to the store
Vinca sunny dresses are designed for all types of silhouettes and you have many different cuts to choose from (mermaid, princess, empire, A-line, straight, midi…).
Don't forget to take a look or all the guest dresses, they won't disappoint you either.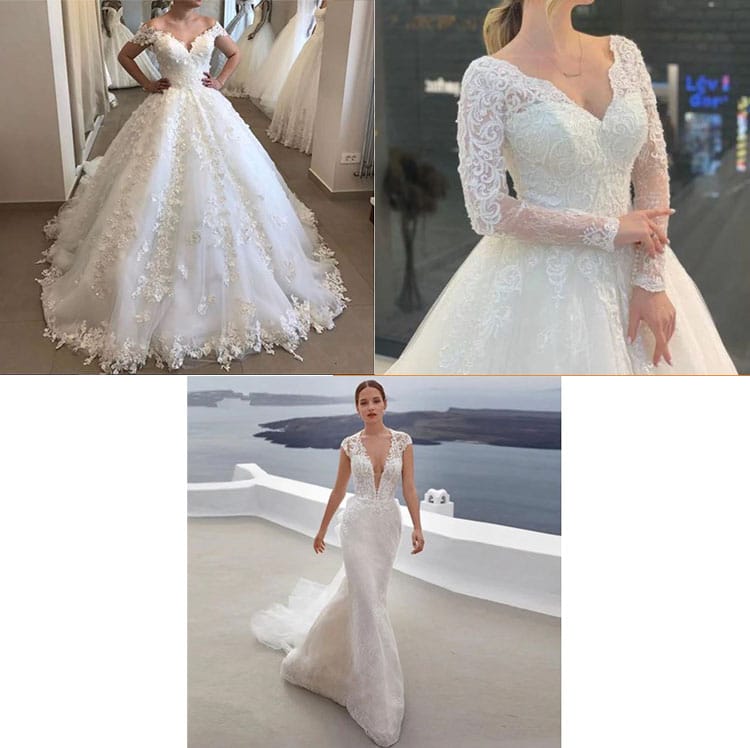 19. LoveDress Wedding Evening Store
Official store: Go to the store
What makes LoveDress Wedding Evening different from other stores? Well, you will love their trouser wedding dresses if you are a different bride, but at the same time you want to be comfortable and feminine.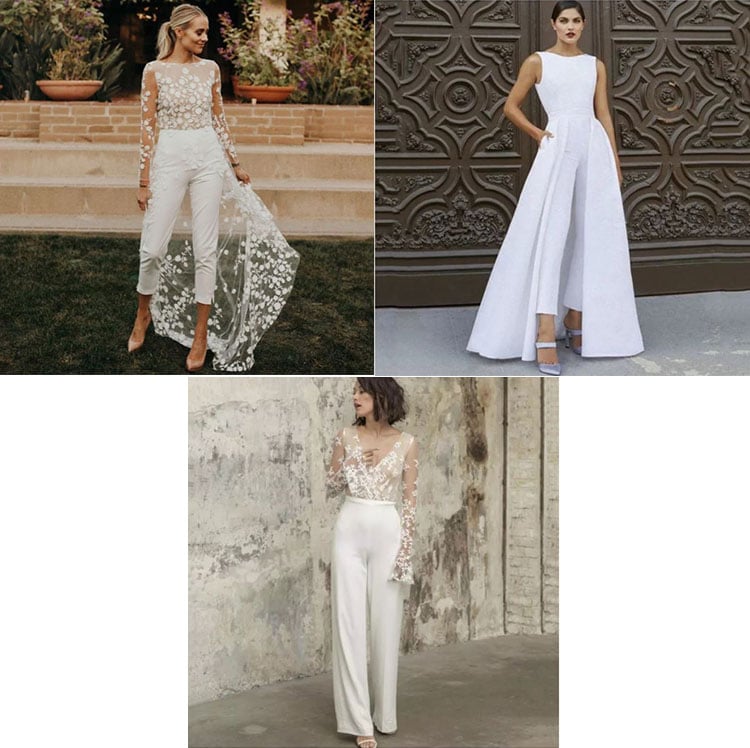 20. DreamDress Wedding Store
Official store: Go to the store
In our ranking of best stores we could not miss DreamDress Wedding: a store with a lot of experience in AliExpress and good ratings where you can find all kinds of wedding dresses at a good price (about $100).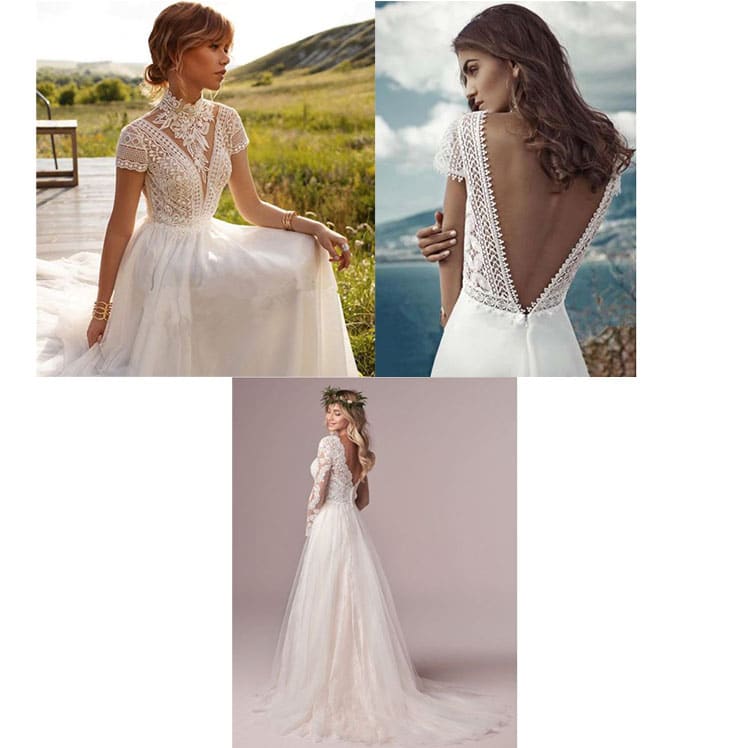 How to get my size right?
Something that can worry you a lot when buying your wedding dress is to get the right size. Logical, since it is very important that the dress fits perfectly to your figure.
Most of the stores we have listed offer the option of having your dress made to your liking with no extra cost. Just click on "Custom Size", and a window like this will appear: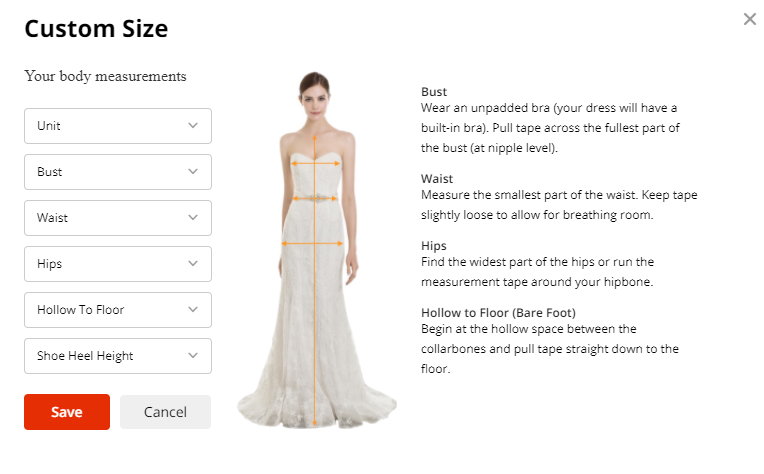 We recommend you to use this option, as it is the best way to make the dress fit you like a glove. But it is essential that you take all your measurements according to the seller's instructions.
If, when you receive the dress you have a problem with the size, and it was the seller's fault, do not hesitate to claim a partial refund through a dispute.
This way you will be able to pay for the repair at any seamstress and it won't cost you more than expected.
If you want to know more about how to get your size right, we have a very useful post: "Tips to determine my size on AliExpress".
Other essentials for your wedding
Apart from the wedding dress, on AliExpress you can find many more things for your wedding at very good prices: