For some years AliExpress has become the reference marketplace to buy in China, but even so, there are things that can't be found on this platform, especially replicas.
That is why more and more people are turning to the Chinese version of AliExpress, Taobao, where prices are even lower and the variety is even greater. But Taobao has a drawback: it is a Chinese resident-oriented site, so it only ships to postal addresses in China.
The solution to this obstacle are intermediary agents, which are nothing more than Chinese companies that receive the order for you and forward it to your country.
The most popular agent is Wegobuy, so today we will analyze if this reputation is justified: we will see if it is worth buying on Taobao through Wegobuy and what are the costs and differences with other agents.
How to get started: to start using Wegobuy, click here and register.
Why to buy on Taobao through Wegobuy
The prices on Taobao are much lower than on AliExpress, and that makes it very interesting. But, as we said, you can't buy on this site from abroad.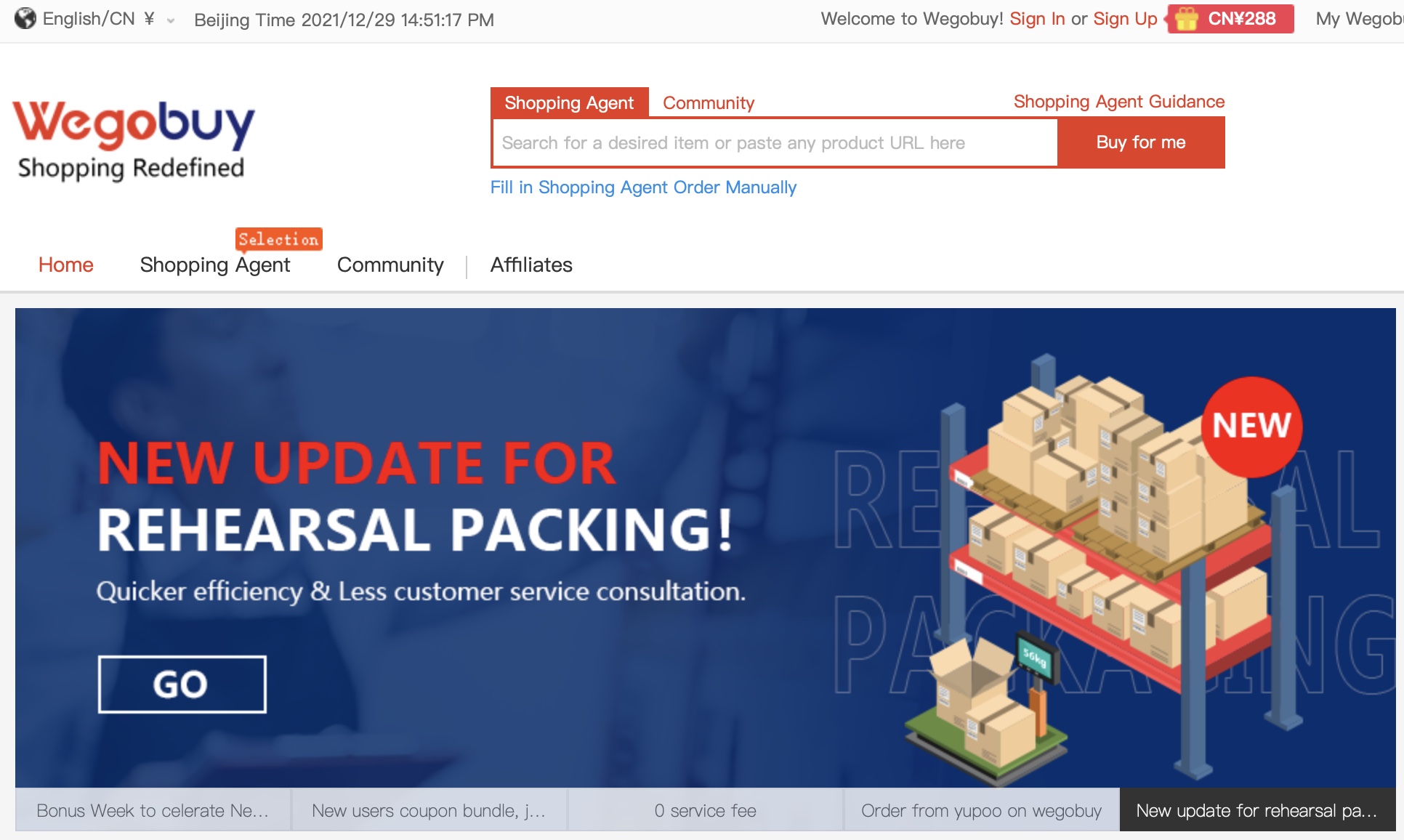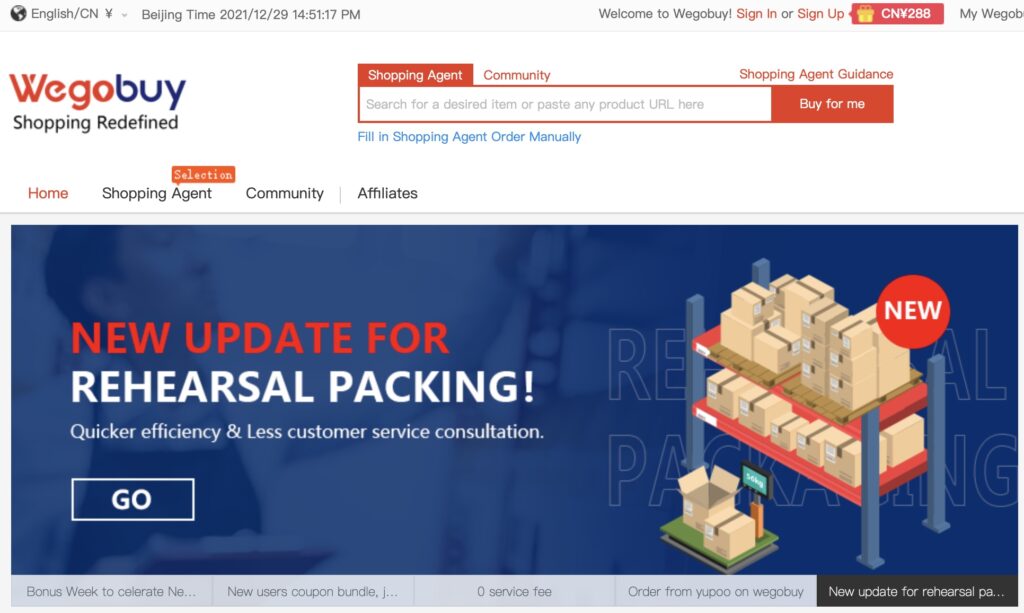 That's where Wegobuy comes in, acting as an intermediary in your purchases from Taobao and Tmall.
This service also stores your packages for up to 180 days, and this is very useful for those who buy without haste: a common practice is to accumulate packages in Wegobuy and then order them all at once, to pay only for one shipment.
The main difference with other agents and Wegobuy is that Wegobuy is registered in the IOSS system and it is easier to pay VAT for European buyers: in purchases of less than €150 the packages will arrive directly to your home, without having to deal with customs.
How to buy in Wegobuy
The first step is to enter the Wegobuy home page. At the top of the page, you can set the language and currency in which the page appears. Then you will register as in any other website.


Search for products
There are two ways to buy. The easiest is to use the search engine by adding keywords: the result will show you the Tmall or Taobao products that match your request. Note that all interaction with the page is in English, even in searches.
Another option is to go to the Taobao or Tmall pages and search for the product you are interested in. Then, copy and paste the link into the Wegobuy search engine. The platform itself will show you the product with all the details: size, colors, specifications…
Extra services in the shopping cart
When you have chosen all the details of the product you want to buy, you will add it to your basket. You can add several products and pay at the end.
Before paying, you will have to add the country to which the order is delivered and you can request extra services to the Wegobuy agent, for example:
Detailed photos: request more detailed photos to the seller. This service has a small extra cost of 2¥ Chinese yuan (about 30 cents).
Message to seller: send a message with your request to the seller. This is for example to request that they send you more details of the sizing chart or any details that are not clear in the product description.
Fast order process: if you need your order to be processed expressly, with this option it will be handled in 1 hour for only 5¥ Chinese yuan (just under one US dollar).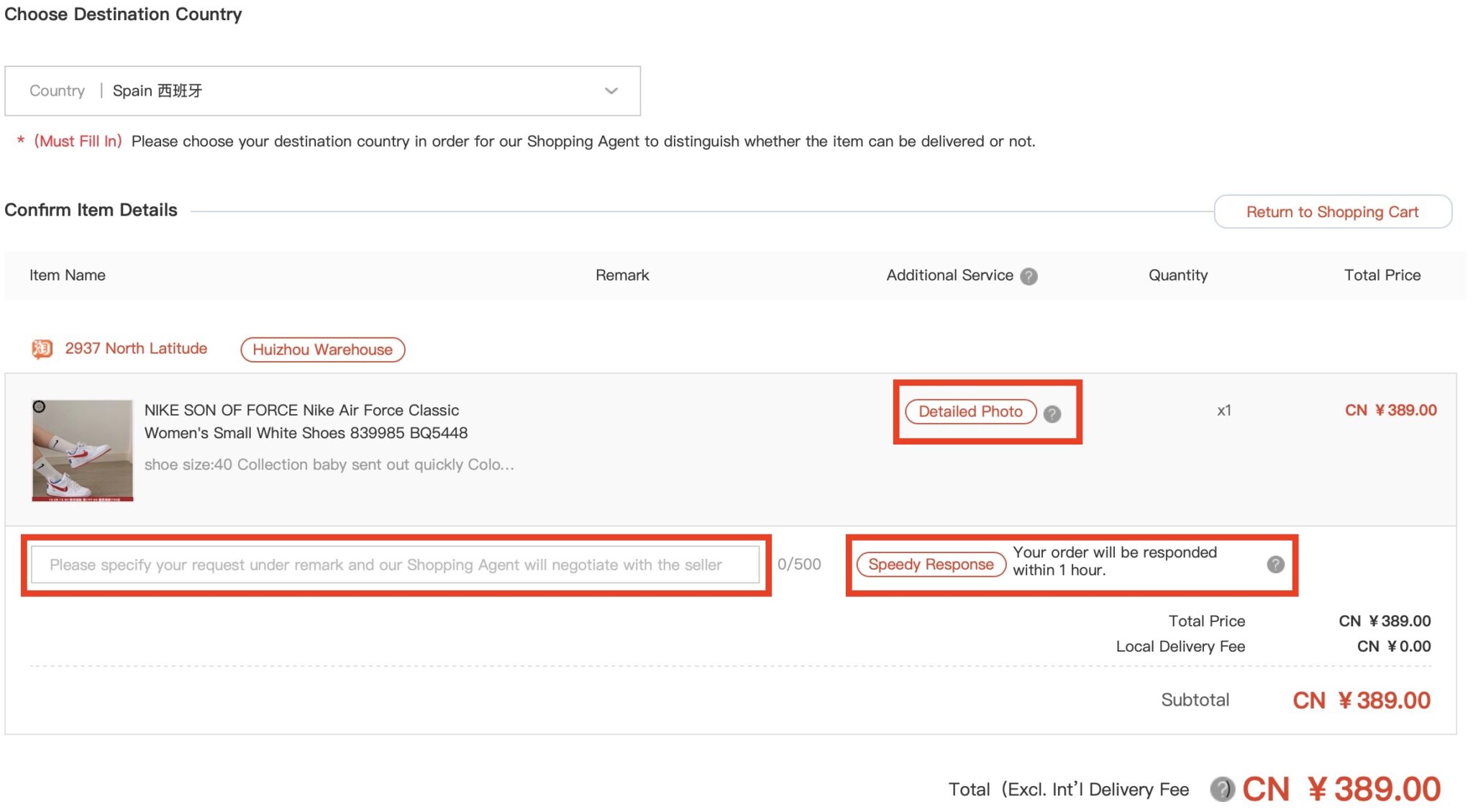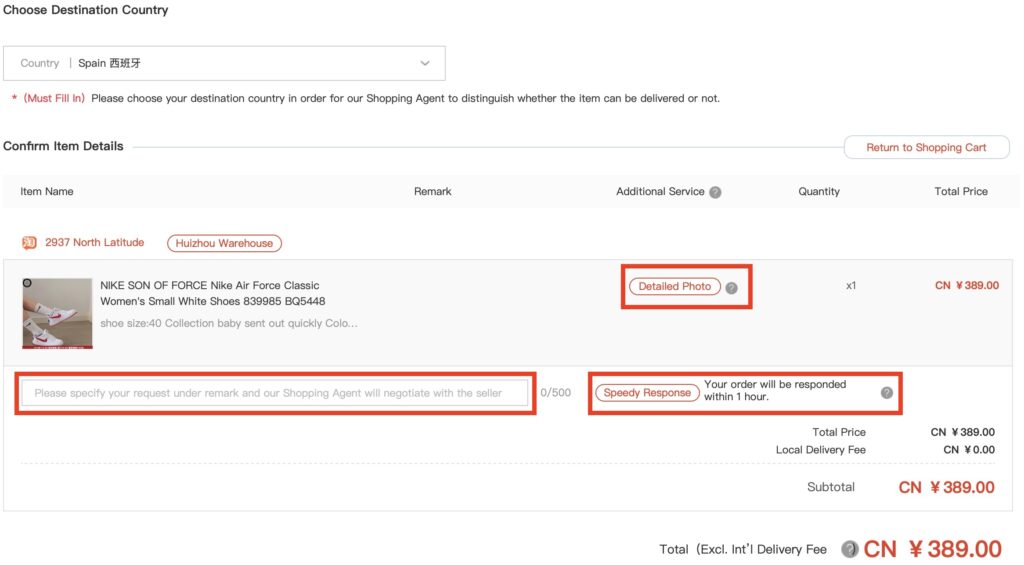 Then all you have to do is pay. In a few days the agent will receive the packageand it will show up as received in your profile.
Requesting shipment
Once the Wegobuy agent receives your order, they will send you 5 photos of the product they have received. If the product you see in the photos does not match what you are looking for, you can request that the agent returns them to the seller.
When you decide to request that the agent sends your purchase to your country, you have to go to the "Warehouse" section. You will be able to select several items and send them together (remember that they can store your purchase for up to 180 days).
Then Wegobuy will give you the choice between different shipping companies. The most used and reliable are EMS, EUB and SAL. You will have to select the different shipping options and pay VAT via IOSS if you're shipping to Europe.

Wegobuy's review: is it legit?
If you want to know in more detail how this agent works and how its services are, let's analyze it point by point.
Prices
Rating: ⭐⭐⭐⭐⭐ (excellent)
Wegobuy does not apply handling fees to the products you buy: they make money with the extra services and shipping. The price you see on Taobao will be the same price you will pay for the product.
Although you will not be able to see the price of shipping to your country until it is in stock, you can make an estimate of costs by clicking on this link.


Wegobuy's shipping prices are a bit more expensive than other agents. But, since you can pay the VAT directly before shipping to your country thanks to their IOSS system, the small extra cost is more than compensated.
Product information
Rating: ⭐⭐⭐⭐ (pass)
Perhaps one of the weakest points is the information. There is a lot of information that does appear on Taobao or Tmall that is lost when you see the product on Wegobuy. This is something common in most broker sites.
That's why we recommend you to look at the product sheet on the source page. If you use Google Chrome browser you can translate the page to your language and get more detailed information.
Payment methods
Rating: ⭐⭐⭐⭐⭐ (excellent)
When it comes to managing the payment, you will have different options. One of the best options is to pay with PayPal, since you will have a greater guarantee of safety on your purchase.
You can also pay by credit card, although finally when you use this option, you will also be redirected to PayPal payment (but as a guest, so you can pay without having an account).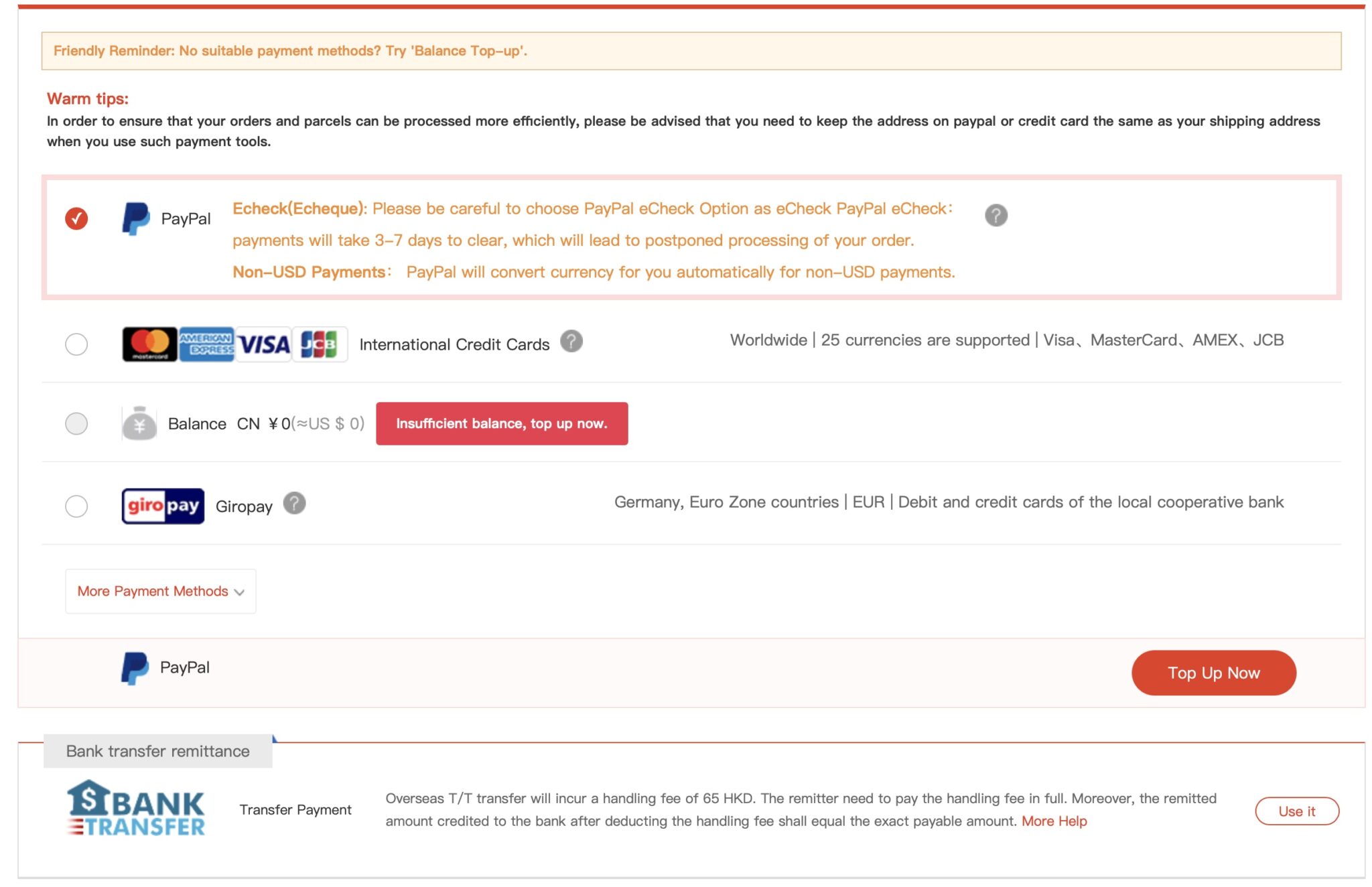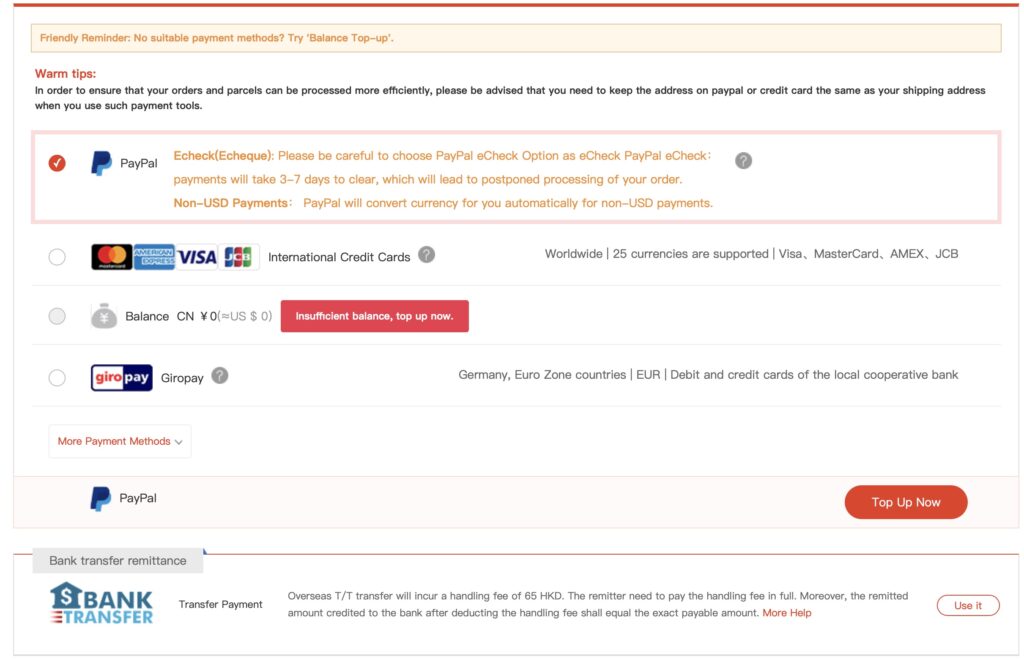 In some products you will not be able to pay with PayPal, and in that case, you will be able to pay with card or use yuan balance. To recharge balance, you can go to your user profile and load balance in yuan by clicking on your available balance.
Shipping
Rating: ⭐⭐⭐⭐ (remarkable)
Wegobuy offers a variety of shipping methods to your country. The most recommended are EUB, SAL or EMS, but we usually look at the weight when choosing:
For packages weighing about 2 kg, the best is GD-EUB because it is a system that offers a good price and a shipment in a tight time.
For shipments of more than 5 kg, we recommend you to use the GD-SAL system because it's cheaper.
Another interesting point is that Wegobuy offers several extra services when sending the package, such as removing the labels from the clothes, removing the product box, protecting the shipment with wrapping plastic or bags, vacuum packing…
Guarantees
Rating: ⭐⭐⭐ (passed)
Wegobuy guarantees a detailed inspection of the product, to treat the package with care and minimize package loss.
But keep in mind that once you order the shipment from Wegobuy to your home, returns are a rather cumbersome thing, so it is important to make sure beforehand that what you are buying has the desired quality.
To do this, you can ask Wegobuy for extra photos of the product received, or before that, when buying on Taobao, you can send a message to the seller asking for more information.
If you are not satisfied with what arrives at the agent's warehouse, you can ask them to return the package to Taobao or Tmall.
Customer service
Rating: ⭐⭐⭐⭐⭐ (excellent)
This platform is the most popular in its industry mainly because of its good customer service. It also pushes sellers to ship on time and sends you photos of the product when it is received in the warehouse. You can contact Wegobuy by clicking here.
Wegobuy customer service is active 7 days a week from 9am to 6pm UTC +8.
You can also contact Wegobuy via e-mail. It is best to add as many details as possible, such as the order number, so they will reply with all the information.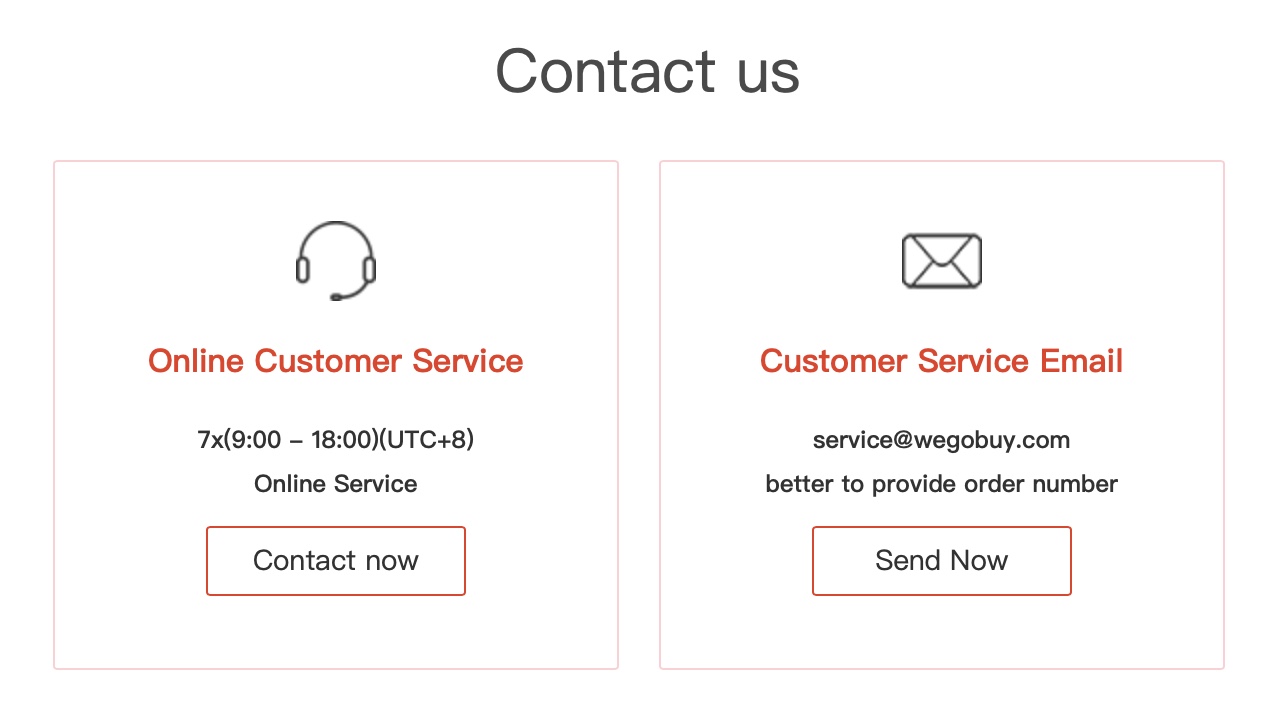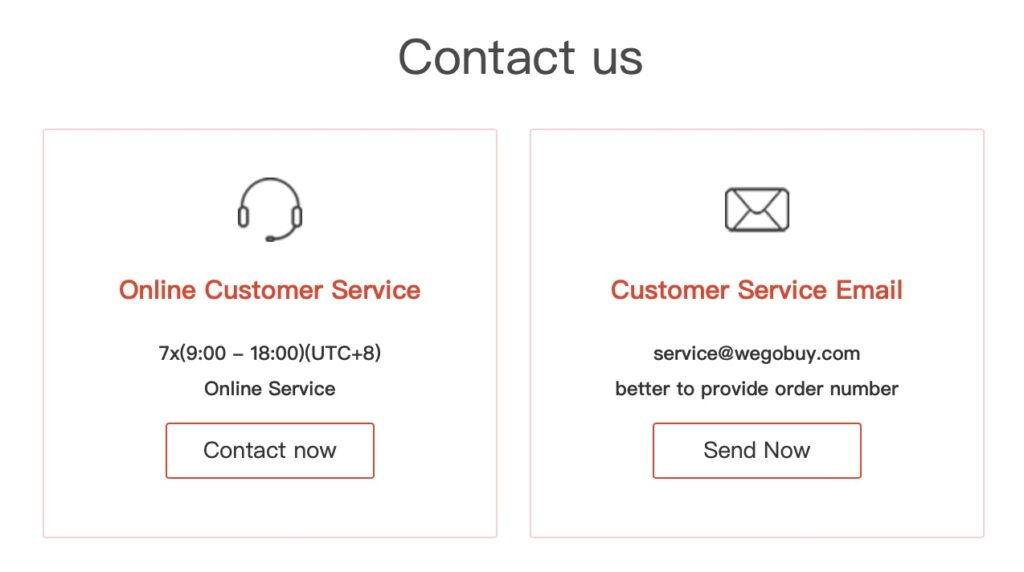 Conclusion: is it worth it?
Wegobuy is definitely a great option if you need an agent to buy on Taobao. You will be able to get unique products, and being able to pay VAT through IOSS is a great advantage.
Even so, it is important to keep in mind that the guarantees may not be the best, especially if you are going to buy technology products, and that shipping can end up being as expensive as the order itself, so you have to do the math before buying to decide if it is worth it.
And, of course, before buying remember to double check if you're satisfied with the product and if it is compatible with your country.