AliExpress has been one of the most important international e-commerce sites for a while. Their wide variety of products and competitive prices, coupled with the experience of being able to make a secure purchase and how easy this platform is to navigate, make buyers use it countless times.
Nonetheless, the large influx of users has consequences that directly reflect on the performance of this marketplace's server, so it's common that during holidays or sales, the site shows some payment errors.
Usually, these errors occur at the time of paying for your order, regardless of the payment method you're using. Whether it is because your balance is insufficient because you have exceeded your purchase limit, because the security code of your card is not valid, or because the data verification failed, there are explanations for each one of these error codes.
We'll tell you everything you need to know about error csc_7200015 on AliExpress: when and why it appears and how to fix it.
What causes the error csc_7200015 to appear?
Error csc_7200015 on AliExpress hints at a problem with the bank or payment method you've used. This code indicates that the payment has been rejected by the bank or institution of the card you used.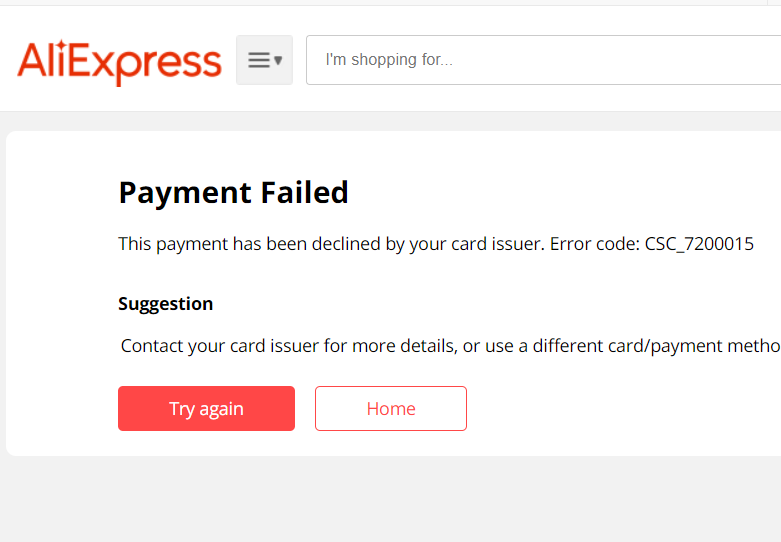 Some possible reasons for the rejection of your payment are:
The card you used is not enabled for online purchases or purchases in a foreign currency.
The card data entered is incorrect.
The card's daily or monthly limit has been reached.
This error is usually accompanied by a notification that states: "This payment has been declined by your card issuer".
How to fix error csc_7200015
There are some users who have found that deleting the cards they have saved on AliExpress has worked for them.
It's common to save the cards on the AliExpress website and use the autocomplete function for each payment without putting in the card details manually. Considering the fact that the cards saved on AliExpress don't store the security code (and therefore the code isn't requested during the payment process), this can lead to the bank or card issuer rejecting the transaction due to missing information.
You can delete your current card by going to "Options" > "My Wallet" > "My Credit/Debit Cards" > Select card > "Delete". You can add the card again when you want to pay for your order, but be sure to uncheck the "Save the card" option.
Other solutions
If you get this error code when making a purchase on AliExpress, follow these steps to fix it (these could also be useful when dealing with other errors on the site):
Contact the bank or payment platform you used: Contact a bank supervisor and verify that the card you used is enabled to make online purchases in foreign currency. If this is not the case, request the activation of these options.
Verify your card limits: All bank accounts have usage limits. Check with your bank to see if the card you used has a limit that prevents you from making the transaction. If necessary, request an adjustment in these limits.
Check your card information on AliExpress: Check if you entered your credit or debit card information correctly in AliExpress. This includes the card number, expiration date, and security code.
Try an alternative payment method: If the error persists after following the steps above, try paying for the order with a different method, whether it's a different credit or debit card, a prepaid card, PayPal, AliPay, or another payment system available on AliExpress.
Change the currency: It may be the case that the currency you chose is not supported by your card. Change it to a more common one, such as USD.
Disable your browser's extensions: If you use browser extensions that block pop-up windows, disable them when making payments on AliExpress.
Switch between the browser and the application: Switch to the latest available version of your browser or use incognito mode. You can also switch to the latest mobile version of the AliExpress App.
Contact AliExpress Customer Service: If none of the previous alternatives worked out for you, we recommend you contact customer service at AliExpress.
Final notes
We're aware that errors can be extremely frustrating, especially when we want to purchase something. Fortunately, by following these steps it's very possible that you'll be able to fix error csc_7200015 and continue shopping without any issues on AliExpress.
If you've tried everything and your issue hasn't been resolved, we recommend waiting a couple of hours for the AliExpress servers to clear. If you haven't been able to pay for your order, you can probably find it in AliExpress' "Pending payment" section. Just access this list and repeat the payment process you used initially.