You may already know some things about Alipay and you may even have paid for your purchases through this platform using your bank card.
But… do you know all the advantages you can have by using your Alipay Wallet?
Maybe you are not benefiting from all the discounts available with the Alipay bonus yet, so we are going to explain them all to you so that you can make the most of this platform.
What is Alipay?
Main article: Guide to Alipay on AliExpress
The Alibaba group (to which AliExpress belongs) created Alipay to make things easier for us: with this platform they manage your payments themselves in a 100% secure way and offer us total coverage against possible frauds.
Alipay keeps your money safe and only releases it to the seller when you receive your order satisfactorily.
Advantages of using Alipay Wallet
Alipay Wallet is Alipay's virtual wallet where you can store money to make your purchases on AliExpress.
One of the biggest advantages of paying with your Alipay Wallet balance is that you can avoid using credit or debit cards (if you don't like having your card linked to AliExpress).
Also, if you don't have a bank card, don't want to pay maintenance fees for a prepaid card or your bank still charges you fees for shopping on AliExpress, this is the ideal way to pay for your purchases.
Another advantage of using Alipay's virtual wallet is that you can get free AliExpress coupons or recharges during some promotions.
Top up your balance in Alipay Wallet
Remember that before you start using Alipay Wallet, you have to set up your Alipay account to activate your balance (in this post we explain how).
Also, keep in mind that you will only be able to recharge your balance from the AliExpress app.
Minimum recharge of $10
Recharging your balance is very simple: access your wallet (here) and click on "Recharge", choose the amount of balance you want to add (minimum $10) and finally select the recharge method (credit or debit card or bank transfer).
The only non-instantaneous recharge method is by bank transfer which, as usual, takes a few days to be reflected in your Alipay Wallet balance. Keep this in mind to be proactive in your purchases.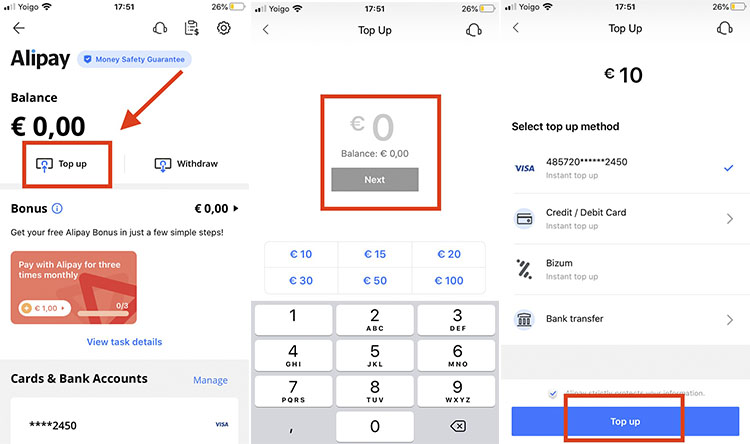 Withdrawing money from your balance
Don't worry if you don't know how much money to recharge: the way you can add money, can also help you withdraw it when you need it. No fees and no minimum amount.
Just add your bank account number and the name of the account holder, which has to be the same as on your Alipay account.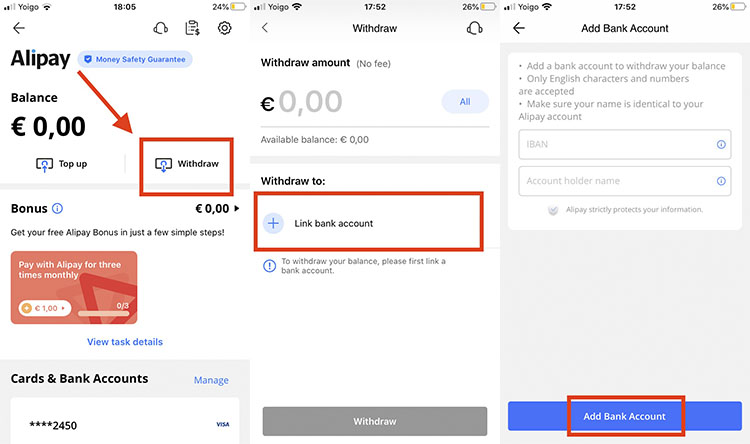 What is the Alipay Wallet bonus?
Alipay rewards you with bonus money if you use their platform to pay for your purchases on AliExpress.
In this way, you can also accumulate bonus money (you can check it here) that you can then deduct from your AliExpress orders.
The best part is that you can use it for any AliExpress item (as long as it is not virtual) with no minimum purchase, although you can never withdraw it in cash.
How to get bonus funds
You can get bonuses through the task center that is available in Alipay Wallet (here).
These are the bonuses you will receive for completing the tasks:
$2 for setting up your Alipay account and activating your balance.
$1 for paying with Alipay 3 times a month.
$1 for adding a bank card.
AliExpress sometimes offers extra bonuses in different promotions or by participating on the app by inviting your friends through a link.
How to use a bonus
Using your accumulated bonus is very easy: add your purchase to the cart and click on "Checkout", select as payment method your credit or debit card or Alipay balance.
AliExpress will automatically deduct your accumulated bonus from the total amount of your purchase, so all you have to do is confirm your purchase.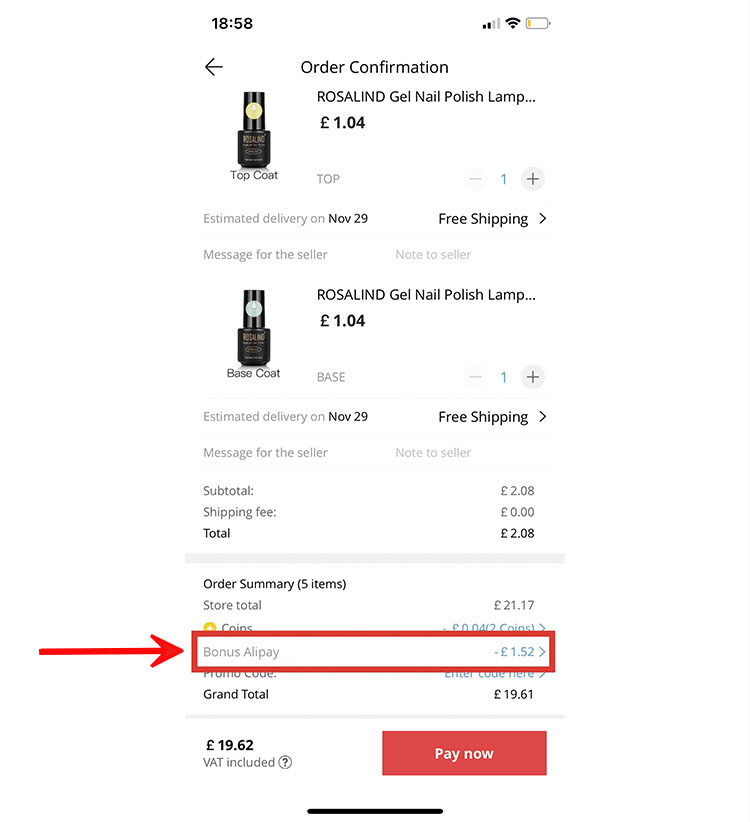 Frequently Asked Questions
Can I use my bonus on any purchase?
You will not be able to use your bonus funds for purchases of virtual products such as gift cards or mobile recharges.
I am going to make a purchase and I have some bonus funds left over
No problem, if you are going to buy something and you still have bonus funds left over, they will be accumulated for you to use on your next purchase.
Does the bonus have an expiration date?
Yes, bonuses have an expiration date that you can check in the bonus details.
We recommend that you use it on your next purchase to make sure you don't lose it.
In a dispute refund, do I get my used bonus funds back?
No, if you win a dispute you will not be refunded the bonus funds you have already used, only the part you have paid for with your money.
I have won a challenge and I don't know where my money is
To see your money reflected, remember that you have to activate your Alipay Wallet, otherwise your bonus balance will not appear.